San Bernardino, CA
Glen Helen
Lucas Oil AMA Pro Motocross Championship
Rockstar Energy Husqvarna's Zach Osborne went 2-5 for fourth overall in the 250 Class at round two of Lucas Oil Pro Motocross on Saturday. Osborne is now tied in points with Aaron Plessinger heading into Thunder Valley this weekend. We talked with Osborne about his day following the race.
Racer X: How was the day?
Zach Osborne: First practice was okay, second practice was a lot better. The rain made it hard to string anything together, and it was hard to keep your goggles managed because the mist was so heavy. I think they did a really good job with the track, taming it down and making it reasonable. I have a hard time with this place because it's so gnarly and so fast; it's hard to come here prepared. You can come here a million Thursdays in February, March, April, whenever, and you're never going to get even close to what it was today. I have a really hard time coming here and having a comfortable setting. It's tough to find that comfort, and I'm a comfort guy. I look at this one every year as the one where I just need to score some solid points and leave healthy.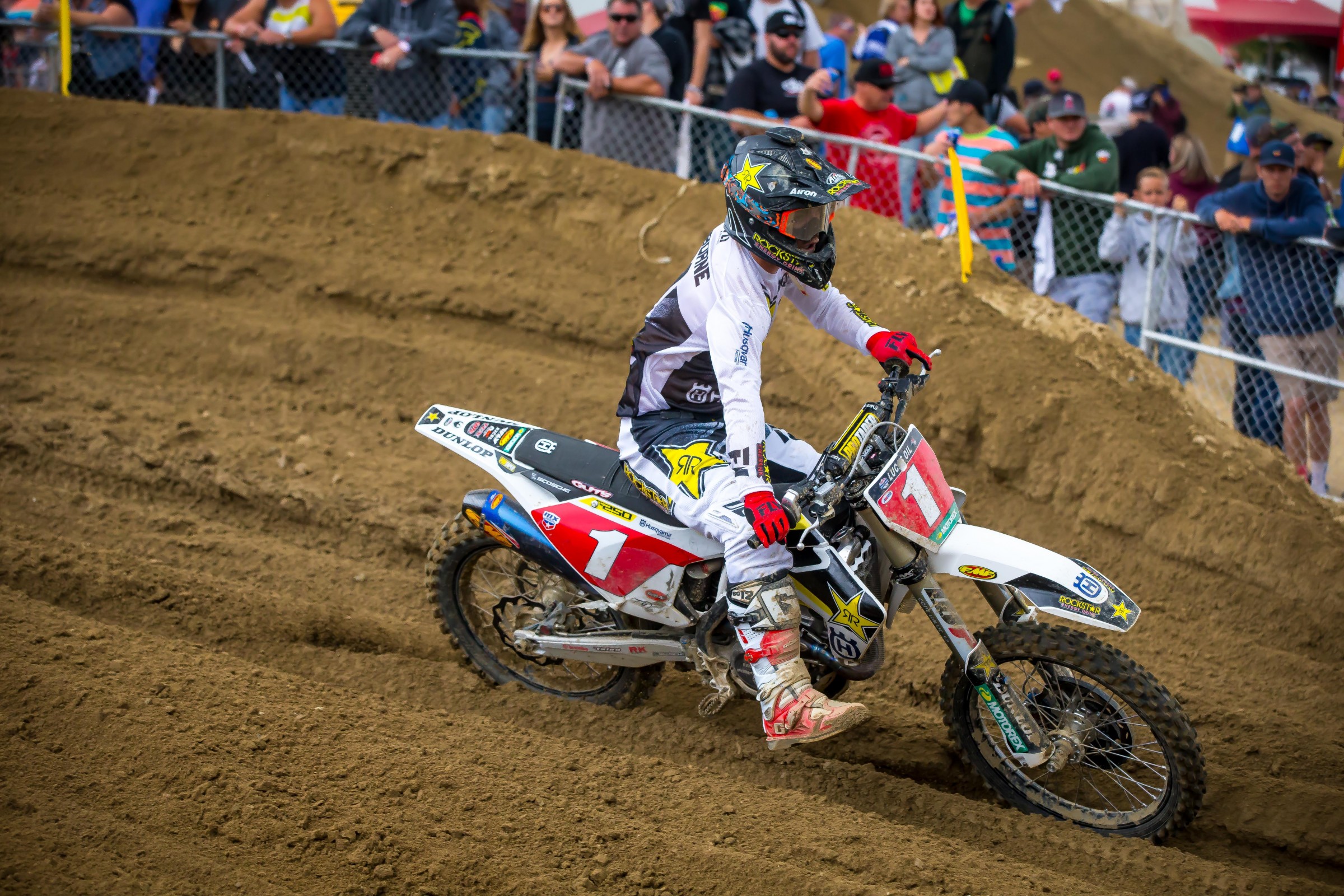 Talk about the lack of heat today. You're not going to fade, anyway, but did it affect anything?
I think the track was better because it wasn't hot. But for me, like you said, I'm not going to fade, but I need those other guys to fade a little bit sometimes. When it's cool and not so physical, they don't do that. That makes it a little bit harder on me, and I have to send it a little bit more than I would normally. At the same time, I know there are plenty of hot ones coming, and tracks that suit me a lot better.
How about that crash?
Man, I thought I was okay. I came out of the corner and the berm had pushed out to one of those big yellow barriers, and I kind of sat into it a little bit and it planted a lot deeper than intended. It sent me one way, then the other way, and when it sent me back the other way, I had no hope of holding onto it. I came in with a small injury to my thumb, and I think maybe if I had been full-strength, I wouldn't have gotten so wild so quickly, but with what I have going on, it was tough to hold on. I was really lucky to get up unscathed and get my bike out of the fence pretty quick.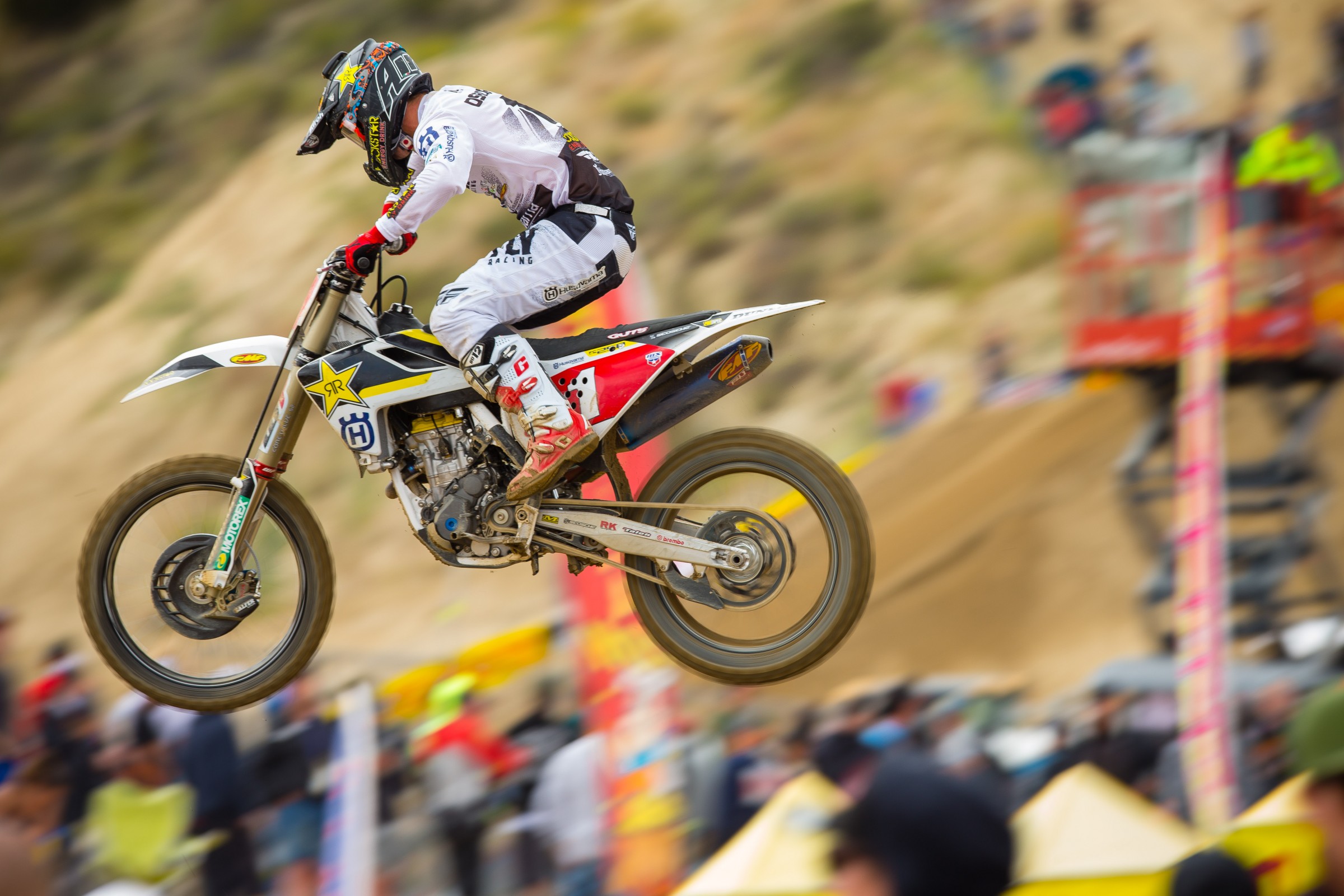 Did the thumb limit you at all today?
I wouldn't say speed-wise it did at all, but I knew I couldn't go down and stab it in the ground. I was just trying to manage that, and at the end of the first moto, I was like, "Oh, it's not that bad, I can push." But at the end of the second moto, it was really sore. It should feel a lot better next weekend. I just jammed the crap out of it at Pala. Everything is structurally okay; we'll just keep pushing forward. It happens. I've won three titles straight now pretty blemish-free in terms of injury, and I can't expect them all to be 100 percent pain-free. I can't be too bummed about it.
Were you trying to kick your lever back up in the air after your crash?
Yeah, and I didn't get it. Normally I'm pretty spot-on with it, I can kick it up, but today it was so far down I kicked it, and it actually locked the front brake up and I was like, "That was dumb, nice one." It's too hard to hit up, but I can kick it up. Normally one kick, my boot hits my throttle, and it puts it right where I want it. But today it didn't work out.