San Bernardino, CA
Glen Helen
Lucas Oil AMA Pro Motocross Championship
Another Saturday in the books means another round of Lucas Oil Pro Motocross has come and gone. This weekend the action came from the Giant RV Glen Helen National in Southern California. If you want to read about the entire day, start at the top and work your way down. If you're just interested in moto summaries, scroll down to the bottom, as posts are in chronological order.
Morning Report
With its steep hills and deep soil, Glen Helen always has some of the roughest and toughest terrain of the season. Things won't change in that department today, but there is one hurdle the riders won't have to overcome today, and that's the heat. Sweltering weather is frequently an issue at Glen Helen, but so far this morning it's been chilly, so much so that just about everyone is walking around in jackets. It's also overcast, and there's enough moisture in the air that you can feel mist gently brushing your face as you walk through the pits. Rain isn't in the forecast, but temps today aren't expected to exceed 70 degrees Fahrenheit, which should make for an absolutely perfect day of racing.
Speaking of things riders won't have to deal with, there were some huge jumps on the track earlier in the week, something Glen Helen has been known for in past years, but after dealing with some pushback, race organizers decided to tone them down just a bit to eliminate unnecessary risk. Don't worry, there are still plenty of big launches on the track, and plenty of the riders looked like they were having fun throwing big whips over them on press day yesterday. And of course, the steep, iconic, up and downhill sections are very much in full force.
If you missed last week's season opener, you can get caught up with Hangtown's Race Day Feed and Saturday Night Live. If you just want a very brief recap, keep reading. Defending champions Eli Tomac and Zach Osborne were perfect, both went 1-1, with championship contenders Marvin Musquin and Justin Barcia finishing on the 450 podium, and Jeremy Martin and Aaron Plessinger filling out the 250 podium. Newly crowned Monster Energy Supercross 450SX champ Jason Anderson went 4-6 for fourth, and Ken Roczen made his return to racing with a 6-16 for eleventh. That might sound very un-Roczen like, but remember, injuries have limited him to just a few races in the last two years and he's still dealing with a fair amount of pain. He only recently started practicing full motos.
Qualifying is set to begin shortly, so check back soon for a report on who's fast in Southern California.
Practice – Session One
Justin Cooper was pretty fast in practice last week at Hangtown, and that speed has carried over to Glen Helen. Cooper was flying out there, and his fastest time, a 2:37.337, was over two seconds faster than Joey Savatgy's lap (2:39.684), which was second-fastest. Cooper reportedly let nerves get the better of him last week and barely ate any food all day, which limited his performance in the second moto. His trainer, Gareth Swanepoel, doesn't think that'll be an issue today, so if Cooper brings this speed to the motos he could be dangerous this afternoon.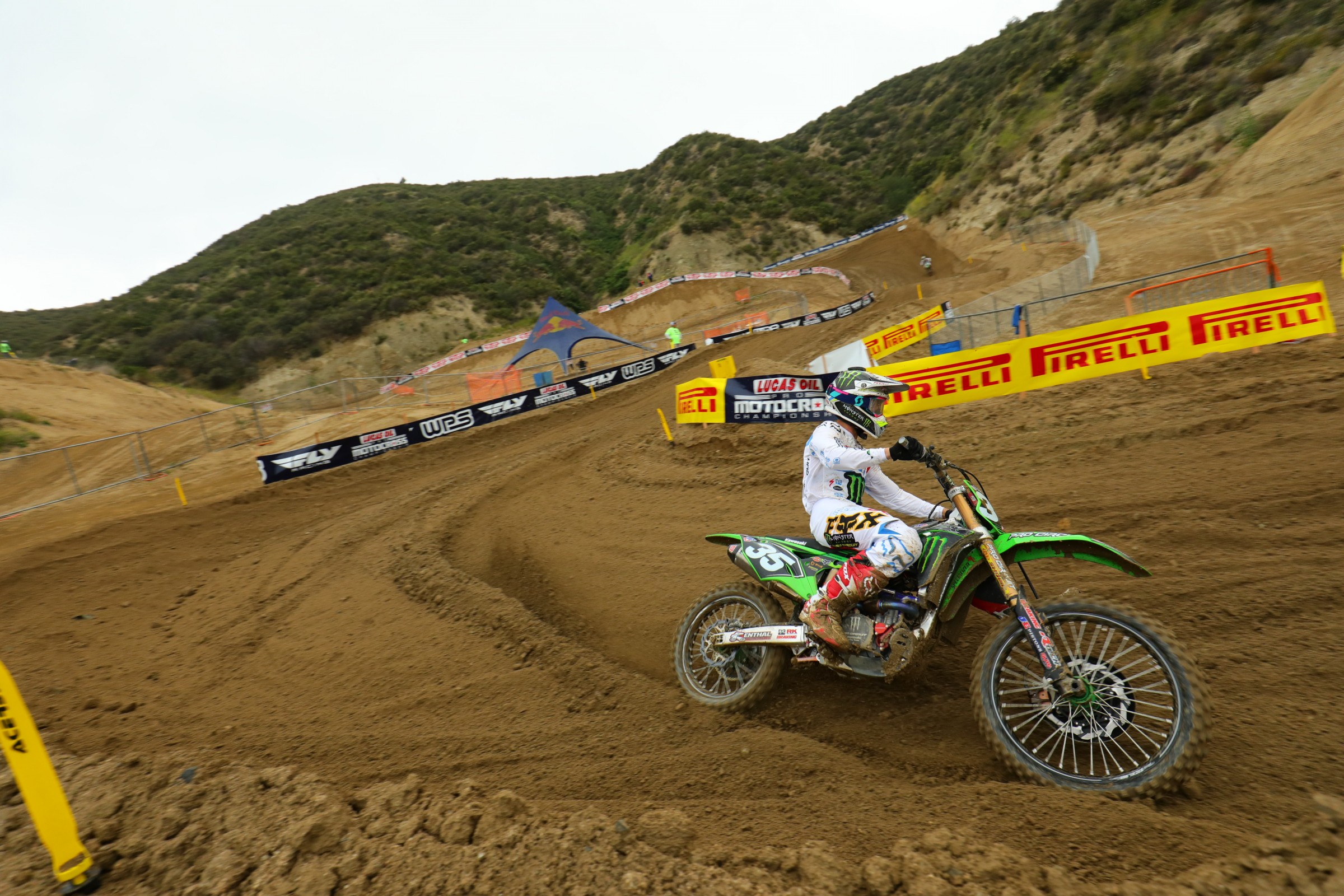 In the first 450 session there were no surprises up front—Tomac was fastest with Marvin Musquin close behind. A little further down the list privateers Kyle Cunnginham (eighth fastest) and Bradley Taft (eleventh fastest) got into the mix and set times in the same range as some of the factory racers. Nice job from a pair of racers doing it the hard way this summer.
In the morning report we mentioned rain wasn't in the forecast, but nevertheless, it's here. The light mist this morning has progressed to a light sprinkle, enough to cause water to stream steadily off the edges of rigs and easy ups. Depending on how long it persists and how hard it falls, we could see some mud start developing. That would definitely make for a unique Glen Helen National!
Practice – Session Two
Things were a little bit different in the second 250 practice session, but not enough to have an effect on the overall results. Not up front, anyway. Justin Cooper was holding the fastest time, a 2:39.833, but Jeremy Martin threw down a heater late in the session to best Cooper's time by over a second. It didn't matter in the grand scheme of things though, as Cooper's best lap from the first session was so fast nobody could touch it in the second, including Cooper himself. Credit to Martin though for improving his best time in the second qualifier by over three seconds.
In 450 action Jason Anderson and Eli Tomac both only put in one fast lap, and they both did it on lap three. The times were very close too, with Anderson barely edging Tomac's 2:37.294 with a 2:37.156. That's a good sign for Anderson—we'll see if he can keep his speed up in the later stages of the motos today after fading a bit in them last week.
250 Moto One
Zach Osborne kicked things off with a holeshot, but quickly got shuffled back a couple spots, and Aaron Plessinger emerged as the early leader. Plessinger put his head down early and started pulling a gap. Second-place Osborne would eventually stabilize that gap, and it even seemed like he was reeling Plessinger in a bit in the late stages off the moto, but then he had a small crash, which gave Plessinger more space than he knew what to do with and allowed him to cruise to victory. Fortunately for Osborne he still had plenty of room between himself and Alex Martin in third and he was able to ride to a comfortable second place.
Speaking of A. Martin, after riding all by himself in third for most of the moto he was caught by Justin Cooper and Jeremy Martin, who'd been battling hard almost the entire moto, with about two laps left. In the end A. Martin was able to hold them off for third. Cooper was fourth, J. Martin took fifth, and Joey Savatgy got Garrett Marchbanks late for sixth. Shane McElrath ran fourth for a while but faded to ninth. Austin Forkner either crashed on the first lap or got a horrible start. Either way he was almost dead last on the first lap, but managed to work his way up to thirteenth. Finally, Chase Sexton took tenth after a bad start and a crash.
450 Moto One
Things couldn't have been any better for Honda HRC when the first 450 moto got underway. Both their riders, Christian Craig, and Ken Roczen, streaked through the first turn in the lead. Unfortunately Craig would crash a bit later and exit the racetrack, but Roczen raced on. Before long Eli Tomac started closing, and after a few laps he was all over Roczen for the lead. As the moto progressed Tomac continued to apply immense pressure, and there was more than a few moments when it looked like Tomac was going to make the pass. But Roczen hung strong for over half the moto, which is incredible considering he's not 100 percent following a hand injury sustained earlier this year. Late in the race Marvin Musquin, who'd passed Jason Anderson for third several laps earlier, caught Roczen and started pressuring him. After stalking him for a bit, Musquin sliced to the inside and made his way past Roczen to take over third. Roczen didn't put up much of a fight, but he didn't let Musquin gap him right away either. Tomac went on to win by a large margin, Musquin took second, Roczen third, Anderson fourth, and Blake Baggett fifth. Tough race for Benny Bloss, who ran as high as sixth for a while and battled with Justin Barcia. Something happened out of view and he ended up twenty-second.
250 Moto Two
Alex Martin shot out to the early lead in this one, but wasn't able to charge away from the pack. Guys like Austin Forkner, Joey Savatgy, Jeremy Martin, Aaron Plessinger, Zach Osborne, and Justin Cooper all formed a big group early that A. Martin led by about two seconds for several laps. Then Plessinger started coming through the pack and closing, and before you could say Star Racing, he was all over A Martin. Martin did a good job of holding him off, but Plessinger was on fire and you knew it was only a matter of time before he went around Martin, which he did at roughly the fifteen-minute mark. From that point it was game over—Plessinger checked out faster than a deadbeat dad and won the moto.
In second place A. Martin found himself under intense pressure yet again, this time from his brother Jeremy Martin and Zach Osborne. Joey Savatgy wasn't too far behind but wasn't close enough to join the battle. He did however pick up a spot when Osborne crashed. Moments later Osborne was trying to kick a lever back into place as he soared over the finish line jump. J. Martin put the heat to A. Martin for a long time, but A. Martin did a fabulous job of holding him off. He even went off the track at one point but still managed to retain the lead. J. Martin managed to get around him a few turns later though and rode to a comfortable second. Savatgy finished fourth, while Osborne rounded out the top five.
450 Moto Two
Jason Anderson started the final moto of the day by ripping a big holeshot and immediately started distancing himself from the pack. Behind him Blake Baggett crashed on the first uphill, triggering a chain reaction that claimed several riders. Justin Barcia nearly got caught up in it when he smashed into Baggett's bike, but somehow managed to bounce over it and continue racing. Baggett remounted in almost dead last.
Up front it was Anderson with a big lead, with Marvin Musquin in second and Eli Tomac in third. Not a whole lot happened in the first fifteen minutes, but then Tomac started reeling Musquin in and slashed past him when Musquin followed a lapper through a section and got hung up. At about the same time Barcia got around Weston Peick for fourth. As the race was winding down it didn't look like Tomac would have a chance at catching Anderson, who had roughly an eight second advantage with just a few minutes left. But then, just like last week, Tomac flipped the switch, lit the burners, and started ripping into Anderson's lead. Anderson tried to respond but Tomac still caught him, took the lead, and let the hammer drop, beating Anderson by over fifteen seconds.
Ken Roczen, after doing so well in the first moto, had some kind of mechanical problem right away in the second moto and was forced to pit. He got going in just about dead last but still managed to take eighth in the moto. Probably not the result he wanted after such a strong showing in the first moto, but it was much, much better than last week.