Rancho Cordova, CA
Hangtown
Lucas Oil AMA Pro Motocross Championship
The first round of a series means different things to different people. For most, they are hoping to start off on a positive note, providing a spring board to a strong summer. For the championship contenders, though, the first round means much more. It's not just about the physical. Being in shape for the motos and being one of the fastest riders are foregone conclusions.
The mental battle is a critical aspect of the first round that is hard to visually detect, but make no mistake, it's happening on press day, in timed qualifying, and during every lap of each moto. In the 450 Class, Eli Tomac and Marvin Musquin had their first showdown while Zach Osborne and Jeremy Martin did the same in the 250 Class.
For Eli and Marvin, they have a pretty good inkling that they will be the odds-on favorites to win this 2018 title. Blake Baggett might have something to say about that after holding the red plate last year, but going into Hangtown, I would bet good money that their focus was on each other. There is no love lost between Tomac and Musquin after the Foxborough fiasco. This isn't a new development between teams, either. Tomac and Musquin's former teammate, Ryan Dungey, also had hard feelings after last year's supercross series ended. So, with that tension remaining a constant for the past couple of seasons, it's no surprise that both sides are at the pinnacle of their opponent's priority lists. Knowing that they are the two to beat, they would both want to make a big statement at Hangtown. There is no better way to both project confidence and also strike doubt into your fiercest competitor than to dominate the first round. Creating perceived superiority is paramount.
Eli Tomac earned that on Saturday. His speed in timed qualifying was the first warning shot, but the real impact was made in the second moto. Tomac's bugaboo has been in these weird crashes and lackadaisical rejoining of the races. He has done it so many times in the past that we almost expect it. As he crashed in the second moto this time, though, he jumped up quickly and wasted no time. He was able to get back on his pace that same lap and take off after the top three riders in front of him. Even more impressive, his best lap times were immediately after he had his tip-over. He put in jaw-dropping 2:19s on laps eight and nine. The next best lap time of anyone in the entire race was a 2:22. For a rider who has made headlines for his lack of resiliency after a crash, he was incredible. Those 2:19s served notice that when Tomac is on, everyone else is in big trouble. Both Musquin and Tomac wanted to make a statement and leave everyone with something to ponder this week. Tomac undoubtedly left his mark in that regard.
In the 250 Class, the dynamic was remarkably similar. Both Zach Osborne and Jeremy Martin are the clear-cut favorites to win this title. Like the 450 Class, they both wanted to put in a weekend that would leave the other contender doubting themselves. Osborne and Martin both had good reason to believe they were the man to beat entering this series. They have both won this championship in the past and have a lot of momentum coming out of supercross. They finished 1-2 in last year's championship, although Zach's huge points cushion made it a bit more of a runaway than it might seem. Still, most were unsure of who would come away with a win on Saturday. Jeremy Martin fired first, besting Zach in timed qualifying by the narrowest of margins on the last lap. As expected, it set the tone for what this summer could and should look like. Two veterans duking it out for another 250 title.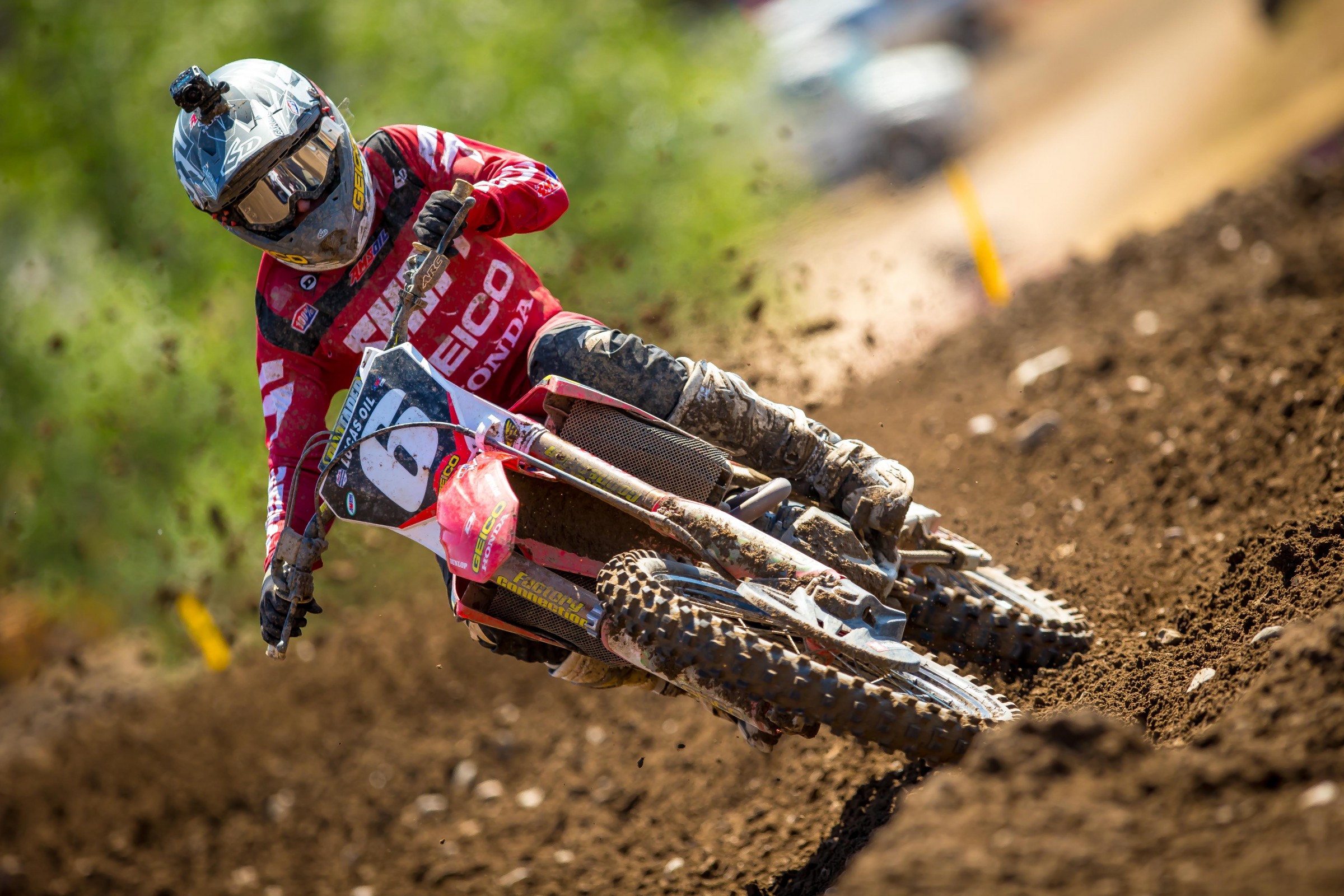 As we now know, Zach took it to the field. He sliced through the contenders in the first moto en route to a dominating victory. He was aggressive and forceful, pushing the pace past anyone else's limit. The second moto would be more of the same, but unlike the first moto, Martin (and his brother Alex, somewhat) was able to latch onto Zach's pace and keep a respectable presence. It wasn't the relentless pressure that Martin would have wanted, but it was certainly more noteworthy than the first moto. It was also a sign that Martin might be able to respond moving forward.
Osborne was the clear victor, but there was a glimmer of hope in Martin's second moto ride. He was able to match pace on several laps and even gain back time here and there. He also avoided the big mistake that he made on lap five of the first moto, losing six-plus seconds to Osborne and, more importantly, losing touch with the lead. That lap five mistake was the same lap in which Osborne moved to the lead, a double whammy that he never recovered from.
This was only the first salvo in a summer long war. Tomac and Osborne drew first blood, but just like in 2017, that might not mean much when Glen Helen comes calling. Whether a moto is barely won and both sides leave satisfied or it's utter domination, like Tomac's 2015 Hangtown performance, there is simply too much racing left to draw hard conclusions. These mental battles are still critical, though. I believe Ricky Carmichael had most races won before we even left the starting gates. He had dominated so ruthlessly that most had already subconsciously conceded defeat. For these modern riders, the goal is no different. They want to strangle the fight out of their competition. When your fiercest competitor doesn't truly believe they can win, they are usually proven correct. Hangtown was step one for Tomac and Osborne. How will Musquin and Martin respond? The mental ebb and flow of this championship is constantly up for grabs, and Glen Helen is the next chapter.