Rancho Cordova, CA
Hangtown
AMA Pro Motocross Championship
The sports pre-season creates many clichés, but none is more popular than "it's a long season." In this sport's past, the phrase was used to illustrate how one race doesn't make a whole season and how staying consistent and healthy was more important than dominating Anaheim 1 or Hangtown. The meaning has flipped a bit lately to a more literal use—now we hear "long season" references to describe the actual racing calendar. Dudes are talking about burnout, be it from big examples—like early career departures for Ryan Villopoto or Ryan Dungey—or smaller snippets, like Eli Tomac skipping last year's Motocross of Nations to try to get a break and avoid the fate of those Ryans. That, or you can just read the myriad of social media posts using one of the "G"-words: grueling, gnarly, or grind.
This is all cyclical, though. The racing calendar has basically the same number of races it always has for several decades; it's the work put into it that changes. There used to be more breaks during the season, but that just meant a shorter off-season and a longer period to sustain race shape all the way into October 15, in the case of the AMA National finale date in 1989. The new strategy is fewer off-weekends and a quicker ending. It's just a different way to package the grueling, the gnarly, and the grind, which hasn't changed at all.
Guys train super-hard now, but the stars also trained really hard in the eighties, and virtually none of them made it to age 30 at the front of pack in those days. It didn't help that rudimentary suspension systems, riding gear, and medicine led to lots of beaten-up ankles and knees, but overall, racing a triathlon the day after a supercross (which the top stars really did back in the mid-eighties) did not add longevity.
Then came a more free-wheeling period, and careers extended. Now we're back to the serious stuff. Clearly in the vice grip right now is Jason Anderson, fresh off the Monster Energy Supercross Championship. This is a life-altering, game-changing experience—the highest magnitude of accomplishment for anyone who has spent a lifetime in the saddle of a dirt bike. This was Anderson's first title at this level, only adding to the level of both stress and relief. A few days ago, Transworld Motocross talked to Jason about his first week as supercross champion, and he was still having trouble finding the words to sum it up besides just saying it's been "crazy."
In many sports, you'd get several months—an entire off-season—to square up with these thoughts and emotions. Around these here parts, though, that's not the tradition—you've got to run the gauntlet in 2018, just like in '78, '88, '98, or '08.
Due to the high injury rate of dirt bike racing, the reset isn't a bad thing. For every Anderson who would like a vacation, there are those even more desperate to get back to work. Ken Roczen needs a new series to get some strength back into his racing legs (and arms). He will be racing Hangtown, perhaps not at 100 percent (he's only recently graduated to 30-minute motos), but desperate to get in gate drops and experience combat again. He needs it for both his head and his heart because Roczen is a racer, and he's spent far too long outside the thick of it.
Justin Barcia had the rejuvenation machine going in supercross, from scrap-heap and out of a ride to contender for race wins and maybe even a title. Then one small mistake—messing up his timing on a triple and getting clipped on the landing—ended it. Roczen and Barcia were so close to winning races again. This is the second chance they yearn for.
Blake Baggett might have also had a supercross win in him, but he jacked up his tender wrist in Atlanta and had to shift into survival mode. He health started to return recently, at just the right time. You think El Chupacabra has been pounding motos lately, with full focus on Hangtown? Count on that.
Then there's last year's Lucas Oil Pro Motocross Champion, Eli Tomac, and last year's runner-up, Marvin Musquin. Instant shoulder injuries shelved their 2018 SX title hopes for the most part. The "long season" mantra, under the old use when it meant focusing on consistency and avoiding injury, has come into play this year. Tomac, Musquin, Barcia, Baggett, and Roczen can point to one small thing that derailed an entire campaign. They will relish the chance to make amends so quickly.
It's the exact opposite for Anderson for several reasons. Any championship party demands a championship hangover, but for Anderson, the head should pound a little extra. The previous supercross champions, Villopoto and Dungey, came into the 450 Class pre-programmed to run this gauntlet. RV won the AMA 250 National Motocross Championship in his first three full pro seasons. Dungey won the 2009 250 Class title, the year after Villopoto moved up. These guys moved into the 450 Class knowing full well that business was not finished until moto 24. They knew this, yet were still not immune to the championship hangover. Dungey won his first 450SX Championship in 2010. Two weeks later at Hangtown, he went a shocking 10-6 for eighth overall. That's the worst result Dungey ever had in a 450 National on a day when his bike did not break.
The next year, Villopoto won his first 450SX title. Two weeks later at Hangtown, he showed up looking, feeling, and sounding sick. He went a distant 3-5. It took several weeks before he started contending for wins, and nearly the entire season before he produced rides matching his usual standards. Dungey and Villopoto knew the drill and knew what to expect, but they still experienced a huge lull in dealing with the long season.
Anderson, meanwhile, has never won an outdoor overall in his career, in either class. His supercross title is worth celebrating, for it was not a foregone conclusion. It was easy to put Anderson as fourth on the pre-season supercross championship favorites chart behind Tomac, Musquin, and Roczen. He tuned out that noise, believed in himself, and made a dream come true. He proved everyone—well, everyone outside of his team, which always believed—wrong. This is not a feeling you want to move on from quickly, but there was Anderson, back to work on Monday after Las Vegas, at least in body, and possibly (hopefully) in spirit.
There is an extra dangling carrot this year to provide motivation. Motocross of Nations is heading to RedBud, which presents a once-in-a-lifetime race, event, and experience. Both Anderson and Tomac have stated they want a spot on Team USA, and you'd think most of their peers want one, too. That's a much different story from last year, and this summer could perhaps resemble an audition for positions.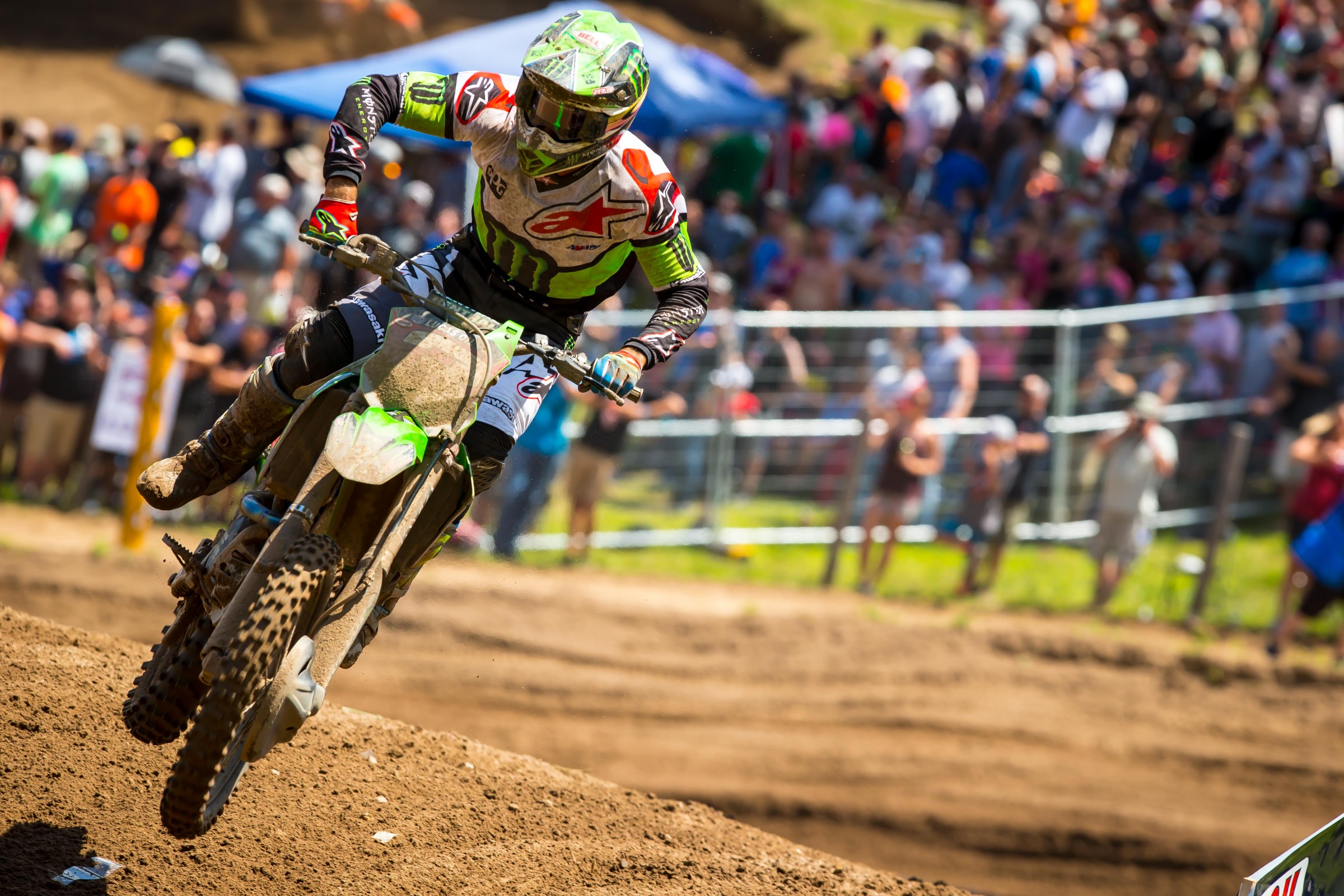 The long season thing means something different to Tomac. Because he's sporting the 450 Class number-one plate, and because he once again won more races than anyone else in supercross, Tomac would appear on paper as the easy favorite for this motocross title. He had similar bona fides going into supercross, though, and it did not work out. Even winning last year's outdoor title didn't totally dispel the idea that Tomac, while clearly capable of being incredible on most days, can struggle to get it right on every single race day of the long season. Last year, he tried to play the consistency card better, especially when inconsistency of others allowed him to open a solid mid-season points lead. But riders at Tomac's level often struggle with shifting into "race not to lose" mode. As Eli tried to adapt to that role, Musquin got on a roll and nearly reeled him in. There were so many contenders last year. Baggett was sensational for a few weeks, as was Anderson. They eventually got hurt, title chances lost. Tomac got the 450 Class Championship, but it was not a dominant season. It didn't need to be, but it also probably gives everyone a little more hope that he's beatable this year.
Last year's 450 National Championship chase was a good one, and it illustrated that long-season cliché for everyone. The phrase means two things—staying on that gnarly, grueling grind for nine months of competition and avoiding the one mistake that can ruin everything else that went right. Hangtown restarts the process, but with so many storylines and timelines intersecting at once, it's impossible to know where everyone stands. And that's the beauty of it.