Las Vegas, NV
Las Vegas
Monster Energy AMA Supercross Championship
That's a wrap on the Monster Energy Supercross Championship. Las Vegas was the final round of the series, and we got what we expected: All three riders who entered with a double-digit lead in points wrapped up their respective titles. The complete nuttiness that happened last year escaped us, and that's a good thing—I'm not sure my heart could have handled it.
The track in Vegas was…well, let's just move on, shall we? I'm not sure there's been an easier, less challenging track in a while. Anaheim 2, maybe? There was an inside bump on one turn to try and make the riders go outside before a rhythm lane, but for some reason, they took that out, which forced everyone to ride single-file and do the exact same thing. Hey, man, it's been 17 races in 18 weeks for the builders, too; I guess they wanted a bit of a break.
Congrats to the Rockstar Energy Husqvarna team for Jason Anderson's 450SX title and Zach Osborne's 250SX East Region title. Also, the Monster Star/Yamalube/Star Racing Yamaha team for Aaron Plessinger's 250SX West Region title. I've never had a rider win a title before (I don't think most people would count the two East Coast four-stroke titles I collected with Kelly Smith, would they?) but I've been on a team that won a 450SX title (Reed on Yamaha in '04) and I know how hard these guys work. And it's not just the mechanics for the individual riders, either. It's everyone on the team chipping in to help get a rider to the top step. It's a ton of work, stress, and pressure for everyone, but in the end, it's pretty damn cool to get that number one plate.
But as I talked about on the Racer X Review Pod and PulpMX Show, why we gotta blow up the bikes afterward? This is a relatively new thing that has progressed from burning off the tire (which I'm okay with) to now just trying to straight blow the bike up. It's bizarre behavior when you have friends and family all milling around the truck, smiles, champagne, celebration, and for 20 minutes a bunch of dudes are WFO on a bike trying to absolutely destroy a factory motor. Smoke everywhere where you can't stand by it, loud enough to where you can't talk to anyone, and why destroy good factory parts? I saw the video of the Husky burnouts with the Anderson and Osborne bikes and the pipes were literally red-hot. I know I sound like an old man yelling at clouds here, but can we just stop this and celebrate like civilized humans?
Okay, let's get into these results.
250SX Results
1st | #92, Adam Cianciarulo | New Smyrna Beach, FL | Kawasaki KX250F
Well, he did it. In my opinion, AC's got the most raw speed in the class, but he didn't have a win until this weekend. In Vegas, he rode great in ripping through the leaders and taking off with a victory. Today, he undergoes knee surgery that will take him out of Lucas Oil Pro Motocross. On an easy track, he was able to use superior corner speed and a great whoop jumping technique to win. The points show he ended up only two back of Plessinger, but week-in and week-out, Plessinger was the better guy (by virtue of winning more races) and he admitted this on the PulpMX Show this past Monday. At least Adam gets that one "W" beside his name. Second year in a row he's won the Showdown, also.
2nd | #45, Jordon Smith | Belmont, NC | KTM 250 SX-F
Smith rode very well to finish runner-up. He seemed to get better later on in the race. Yeah, this finish isn't going to gloss over his crash last year that hurt his back and likely cost him the 250SX title, but he cleared a bit of a hurdle by riding well in Vegas to get a second. Cianciarulo also crowned him as the best golfer among riders on Monday.
3rd | #28, Shane McElrath | Canton, NC | KTM 250 SX-F
I would've thought Shane would win this race after grabbing the holeshot and leading for a while. Then Cianciarulo passed him and gapped him a bit. I bet when Smith, his teammate, came up on him, he knew that his chance for the title was gone (he had to jump AC and Plessinger) and probably let Jordon by to try to help him for the East title. Anyway, a solid year for Shane, but that one poor race cost him again.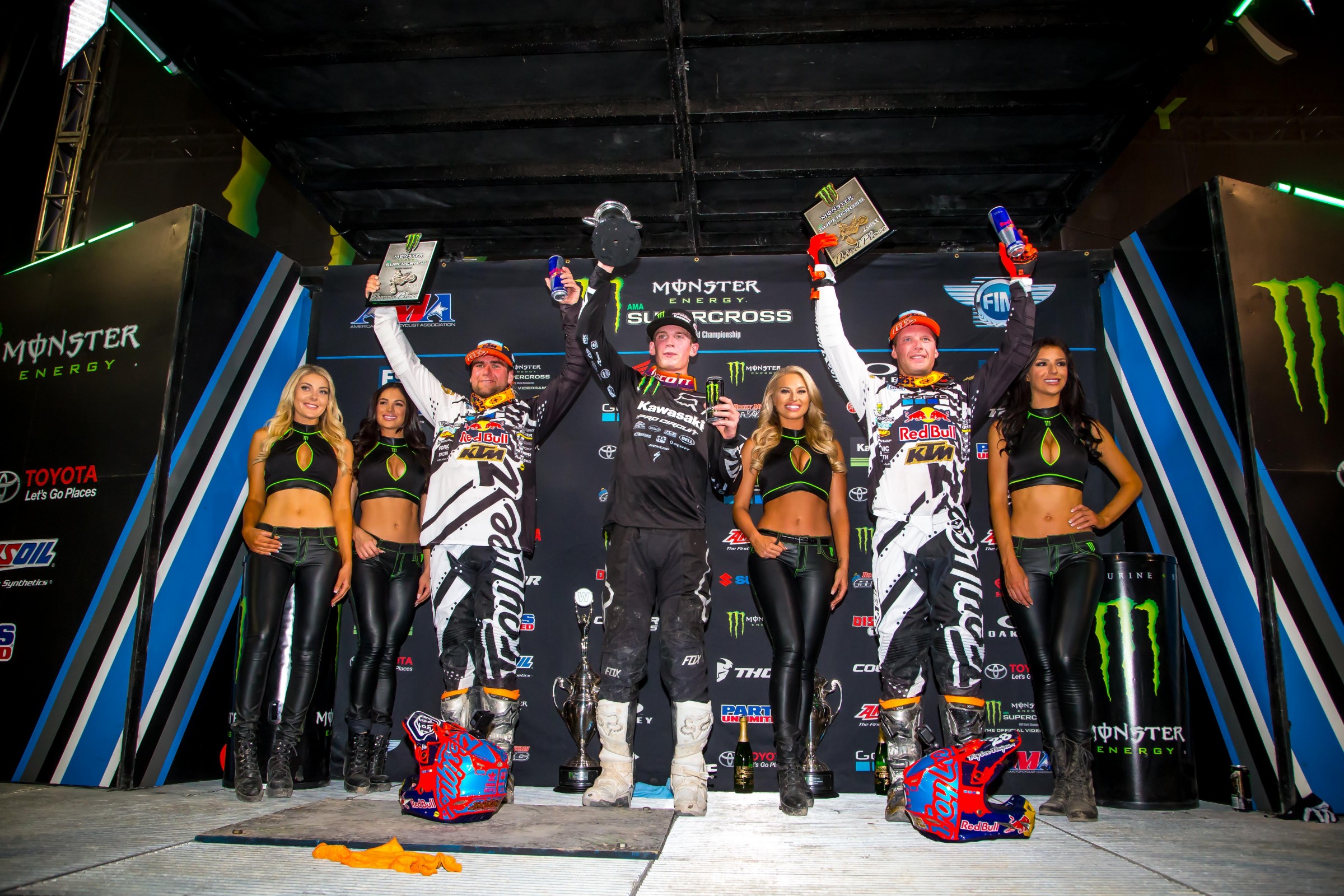 4th | #17, Joey Savatgy | Thomasville, GA | Kawasaki KX250F
Once again, Joey was in a good spot for a podium or even a win, and some small mistakes cost him. He was looking to finish fifth on the night when he slammed into Jeremy Martin in the last turn and took them both down. Again, lots of arguing lately over what's considered a clean pass, and one rule I have is that if you also go down when in the act of trying to make a pass, it's dirty. Anyway, the pick-'em-up pass worked for Joey because he got up before Martin and finished fourth!
5th | #6, Jeremy Martin | Millville, MN | Honda CRF250
I thought J-Mart was gonna win the whole thing, bro; he's been on such a roll lately with this SX stuff. And he rode well for sure; I bet riding at Tomac's really improved his hard dirt skills, but AC and Smith were just a tad better. Jeremy said he spent too much time behind McElrath and got sucked into his pace and lost his rhythm. He had fourth wrapped up when…well, see above.
6th | #40, Chase Sexton | Clermont, FL | Honda CRF250
I asked Sexton—who, by the way, won the Rookie of the Year award for 250SX—about his season: "I got three podiums and been in the top five a lot. Tonight was okay. I rode decent. Kind of caught up to Savatgy then I kind of just got dropped after that. Got sixth. We've moving on to outdoors…" These kids, man, they are tough to please!
7th | #1E, Zach Osborne | Abingdon, VA | Husqvarna FC 250
Wacko was a ways back behind Sexton and looked to be in no rush to do anything but click the laps off. He knew that even if Smith was leading, he was good. And behind him was Plessinger, who also knew that no matter what happened out front, he was in position to clinch. Both riders probably had a mental pact to just chill down and get through this thing. Osborne, if he repeats with a 2018 250 Class title in Pro Motocross, will be the only 125/250 rider in the sports history to win four titles in two years. RC, RV, Tedesco, and Stew all got three out of the four, but no one has pulled the quadruple.
8th | #23, Aaron Plessinger | Hamilton, OH | Yamaha YZ250F
Oh boy, AP almost had a big one that would've made this race a whole lot more stressful for him. But his long-ass legs saved him, and he rode a cautious race to take home his first pro title. It was interesting that he had two Yamaha riders, but not teammates, behind him (Hartranft and Chisholm). If they knew that Plessinger was close to losing this thing with AC out front, would they have tried to make the pass? Was Yamaha letting their other teams (CycleTrader.com/Rock River, 51Fifty Energy Drink) know about what was going on?
9th | #114, Brandon Hartranft | Brick, NJ | Yamaha YZ250F
I'm on the Hartranft bandwagon, bro. All aboard, we're heading to a podium near you. He had to go to the LCQ to make it happen, but then from there to end up inside the top ten with a stacked field is a great ride.
10th | #63, Hayden Mellross | Clermont, FL | Yamaha YZ250F
Mellross rode well to get this sneaky good finish, and he'll be joining the CycleTrader.com/Rock River Yamaha team for Lucas Oil Pro Motocross in the 250 Class in a deal that I'm glad to be a very small part of. When you work with the great Tim Ferry, good things happen, bro.
11th | #43, Sean Cantrell | Murrieta, CA | KTM 250 SX-F
Cantrell was a great pick in the PulpMX Fantasy league because he was outside of the All-Star picks due to it being a Showdown, but you knew he'd be in the main and probably get inside the top ten. He missed that second mark (but rode by two riders on the ground in the last turn—more on that in a moment) but he paid off in spades for us "owners." Like all rookies, Sean will be better prepared for Pro Motocross because he has last year to go off of.
12th | #64, Michael Mosiman | Sebastopol, CA | Husqvarna FC 250
Mosiman was the benefactor to his teammate Mitchell Harrison trying the same Savatgy "Pick-Up Pass" move in the same corner on Chisholm. He rode by both guys laying on the ground to make turn that 14th right into a 12th!
13th | #11, Kyle Chisholm | Valrico, FL | Yamaha YZ250F
Chiz was NOT happy with Harrison's move before the finish—it cost him sixth overall in the 250SX West Region, as well as a ninth in the race itself. Can't say I blame him, really, because again, when you end up on the ground after going for a pass, it's too much. I wondered if Chiz was thinking about what he was going to do if he caught Plessinger in the main; after all, he's a quasi-teammate of Aaron on a Yamaha, so I asked him. He said that nope, he wasn't. He said he was trying to catch him, and knew he was doing pretty well. Yamaha would not have been stoked on that move, Chiz.
14th | #38, Luke Renzland | Hewitt, NJ | Yamaha YZ250F
Quiet night for El Dozer out there; he's a better East Coast dirt guy for sure, but making the main is a good thing for a lot of riders with this field.
15th | #1W, Justin Hill | Yoncalla, OR | Suzuki RM-Z250
Not sure what was up with Justin these last two races. I heard he cased a jump last week that hurt him a bit and maybe that affected him in Vegas, but this wasn't good. Was there ever a weirder title defense in the sports history than Justin's? I mean, he won a race in an amazing ride, but for most of it, he looked like a shell of the dude he was last year.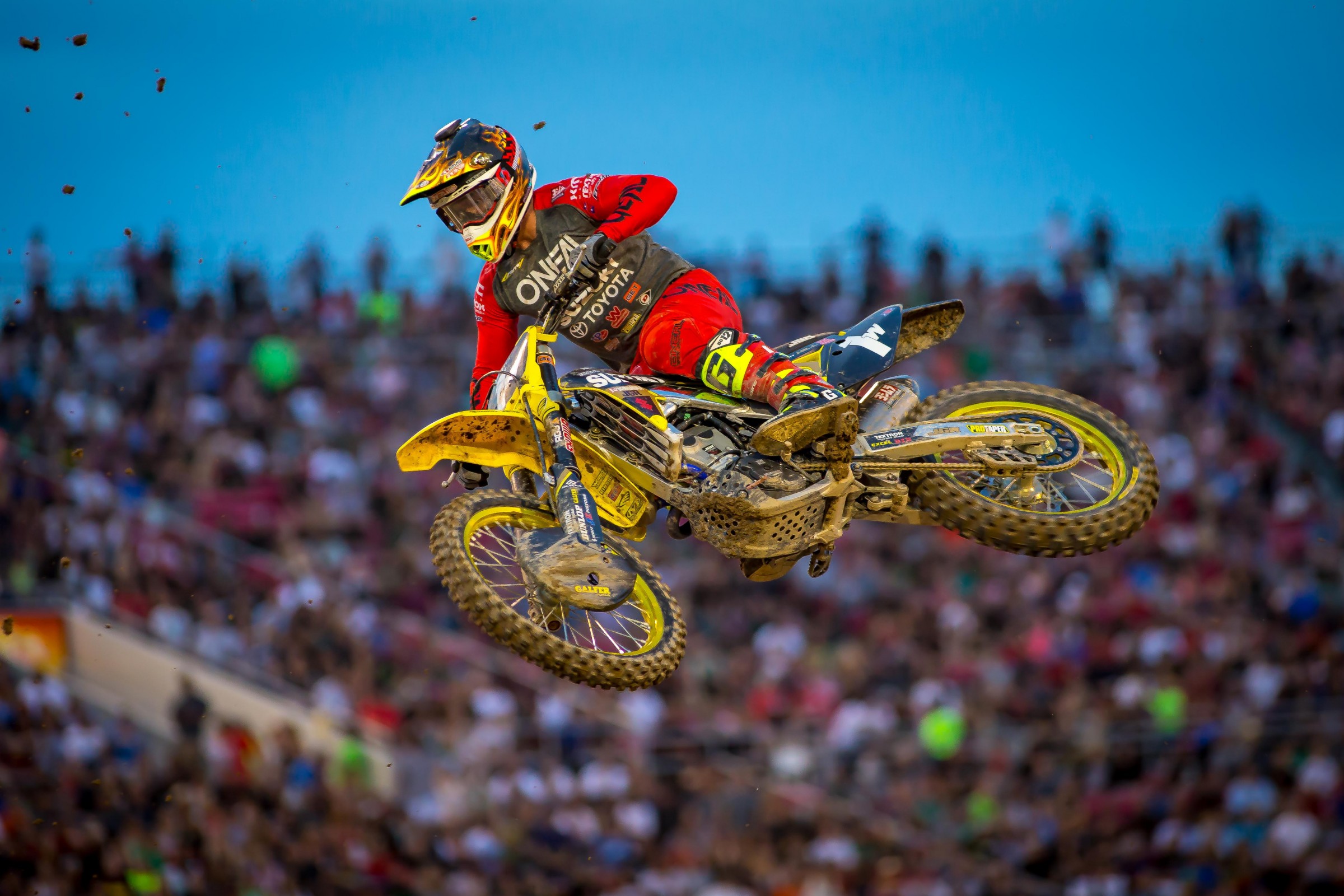 16th | #174, Joshua Osby | Valparaiso, IN | KTM 250 SX-F
Osby's going to have an upgraded ride for next year, I'm not sure with whom or what bike it'll be, but he's deserving of a spot, I think.
17th | #30, Mitchell Harrison | Tallahassee, FL | Husqvarna FC 250
Look for Harrison to be the lead role in a new movie called How I Turned a Tenth Into a Seventeenth with One Turn to Go .
18th | #76, Kyle Peters | Greensboro, NC | Suzuki RM-Z250
I mean, Peters tore up his knee in Minneapolis and was DONE. Like, scheduled his surgery for the week after, only to come back and make the podium in Foxborough and make the main in the Showdown. In this nutty year we had, why wouldn't this happen to a guy?
19th | #56, Anthony Rodriguez | Cairo, GA | KTM 250 SX-F
A-Rod rode well in the heat to make the main, but somewhat shockingly, his teammate Dakota Alix didn't make it in after a late crash in the heat and a bad start in the LCQ. Filthy Phil was also a DNQ, so as I've been saying, making the main in these Showdowns isn't easy.
20th | #137, Martin Castelo | Murrieta, CA | Yamaha YZ250F
Castelo rode very well last week to get up into the mix and carried the momentum into this week.
21st | #68, Justin Starling | Deland, FL | Husqvarna FC 250
Starling has had a nice season going on the West, but this weekend won't be on his 2018 250SX West Region highlight reel.
22nd | #373, Jacob Williamson | Swartz Creek, MI | Honda CRF250
Great ride in the heat for Williamson to get into the main. After that, I'm not sure what happened.
450SX Results
1st | #3, Eli Tomac | Cortez, CO | Kawasaki KX450F
In practice, Tomac and a few other riders were using the sand rollers to pre-jump over the single out of the stadium. So the track guys went out there to fix the sand so that couldn't happen. Well, Tomac still did it a few times in practice and in the main! A couple of times he couldn't nail it cleanly and Musquin made up some serious time, but Tomac's leap was a RIDICULOUS move. Physics would say it couldn't even be done, but Eli nailed it and, by the way, he was going Mach 7 while he did. It reminded me of something—wait for it—Stew would do. Eli Tomac has won 17 out of the last 34 supercrosses, by the way.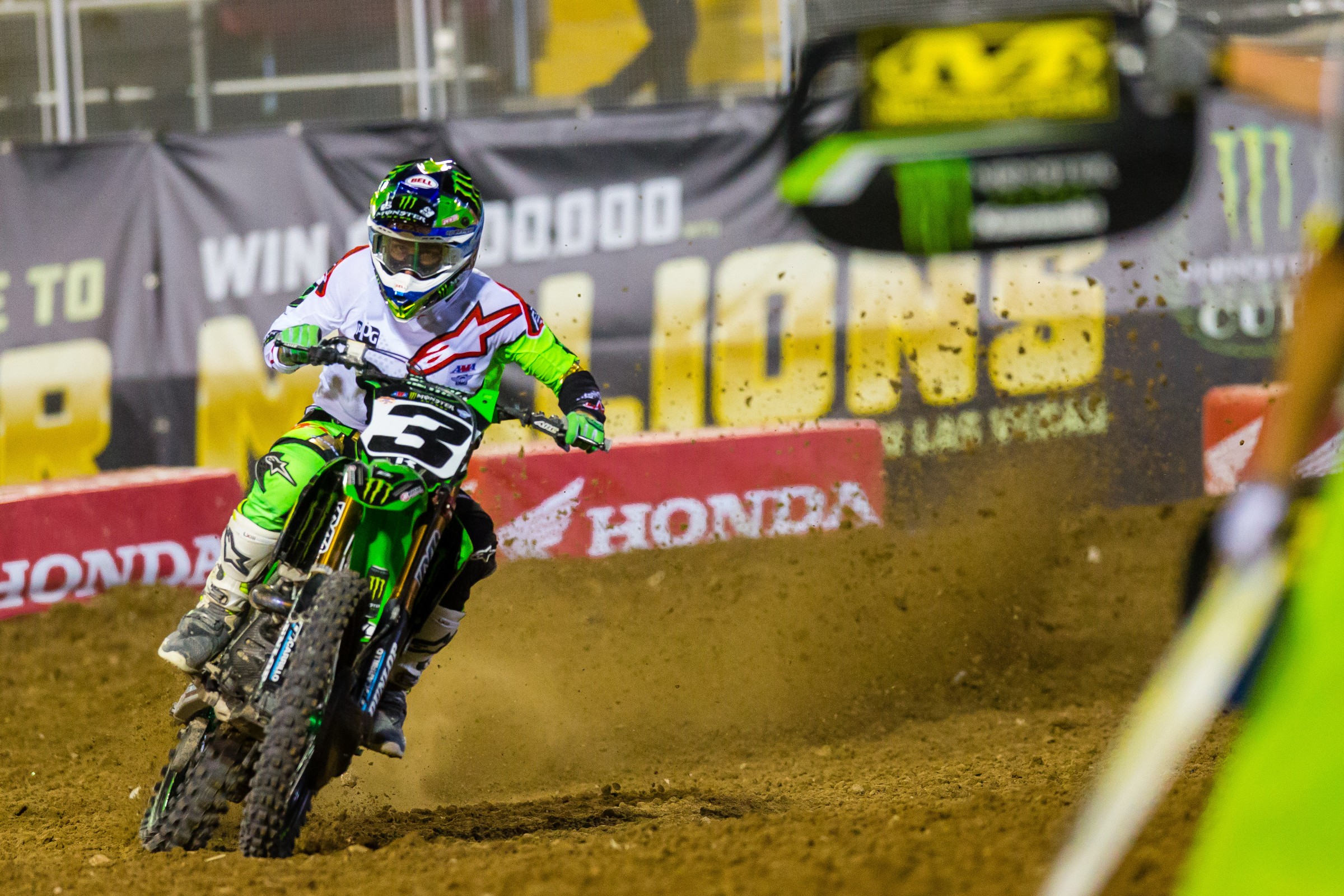 2nd | #25, Marvin Musquin | Clermont, FL | KTM 450 SX-F
Marvin knew his chances weren't great to get this title, but he rode hard all day long. The whoops turning jumpable were great for Musquin and he did that section well, and he was probably the guy hitting the single out of the stadium the fastest (besides the few times when Tomac managed to jump over the big single). Not a championship, but still a great supercross year for Marv.
3rd | #4, Blake Baggett | Grand Terrace, CA | KTM 450 SX-F
Baggett ended the year with podiums galore, and that's cool for him. Yeah, he was off #3 and #25's pace, but going into his real specialty—the outdoors—he'll take the momentum. El Chupacabra is just warming up!
4th | #32, Christian Craig | Orange, CA | Honda CRF450
I know he got fourth last week and I know he did well at Daytona, but I thought this was Craig's best 450SX of the year. I don't know, he didn't seem to lose the leaders as quickly as other races, and he didn't get caught, either.
5th | #21, Jason Anderson | Rio Rancho, NM | Husqvarna FC 450
It looked like Anderson was just doing all he needed to do in order to clinch his first 450SX title. But seeing as how he ditched the press conference early due to what I hear was food poisoning and then went to the hospital, this fifth looks better than ever. Sucks that on the best night of his life, he was feeling so badly.
6th | #60, Benny Bloss | Oak Grove, MO | KTM 450 SX-F
With everyone not named Tomac, Musquin, Roczen, Baggett, Brayton, and Anderson looking for a ride for 2019, Bloss's spot on the team didn't look locked in. But then he went out the last few weeks and rode great and backed all that momentum up with this career-best finish. Very good for Benji, and it couldn't come at a better time.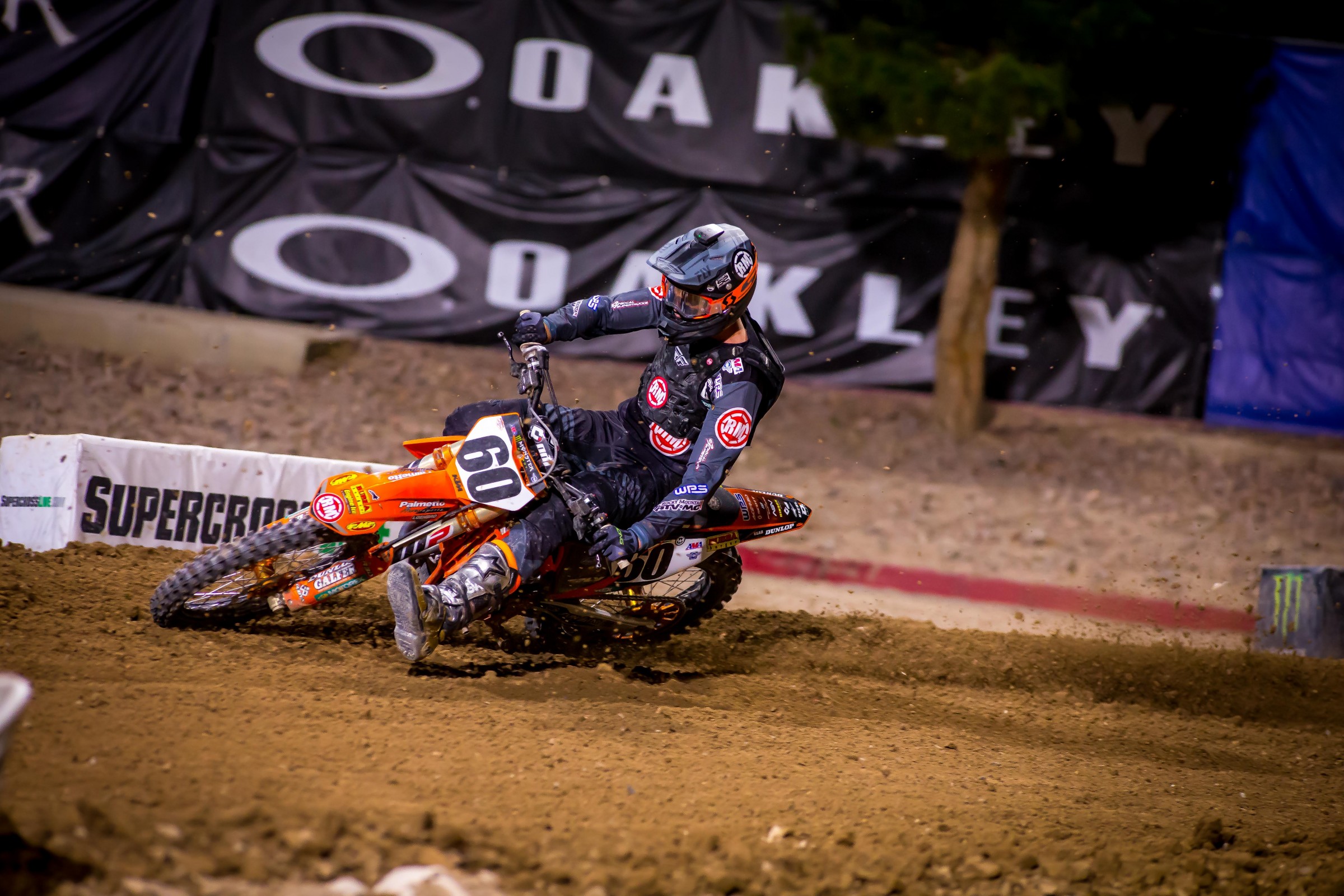 7th | #34, Weston Peick | Menifee, CA | Suzuki RM-Z450
I was watching Peick creep up on Wilson in the main with great interest because Weston knocked Dean down last week. Dean hurt his thumb, and I know he wasn't thrilled about. Nothing happened and life carried on, but I'd bet Dean wasn't stoked. Then again, I suppose all riders think twice about getting "revenge" on Peick.
8th | #15, Dean Wilson | Clermont, FL | Husqvarna FC 450
Because his thumb hurt from the hard contact Peick made with him last week, a top-ten was about the best a wounded Wilson could do on the day.
9th | #51, Justin Barcia | Greenville, FL | Yamaha YZ450F
Barcia had a quiet day until near the end of the main event when he, uh, "collided" with The Bear. He didn't get the start he needed to be anywhere near the front guys, and on this track, it wasn't easy to move up.
10th | #55, Vince Friese | Cape Girardeau, MO | Honda CRF450
I know many people are gonna hate this, but Vince Friese rode great in Vegas and had a great 2018 450SX season. Friese ended the year just outside the top ten in points and for the most part, stayed out of the controversy—outside of Oakland, where I think he was more holding on for dear life than meaning to hold up Baggett and take his teammate Brayton out. Congrats to Vince on the year. #sorrynotsorry
11th | #22, Chad Reed | Dade City, FL | Husqvarna FC 450
Reed holeshot the heat and led Tomac for a bit, which caused everyone in the stands to lose their minds as he dueled with Tomac for a bit. I said on the podcast that the fact this guy got BY FAR the biggest cheer said something about the current state of our elite riders, but Weege disagreed, saying that because Reed's career spanned so long, he's going to pick up the most fans by default, Windham-style. And he's right, but I think back to MC, RC, Stew/CR days and we had vets back then, but fans still loved the top guys the most. I just don't think Marv, Eli, and Anderson resonate with fans just yet. You know what? I would sign Chad for a second rider SX-only spot if I was in charge of, well, anything.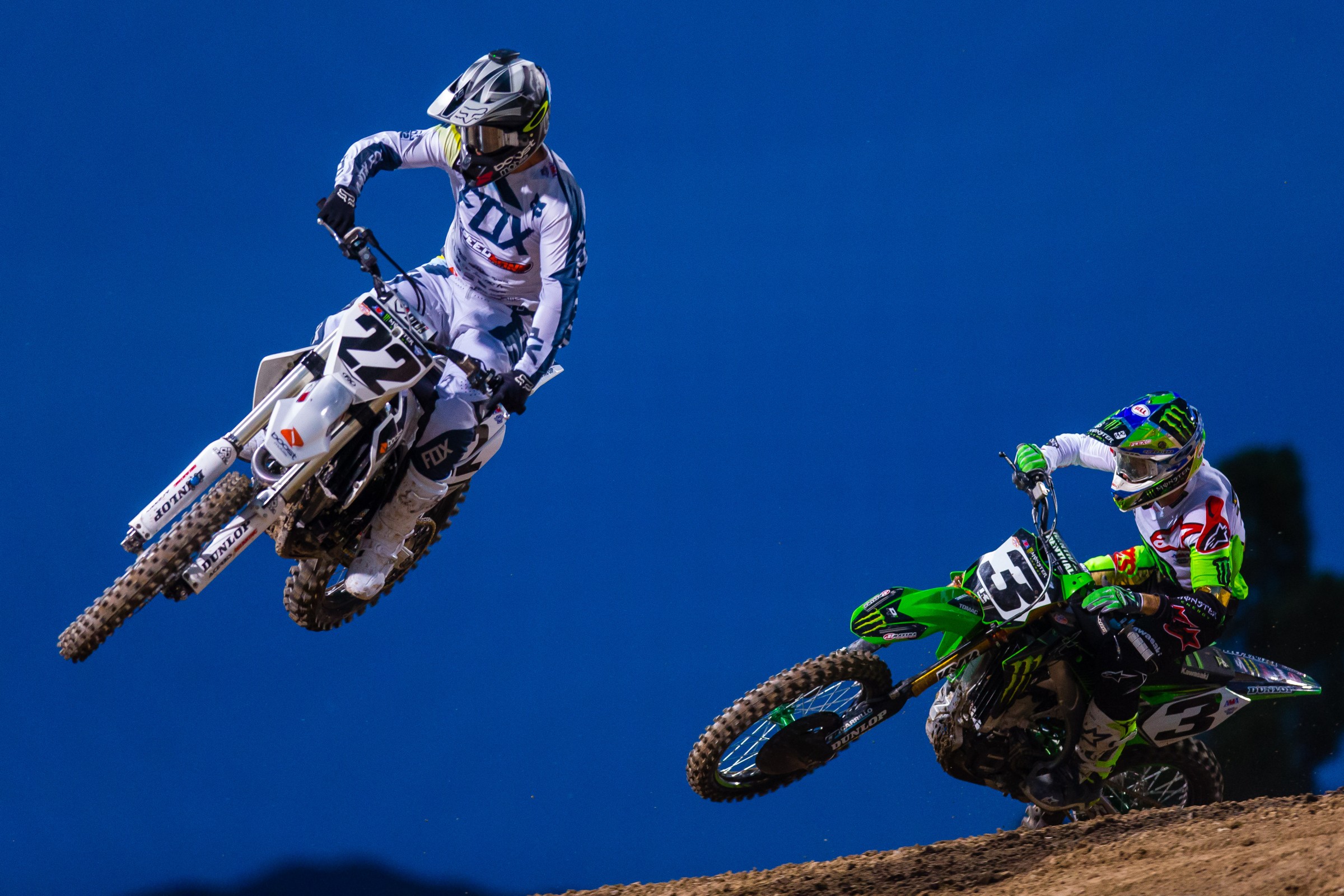 12th | #10, Justin Brayton | Mint Hill, NC | Honda CRF450
Brayton's had a great year, but Vegas was not good for him. He's mature enough to take an honest look at the track in Vegas. "Honestly, when I saw the track map, I was like, what in the world?" he told me. "I think there were six 90-degree turns. A track never works when it's like that. I feel like they have a lot of space to do stuff with, but I'm not sure. They're smarter than me I guess with that stuff, but it was not a good track."
13th | #27, Malcolm Stewart | Haines City, FL | Suzuki RM-Z450
Mookie was riding very well all day, but he looped it out heading out of the stadium in the heat race and that took the wind out of his sails for the main event. Mookie is a funny guy to talk to—he's so the opposite of his brother James, and I think that's because he didn't grow up in the spotlight. This is all just gravy for him because he didn't set out to be a moto star. Speaking of gravy, I asked him if he ever rode the KTM Junior Supercross Challenge race and he showed me a photo of him as a young guy to prove he was too fat to race back then.
14th | #201, Cedric Soubeyras | Venasque, France | Suzuki RM-Z450
Good job to Soubs and the H.E.P. Motorsports Suzuki team to help him finish out the season strong. Will we see him back next year? I'm not sure, but look for Soubs to be ALL OVER the off-season Euro SX races.
15th | #91, Alex Ray | Milan, TN | Yamaha YZ450F
Ray was very stoked to end the year on a positive note with one of his best rides. He was the only dude with hand guards on his bike, and he told me that he wondered if the other riders thought he was a baby with those. Despite the broken wrist and knee injury that caused him to miss some races, Ray had a breakout year in 450SX. Good for him, and look for big news for A-Ray soon.
16th | #48, Henry Miller | Rochester, MN | Suzuki RM-Z450
Miller ended his stint in the #RMArmy with a good ride. He'll be on Yamahas outdoors, and it'll be interesting to see what he thinks of the two bikes.
17th | #90, Dakota Tedder | Surfside, CA | KTM 450 SX-F
AC and I were walking back from track walk when we walked by Teds' pit. Teds' girlfriend was sitting on his lap. AC just started yelling "FOCUS TEDS, WE NEED FOCUS HERE" and that made me laugh out loud.
18th | #330, Cade Autenrieth | Hemet, CA | KTM 450 SX-F
Remember Cade? One of the more unlikely fill-ins for JGR (and that's saying something) a year ago, Cade's now in 450SX and on a KTM. And congrats to him on his first 450 main event, he rode very well. Revenge is a dish best served cold, JGR!
19th | #751, Joshua Hill | Yoncalla, OR | Yamaha YZ450F
I don't know if Hill was coming back to SX in order to get a full-time ride or not (we used to talk, but after he kicked me out of the Monster party last year, our "friendship" has kind of gone sour), but if he was, I'm not sure these races helped that out. But if he just wanted to come back, have some fun, and expose the green claw, then it's been a success.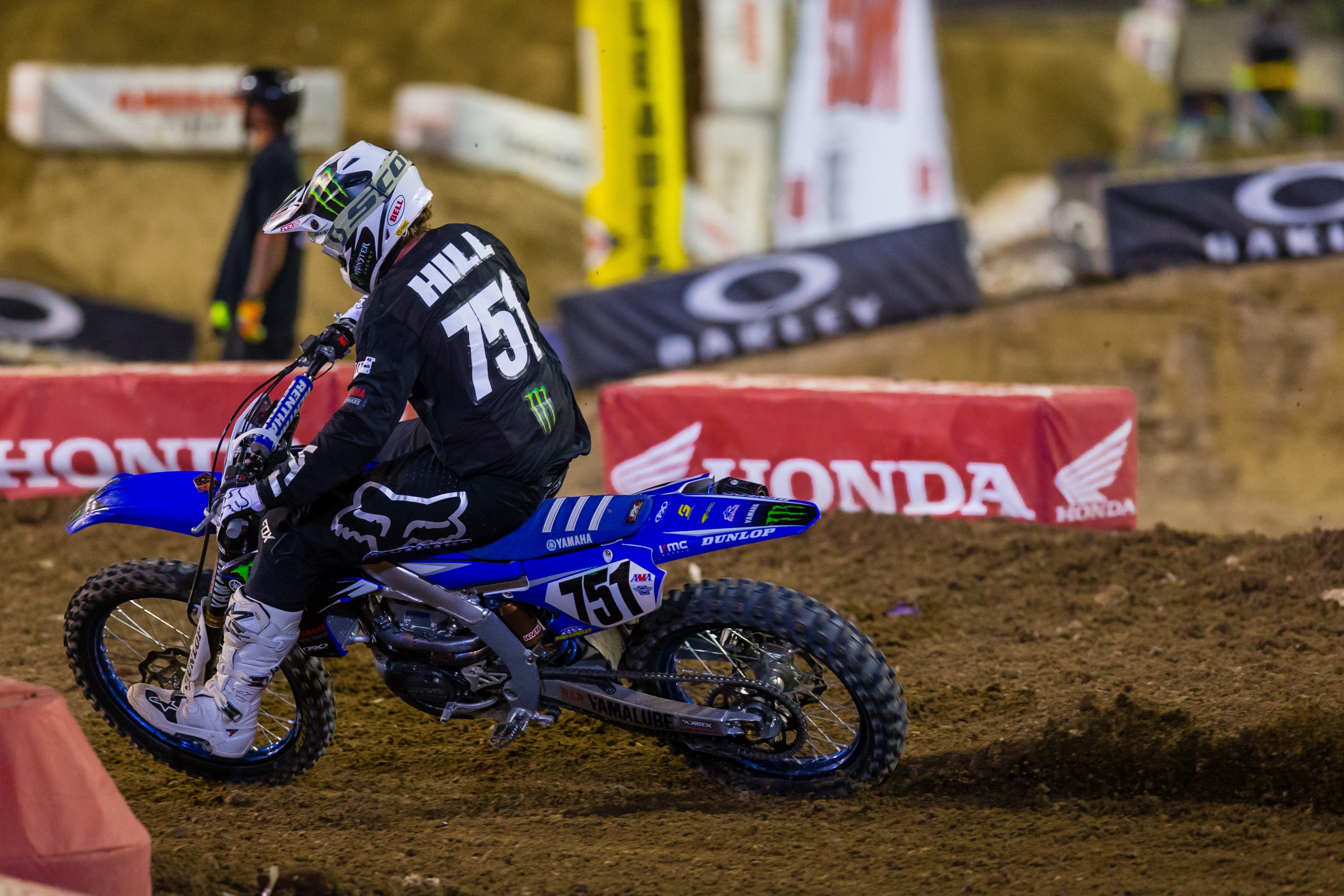 20th | #69, Tyler Bowers | Lake Elsinore, CA | Kawasaki KX450F
Bowers qualified the best he had all year and was up there in the main event for a long time (he likes Vegas, he won for Pro Circuit on a 250F there) before slipping back a bit. He made contact with Barcia before the whoops, then Justin hit him back before the finish, which resulted in a fracture to his fibula. Ouch, bro, that's a hard hit. Anyway, I'm sure The Bear is going to spend the summer sharpening his footpegs for revenge in 2019, because he's from arenacross and that's what those guys do.
21st | #981, Austin Politelli | Murrieta, CA | Honda CRF450
Austin has enough talent to just show up at the West Coast races and make mains. His window for a great ride has closed, but man, you have to admire a dude who can just show up and ride with the world's best.
22nd | #39, Kyle Cunningham | Willow Park, TX | Suzuki RM-Z450
I was watching KC intently because I was trying to stay ahead of JT in PulpMX Fantasy and Weege told me to pick Kyle over Miller and Soubs. Of course, Cunningham has had a lot of success in Vegas over the years, so he was a good pick. He was ahead of Miller and Soubs for a while, then he crashed. Thus began a five-minute torture period while we watched him slowly get on the bike, eventually start it, then roll the jumps for a lap before going into the mechanics' area for repairs…then he called it a night. This made me angry, and Weege was in danger, but in the end, I hung on to beat JT.
Thanks for reading—appreciate it all year long while I try to change things up with this column to keep it interesting (to me and to you guys). We're onto the outdoors and I can't wait! Should be great. Email me at matthes@racerxonline.com if you want to chat about this or anything else.