Las Vegas, NV
Las Vegas
Monster Energy AMA Supercross Championship
The thing to know about everything: It all matters. All of it. Much of this Monster Energy Supercross season looked procedural by the eighth week, when Jason Anderson was sitting on a huge points lead. At rounds five, six, and seven, the rider ranked second in points (Ken Roczen, Justin Barcia, Cole Seely) exited with injury. Meanwhile, Eli Tomac and Marvin Musquin were basically out of it by the third week.
Anderson's broken wheel in Salt Lake City makes the points race tighter. Not super tight—he only needs tenth in Vegas to cinch this, even if Musquin wins. It's close enough, though, that if we put the microscope to a few moments, you can see three key areas where the title might have swung.
Marvin at Anaheim 2
Musquin got some criticism when he crashed in his Houston heat race and didn't come back for the LCQ. Well, he was really hurt! He raced the next weekend at Anaheim 2's Triple Crown to salvage points. He went 9-11 in the first two races but pulled off in race three, giving him a 21st-place finish and 13th overall. He pulled off while running 16th on lap five of what would be a 19-lap race. With his shoulder very weak, it would have been a painful and scary 14 laps, but even nursing it home for 16th instead of 21st in race three would have jumped him from 13th overall to 11th. That's two points.
Basically, Marvin's DNQ in Houston has been nearly cancelled out with Anderson's 17th in Salt Lake City. Consider it the mulligan for each. The difference-maker in the standings now is Marv's 13th overall the following weekend at A2. Anderson's next worst race was a seventh in Daytona.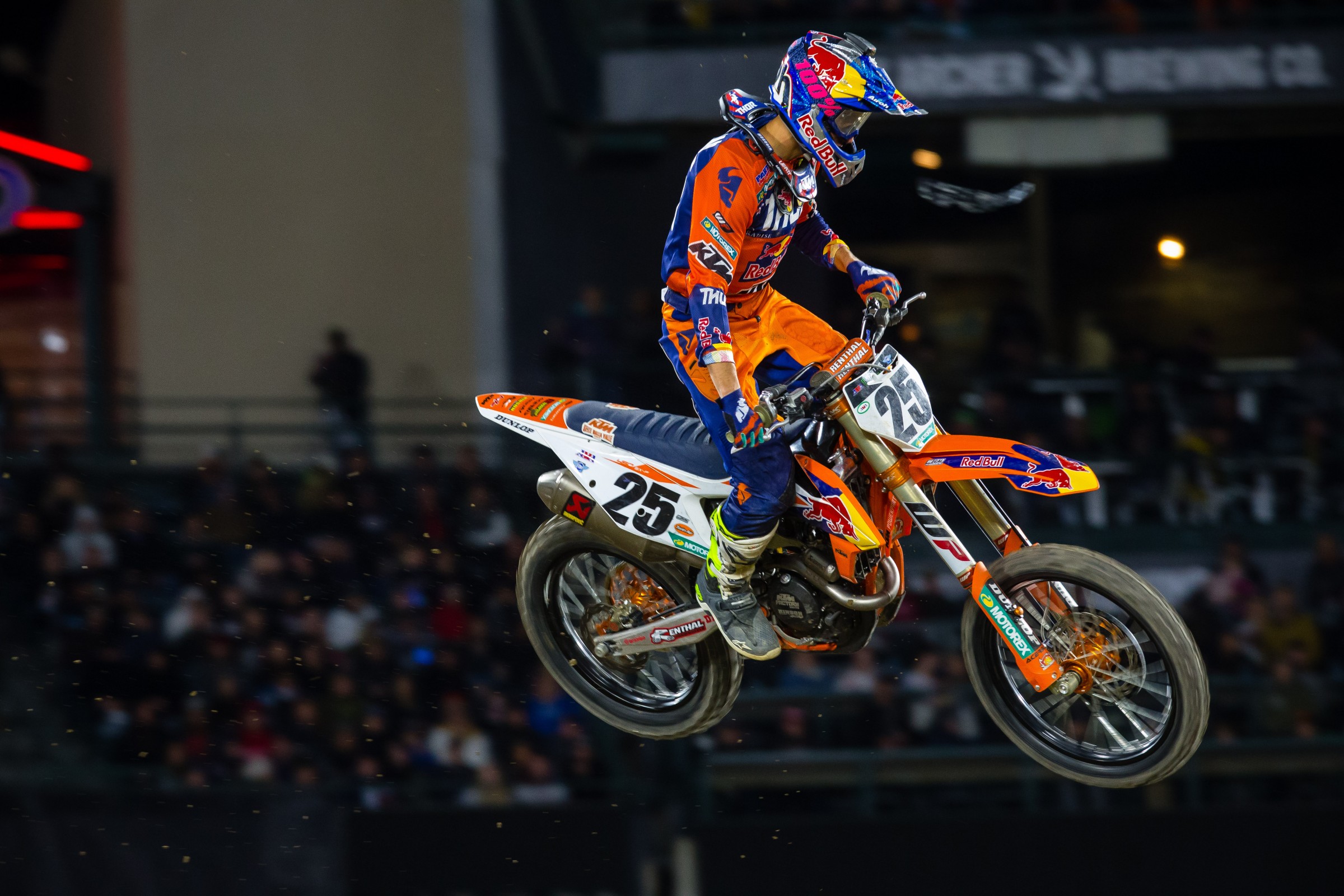 Marvin in Daytona
The crusher. Musquin temporarily moved into the lead at Daytona but crashed, and then crashed again. He finished fifth, which awards eight fewer points than first. Those eight points loom large now. Justin Brayton is very happy all of this happened at Daytona, though!
Jason in Minneapolis
Just two races ago, Anderson suffered a controversial penalty when he went off the track in the second race of Minny's Triple Crown format. He was penalized one position in that race, and that one position might have cost him the overall win for the night. Anderson finished in second place, one point behind Eli Tomac in the overall. There's always the chance that Tomac would have ridden harder to gain another position in race three if he needed to, yes, but that didn't get much attention. At the time, it looked like the Anderson penalty would have little bearing on the point standings. Bet Jason would like to have those three extra points for the overall win now!
Marvin in Foxborough
Marvin's takeout/block pass/T-bone of Tomac in Foxborough was the Shot Heard Around the World. It was a big deal even before we realized it had championship ramifications. Marvin gained three points by taking Eli down for the win. This is actually even bigger because Marvin now has four wins on the season, same as Anderson. If Marvin wins in Las Vegas, he'll have the championship tiebreaker on Anderson with five. That means the Foxborough pass is was really worth four points. Could those points mean something in the end?