Salt Lake City, UT
Salt Lake City
Monster Energy AMA Supercross Championship
Racer X: In the middle part of that main event, you guys got into a pretty good battle, some block-passing. Just kind of take us through not only the race, the track conditions, but in particular, that battle as you guys all got together.
Joey Savatgy: For me, I didn't really get into it too much. I was more the one being chased. Obviously, I knew that they were better from the corner where Eli [Tomac] fell until the finish line. They were making up quite a bit of time. I kept following that V in the whoops. For me, I just needed to be smarter and change my line up. That's on me for not doing that. I definitely heard the battling going on. You hear the crowd and they react. I kind of went from first to third in three whoops, so that was about it for me.
Adam Cianciarulo: It was crazy. I think the track was difficult, especially that section, both whoops sections before. I think that's where Shane really excelled today. For me, Joey was nice to me on the start. Could have pushed me into the Tuff Blocks, so thanks for that. So we got through. He actually slid out right away and we kind of got into each other. Then Aaron [Plessinger] got by me, and I was able to get by him. He made a mistake in the whoops. I was able to sneak by him. Then I was on Joey. I really don't remember—did we both get you at the same time? Did you mess up in the whoops?
Savatgy: Yeah, it was a twofer.
Cianciarulo: Joey and I were doing the same thing, being stupid and going right down the middle of the whoops, the second set. Shane was being smart and going down the left side and skimming them. It just took me way too long to figure that out. Just stupid. Once I figured that out and moved left, I still wasn't skimming them, but I was jumping them, and I was decent at least, kind of matching his times. I wish I could have figured that out sooner. Crazy race.
Shane McElrath: It definitely was a tough race. Like you said, it did tighten up. It seemed pretty tight from the beginning. Everybody would have their mistakes and would kind of funnel back in. You really just had to wait on a mistake from the person in front of you because there were places where you couldn't really go for a pass without losing time. So when Aaron made a mistake, I kind of just had to make my way in there. Same with Adam a few times, but he got me back. It was pretty fun, honestly. It's nice racing clean but racing hard. I know people have talked smack about Adam and saying that he races hard, but if you do something stupid, you need to pay for it. It was cool to battle with all the guys. That's what the fans like. It's cool to hear the fans get so into it. It's just a fun race. Good to battle with people. That's what makes us better and makes us smarter. It was good.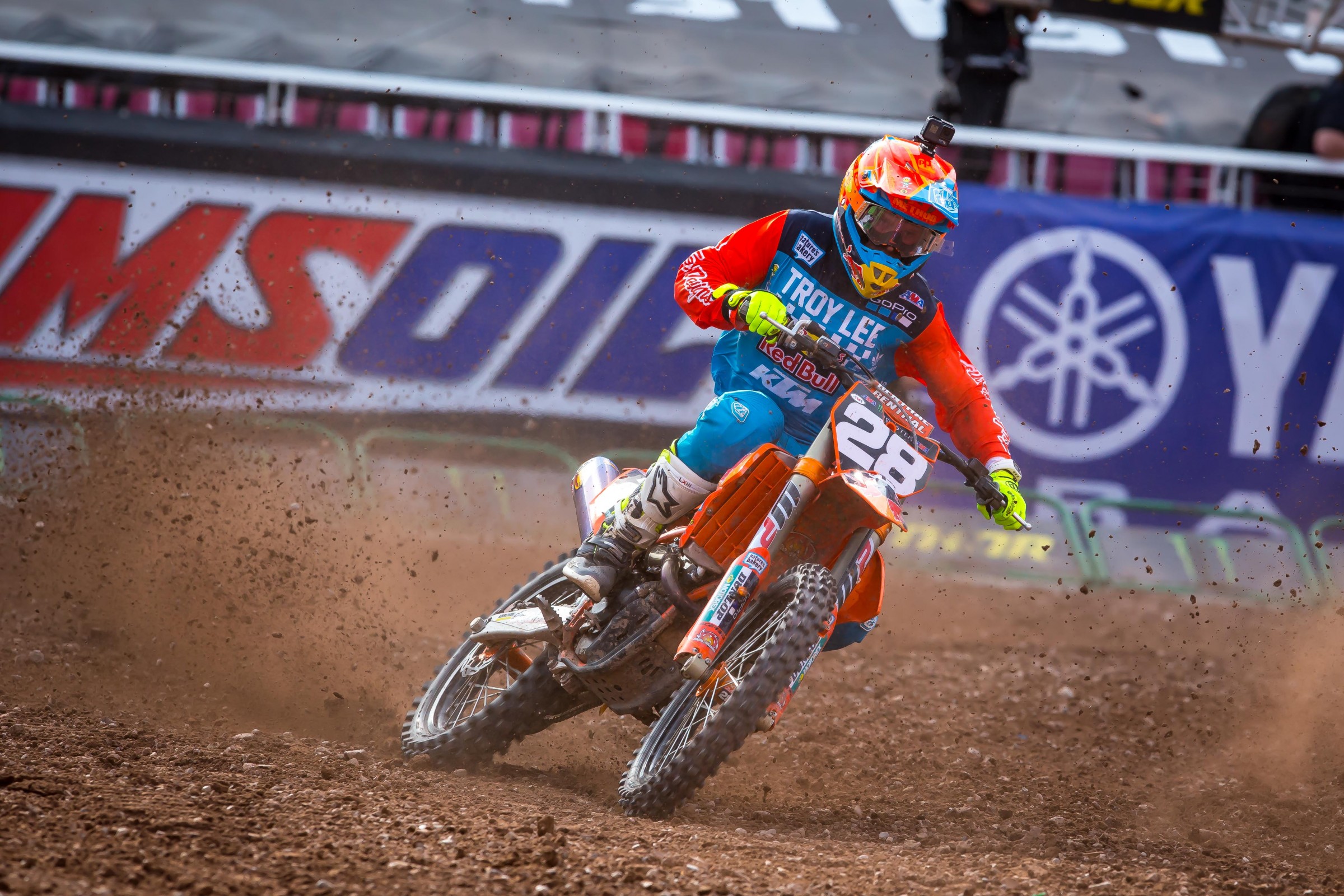 Joey, when you were leading it, going through that whoops section when they both got you, they were actually moving Chase Marquier off the track. Did that distract you at all, help with the mistake?
Savatgy: Honestly, maybe but I felt like every other lap, there was someone down, especially towards that middle to the second half of the race. People were down left and right. So, I mean, that always plays a factor. You start in one line and then someone goes down, you kind of got to figure out when you're going to get out, especially when you're stuck in the V like I was. But like I said, it was my fault. I needed to be smarter and get out of the V. I think there's a time and a place to follow the V. Like earlier this year when Aaron passed me in Houston, they were beat down far enough to where it was V'd, but you could kind of get away with keeping your front wheel really light, whereas I felt like today that V was so deep it was almost grabbing the bottom of the fork tubes. That's just a mistake, and you learn from it. We got to mark that down for next time. I wouldn't really say that changed the outcome. That's my bad.
This is for Shane. Adam, you can chime in on this too. Could you just take us through that last turn in the main? It looked like Adam almost got you. Did you not know he was that close?
McElrath: No, I knew he was that close. I played it safe in the first set because that was, I felt like, my worst set, and then I caught up to a lapper, so I ended up not getting to skim the second set. I knew he was close, but not really close enough to run it in. That's why I just went to the inside. I heard him go to the outside. I was like, just don't waste time. I just kind of got pinched off by a lapper and kind of had to lock it up. It was pretty close, more so than I wanted it to be.
Cianciarulo: Honestly, once I figured the whoops out—and I never really figured them out, but once I moved to the left and I was able to get kind of a rhythm going there and at least kind of stabilize myself where I wasn't losing a ton of time in that section, I felt really good on the other parts of the track. I think we both started doing the left side of that option after the mechanics' area right there going left side and over and three and up there. I felt good on the rest of the track and once that happened, I felt like I—I don't know what the lap times would say. It could contradict me, but I felt like I was kind of gaining a little bit here and there. Of course, there was lappers and stuff like that. But I wanted to try to, at least if something happened, try to make a run there at the end. I gave it everything I had the last couple laps. It came pretty close, but of course that lapper was there. It was one of those things where he probably knew he had it. So I almost wish he was a little bit farther away. Now I'm thinking to myself, man, I just needed to pin it through those whoops the last lap and I got a gold trophy instead of a silver plaque. Which, we got to get rid of these plaques. These things are not good. They're terrible. I'm thankful for second. A lot of people would be stoked to be in this position, but the plaques…. Let's do something else with the plaques.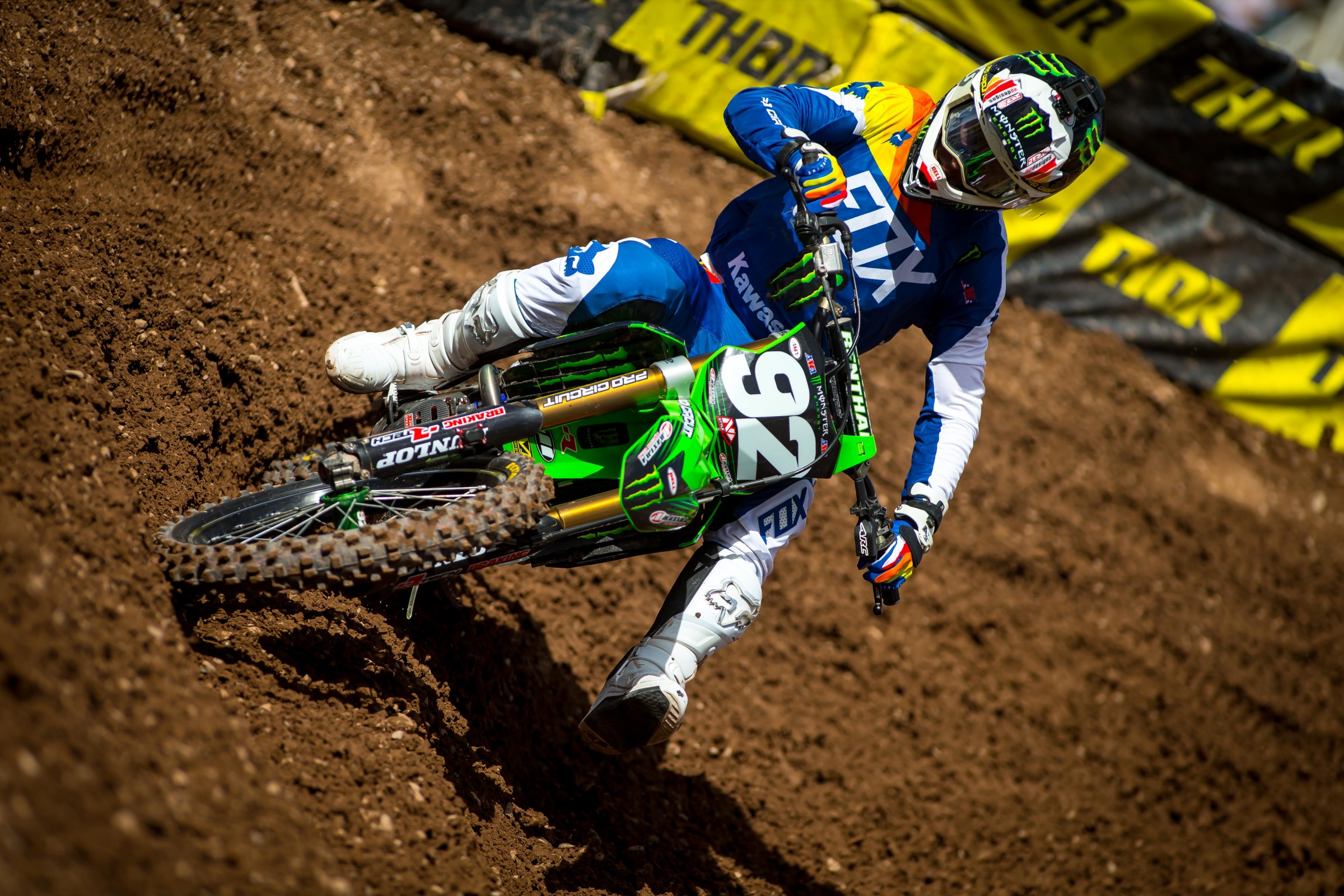 What are you guys' thoughts on the [250SX East/West] Showdown next weekend?
Savatgy: Awesome. For someone in our position, absolutely. We're a good ways back and you throw in a whole other coast and crazy things happen. I think we saw that tonight with Jason [Anderson]. Realistically, coming into the night, it was one of those deals where if things went the right way for him, he very easily could have locked it up and not even had to deal with it, but that's the unknown that we deal with. Just as easily as it went the wrong way for him, you throw in another group of riders that are fast and want to win, you just add a whole different scenario. For someone in my position, it's awesome. Obviously, if you're leading or you're Aaron, you want it to be the same guys as it was today because you know what you got to do. It's a lot more achievable than when you throw in nine, 12 other fast guys.
McElrath: I agree with Joey. It's cool to get to go and race those guys and race for the win and not really have any pressure on us. I don't really know what the points are for second through fourth now. I don't want fourth in the points, but if I get fourth in the points, then that's all I can ask for if I go and win. We just go and we race the West Coast guys and the East Coast guys hard and just give it our all and have fun in Vegas.
Cianciarulo: I think for me I'm in a position where I need to make up points. It's going to have to be kind of a miracle, 13 points. I think like Joey said, when you put more riders in there, it's going to increase the odds of something crazy happening. I hope everybody stays safe, but if something was to happen at Vegas, that's cool.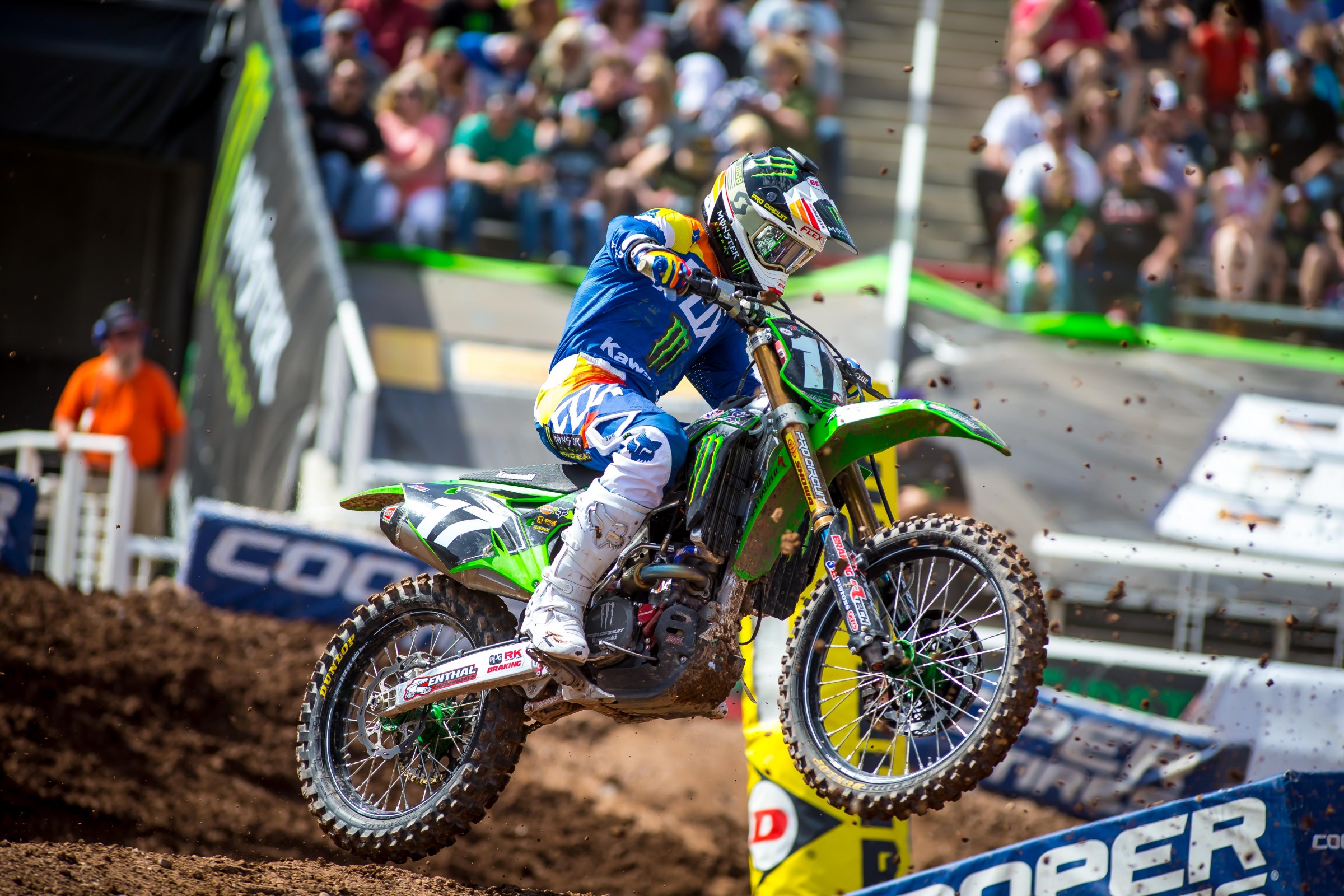 Obviously the hoop-de-doos were a big obstacle tonight. It seems like there were other things, too, like just the conditions of the weather and stuff, the dry track and how marbly it was. How much of a factor was the dry conditions and the track? It seemed really kind of icy out there with all the marbles.
McElrath: It wasn't as dusty as I thought it was going to be, especially being behind those guys for the first bit of the race. There were places if they kind of landed good on a backside and just gassed it really hard,] where it would just blow up powder, and I couldn't really see anything. A few of the jumps, I kind of just had to try and jump where they jumped. It's different. Sometimes change is good. I forget who said it, but this is 16 rounds in for some of the 450 guys, but for us in my case, I'm pretty far out of the points, so it's like, this is a different supercross race now. It's different conditions. It's at altitude. It's hot. It just kind of throws a loop. I think that just keeps you sharp. It's nice to just have something different. It's cool to have supercross at night for the show, but during the day, I like to get up early and get my day started. I guess it has pros and cons, but the wind just didn't help us out today. It wasn't really the track crew's fault. It was pretty muddy this morning and still it was really dry at the end. Can't really put any blame anywhere.