Foxborough, MA
Foxborough
Monster Energy AMA Supercross Championship
Racer X: Jason, congratulations. Early in that main in the long rhythm section, I saw you come up kind of short on the table-to-table. It seemed from that point on, maybe a little adjustment was made. I know the track was tough, but did you right away at that point decide this is a championship and "I need to manage the situation and just get a podium?"
Jason Anderson: Yeah, the track was brutal. Everyone was doing that table onto table. You're right; that one lap, I came up so short. I was hitting the rhythm fine. It's just you hit a soft spot out there sometimes and it will catch you off guard. I did that and honestly, even the triple and stuff like that, I never really felt fully comfortable to push it and keep pace with these guys. It was a tough night for me. Like you said, I had a little bit of a moment and just wanted to keep plugging away and try and do the best I could with the cards I was dealt.
Eli and Marvin, obviously the question is going to come so I think we'll get it out of the way early. Eli, just take us through that last lap and what happened out there.
Eli Tomac: It was kind of just cat and mouse the whole race there. We were on the last lap, or a lap and a half to go. I ended up making the pass. Went outside before the short set of whoops. Got inside there and then came around off the finish line, down the straight. Then I just got blasted from the inside on that second turn. It was out of nowhere and it was a cheap shot. That was tough.
Marvin?
Marvin Musquin: It was definitely a great main event. I got pushed over in the start. I was about to get the holeshot, but I got pushed and I was able to actually get a good first lap and get into the lead pretty quick. Then it was a long main, leading and knowing Eli was right there. He was fast all day. but I was happy about my riding. I just tried to not make any mistakes, but it was hard. We mentioned that many times, when you're the first guy to get into the lappers it's really hard to get around them. I tried my best. But definitely I heard Eli coming in that whoops section. He came into the inside right there. A lap and a half to go I was like, man, let's try to do something. It's for the win. I led so many laps. I was bummed. I felt like I was riding really good so I could charge. Then I saw right there, that inside and obviously I was going into that main rut the whole main. He cut really, really tight and I definitely didn't expect it. I came in here and obviously the outcome was pretty brutal.
I'm sorry about what happened with the crash. It could have been bad for me, too. For a 450 main win, sometimes you got to try your hardest. This year I've been taken out a few times. Jason at Oakland and [Weston] Peick at whatever, Dallas. I had a couple crashes when people kind of cut my pretty bad. I don't know. I'm not known for a really aggressive rider like that, but like I said it was a great main and I just tried.
We can ask a really important question that everybody really wants to know. What do you guys think Rob Gronkowski is going to do in the supercross scene?
Tomac: I wish I was as big as him on that last lap, then I wouldn't have moved.
Eli, were you picking your spots? Did you have that line in the whoops figured out? Were you waiting or did it just come together finally on the last lap?
Tomac: It was a little bit of waiting. I just went for a different line there. It seemed like he made a little mistake and I just was able to slingshot through that short set and got inside of him.
Did you throughout the race think there were other spots you were closing, and then he'd pull back away? Were there other spots where you thought this might be materializing and it just didn't come together?
Tomac: Yeah. There were times when I was a little bit closer and a little bit farther back. It was tough to find the spot to really make something stick.
Did you say your bike got messed up there in that crash, too?
Tomac: Yeah. My hand guard got ripped off and my throttle tube got eaten up a little bit, but it was good enough to make it to the finish.
Eli, can you talk the seconds right after the crash? It looked like you were basically frustrated. I think it was a thumbs-up that you gave. Can you talk about it? It was also really slow for you to get to the bike, too. Can you talk about that feelings there that were going through?
Tomac: I looked down at my throttle and the thing's destroyed. I expected to be DNF'd at that point. That was my reaction. I went to the bike and it was fine. I was obviously not happy at that time.
Marvin, I noticed you looked back right away after. So you noticed he crashed?
Musquin: Yeah. We got into contact and, obviously, his bike fell into my bike. I'm pretty sure his handlebar got into my rear wheel. That's why it did damage all that. I don't think it was from the impact. It destroyed the grip. Definitely his bike fell into me. I thought I was going to get stuck, too. I think we've seen worse. Last year at Vegas, for example, at the final round.
Tomac: Yeah, you can fix a race in New York two weeks before that and not have anything happen. Then we'll get a $5,000 penalty, and that's like a drop in the bucket for the 450 class, so why not just keep blasting people?
Musquin: I'm pretty sure we can talk about stuff like that….
Tomac: It's not points. It's not a freaking $5,000 fine.
Musquin: I know we can talk about stuff like that for a long, long time.
Tomac: Guys that think twice. Including myself and Marv.
Musquin: Josh Grant was right there in Vegas trying to help you. We could talk about stuff like that a long time. Things like that happen.
That brings up a good point. What is the right penalty for something like this?
Tomac: But it's like, where do you draw the line for a super aggressive pass? At the same time, there is a line. That pass was over the line. Where do you draw that line? I don't know.
Anderson: Gallagher is the decision-maker on all that stuff. He makes great ones, too.
Musquin: If you watch Jason in Oakland after the whoops, he cut like a lap.
Daniel Blair: They want you to be involved in this conversation.
Musquin: I can talk about stuff like that.
Marvin, you said you didn't quite expect him to be where he was. You didn't expect that level of contact?
Musquin: No. I'm saying he turned, like he made a new line, like really tight. Anyway, definitely he didn't know I was coming.
Eli, were you cutting low in that corner to protect the inside there? Do you feel like you were out of line, or did you cut….?
Tomac: That was as low as you could go without being on the flat ground. No one was going on the flat ground for the 25 laps or 24 laps before that.
It seemed like you guys had a lot of problems with lappers today. Was that due to the track? At one point I saw [Kyle] Cunningham crash off the triple there. It's got to be pretty scary. It seemed like you guys had difficulty with the lappers all day in that main event.
Musquin: Yeah, for sure. That was really scary, especially when you watch the 250 class, there was a lot of crashes in that big triple. I think the takeoff got really chewed up. Coming into the lappers, unfortunately for Kyle Cunningham, he made a mistake and right in front of me, he went down. I avoided it, and pretty lucky. Other than that, when you go through the big rhythm section and you want to do that big triple on the table and those guys in front of you are not doing it, it can be really sketchy. When you're leading, it's not easy to get around them. But it was decent. I lost a little bit of time sometimes, but I tried my best. It was pretty good.
Marvin and Eli, both of you guys had a couple races early in the season that put you down in the standings. What would be your thoughts of having a mulligan type of format where you could drop one race that was bad? Jason, you're probably not a fan of it this year, I'm sure.
Anderson: But at the same time last year I got disqualified one race, so sometimes it can help.
Do you think that would help the series if you could….?
Musquin: Not really change the points….
You could drop your one worst race.
Musquin: Yeah, they can think about it, but if it changes, I don't know. I don't think we are in the position to decide on something. Maybe we can talk about it. I don't know.
Tomac: It would have been beautiful for me last year. This year I still…more than 26 points down.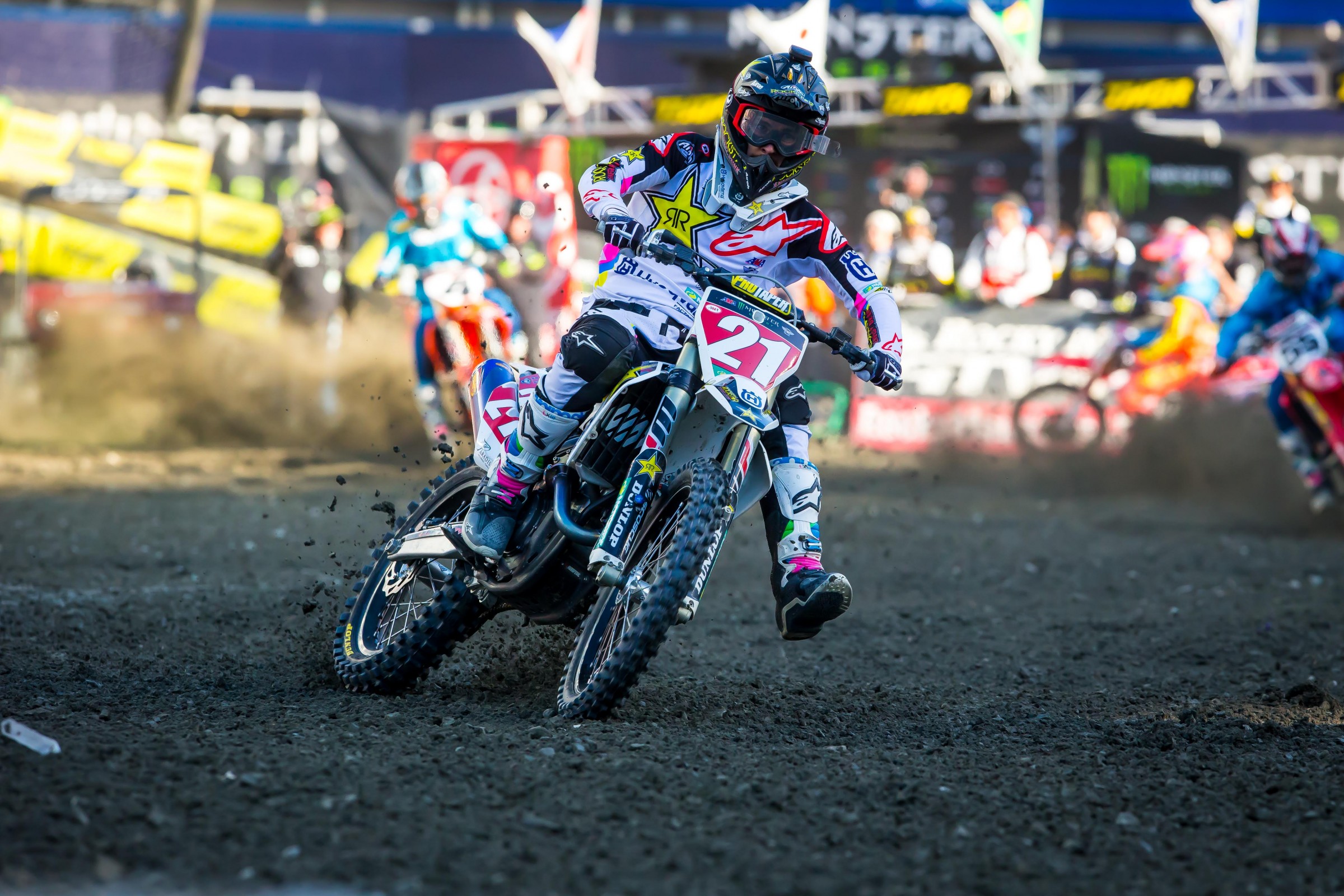 Jason, you're in a position to wrap the title next week. I'm sure you're aware. Are you going to have to go do a normal routine this week?
Anderson: Yeah. I'm definitely going to do the normal routine. I'm going back to California. It'll be cool. It's the same goal all the time, and I keep saying that, but tonight, honestly, it did. At some point I just kind of was like, I went double-single off the triple the last three laps because I was kind of scared of it. Next weekend hopefully I can have a good result again and be on the podium. It would be really cool.
You changed your program, you told us, at Anaheim 1. You did more work in California, more work with the team, more work with the bike. Kind of different than what you were doing in the past. So now that you're looking back at what could be a successful season, do you feel like that was the right move to kind of bet on yourself and do your own thing?
Anderson: I think a lot of things that I did was just more for me to kind of be happy doing what I'm doing. Maybe it's where I live, stuff like that. I still spent a lot of time in Florida, but sometimes it was a nice change of scenery to do something different. I think that's what helped me a lot. It kept me really fresh. During the season, it's hard on us. We're doing 18 weekends in a row. It's nice to be happy while you're doing it. I think that's the part that I've kind of had a hard time in the past. Sometimes you just get in the deal where you're just train, go to bed, wake up, train, ride…. I'm not saying I didn't do that, but I was able to go home to where I like and eat dinner at a restaurant, hang out with my friends and stuff like that and try and mingle a bit. But I still worked really hard. I'm not saying I didn't work hard or anything. I feel like it worked out.
Your friends that you were hanging out with, how have they been during this process? You're on the verge maybe of winning this title. Is everybody treating you the same? Are they pumping you up? Are they trying to not talk about it?
Anderson: Honestly, I don't really have a hard time talking about much. They can talk about the championship. They can talk about me blowing it or whatever. We really don't do that. Honestly, we just try to hang out and have some fun. Lately we've been on a Mario Kart kick and we've just been playing Mario Kart on the Wii. Just normal stuff that's keeping me good at the same time.
Marvin, can you talk about your thoughts right after the race? Obviously, the crowd was very vocal, but you were obviously excited for your win, too. What was going through your mind then?
Musquin: Yeah, that was pretty crazy. I tried my best. It's racing. You don't want to do that damage like that, but at least you tried your hardest.