Indianapolis, IN
Indianapolis
Monster Energy AMA Supercross Championship
I usually skip the race around the Easter holiday— either before or after—because it affords the opportunity for a couple weeks at home, then a sprint to the finish SX and move onto the great outdoors. This weekend's Monster Energy Supercross in Indianapolis was the victim for me this year, and man, it sounds like it worked out. Snow fell hard and heavy, there wasn't much reporting going on off the track, and—sorry not sorry—I'm okay with not going this past weekend.
BUT that doesn't mean I don't have a lot of thoughts on what took place at Lucas Oil Stadium, most of them involving the 250SX East/West shootout Showdown. Last time I didn't go to a race, I did a moment-by-moment of me watching the race on TV, but I figured that probably just hurt some feelings. So for this week, I'd better stay away from that format—although there's a lot of gold on those shows each week for a guy like me.
Ok, onto some hard thoughts and truths about Indianapolis SX!
Marv
"Moving" Marvin "The Marv Attack" Musquin took an easy win, his first since the opening round at Anaheim. At some point Eli Tomac was a couple of seconds behind him, but once he went down, it was all Musquin. Throttle control, line selection, and technical skills on the motorcycle are all things that were needed in Indy, and Marv's got those things in spades. Great ride, and with Tomac's crappy finish, it's going to be tough for Tomac to end up second in the points now. Although I'm sure neither Marv nor Eli care all that much about that.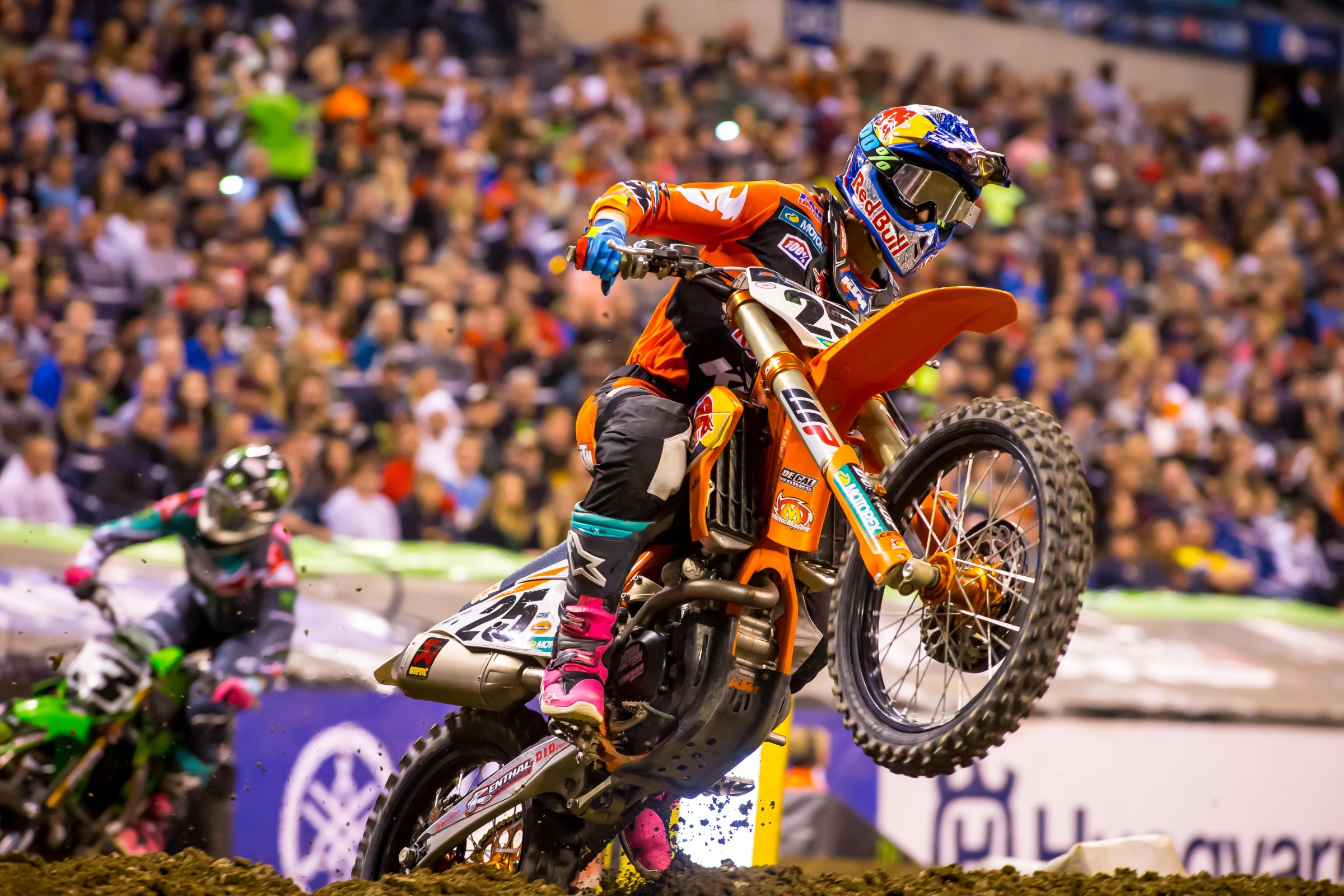 Anderson
Jason Anderson could have had a disastrous night in Indianapolis when he got hung up in the first turn, but instead, he turned that right around into a positive. Anderson rode amazing after that to come all the way up to fourth. It's precisely the type of ride that we've seen from so many other riders that have gone on to win titles. On a track that was treacherous, Anderson showed that an adaptive riding style works very well.
Dean-O
We had Dean on the PulpMX Show, and he told us the shoulder he hurt at Anaheim 1 is far from 100 percent. He says it still wakes him up at night when he sleeps on it and causes him discomfort. Probably an AC joint tear, if I had to guess, but not a stage where he needs an operation. Anyway, Wilson rode steady and ended up with his first career 450SX podium after he put a hard pass on Broc Tickle for second that left the KTM rider on the ground. Wilson admitted that Broc was pissed afterward, and had the roles been reversed, he'd have felt the same way. But it's racing, and I didn't see much wrong with the move. Hey, man, it's for second spot. That's a lot of money, points, and prestige on the line.
Mookie Fever?
Malcolm Stewart has been very good the last couple of weeks, and outside of being the first guy to jump the quad in St. Louis, he's been doing it very non-Mookie-like. No flashes of brilliance, no "HEAT RACE" MOOKIE blitzing to the front. He's just been steady, clicking off laps, and before you know it, he's finishing up there. JGR has got to be happy that he's able to fill in and provide these types of results—that just doesn't happen very often. Nice work for Malcolm.
Two-Fitty's
Yeah, we saw a 250SX East/West Shootout, and as predicted by everyone, it was awesome. Yeah, the West entries were a bit low, but you have to expect that—Indy is a far way to go for any privateers that do the West Region. But like what we've been seeing at Las Vegas for the last couple of years, this was a race with so many storylines, it was ridiculous. Great work bringing these back, as well as putting in some Triple Crown races—they really spice the season up. The promoters of supercross are getting progressive this year, and me likey.
Points Leaders
We'll get to the actual winner of the race soon enough, but to me, the two big winners at Indy were the two guys holding the red plates. It could've gone terrible for both of them when they were caught up in the first turn, but both Yamaha's Aaron Plessinger and Husky's Zach Osborne made it work by salvaging points, or, in AP's case, extending his points lead. Both riders showed great speed in working up past a deep field of 250SX riders. Somehow, Plessinger made it to fifth and gained points on Joey Savatgy and Osborne lost only one to Austin Forkner. If you're Savatgy or Forkner, you've gotta be bummed with your rides after being given such an advantage over AP and Wacko. Both red plate-holders showed why they have those things on their bike in Indy.
J-Mart?
The GEICO guys certainly have to be stoked with Jeremy Martin winning the whole enchilada, and what an unexpected win at that. Yeah, he got penalized for doubling a triple with the red cross flag out, but that didn't impact his win whatsoever, he would have won even if he rolled all three jumps. Martin's probably making the highest salary in the 250 class, and GEICO last year got zero SX wins and he finished almost a hundred points behind Zach Osborne in Lucas Oil Pro Motocross. Well, don't look now, but Jeremy's now won the last race stage at the Atlanta Triple Crown race, he got second in Daytona, second in St. Louis, and now he's won again. Jeremy Martin, good at supercross?
Nets (Again)
Yeah, the Steve Matthes Memorial Nets caught another big fish when Michael Mosiman flew into them in practice. He hit them so hard that he broke 'em! Mosiman becomes the fourth rider to have been saved by the nets this season, but sadly, in a case of "Marty's gonna Marty," they weren't in the turn that Davalos flew off of in St. Louis. Mosiman getting saved is a good thing—not having more nets and having to mow down the berm is the bad thing. My prediction is that we see a lot more nets in 2019. And as the guardian angel of riders, I approve this.
Luke
I like Luke Renzland. I've been on the bandwagon for a while now, and I didn't think CycleTrader/Rock River Yamaha should've let him go last year for a guy named Lorenzo. But he didn't take that leap I thought he would on his new team, Traders Yamaha, and perhaps the CycleTrader guys knew what they were doing. But this year, Renzland has had a sneaky good 250SX East Region, and he topped his career best of sixth with an amazing third in Indy. And he set the fastest lap in the main at that! Skip Norfolk, the teams race director and GOAT of mechanics (with apologies to Cliff White and Mike Gosselaar), said that the team getting some quality time with Ohlins Suspension was a big part of Renzland getting comfortable and up to speed this year. First podium for Luke, the team, Shot gear, and the first for Ohlins since Osborne was here with his Euro team in 2012.
Three-Digit
The 250SX Class was deep (obvi) and there were plenty of good riders who didn't make the main, including factory rider Mosiman. But as I was saying on the PulpMX Fantasy SX podcast the other day (Weege's favorite one!), there's going to be a guy who gets a start in the heat and holds on to get into the top nine that you weren't expecting. I mentioned Josh Osby as a possibility to be that guy, but instead it was Jacob Williamson. Nice job for Williamson.
Purple Rain
Four years is a long time to take off racing professionally. Comebacks to pro racing never really work out that well, as we've seen over and over again. But perhaps we have something here with Blake Wharton. Somehow, Blake's only 26 years old, which is odd 'cause it seemed like he'd been racing for a while before he hung it up. Well, Wharton's back, and he decided to jump into the deep end of an East/West Showdown for his first race back. And guess what? He was good… very good! Wharton easily qualified and ran as high as ninth in the main before being passed twice in the last lap to end up 14th. IB Corp Racing Yamaha has got to be stoked they reached out to help Blake out. I don't know where this thing is gonna go, but what a cool beginning. Let's Go Crazy!
Thanks for reading this edition of OBS from Indy—or well, about Indy. Weekend off for the series, and I for one know that pretty much everyone who follows the series welcomes this break. Email me at matthes@racerxonline.com if you want to chat about this or anything else.