Indianapolis, IN
Indianapolis
Monster Energy AMA Supercross Championship
Red Bull KTM's Marvin Musquin picked up his second win of 2018 and his fourth career 450SX win in Indianapolis. He qualified fastest in practice and had a sketchy moment off the start in the heat race when his shift lever became entangled with Jason Anderson's bike going into the first turn. Musquin was able to keep it upright, but his start position suffered. The main event was a different story. Musquin got the holeshot and he and Eli Tomac checked out; they were running 44-second laps while the rest of the field was running 46s and 47s. The gap between Musquin stretched and shrunk back and forth until Tomac went down and Musquin was all alone out front to take the win.
"To be honest, I've been waiting for that win for a long time," Musquin said in the press conference. "The last win was at Anaheim 1, and I felt like I was riding better and better after I got used to the dislocated shoulder. I feel like I'm definitely capable of winning, but you have to put everything together, and that's not easy, but today it was good. We got the bike better this weekend, and in the last practice I was riding really smooth and I was the fastest, so I was really happy. I knew I needed a good start and to race my own race and I was able to do that tonight—it's good to be back on top."
Although Tomac was close before he crashed, Musquin went on to win 29.439 seconds over Dean Wilson.
It was an historic night for Wilson, who captured his first career 450SX podium with his runner-up finish. Following multiple knee injuries, riding as a privateer to start 2017, and overcoming a shoulder injury to start 2018, it's been a long road to the podium for the Rockstar Energy Husqvarna rider.
"I'm really happy. It's been tough because we've worked really hard this off-season—November, December. I've worked really hard. Then to just kind of crash out at Anaheim 1 was such an upset. Then trying to come back and riding injured…. I still feel like I am kind of riding injured a little bit at the moment. It's just so hard to heal up when the 450 series is every single weekend, so you're trying to heal in between the race season. You're still training and riding. It's just been tough. It's tough when you're working hard and you don't see results. I've been getting eighth, eighth, seventh. So, I finally got a good start. The track was just treacherous out there. I just tried to hit my marks. Made a couple mistakes. To get on the podium and get second is amazing. It's a good feeling to be on the podium in the 450 class because I've never done it before."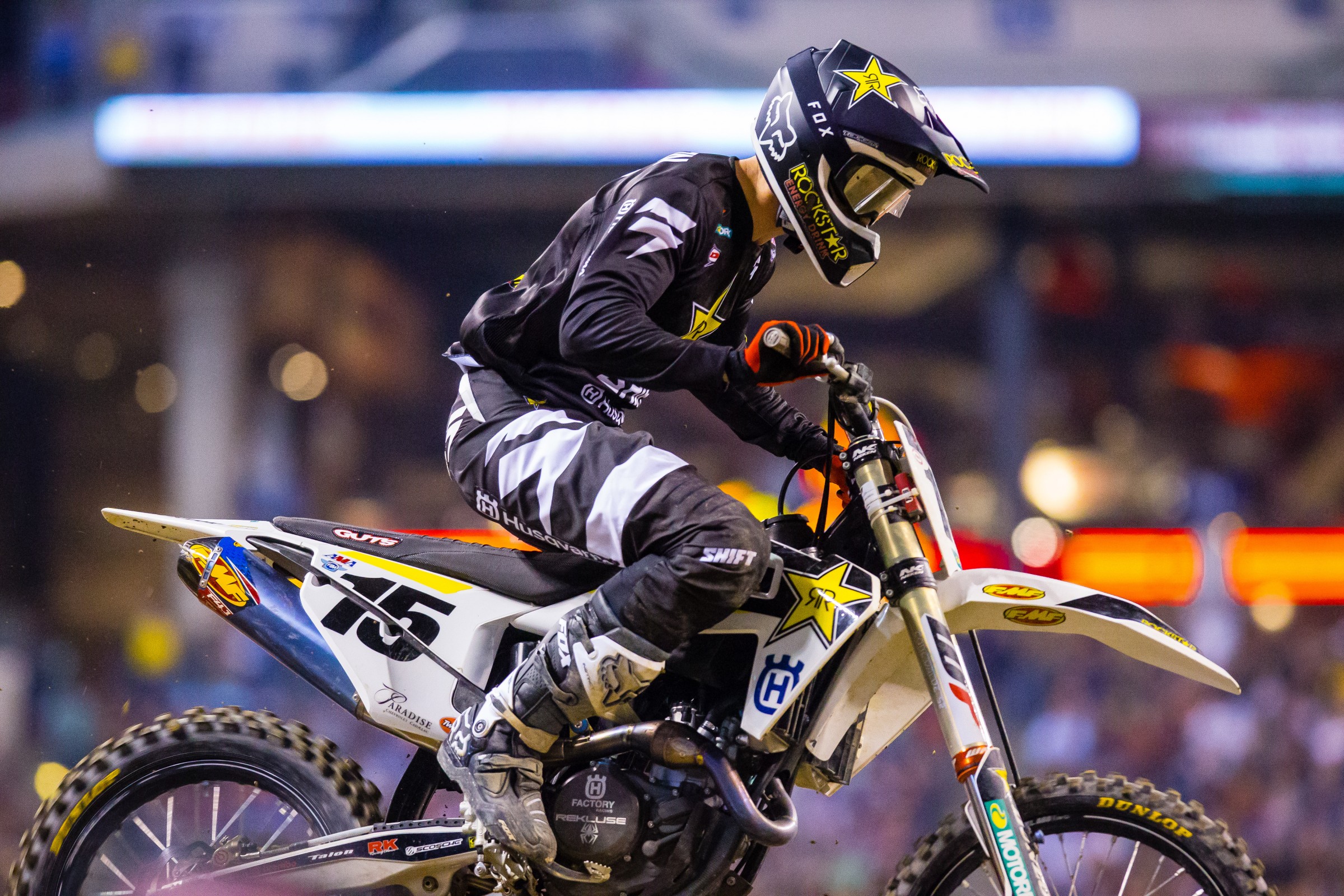 Smartop/Bullfrog Spas/MotoConcepts Honda's Justin Brayton kept the train of good results going this weekend with another podium finish. With lap times between 44 and 48 seconds, it was the second straight week the 450 main event has gone 27 laps—the most all season. In the press conference when asked about the track, Brayton commented, "The track was tough. I knew that you needed to gate well and get track position because I knew it would separate out. The top five would be gone by lap ten. I actually came out of the gate awesome and I missed a shift. So, I was kind of buried around the first turn. But I made some passes on the first lap and then rode solid. With about ten or 12 to go, I really started to feel it. To be honest, I haven't rode since before Daytona. Just been sick. So, I was pretty fatigued there through the halfway point. Then towards the end I started to get a little second wind, but by that time I was pretty much just doubling through the rhythms. I had kind of gone away from doing the quad and triple onto the table. Mainly just because I was making so many mistakes doing it. I could be consistent going double. So, I would say the track really became basic because of the ruts. But one of the most difficult tracks I've ever raced."
Brayton was also asked if he had a timeframe in mind with the rest of his career as he just turned 34 this month. He said, "I don't really see an end in sight. I think I'll probably commit to another two years and go from there. I really think I can be competitive and keep doing what I'm doing." You can read his full statement regarding his current mindset of why he believes things are going so well for him here.
Series points leader Jason Anderson, of the Rockstar Energy Husqvarna team, was part of a first-turn pileup that left the #21 in 21st place to start the race—he had to put on a charge to salvage fourth. "My weekend turned out to be good," Anderson said in a team press release. "I went into the pileup in the first turn in the main event, but I worked as hard as I could to make it to fourth. It was good." Anderson had a healthy 42-point lead over Musquin coming into the weekend and was able to put in another championship-level ride, salvaging as many points as possible. He now sits 35 points ahead of Musquin heading into the off-weekend for Easter.
Red Bull KTM's Broc Tickle was running in second in the latter stages of the race when he was knocked down by Dean Wilson before the finish line. "I'm really happy with my riding tonight. I felt like I had second wrapped up, but I crashed by myself and put myself into a situation where I got into it with another rider and ended up going back to sixth. Overall, I'm really happy with the progress and I'm building confidence in the right direction to end the season strong. I'm looking forward to these last five rounds to snag some podiums," Tickle said in a team statement. Wilson, who hit Tickle in the corner before the finish, apologized after the race.
Autotrader/Yoshimura Suzuki's Malcolm Stewart was another rider to get his best 450 supercross finish in Indianapolis with a sixth-place finish. His qualifying times have been impressive as of the past few weeks, and he's been showing the speed everyone knows he has. In a team statement, he commented, "I'm getting better every week. I still have to improve my fitness, but I am happy to finish the night in sixth place. It was my best career 450 result so far, so I'll take the positives from that. I feel like I'm heading in the right direction. There are five more supercross races to go, and I'm going to make the most of them."
A shoulder injury sidelined Monster Energy Yamaha's Cooper Webb for St. Louis, but he returned in Indy and finished a solid seventh. "Indy was a good weekend for me; it was nice to be back at the races again. I was happy with seventh in qualifying, it was a decent result after not riding for two weeks," Webb said in a team press release. "The heat race wasn't so great—I was in third and got taken out, unfortunately. In the main, I had a good start going into the first turn and ended up getting hit from behind and had a crash that had me stuck under my bike. It took me a while to get back going, but I put my head down and was able to charge back to seventh, which I was happy with. I wanted a better result, for sure, and I felt like with a good start, I could have been on the podium again. I was happy with my riding, and we get a weekend off to be ready for Seattle."
Monster Energy Kawasaki's Tyler Bowers finished 11th in Indianapolis. In a team statement, he said, "We're making progress. Coming out from the heat race, I was feeling really good and obviously hoped for a better finish in the main, but I am proud of the way I fought back and never gave up. We'll keep pushing, and I'm looking forward to keeping the momentum going."
Bower's teammate Eli Tomac also fought back after a crash in a rhythm section while pressuring Musquin for the lead. On lap 14 he went down, and it took him a moment to regroup before getting back on the track. He sat on a Tuff Block before getting back on his bike and logged a lap time of nearly two minutes. Tomac was able to get back on pace and began un-lapping himself from the field, ending the night in 15th. "That was a rough one," Tomac said in a team statement. "I'm grateful I was able to recover from my crash tonight in order to salvage some points though. I fought hard to power back, but the track was so tacky I just wasn't able to make up the gap in time. We've been through worse and I've got a great team behind me so we'll take the week to shake it off and get back out there."
Honda HRC's Christian Craig has been nailing his starts since jumping to the 450 class. He wasn't so fortunate in Indy after a bad start hurt him and he was slowed by the first-turn pileup. After beginning to pick off some riders in the early part of the race, he lost his front end in a rut while running 11th and crashed. With two minutes left, he came together with a lapper and crashed again. In a team statement, he commented, "I'm really disappointed in how tonight went. I just didn't ride like myself at all, and it's so frustrating because I've been working so hard, both physically and mentally. I got a terrible start, which put me in a bad position from the beginning, then I crashed twice. This is not the result that I wanted for myself or the team, so I'm going to learn from today, try to stay positive, and go into Seattle with a clear mind."
Rocky Mountain ATV/MC/Team SKVI's Adam Enticknap qualified for his fifth main event in 2018 and matched his career-best finish in Indianapolis with a 21st. "It's really awesome to finish the East Coast swing strong," Enticknap said in a team press release. "The results don't show it, but we've had better speed than what we've been able to show for most of the year. We just needed better starts and to stay out of trouble, and we've been able to do that the last two races. I think if we can continue to do that, we're capable of being in the main event every weekend."
Autotrader/Yoshimura Suzuki's Weston Peick had a big get-off on lap 15 while running seventh. "The day was tough. I struggled because the track was super tacky and rutted. I was trying to find comfort. We went into the heat race with a major change, and the track was very rutted. Then we went back to how we were in practice. I rode well in the main, but was making a lot of mistakes. I had a couple of close calls. I was hitting this quad in the center of the track, and one lap I hit it from the opposite side. The face was a bit smaller, and I came up short on the landing and went into an endo. I got pretty banged up, and that was my night. I'm sore, but I have some time off to get ready for Seattle," he said in a team race recap.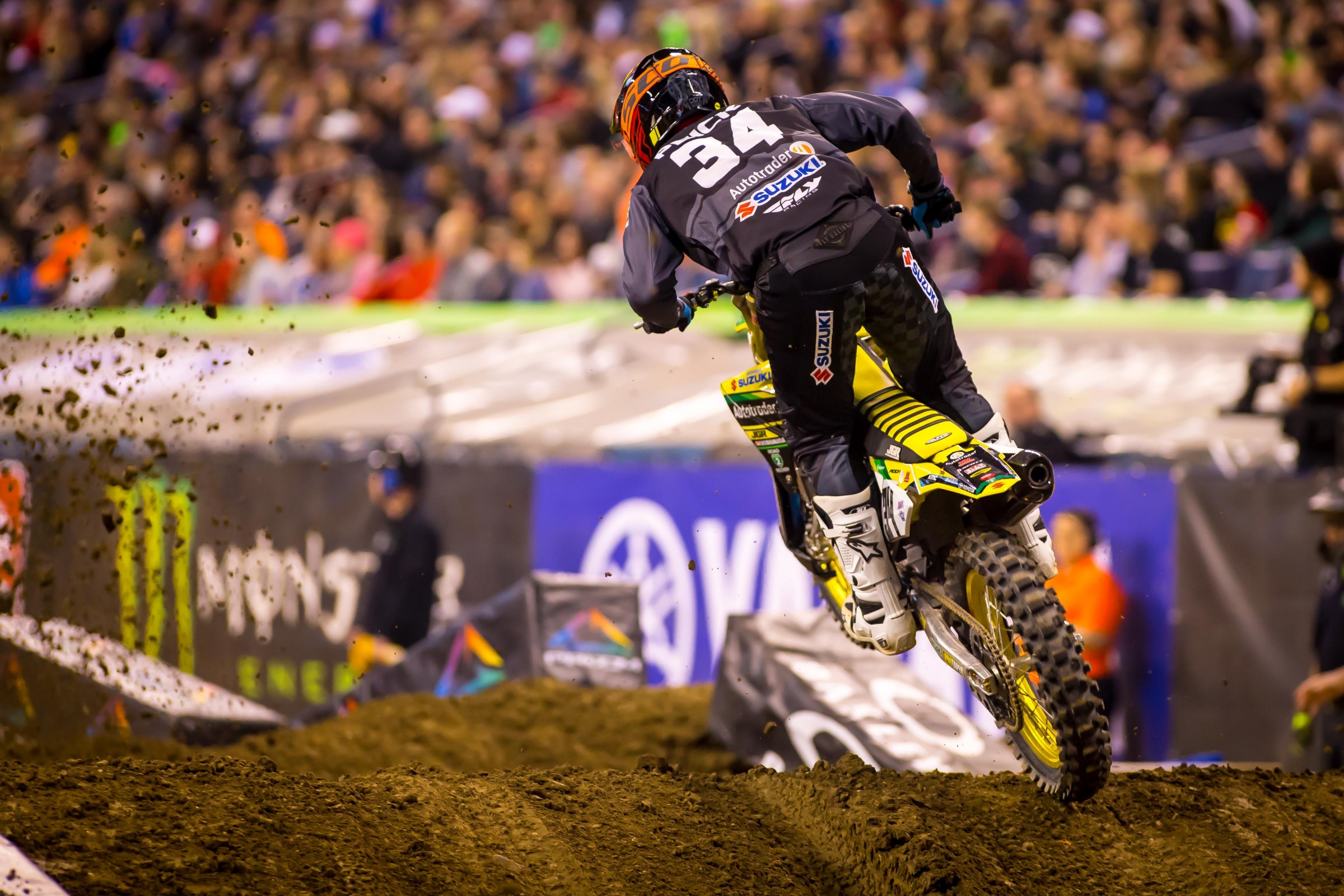 Controversy surrounded GEICO Honda's Jeremy Martin's first win of the year in the 250 East/West Showdown in Saturday night. After the race, Martin was penalized seven points for jumping on a red cross flag. The AMA awarded Martin with the win, though, as a rule change prior to the start of the 2017 says that "if no positions were gained, the penalty will be the points and purse equal to two positions in the final results for that race plus two additional points." You can read the details on Martin's penalty here.
Prior to the penalty being announced, Martin addressed the situation in the press conference. "I got the holeshot and rode good for a little bit. Then I saw the boys behind me! The track was pretty tricky, I'm not going to lie. I had a couple sketchy moments out there. I saw Luke [Renzland] was in second. I kind of looked around. I kind of just was trying to maintain it. I had a couple close calls out there. But we were able to lead from start to finish and have a good race." After the race, Martin was protested for jumping on a red cross flag. Upon review, he was docked seven points for going 1-2 on a triple. Martin commented on the incident by saying, "From my perspective, I came around the turn and I didn't see the medic flag waving. I saw the lights on the triple. I'm like, 'I think those are red.' So I rolled the face of it, and then I looked and saw that the area was clear and there was no medic flags after that, and then I doubled it. It was an honest mistake. There's not much to say other than that."
Monster Energy Kawasaki's Adam Cianciarulo came from an eighth-place start to finish second. "That was fun!" Cianciarulo said in a team statement. "There were a lot of great riders from both East and West Coasts out on the track tonight, so to finish second makes it that much sweeter. We continued to improve throughout the night and I fought hard to get on that podium."
He also said in the press conference, "It felt like a long time tonight, especially the lap time was so short. For me, I always struggle coming off these races and really remembering what happened. The first couple laps was just kind of a blur to me, honestly. Somebody almost landed on me over that little double before the mechanics' area. I rolled the triple on the first lap. I'm probably five out of seven rounds rolling the triple on the first lap, so that feels good to still be alive. So, after I got through the first lap, I think I was right behind Joey and made a pass on him before the finish line. Especially with these guys in the East/West Shootout [the 250SX East/West Showdown], I really wasn't looking too far ahead. I didn't know how many people were ahead of me. I was just focusing on getting the guy that was directly ahead of me. By the time I got behind Jordon Smith, I was in fourth. I kind of realized that. I got around him and just tried to catch Luke and was able to get him at the end. I felt good. It was probably my best ride of the year. Just kind of focused on myself. The start wasn't the best. The first couple laps weren't great, but I think we made the best out of it.
Traders Racing Yamaha's Luke Renzland surprised many when he ran most of the race in second behind Martin before being passed by Cianciarulo at the end of the race to finish third. His third place finish marked his first career 250SX podium. "I really wasn't expecting this [to be on the podium] at this one. With the East and West combined, this is obviously the most stacked the field has been all year for us. So, honestly, all I've been working on during the week is just doing start after start—it's been my Achilles heel this year. Finally, I executed what we've been working on from the far outside gate and got out in front and made one quick pass early and really tried to ride my own race."
Monster Energy/Yamalube/Star Racing Yamaha's Aaron Plessinger came into the weekend with four points over Joey Savatgy. After leaving Indianapolis, he gained another five points in the 250SX West championship for a despite finishing fifth—he now has a nine-point advantage over Savatgy. Plessinger was down in the first turn with the 250SX points leader from the opposite coast, Zach Osborne. He and Osborne had to dig deep to come through the pack. In the post-race press conference, Plessinger, who is known to struggle with his starts, commented, "It was kind of like old times, coming back from the back of the pack. I didn't really freak out. I knew if I freaked out, I probably would have went down and did worse than I would have if I didn't. I just tried to keep my composure. I did just that, and it kind of played out in my favor."
Austin Forkner was the third rider of the Monster Energy Kawasaki train that came through the pack. He did not have as flashy of a ride as he's had in the other races this season. In a team press release, Forkner said, "I was feeling great all day. We were looking good and I was feeling good in qualifying and my heat race. I just wasn't able to make the move to finish where I wanted in the main. I'm happy to end the night healthy, and we'll just keep plugging away."
Rockstar Energy Husqvarna's Zach Osborne had a good jump off the gate but hit a Tuff Block that was kicked out going into the first turn and caused a pileup behind him. Despite finishing seventh, he only lost one point to Forkner, who wasn't able to capitalize on Osborne's misfortune. "I felt like I did the best race start I've done all year. Starts have been kind of my vice for a little while now. I went home this week and really focused on the fundamentals and basics of how to do a start. I felt like in the main event, I did a really, really good one, the best one I've done all season, like I said, in the race. To come out dead last after the Tuff Block came in front of me, it sucked. I was pretty bummed. I looked over maybe six or seven minutes into the main and Austin [Forkner] was still seven or eight bikes in front of me. I was like, all right, it's time to grind now. To come back to seventh and have a decent main event was pretty good. I feel like all in all, I salvaged decent and rode okay."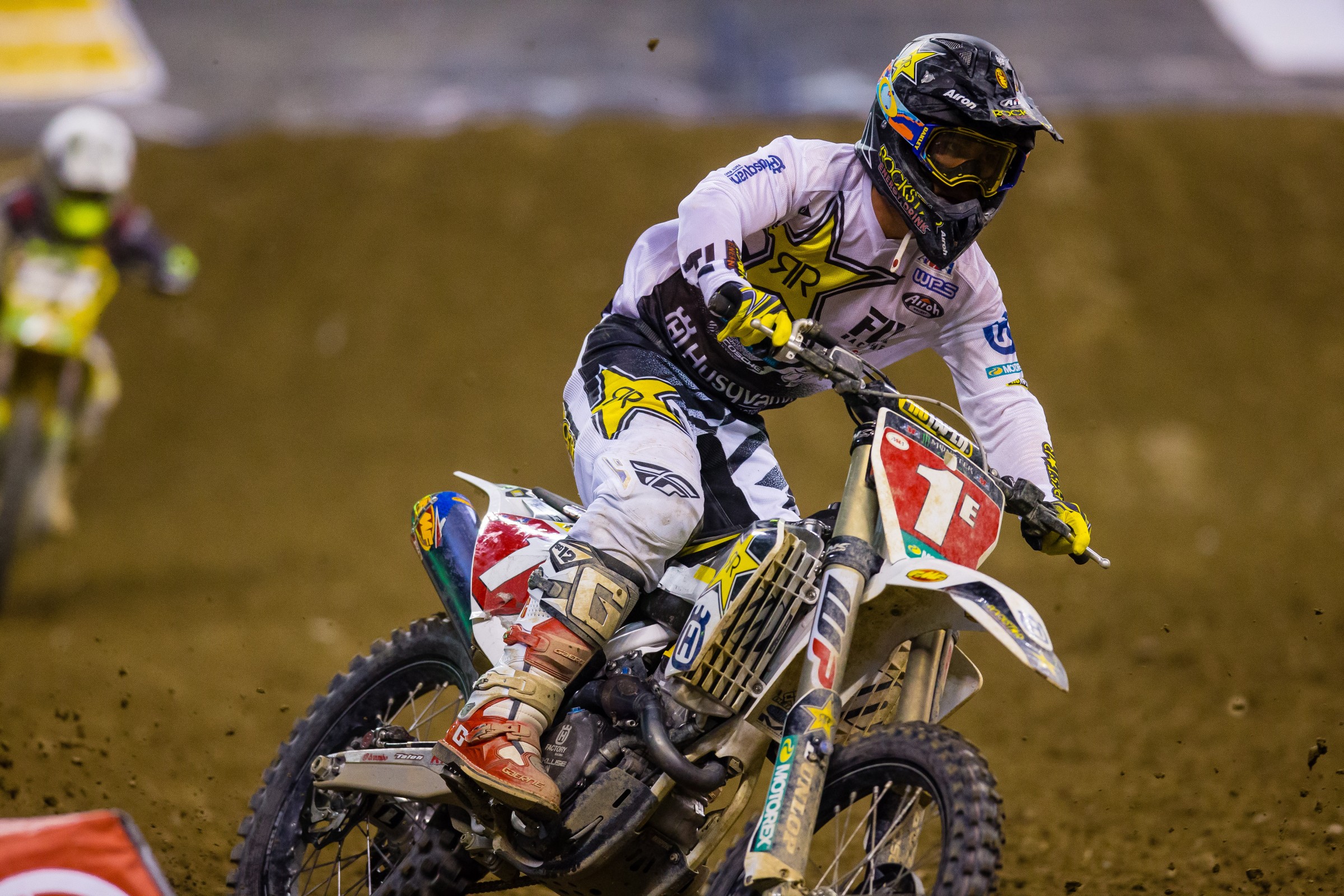 "I felt good in practice, but I didn't have the intensity when the night show came around. I was flat. I had a good start in the heat race and my shift points were good, but I rode tight in the heat race," Autotrader/Yoshimura Suzuki's Kyle Peters said in a team statement. "For whatever reason, I felt fatigued going into the main event. The team worked really hard, and we made progress. The shootout deal was cool, because I never get to race the West guys. As far as the points go, it could make for a big swing either way. I'm sixth in points and want to climb the ladder."
Peters' teammate Phillip Nicoletti finished one spot behind in ninth. In a team statement, he said, "I don't know what happened with my start in the main event. There were a few bumps in front of my gate, and I lined up to the inside in the hopes of getting a good jump and controlling from there. I saw quite a few riders going deep into the first turn, so I hit the brakes. Some of those riders got tangled up, and I went around them. I had my work cut out for me, but I made quick passes. I came up to ninth place, which was decent. I rode better in the main event than I did in practice. It was interesting racing other 250 class riders, but it doesn't really matter. The track was really brutal, but my Suzuki RM-Z250 handled well and I got inside the top ten for the Shootout."
Monster Energy Kawasaki's Joey Savatgy was running in seventh when he crashed on his own and slid out going into the rhythm section after the start straight. "That's just the name of the game," Savatgy said in a team press release. "I was feeling confident after qualifying with the fastest time out of both regions combined. The team and I did everything we could tonight, but sometimes the results don't show the all of the hard work. We'll work on the mistakes and be ready to go for the next race."
"Riding was better today," Rockstar Energy Husqvarna's Mitchell Harrison said in a team statement after finishing 11th in the main. "I got a good start in the main and pulled it together a little bit. I just have to go back and work on some things and come back strong."
51Fifty Energy Drink Yamaha's Kyle Chisholm rode beaten up in the main event in Indianapolis after a collision with Dakota Alix in the heat. Chisholm won the LCQ and finished the main in 12th. In a team press release, Chisholm said, "I was really excited to get back on the 250. I felt good all day and was pumped to put in a top-ten practice time. I had that transfer in the heat, but ended up getting taken out, which was kind of a bummer. My body got pretty beat up, but I was still able to get it done in the LCQ. That was my first 250 LCQ win, and it's awesome to get that done for the team. I was consistent in the main and held it down with a bunch of the factory boys. Overall, I'm pretty satisfied and excited to keep moving forward."
Troy Lee Designs/Red Bull KTM's Shane McElrath came across the finish line in 19th on lap one. He was able to manage a 13th-place finish in the stacked field of East and West Coast riders.
IB Corp Racing's Blake Wharton lined up for the first time since 2014. He qualified sixth overall in the 250SX West Coast practice, as well as sixth in the heat race. After the race, he said, "It felt great to be back at the races and to be received with such positive support from everyone. We accomplished what we wanted to by qualifying well and mixing it up with the top guys. We have a great baseline moving forward for the remainder of the season."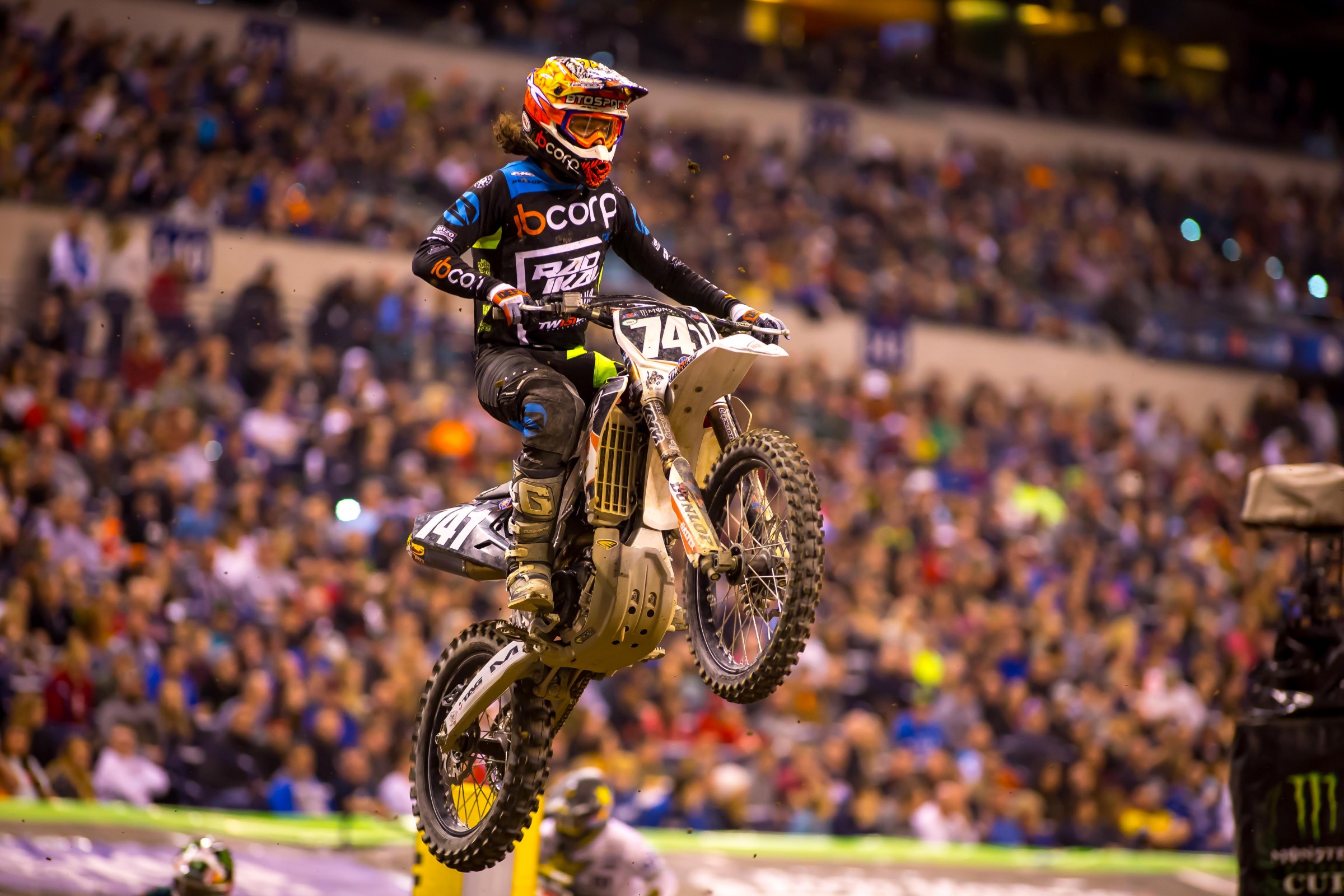 GEICO Honda's Chase Sexton finished 21st with a DNF. In a team statement, he said, "Indy was a bit of a rollercoaster. Felt good all of practice and was ready to bring it to the night show. I got a bad start in the heat but worked my way through the pack to fifth. In the main, I got another bad start and was close to last. As I was making my way through, I kept making mistakes and actually went down twice. I ended up messing up my front brake. We tried to fix it mid-race, but it kept locking up so I wasn't able to finish. Really bummed on how the night went since I felt so good during the day, but that's racing. Ready to make Seattle a good one!"
51Fifty Energy Drink Yamaha's Hayden Mellross commented in a team statement, "Tonight wasn't exactly the night I had in mind. Unfortunately, in the main I got kicked hard in the whoops and the bike got totally sideways. I didn't go down but my shoulder ended up popping out of the socket. There's no way I could've kept going, and I'm very grateful for the medical team for their help."
Defending 250SX West Champion Autotrader/Yoshimura Suzuki's Justin Hill was slated to race after breaking a toe from a crash suffered three weeks ago in Atlanta while riding a 450 but was a slate scratch due to an illness. Team manager Jeremy Albrecht commented in a team statement, "It was a bummer that Hill couldn't ride, because that track would have suited his style with being so technical and challenging. He was hoping to feel better all day, but we had to make the call that he wasn't going to be able to race."