St. Louis, MO
St. Louis
Monster Energy AMA Supercross Championship
Monster Energy Kawasaki's Eli Tomac got the holeshot and took off in the main event Saturday in St. Louis. He was doing some things that not many were doing and was able to do them lap after lap, such as tripling before going across the start straight, quadding at the end of the first rhythm lane, and going 3-3-3 before the finish line. In the post-race press conference, Tomac was asked about pulling the quad on the first lap.
"You try to do your best to visualize that," he said. "That just comes with confidence and just how kind of the day goes. You want to go in there with a level head, but at the same time, you want to visualize yourself going in there first. I just was feeling it. I knew if you did get those combos, you could make a little break like that. It ended up happening."
The win was Tomac's fifth of the season, which is most in the class, but he trails Jason Anderson by 60 points in the standings.
Despite his ever-growing lead in the standings, points leader Jason Anderson confirmed that he still wants to win races and doesn't want to just "manage" the championship. It's a tough position for Anderson to be in, as he admitted that he didn't have anything for Tomac in St. Louis, but he still saw his points lead grow by two points over Marvin Musquin, who finished third. Sometimes managing a second isn't a bad thing. Just ask Ryan Dungey.
"I really want to win some races before the season's over," Anderson said. "I don't want it in my head to manage it at all. Tonight, I started out second right behind Eli and he had some of those sections, like that triple in the back and stuff like that that he was nailing every lap. He was nailing that quad and turn and three over. I honestly just didn't have it in me. I felt like if I kept trying to do some of those lines, that it could bite me. This is one of those times to where sometimes you have to swallow your pride a little bit. But at the same time, Eli was just savage. He was crushing us. Hopefully come back next weekend and battle for that win again."
Red Bull KTM's Marvin Musquin wasn't very happy with his performance in St. Louis, despite finishing on the podium. Musquin got a good jump out of the gate and ran third early in the race, but, like Anderson, wasn't able to make any progress on Tomac. He finished 24-plus seconds back of Tomac at the end. "I'm a little bit disappointed with the performance tonight, I finished pretty far off the leaders," he said in a team statement. "Riding by myself the whole main event was not easy, but I gave my best the whole time. I still got a third place on the podium, but I wish I could have battled more with the second place. I thought the riding was okay, but I was just missing a little bit of rhythm."
In the post-race press conference, he commented, "St. Louis always has that really good dirt, that orange dirt. It's awesome. The track guys, they did a great job getting the track fixed a couple times. It was definitely a good day. I enjoyed it a lot riding on that dirt. The track was definitely tough during the main. The whoops were really chewed out and we were able to jump through it. The rest was pretty rutted and some kickers out there. It's good to be safe after a main like that and a track like that. I'm glad I'm here and third on the podium."
Although still not completely 100 percent following his crash in Atlanta, Weston Peick continues to log solid results. On Saturday, he held off a furious charge from Blake Baggett—which lasted nearly the entire main event—to capture his fourth top five of the year and first since Anaheim 2.
"St. Louis went better for me than the week before in Daytona, where I dealt with sickness and the crash in Atlanta," he said in an Autotrader/Yoshimura press release. "I rode well in practice. I came from 10th to fifth in the heat race. In the main event I wanted to be safe and stay on the inside, so I chose a gate that had a big pot hole in front of it. I didn't get the best drive, but I made some good passes and fought my way up. I held strong through the main event and ended the night in fifth. I felt strong and am back in the right direction to where I was in the early part of the series. Before the night show, we stiffened up the suspension because there were some deep ruts. That worked in my favor. As for the quad jump, I didn't think anyone would do it. Then Malcolm did it, so that encouraged me to go for it. It was an easy jump. I just had to make sure I gave it enough gas to get over it. The rhythm 3-3-3 jump section before the finish line was more difficult than the quad."
Following a few disappointing weekends in Atlanta and Daytona, Red Bull KTM's Broc Tickle turned the corner with a seventh in St. Louis. It was his best finish since a fifth in Tampa. "Overall, I would say it was a positive weekend from the last couple I've had," he said in a statement. "It's definitely a step in the right direction. I had two good starts and I put myself in a good place to get good results. I felt like I was just a little off speed-wise today on the track, but all in all, it was a positive weekend."
For the first time since picking up a fill-in ride with Honda HRC, Christian Craig finished outside the top five. In a team statement, Craig said he struggled with the track and couldn't find a "flow." He finished ninth in the main event.
"Today started off decent, but I struggled a lot with the track," he said. "I was pretty frustrated throughout the day, so just reset for the heat race, where I finished fourth, which was okay. I went into the main and was focused on trying to have fun, but I just couldn't get a flow. I was just riding around—couldn't push and didn't have any intensity. Overall, I was a little off today and it was frustrating, especially after two really good weekends. I wanted to keep the ball rolling, but a ninth place isn't the best. It's also not the worst, though, so I'll just learn from this and regroup for next weekend."
Autotrader /Yoshimura Suzuki's Malcolm Stewart qualified fastest in the first timed practice and third in the second timed practice. In the heat, he got together with Henry Miller, which forced him to go to the LCQ, which he won. In a team press release, Stewart said, "I was riding well all day long. Unfortunately, I had a bad jump off the gate in the heat race and came together with another rider. I crashed and messed up my shoulder. I ended up with tenth in the main event. I can't complain. I'm just glad that I'm safe. Later in the week I should have an update on my shoulder. Thanks to the fans for being there for me, as well as the medical group for helping me out!"
Being from Missouri, St. Louis is a home race for Rocky Mountain ATV/MC-KTM-WPS's Benny Bloss. On his Instagram, he posted, "Another 11th tonight, bummed to be one spot from the top ten but happy with my riding!! So nice to see so many friends and family #missourimade."
Monster Energy Kawasaki's Tyler Bowers was leading his heat race when he had a weird crash going into a corner. He finished 14th in the main. On Instagram, he wrote, "Made a lot of progress the 3 weeks I've been fortunate enough to work with the @racekawasaki crew! Constantly improving and this weekend was amazing. I felt like I really had the heat win in the bag before I hit the deck, it was one of those days where it was just coming easy and felt effortless. Can't wait to see what the next few weeks hold!"
St. Louis marked 51Fifty Energy Drink Yamaha's Kyle Chisholm fifth 450 race this year. He chose to jump up to the 450 to stay in race shape while the 250 West Region series was on break. He will be getting back on his YZ250F this weekend in Indianapolis for the first of two East/West 250SX Showdowns. Chisholm averaged a 13.4 finish in the 450 races he competed in, with four 13ths and a 15th last weekend. In a team statement, Chisholm said, "I'm satisfied with my 450 results. I've been close to the top ten, but this week was a bit off the pace. My plan all along was to keep the ball rolling from the 250 season and use this time to continue my training program and keep my body in race shape. We definitely did that, and being at the races is still as fun as it's ever been. Today was difficult, I felt just a bit off the pace in every session and I feel like I should've been higher up on the board at the end. I'm excited to get back on the YZ250F and finishing out the season strong back on the West Coast."
Rocky Mountain ATV/MC/Team SKVI's Adam Enticknap made his fourth main of the year in St. Louis. His brother Tyler, who is sidelined with a hip injury, was on hand to help out as a mechanic for Adam. "We brought the A-Team to St. Louis this weekend! It was awesome having Tyler helping me out," he said in a statement. "I know he wants to get back to racing soon, but if we keep making mains when he's spinning the wrenches, I might just have him wrench for me full-time!" Adam qualified directly out of his heat race in ninth. "I've been saying all season that if we got good starts, I can get the job done. Today we got starts, and it made all the difference."
Chad Reed came together with Bowers while battling with him in the top ten in the main. The small collision popped Reed's front wheel out of the rut and sideways into another one, which caused him to get off-balance and drop the bike high in the berm. He would get back on the track, but he pulled off shortly after without finishing.
Rockstar Energy Husqvarna's Zach Osborne got the holeshot in the main, but was quickly passed by Austin Forkner in the first rhythm section. Osborne was on the rear wheel of Forkner when Forkner went down. Osborne went on to take the win. He was asked about the section Forkner went down in during the post-race press conference.
"That dragon was really strange. I wouldn't even really call it a dragon. It was like two rollers into a big lip or something. I don't know, it was just weird. Then in our main, it got a bunch of really soft, funky ruts in it. It caught me off guard two or three times where I was pretty nose-heavy and I wasn't sure if I was going to pull it off. You'd come into that thing with so much speed off the finish line, and then you almost had to check up a little bit to go slow enough because you couldn't really just skim off of it. It was just a strange setup. It's also pretty mellow, so you didn't have to really respect it a lot. You could kind of hammer it, but at the same time you had to really pay attention. It was just a strange little section."
GEICO Honda's Jeremy Martin started the race third behind Osborne and Forkner, but couldn't quite match the pace of Osborne. "Yeah, we're here fighting for it," Martin said. "These guys are good. I felt really good in practice and I was fifth fastest. I felt like I was giving her the beans, and these guys were still faster than me. I just put my head down, and every time I go out there I just try to fight the boys. I can't control these guys or what they're doing or what they're thinking." Martin, who is now up to fourth in the standings and 22 points behind series leader Osborne, continued by saying, "All I can do is focus on me and what's going on. Zach and Forkner got away a little bit there. I was like, we're settling in for the long haul. That's what we did. We just kept fighting. I just did the best I could do."
Following his first win of 2018, which pulled him to within eight points of the series lead, Troy Lee Designs/Red Bull KTM's Jordon Smith battled with Kyle Peters for fifth after Martin Davalos crashed out before eventually taking third. Despite getting his third straight podium, he is now 13 points behind Osborne. When asked how he's been able to be in championship contention mid-season the past two years in the post-race press conference, he responded by saying, "We've kind of got everything dialed in a little bit this year. Just bringing what I'm doing at the practice track to the race track and getting good starts again like I was last year. The first two races weren't great starts, and I'm getting better at those. Just trying to put in solid rides. It sucks on a night like tonight where we lose points to the leader. That's not what we want to do, especially in a short series. So, can't have too many nights like tonight, but try and put it back on top of the box next weekend."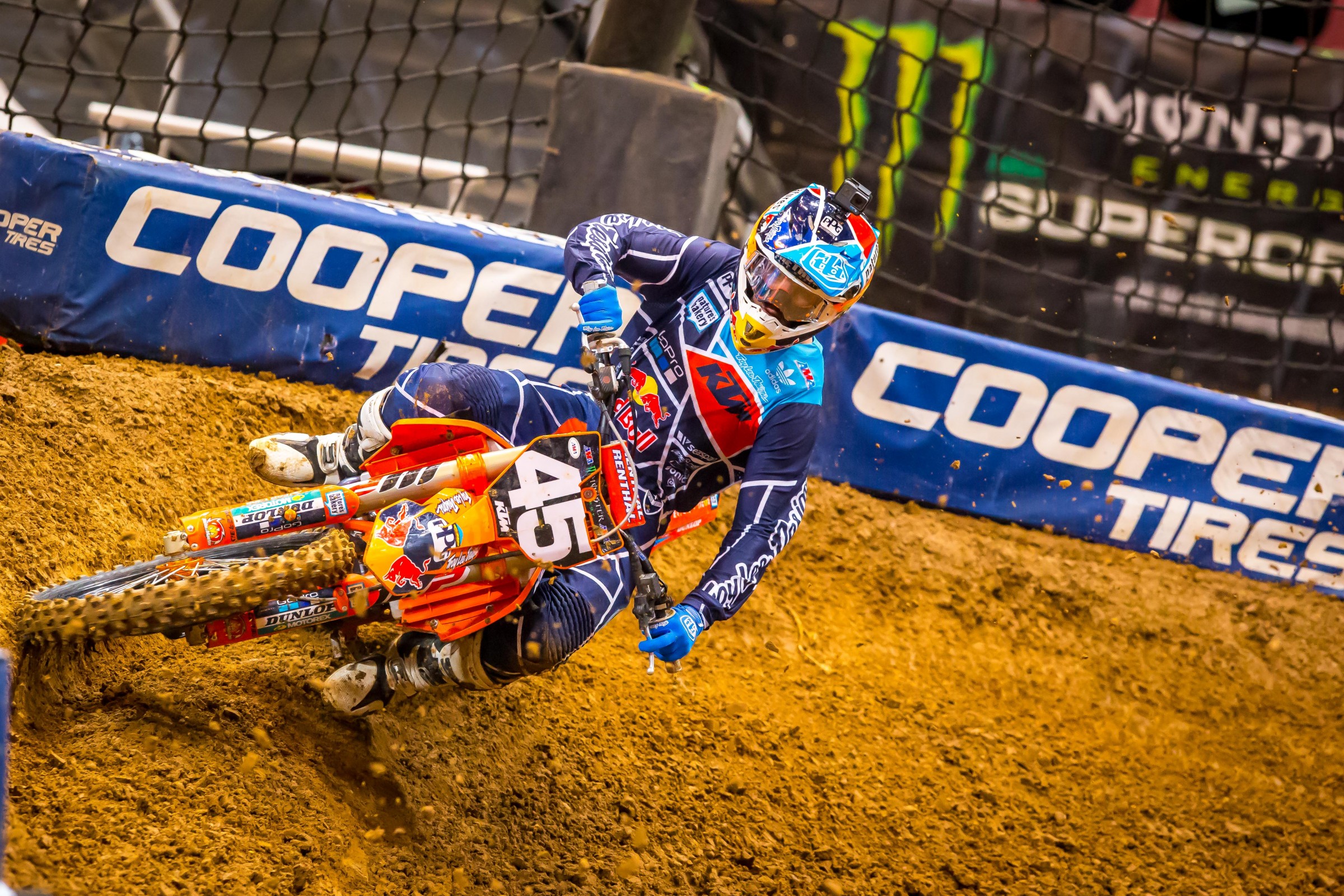 Autotrader/Yoshimura Suzuki's Kyle Peters logged his best finish of the year in fourth. The finish was Peters' first top five since a second-place finish in Indianapolis in 2013. Peters also picked up a heat race win, a step in the right direction for him. In a team statement, he commented, "Overall, it was a great weekend. I made a lot of improvements in bringing a typical practice day to a race day situation. I qualified well and my times were close. Heading into the night show, Buddy Antunez helped me with a few things, which really helped. I holeshot my heat race, which was great, but I rode a little tight and finished second. I worked hard in the main event and came away with fourth. My riding was so much better than it has been. I'm riding more like myself. It was a confidence booster to get that monkey off my back.
"The quad was possibly the biggest jump I've ever hit on a supercross track," he continued. "Stewart was the first guy to do it. Jeremy Albrecht and Buddy told me that there were going to be 250 guys doing it, and that I should go for it. I sized it up a few times, but I never even hit it until the heat race. That was the first time I sent it. The transition got a little choppy in the main event. Halfway through the race I did it, and there was a rider down on the landing. I landed just as a track worker was picking up the rider's bike and I clipped his handlebars. That was a scary moment!" Peters moved from ninth to fifth in championship standings.
Monster Energy/Pro Circuit Kawasaki's Austin Forkner came around the first turn in second and quadded his way into the lead on the opening lap. Osborne was close in second, and with about seven minutes to go while coming up on a lapper over the dragon's back after the finish line, Forkner's rear wheel bucked him over the bars when he came in with his rear wheel high and went over the bars going into the turn. Later on in fifth, he got caught up behind another lapper and the two made contact after the whoops and both went down, which put Forkner one spot behind to sixth—he would go on to make the pass back to fifth, where he finished. In a team statement, Forkner said, "It was a frustrating night for sure, but it's one thing to dwell on what could have been and another to turn our focus to a great opportunity next weekend with the showdown. I made mistakes and then I also was involved in mistakes not my own doing, but everyone has their bad days and I'm hoping this is the worst I will encounter as we keep pushing forward toward the end goal."
Rockstar Energy Husqvarna rookie Michael Mosiman finished eighth in St. Louis to secure his first career top-ten. After missing the first two rounds of the series, Mosiman has gone 13-22-8 in the last three races. "St. Louis was good," he said in a statement. "I had a good day in practice. My starts were good all day. I had a little trouble in the heat race, but was able to get back into qualifying position by the end. I had another good start in the main and I'm so happy to get my first top ten in supercross. I'm excited to head to Indianapolis and race with all the West Coast guys in the shootout."
Monster Energy/Pro Circuit Kawasaki's Martin Davalos was second in his heat race and was running inside the top five in the main when he went down. He would crash again and was unable to finish the race. Davalos is pretty banged up from several crashes; his first-turn crash in Arlington caused slipped disks in his neck. He is to be evaluated this week to determine being able to race in Indianapolis. "I have the most supportive team in my corner," he said in a team press release. "It has been really tough riding these past few weeks due to injuries, and I couldn't do it without their help. I continue to give it my all out on the track, and I hope to rest this week, allow my body to heal, and get back to what I love doing—riding."
---
Check out Racer X Brand's new styles, like the Moto Mag Blue T-shirt, the Maroon Shield T-shirt, and new hats now available for purchase. Also, take free shipping on orders over $40 this week only with coupon code FreeSHIP.