Daytona, FL
Daytona
Monster Energy AMA Supercross Championship
Marvin Musquin | Red Bull KTM | Fifth in 450SX
Racer X: Tell me about your day. How was it for you?
Marvin Musquin: It was a great day. Practice was great. I felt good with the bike. The team came to Florida. We did some testing. The speed was good all day. I enjoyed it a lot, and that's important on the riding. Then going into the heat race I got a second place. I was definitely the fastest, but [it was] really hard to get around Justin Brayton. Then I fell on the last lap and still got second. In the main, I was running maybe second or third. Made my way up to the lead. Like I said, I was the fastest, but the fastest guy never always wins. I made a mistake. Almost looped out on the wheel tap on that kicker on the double. I did it in the heat race, but I don't know what happened in the main.
The one before the mechanics' area?
Yeah. Then I went straight and I couldn't stop, so that was pretty bad. My lever was all the way down, and then I went deep in the sand and stuck again and lost again positions. So, two crashes like that, I was in a bad position and came back to fifth. I saved a lot. Some good points, but tonight that was my race to lose. Unfortunately, that's what happened. I'm just happy with everything. It's just that mistake that cost me a lot.
The second one in the sand, the second crash, you felt like you were rushing a little bit? Is that why you think you maybe went down, or what happened?
I just followed that high line and then it was too high at the end and it got super soft, and then I got stuck. It was way too high on the berm. It was not easy with my front brake. I was getting used to the position of the brake and I made a dumb mistake. Followed that rut that went too high. It cost me a lot. So, that's a big bummer because when you see my riding, it's a bummer to end up doing that stuff. Still getting a fifth, but that's not my position.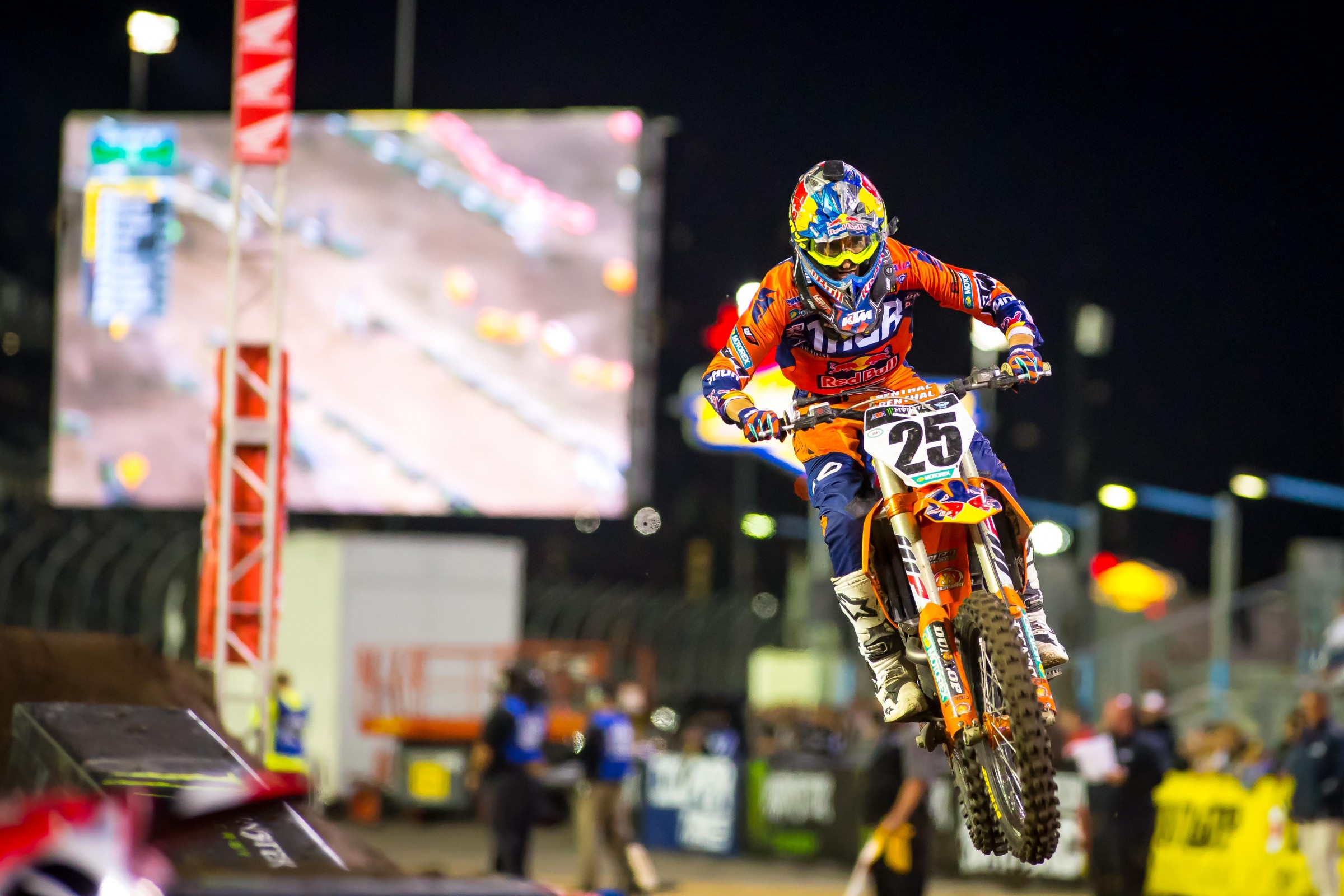 Each time you went down tonight though, you were able to get up fast. You went down in the heat race, you still finished second. You didn't lose a spot. Same thing in the main. You were up quick.
Yeah. Fortunately for me I didn't get hurt or anything and I was able to get up quick. That's what you need to do if you're fine. I thought the bike was going to be tweaked on the front and it wasn't too bad, maybe just a little bit, but I was still able to keep going. It was hard because even with everything normal, the track was getting sketchy, and at nighttime, some of the holes, it's hard to see. To be honest, when I got up and my lever was all the way down and the bars a little tweaked, I was like, it's going to be tough, and still we were able to get through it. It was a tough main event. To crash twice like that, get up, and pull the bike out of that deep sand. It was a lot of effort. Physically, it was hard. Still got past those guys that passed me and ended up fifth.
What did you think about the track?
The track was good. Like everybody said, it was long, straight lines. Everybody, me too, the years before it was a lot of S-turns, a lot of slow sections, and this year it was more high-speed. I think it was good. In practice the times were pretty close, I think. Because of that, it was the long, straight lines. But I enjoyed it. It was maybe a little bit too fast. Some of the sections were really fast. You really had to be focused and make sure you don't make mistakes because it was really fast. But I enjoyed it. Overall, it was a good day. The riding was good.
You still managed a fifth after going down twice in the main.
Yeah, for sure. You got to take the positive. But at the end, I could have done it a lot better, but that's racing.
You were also very nice on both your passes with Craig and Brayton. You could have really put them out in the weeds there.
Yeah. When you see [Eli] Tomac on [Cooper] Webb, if you get too close, you can crash if you hit the guy or something. So, I try to be smooth. Definitely not my style to hit the guy. Like I said, I don't want to risk it, but you still have to make the pass.
Weston Peick | Autotrader/Yoshimura Suzuki | Sixth in 450SX
Racer X: How was your night?
Weston Peick: Currently eating an ice cream cone.
Is that a victory ice cream cone or a mad ice cream cone?
That's a getting sixth place from third place. It was not bad, considering what I've kind of went through this whole last weekend and this week. Obviously, big crash last weekend. My body's a little banged up and sore. My legs, shoulder, ankle, heel. Pretty beat up, and then this week I got sick on Wednesday. So I'm trying to survive this week, and obviously Daytona is pretty brutal and it's not the easiest track. Obviously got off to a pretty good start. I was running about third for half the race or something like that. Just tried to hold it together as much as I could, and just obviously being sick and sore from last weekend, I kind of had to back it down and just kind of ride it in there and do the best I could. I ended up sixth. Obviously wanted to podium tonight. But we'll just go home this weekend, kind of get some more sleep and recover and heal up and get back up there next weekend.
Obviously, you had the huge crash [at Atlanta]. Were you able to take some time off or did you do your normal schedule? What was your week like?
I actually rode Wednesday, Thursday to try get on the bike and kind of loosen up a little bit to not come in this weekend so tight from the crash. I got a little bit of riding in. We actually tested and changed some stuff on the bike, which, actually, we went back to a really good setting that I liked and I'm happy we found that. Just looking forward to that and riding that at a normal track and kind of seeing how that is. Just do a few changes. I'll be back in North Carolina this next week and just making the best of it, testing with the team.
So nothing's broken? Everything's all good?
Yeah, nothing's broken, just body's sore, physically sore, mentally, everything just from that crash, and then obviously being sick all week. Just trying to come off from that and get out there next weekend.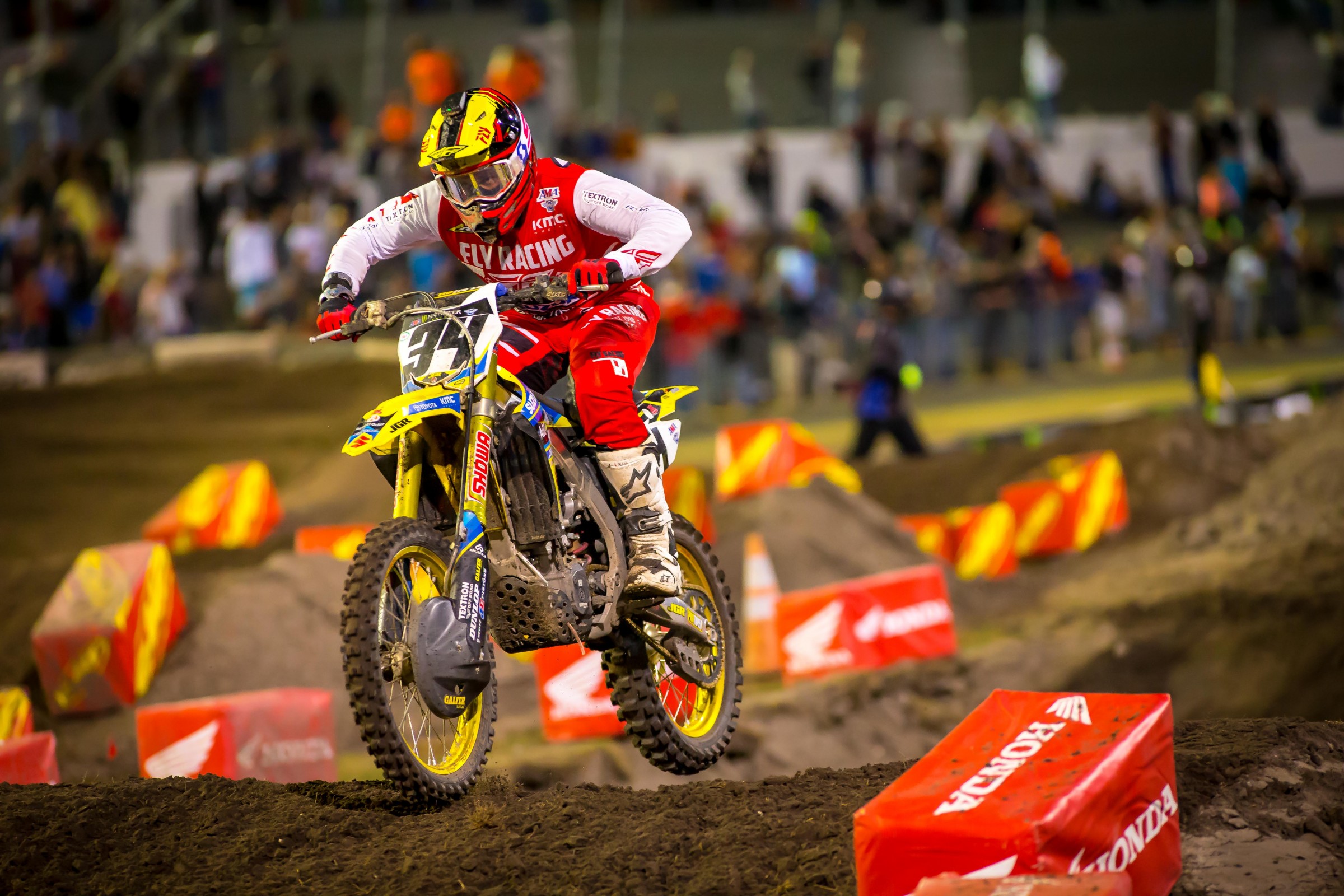 Jason Anderson | Rockstar Energy Husqvarna | Seventh in 450SX
Racer X: How was your night?
Jason Anderson: My night was sub-par, to say the least. I was able to walk away with minimal points damage. Kind of crazy. That first heat race I got a Tuff Block knocked out in front of me and crashed pretty good. Was kind of sore. Then in the main, I was trying to come through the pack and just got together with someone and ended up just falling. Came back to seventh. Not too bad. I didn't completely screw it up.
You were back in tenth for a little bit, then you were able to kind of find your flow and pick it up.
Yeah. Honestly, from my crash in the heat race I was pretty sore, so I was just trying to manage the race and get as many guys as I could safely because I didn't feel that strong out there. But I'll be good for next weekend. I just was able to get those last three guys in the last couple laps and get some good points. I feel like I did some pretty good damage control. Honestly, the crash in the heat race, I could have been hurt. So, it's not that bad of a day.
What hurts from the crash in the heat race?
I just hit the top of my arm really good; maybe a good, deep bone bruise. I just hit the Tuff Block and went straight to my arm. But I don't think it's going to be that big a deal. Obviously, we have a whole week to be able to recover. The best thing you can do is get blood flow, which is riding. So, I'll be riding this week. Nothing's broken. Nothing's hurt or anything. Just need to get through today. Did the best that I could and tried to get the best points that I could. Just got to keep my head in it.
This is the first time that you've finished outside of fourth this season. Obviously, from what you've said, you're okay with where you're at, based on what happened tonight?
Yeah. My goal is to just try my best and do the best I can with what I'm given every night and not get over my head. But at the same time, I want to win some more races as the season goes on. I think I got that in me. We'll go into next weekend and hopefully have a better weekend.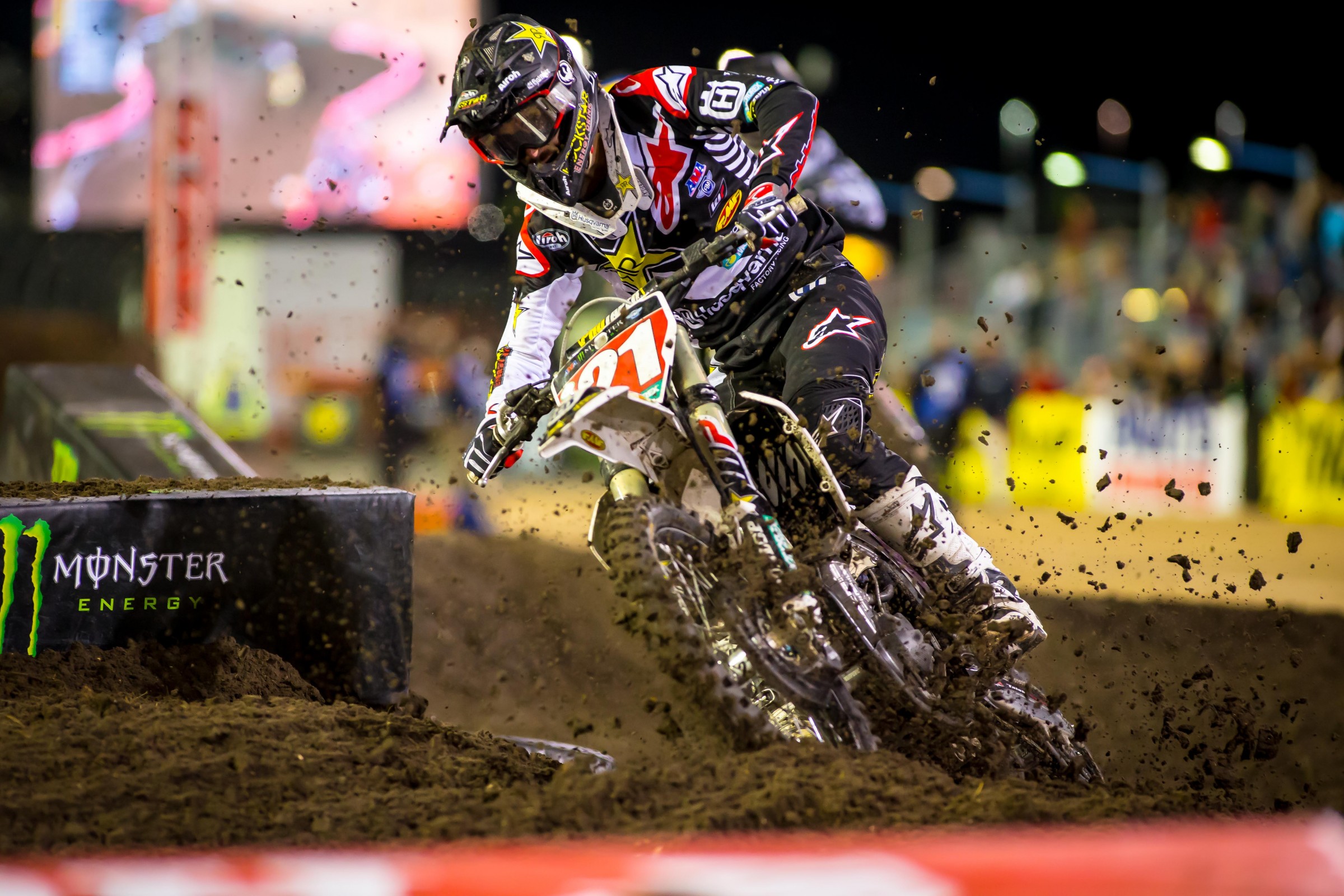 Dean Wilson | Rockstar Energy Husqvarna | Eighth in 450SX
Racer X: How was your night?
Dean Wilson: I think my night was okay. I'm not super stoked on it. Overall in a day, I think it was a better, more positive day. I qualified third and second in my heat race. Just in the main event, I was riding in seventh pretty much the whole race, but just really struggled to find a flow out there. I felt like I was fighting the bike the whole race, just not picking good lines and riding efficiently. I just felt kind of like I was wrestling the whole time. That's more on me just not really riding with a flow. It was just a really tough, physical race. I just tried to hold strong until the end. Jason [Anderson] got me on the last lap and got an eighth. Not stoked on it, but I'll move on from it and have a better weekend next weekend.
Was it a setup thing? Just wasn't feeling it?
No, I think it was just more me on line selection and just use my legs properly and seat-bouncing some stuff that I shouldn't be seat-bouncing. But I was trying out there, but it was tough. It was just a really tough track tonight. I just never really had the flow. Flow on this track is everything. It will make the race 100 times easier.
There were a bunch of quads out there tonight. Big jumps.
Yeah, I actually like the track layout. I like it when it's more of like long straights like it is. It's pretty cool. The quads were fine. I had no issues with that. I felt really good on the track during the day. Even in the main event, though, I was pretty stoked I had a good start. I maybe came out sixth or so, but I felt good going into the first turn almost thinking I had the holeshot. I hadn't had that in a while. That's another positive. I'm healthy. Definitely looking forward to getting a better result next weekend.
Have you started any outdoor testing yet?
No, I haven't done any outdoor testing yet. I'm trying to almost get back in my supercross groove. The crash at A1 really kind of held me back. I'm still battling that shoulder injury. It's something I don't really talk about anymore because it doesn't really do anything talking about it, but it's just a really frustrating injury that's not really healing. It's a shame. There's nothing I can do about it. Just keep going and racing and trying to do what I can to let it heal.
Are you able to get back to your normal swing of things? Where are you at with all that?
Yeah, I am. I'm back on my riding schedule and training schedule, but it's definitely some stuff—like, I still can't lift my arm up. I've really got a lot of trauma inside the shoulder. The worst thing, really, is sleeping. I haven't had a good sleep in two and a half months throughout the whole night just because it's like a very dull ache. It's just really frustrating. It's an annoying injury. I won't lay on that side when I'm sleeping, but when I fall asleep I lay on that side and I wake up in just so much pain. But it is what it is. I think if I just keep working hard, it will pay off and I'll get up where I belong.
Judging from your Instagram, it looks like you were happy to be back in Florida.
For sure. I love Florida. It's very peaceful. I got my trainer Tyla [Rattray] out there and we're at the Baker's Factory. We just have a really good program and good people around us. We just work hard and have fun doing it. That's what it's all about. I just want to have better results and keep working hard.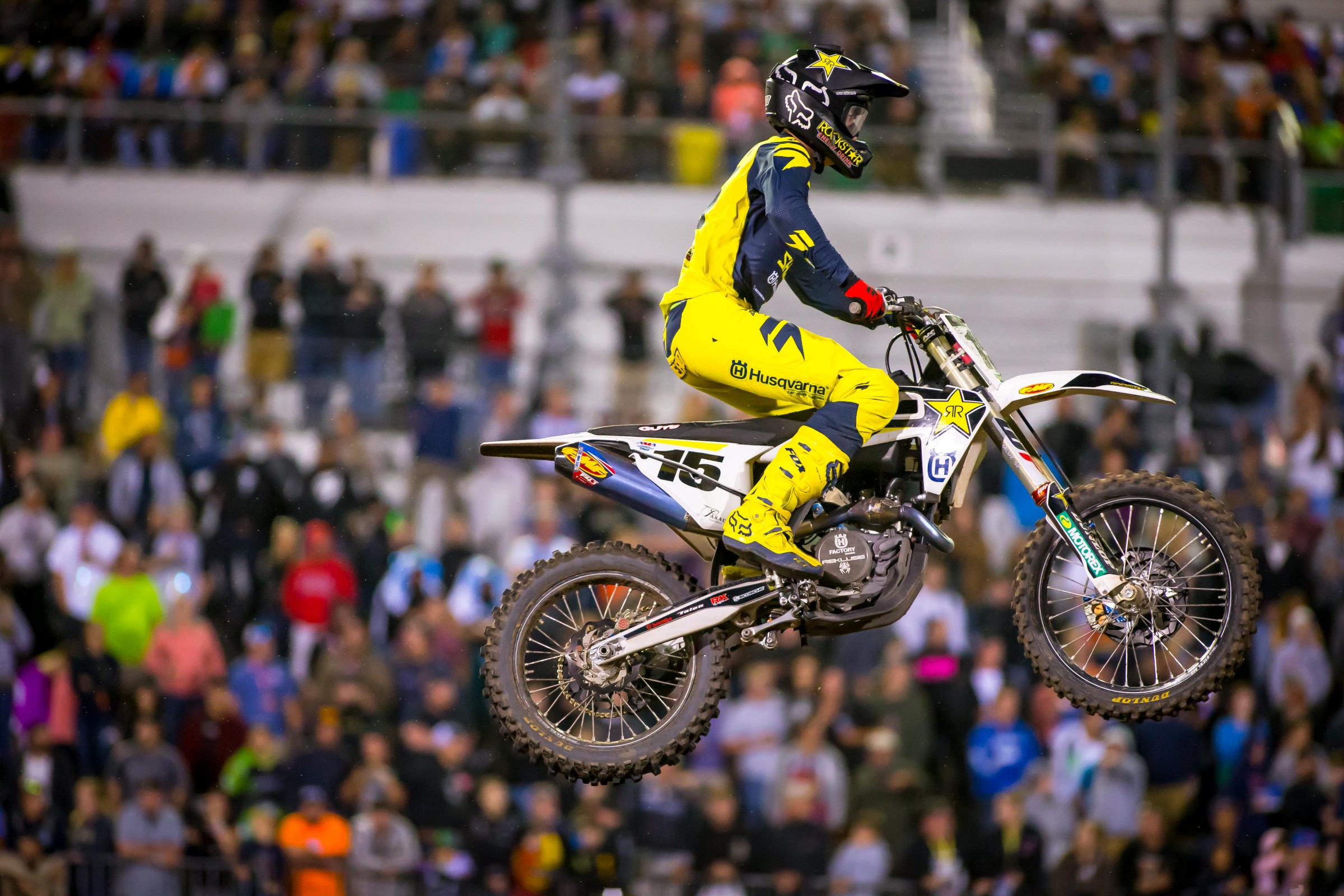 Tyler Bowers | Monster Energy Kawasaki | 14th in 450SX
Racer X: Had to go to the LCQ tonight. Crashed in the whoops. Can you kind of just talk about your night?
Tyler Bowers: Yeah, it was miserable. My day started off pretty good. I was feeling pretty good. Made some bike changes this week. Feeling more comfortable on this factory Kawasaki. Started off pretty good. Heat race, decent start. It was like seventh. Came up and passed Reedy [Chad Reed]. I came under him in the whoops and he bobbled a little bit at the beginning. Then I bobbled, got cross-rutted into the Tuff Blox, ate shit.
Did he throw you off when that happened? Is that why you crashed?
Yeah, for sure.
Were you kind of reacting to him and lost focus?
Absolutely. I thought he was kind of coming into me, and then he just cross-rutted a little. I watched the video and he just cross-rutted a bit. So, it threw me off and then I cross-rutted and ate it. Tenth in the heat and then had to go to the LCQ. I hate those things. Do some more extra laps on this Daytona track was not fun. Then I was all the way outside gate on the start and I tried to make it work, and it was not pretty, either. Pretty much dead last off the start and just tried to plug away from there.
So, what was your main like?
Miserable. I was looking around in the first turn like, man, there is nobody back here with me. Then ran into somebody's back tire after that and even further back in last. I ended up 14th tonight, and I'm so tired of 14th. I've got 14th like the last three weekends. I'm just ready to go home, recharge the batteries, and start for next week.
You said on the podium after your heat race that you didn't have time to fix your bike. It was all mangled from the LCQ. You had to ride with that bike again.
Yeah. I crashed in the heat. Really tweaked the bars and tweaked a lot of other stuff. Basically Travis, my mechanic, had the time to do the bars and he just kind of put them on. Threw them on real quick for the LCQ and it was like not really in the position they were supposed to be in. We just said yeah, sent it. Then we came back and there wasn't much time for the main, either. He was like, are you good with it? I'm like, yeah, let's just go for it. He's like, all right, because I don't really have much time, either. I'm like, all right, let's go! I don't know what else was broke on it, but he said there was a couple other things that needed fixed, but we just had not time to do it. I just went out into the main and let's go for it. We're kind of used to it, though, because last weekend I crashed in the second main and did the same thing. Tweaked some bars, and because those mains were so close together in Atlanta, we had no time to change the bars. For the third main, he was like, I can either give you a new clutch or I can change your bars. I'm like, let's do the clutch. So, that's what we did.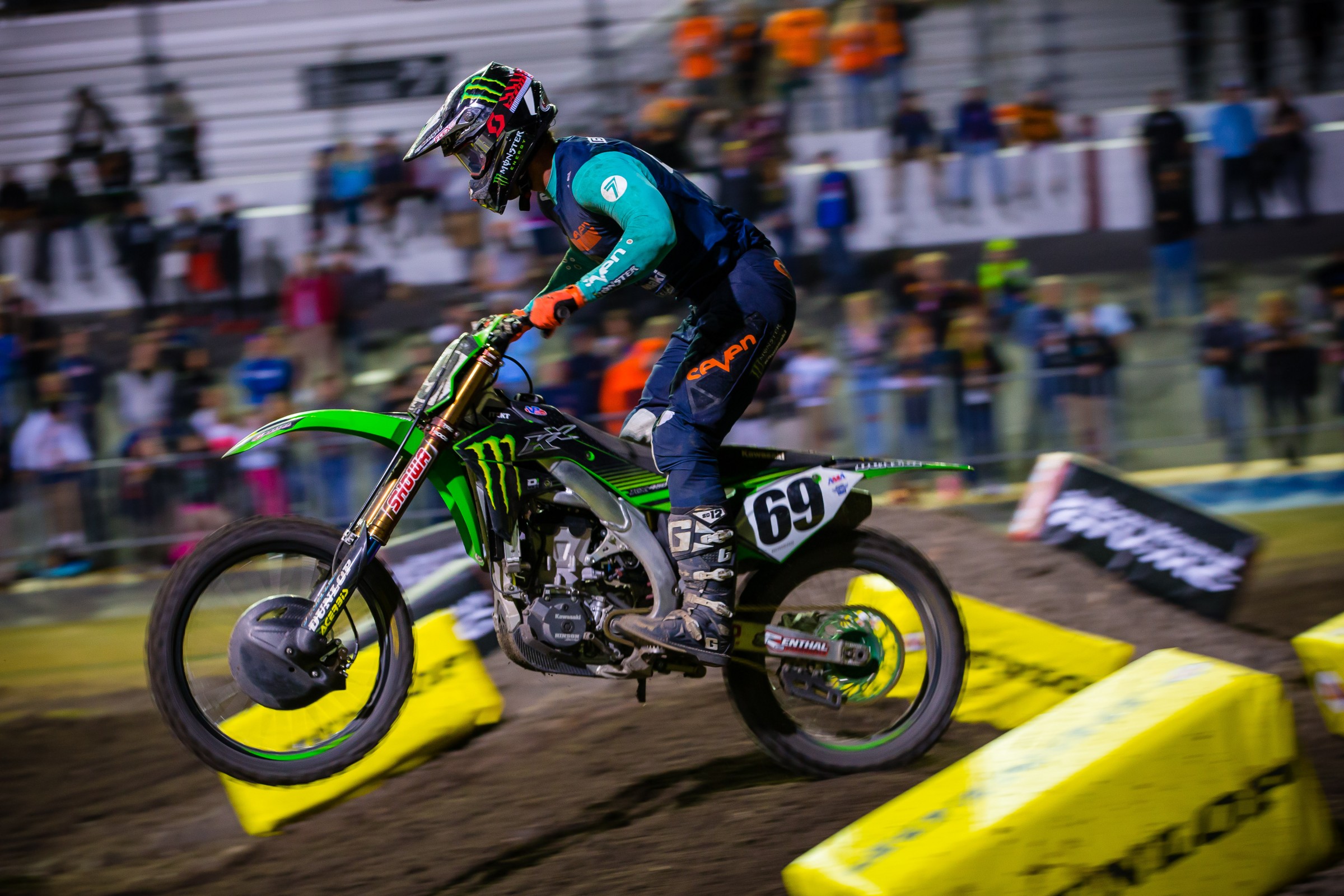 Zach Osborne | Rockstar Energy Husqvarna | Fourth in 250SX
Racer X: Just talk about your night.
Zach Osborne: Really good heat race. Got off to a good start. Was able to get a good gap with RJ [Hampshire] crashing and whatnot. Then in the main event, just a terrible start. I started pretty much last and rode what I felt like was a really, really good main event to come back to fourth. Can't be too, too disappointed with what I did tonight. Just going to keep plugging away until St. Louis.
I think you were up to eighth place by less than halfway to go. You were charging through the pack.
Yeah. It was just one of those deals where I got in the zone and just was really able to put down some good laps. I think I actually had the fastest average lap of anyone, which was a good indicator that it was a good race. I put my heart and soul into it and I can't really ask for a whole lot more than that.
What'd you think about the track tonight?
I thought it was awesome. Probably one of the best Daytona's I've ever ridden. The quads were a bit much, but it is what it is. Kind of just where we're at these days.
I think you're going to be tied with Forkner going into next weekend.
Yeah. It is what it is. In my opinion, we're four races in to an eight- or nine-race series and there's a lot of racing left, so it's no big deal.