Daytona, FL
Daytona
Monster Energy AMA Supercross Championship
After opening the 250SX East Region with consecutive sixth-place finishes, Troy Lee Designs/Red Bull KTM's Jordon Smith has worked right back into the title hunt with a third-place finish and a win over the last two rounds.
Following his win at Daytona, Smith is now just eight points behind points leaders Zach Osborne and Austin Forkner. We talked with Smith following the post-race press conference in Daytona.
Racer X: You won Daytona, bro.
Jordon Smith: I won Daytona.
That's got to feel awesome.
It was pretty special. I was actually thinking about that driving down here and just like, man, Daytona is a big one. That would be a really cool race to win. I always feel good here. I like to let it hang out a little bit more and get a little sketchy sometimes. That's kind of what this track called for. I felt good all day and got it done.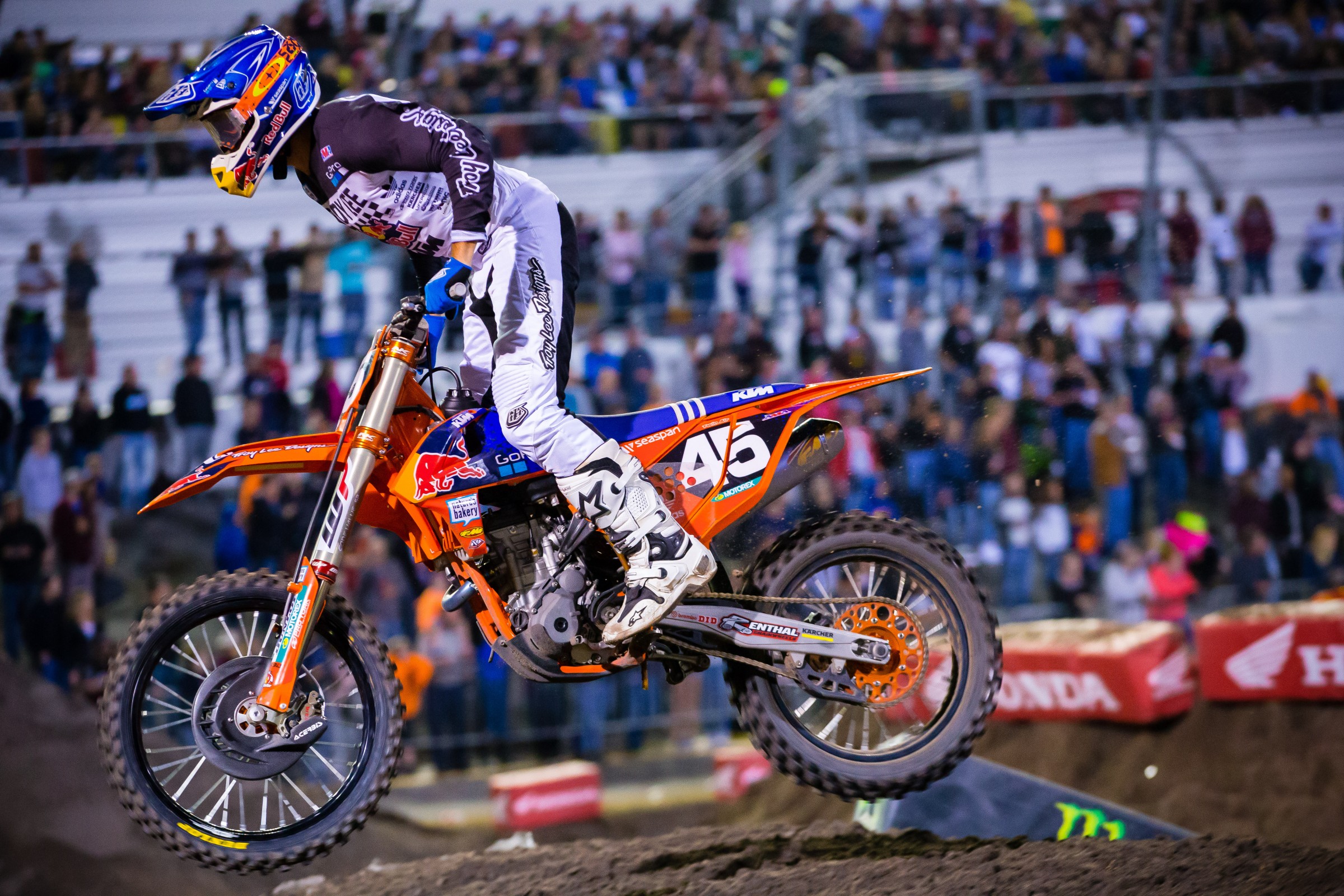 How hard is it, though? Guys are admitting they actually get tired.
For sure. In practice, usually, on a normal track, I'm stringing two, three, four laps together, and out here I'm like two laps and I'm like, we need a break. We need a little breather. You're pushing so hard. Like I said, there was no straightaway on this track. That's really not usual for a supercross. Usually you come across the start straight or something. It was a lot of whoops, a lot of rollers, a lot of dragon's backs. If you weren't doing one of those, you were doing a huge quad. So, you're just kind of holding your breath the whole time out there. I felt myself settling in there lap three, four, right in there. I was like, come on, don't do this. You got to keep going. I threw down a few fast laps there in the middle and pulled away from Jeremy [Martin] a little bit. Just rode it on in from there.
It looked like the lappers played a factor. Sometimes it helped you, but other times, obviously, it didn't.
Yeah, the track crew was doing a really good job tonight. I could see them waving the blue flag pretty aggressively out there. For the most part, the lappers got out of the way good and didn't really bother me too much. So, it's definitely tough though with the ruts and stuff. Sometimes they try to get out of your way, but you're going to a line…because they never know where you're going to go. Sometimes they're trying to get out of the way and they get in your way. It's tough.
For your season here, we're like, "he's won races before," but now it's almost been a year. It's been like 11 months. Did it feel normal or was it like, okay, I got to win again? Is this big to get over the hump again?
Yeah, it is big to get over the hump. It was a tough couple first races. It was like, man, I really feel like I'm riding good and stuff just isn't working out. That's tough whenever it's like that. A lot of times last year, it felt like it was coming easy. I was on the podium even on bad nights and it's like, Atlanta I got off to really good starts. We worked on the bike a little bit for my starts and got off to good starts. I was just really confident on the starts here today. That was really good.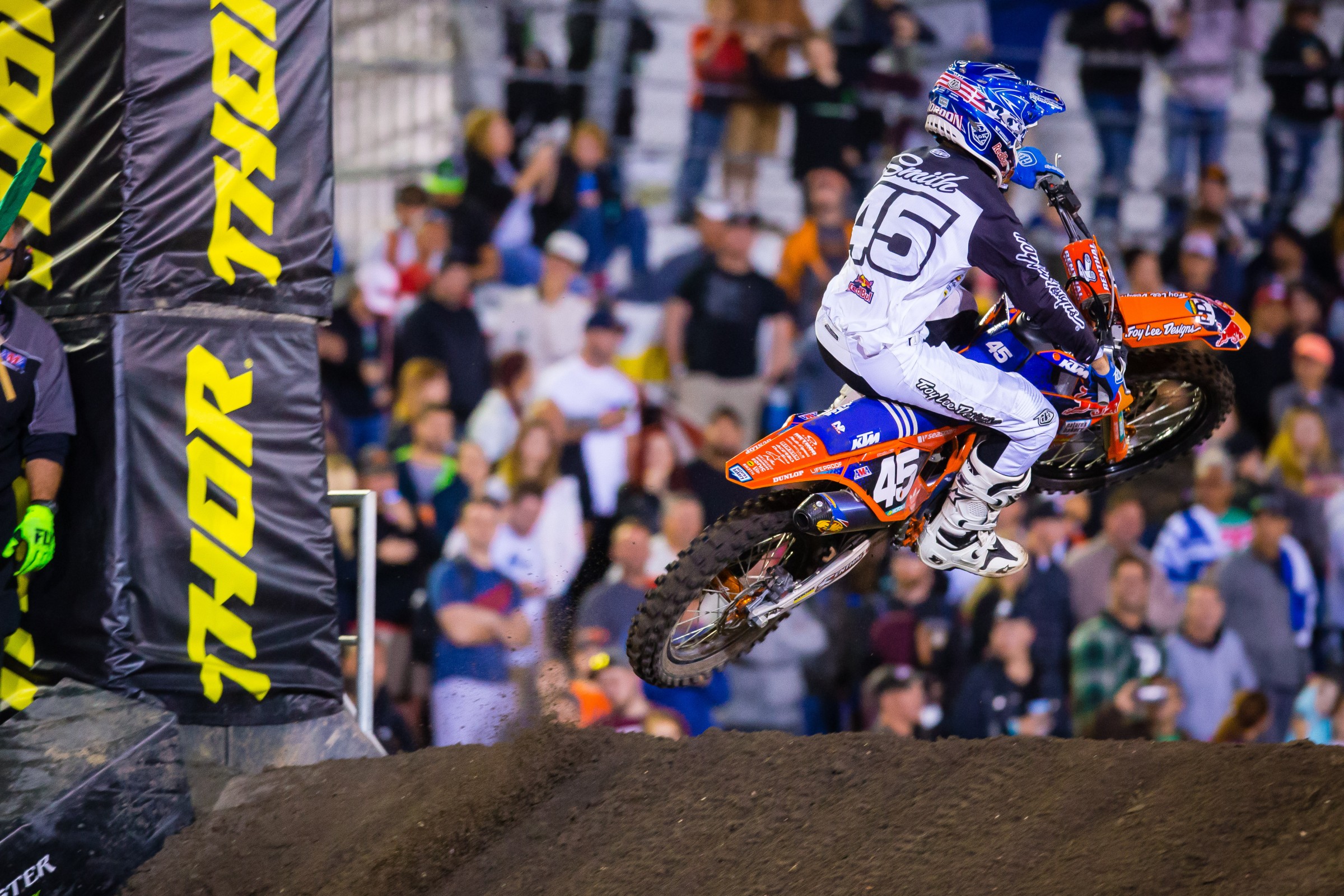 What was different? You got the starts in Atlanta, but then you were like, I didn't ride as well as I did the previous weeks. Why did you get it this week?
I worked on some stuff during the week. We did a lot of testing down at Aldon's [Baker] place and he had a really good Daytona track set up for us. All of KTM was out there and my trainer from MTF [Millsaps Training Facility] came down with me, little Brian. We worked on some stuff. I felt like I was really strong at the end of the motos, but it was the first half that was really getting me. Then we went in and was doing some motos early in the week and it was the same thing as the races. I was struggling the first five laps. So, on Thursday I didn't even do any long motos or anything. All I did was just sprints, just to kind of go out there and get that pace right away and try to click off laps. I think that helped me a lot today. I felt really good at the beginning of the race and it was good.
You're a title contender here again. Back in the mix, right?
Yeah, for sure. I felt like that all year, even though sometimes I feel like I fly under the radar a little bit. But I knew that it would come and just have to keep plugging away. Sometimes when you have guys like Austin's [Forkner] riding really good, and Zach's [Osborne] riding really good. It's like, man, I'm so far behind, there's no way to catch up. They're just riding so good. It seems like they're never going to make a mistake. You got to be on top of your game every weekend, every start, everything. I got a lot of points tonight, so that was really good.
---
Check out Racer X Brand for men's and women's apparel, Ogio-branded bags, and much more, including our Retro Throwback '89 High Point Shirt and Special Edition Lego Cover Posters. Be sure to use coupon code GRGSALE18 for 30 percent off all men's and women's apparel.