Tampa, FL
Tampa
Monster Energy AMA Supercross Championship
Racer X: Zach, congratulations. It seemed like throughout that main event you were fighting the track a little bit, fighting the bike. Was it just one of those nights where you couldn't really get things in a flow?
Zach Osborne: A little bit. In the beginning I felt pretty solid, and then maybe like halfway through I had a few mistakes and then Dylan (Ferrandis) got me and I did struggle a little bit. It's just not quite my cup of tea when it's a little bit slicker. I need to work on that for my future. All in all, I feel maybe a little bit better about this third tonight than I do my win last weekend. It was a strange weekend last weekend for me. I just felt so off and so out of my race craft, and this weekend it felt a lot better. I'm pretty happy with it.
Dylan, congratulations. In those last couple laps as you were kind of closing in, were you kind of narrowing in on a place where you thought you could make a pass or was it more like first chance you get, you're going to make a move?
Ferrandis: For sure I was thinking about making the pass in the last lap. The thing is, for me, tonight was really my first race of the season because last weekend I crashed at the start. I had to stop in the pits and I hurt my leg a little bit. So, it was really my first race tonight. I just ride, just miss a little bit of racing and just burn all my oxygen in the first few laps. I was a little bit out of oxygen so I cannot do really what I want, but I tried. I tried on the last lap to make the pass, but it didn't work. It's okay. I feel good. Now I know what I need to work on. We're going to try to fight for the win next weekend.
Austin, congratulations. That last lap, did you know Ferrandis was right there? Did you kind of have an idea that maybe that pass was coming?
Austin Forkner: Yeah. I was pretty dialed through the whoops, though, so I figured that if I could get to the whoops, then I was pretty solid. I figured I could send it into the whoops and then be able to hold on the last lap. He definitely gave it all I could handle from the finish to that S-turn before the tunnel jump. We hit, and as soon as I got through that and got through the whoops, I was happy. Up until then, I knew he was back there and I knew he was going to try it. Obviously, it's the last lap. Everybody would. I'm happy, though. It was tough. I didn't get the holeshot, so I had to pass a few guys. It was a tough track. It was slick and the sand was tough every lap.
Austin, there are thousands of racers who want to win and race for Mitch Payton's powerful team. On your tenth start, you get your first career win and put your name on that board. What does this mean for you to race and win for Mitch's team?
Forkner: I'm really happy. Last year didn't go quite as planned in my rookie season. I got hurt a few times last year. Kind of came into this season a little… I broke my wrist. I feel good now, but it was kind of iffy coming in. I'm just really happy that I'm running up in the pack and that I have good speed this year. So, really, I'm just happy with where I'm at right now. Mitch's bikes are great. The whole team's great.
For Austin, you were leading, and that's still relatively new for you in supercross. Was that running through your mind at all, "This is my first win?" Did you get a little nervous, or were you able to just take it lap by lap?
Forkner: I tried to sprint hard at the beginning, but I knew that you kind of have to pace a little bit. If you go too hard at the beginning, you're going to gas out. I knew these guys were close. I just tried to keep a big enough gap that they couldn't make a pass. I looked up at the board towards the end and I saw three minutes to go. At that point, it's pretty late. That sand section was definitely tough. I was definitely feeling it. But just basically once I got into the lead, I just kind of had tunnel vision of hitting my marks every lap, doing everything that I need to do. If something happened like when he caught me at the end, you just kind of have to make do with what you got. Whenever I was out front, I was just trying to hit my marks and be consistent every lap.
Austin, I think you had kind of a big moment with a Tuff Block. Talk about that. It kind of kicked you a little funny.
Forkner: Yeah. That definitely spiked my heart rate. That was around halfway, I would say. I was just kind of starting to settle in and I just slid coming out of that turn. I was eyeballing it. I drifted wide and I was like, "Don't hit the Tuff Block. Don't hit the Tuff Block." And then I hit the Tuff Block. I didn't really want to do that because these guys were going at it, I think, at that time. They were catching me I think a little bit, so I was like, I got to keep that gap. So, I really tried to sprint the next couple laps to try to get it back away. I think everything in that race exciting that happened for me was basically right there just in that little S-turn. I was trying to take that inside on the three-on after the finish and I think I was spinning and losing some… I think these guys were going outside and they were just faster right there. I feel like that was one of my weaker spots on the track.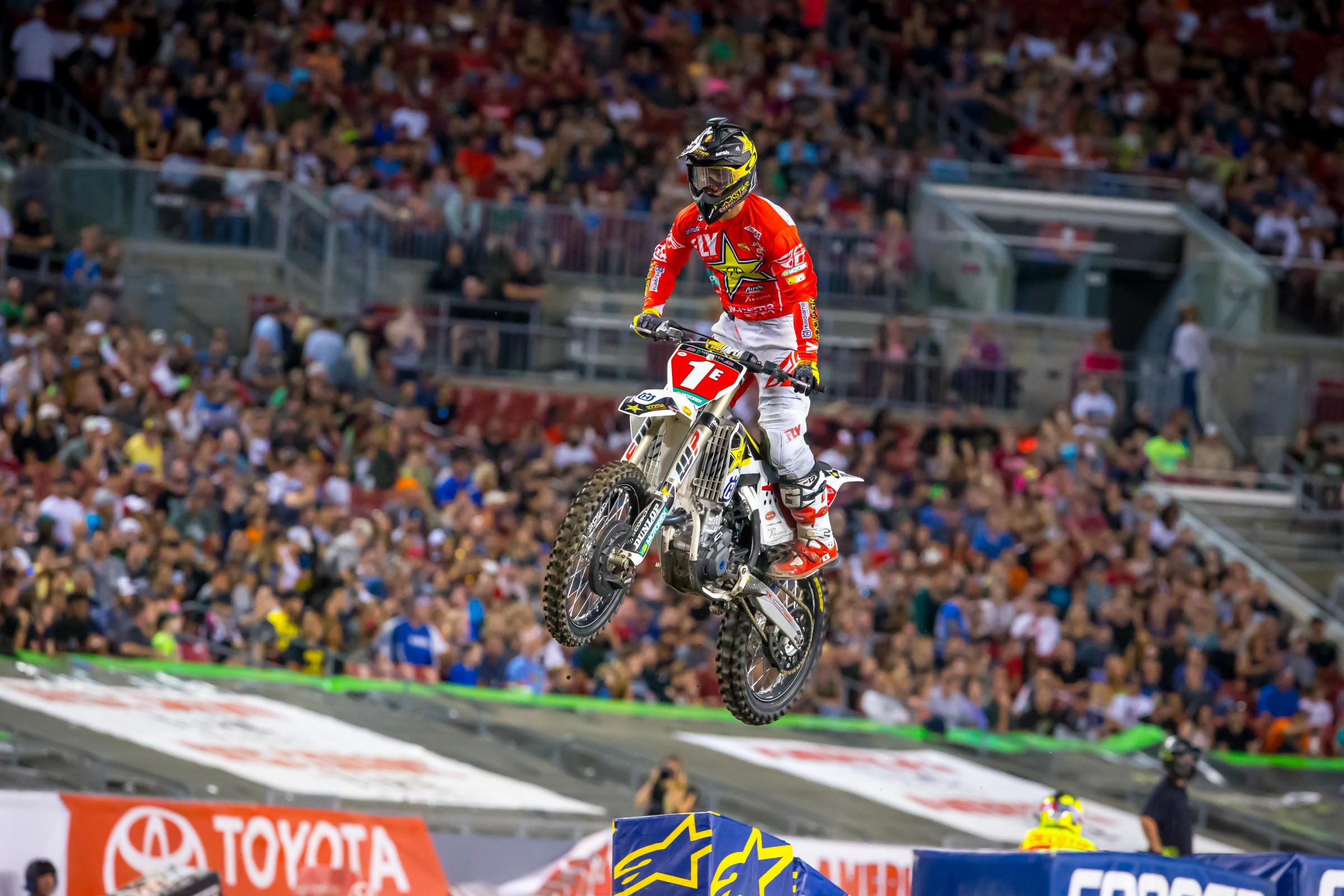 Zach, earlier tonight you mentioned that you were struggling out there a little bit. Was it more of the track? Was it bike setup? What were you struggling with?
Osborne: Tonight, mainly just traction. I felt a little bit loose in some places. The first couple laps in the main, maybe until halfway, I felt really good and really solid, and then I started to make some mistakes. Then once Dylan got by me, then I kind of just towed in behind him. I wasn't really able to attack at the end like I would have liked, but it's part of it. It's a good night for the long haul. Just keep plugging away.
This question is for all three of you. On a race like tonight we had a lot of yellow flag incidents, like the whoops and the sand section. For any of you guys, does that ever throw you off kind of the flow of the race for you? How do you regroup to keep hitting your marks, as you say?
Osborne: It's tough. There was a guy down at the end of the whoops one of the laps in Austin's line. When he went in I was like, whoa, I think he's going to hit this dude. It's hard. You're so in the zone and so focused on what you need to do, it does throw you off. You don't want to move to a new line that you've never hit in the whoops. That can put you down, too. It's definitely sometimes, it's tough. Today, like in the qualifying sessions, it was tough with the sand because there was always guys down in the sand. I got to the end of a couple really good laps and they were gone because there was someone down at the end of the sand.
Forkner: Basically same for me. I had some close calls in the whoops, like he said. Then at the end of the rhythm, there was somebody down and a guy was picking up the bike and pushing it off the track. I was landing on the outside. Luckily he saw me, because if he would have pushed any farther we would have hit and it would have been game over. That kind of throws you off, but it happens so quick that it's happened and it's done and you're into the next section before you even know it. It goes by so quick.
Ferrandis: Like they say, for sure we have to deal with, but for me it's not a big problem. It's more easy to deal with that on the main event when you are leading. They know that they will be lapper. Then qualifying practice can be more dangerous in practice because all the guys want to make a lap time. Sometimes we are really much faster than the 15th guy or the guy who's 20th. But we have to deal with it. It's not a big problem.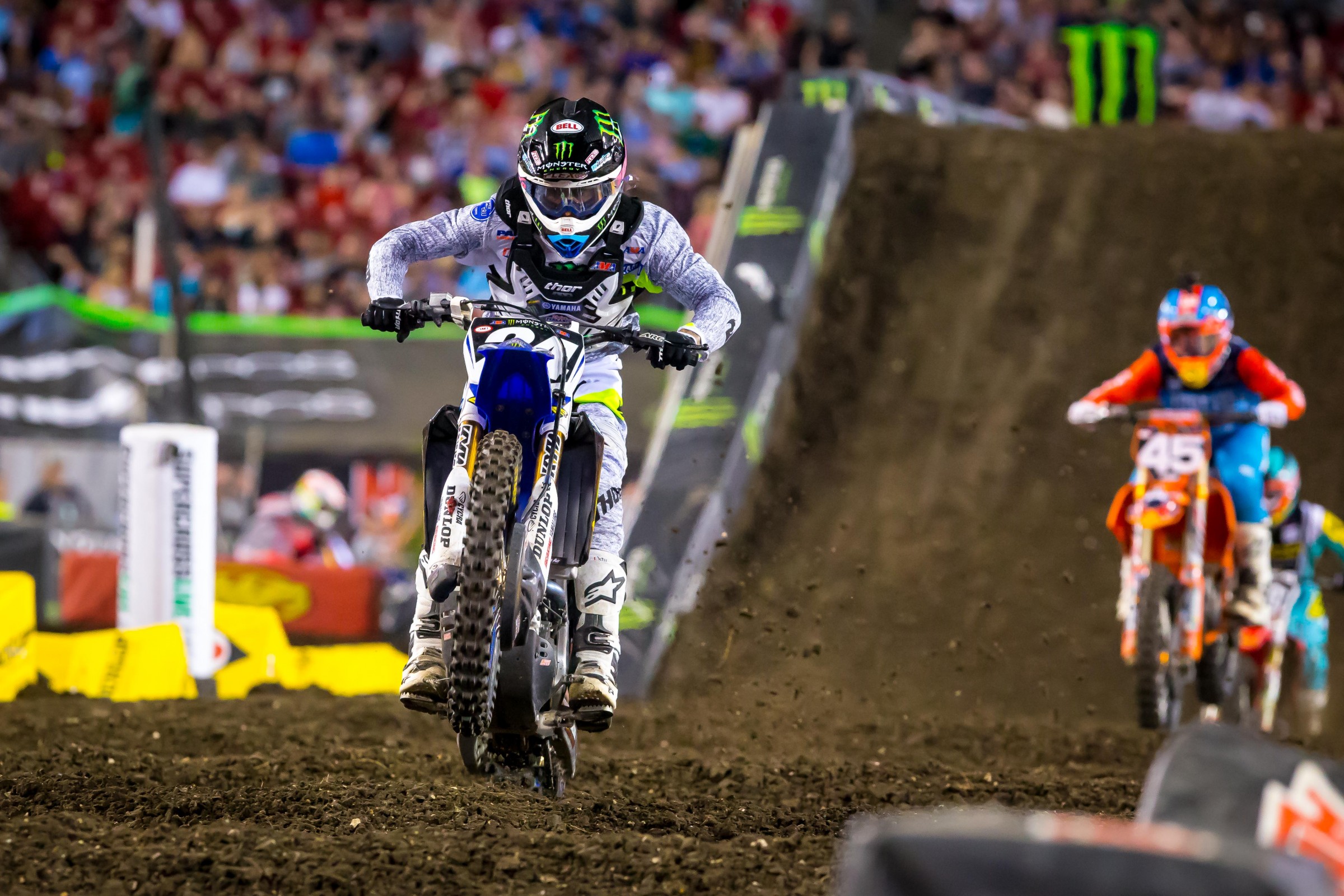 Austin, when you first started looking at this track or first started riding on it, did you feel like it was a track that suited your style, or did you feel like perhaps it was a track that you could get your first win on?
Forkner: I don't know. I felt solid all day. I've never really ridden much sand with supercross stuff. I think Phoenix last year was one of the only times that I rode sand. It was like a 180. I hadn't really ridden sand. I kind of just figured out that you just had to send it through the sand. There was no trying to be smooth. There was no picking a rut. You would just go in and jump as far as you can and never let off, basically. So that was different. It would definitely wear you out in the main event. Usually for me sometimes, my weak spot is whoops. Tonight, I was one of the fastest guys at the whoops. At the beginning, I thought, last week we had a dragon and two whoops. This week it's just one whoops section, so maybe that's better. But I was really fast. The whoops were my strongest part of the track tonight. I just think that I felt good all day. Qualified good. I was just kind of vibing with the track. We made a bike change after the first practice to the rear shock that helped a lot. It was just comfortable.
Dylan, you're working with the great David Vuillemin this year. What has he helped you with? Talk about working with him. What's he like?
Ferrandis: Yes, I work with David Vuillemin now since six months. He helped me a lot. We do everything together. The physical training, the technique, the moto, the gym, everything. I think he's one of the rare guys who fight with the top guys like Chad (Reed) and (Ricky) Carmichael and all the guys. He knew a lot. He's trying to give me every time the small tips that can help me on the track. Technically I think he's one of the best. Also, he always finds a small thing that can help me find a small half-second or something on the track. We do everything together. He helps me for everything physically, technically. It's good.