Welcome to Racerhead, where we will hopefully find a respite from all the sad news from Florida this week. We're ready for the continuation of one title chase and the start of another one. Monster Energy AMA Supercross moves east as the "California season" ends and it's back to Texas for the second time, this one at AT&T Stadium in Arlington, often known as "Jerry's World" for Dallas Cowboys owner Jerry Jones. Rockstar Energy Husqvarna's Jason Anderson seems to just keep getting better and better, and he's now on the first winning streak of his 450SX career. Anderson has been on a long, steady rise to the top, and I have to admit I did not expect El Hombre to be on top at this point, nor did I think we would see the season take such negative turns for Eli Tomac, Ken Roczen, and Marvin Musquin.
But think about this: back in September 2016, Anderson straight-up won the middle moto of the FIM Motocross of Nations, beating Jeffrey Herlings and putting Team USA in a good spot to maybe break their losing streak. But Jason drifted across the finish-line tabletop and was landed on by that Japanese rider, knocking him out of the race and out of training for several crucial weeks before the start of the '17 AMA Supercross season. As a result, Anderson got a slow start and didn't even reach a podium until mid-February at Arlington, the same spot we're headed to tomorrow. He didn't get a win until the Las Vegas finale, and only then after Tomac decided to use the end of the race to try to block Red Bull KTM's Ryan Dungey and snatch the crown.
My point is this: how much better would Anderson have been last year had he not suffered an injury in that bizarre crash at Maggiora? Because what we're seeing now is a new superstar blossoming, right when there's a big opening for a new champion for the first time in seven years. Anderson's getting the right results at the right time, and he's suddenly got a 28-point lead over Monster Energy/Knich/Factory Yamaha's Justin Barcia. Who would have guessed that back before Anaheim?!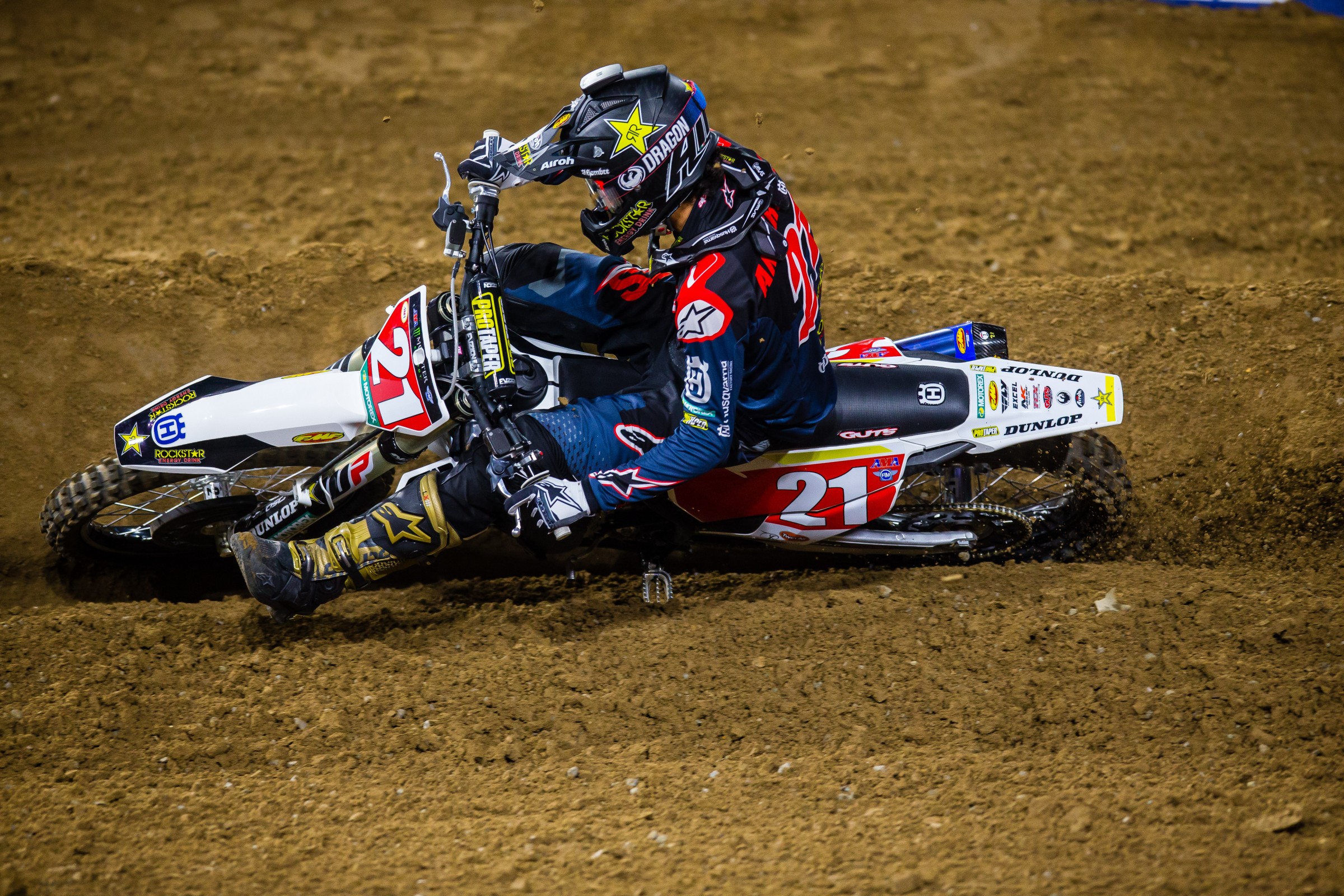 The 250SX West Region has delivered as well, with Justin Hill getting Suzuki its first win in five years (and Autotrader/Yoshimura Suzuki its first 250SX win—and get this: the O'Neal-sponsored Hill got the gear company its first SX win since January 15, 2005, when Broc Hepler won the 125 SX in Phoenix). But Hill's not the one making that series tight; it's the steady riding of Monster Energy/Pro Circuit Kawasaki's Joey Savatgy, in addition to the rough night the points leader Aaron Plessinger had in San Diego.
But that series is on hold now for a few weeks of 250SX East Region racing, which means a first glimpse in 2018 of last year's 250SX East Region and 250 Pro Motocross #1, Zach Osborne, plus one of last year's heartbreakers in TLD/Red Bull KTM's Jordon Smith and his younger teammate Sean Cantrell, Monster Energy/Pro Circuit Kawasaki's Austin Forker and Martin Davalos, GEICO Honda's Jeremy Martin, RJ Hampshire, and Cameron McAdoo, Monster Energy/Yamalube/Star Racing Yamaha's Dylan Ferrandis and Colt Nichols, Rockstar Husqvarna SX rookie Michael Mosiman, Autotrader/Yoshimura's Jimmy DeCotis and Kyle Peters, Traders Racing Yamaha's Luke Rezland and Nick Gaines, and many more. Even our traveling contributor Blake Wharton will be back in the next week or two (he's out for this weekend after a practice crash) after some time away from the track to give supercross another go!
Here's a deeper preview of the East Region that Chase Stallo pulled together.
And then there's the question of whether early-season favorites Tomac and Musquin can put something together and keep it going, because now Marvin is nearly 50 points down and Tomac is not even in the top ten. (Ken Roczen is unfortunately completely out of it now that he has a broken hand from that rough crash with Cooper Webb. Roczen was lucky to get away with just a broken hand and a lot of cuts and scrapes from Webb's spinning back wheel.) No one has come from as far back as Marvin is now, let alone where Eli sits. It seemed like it was one of these three guys' title to lose when we were going into Anaheim. Now it looks like they've all lost it.
Most Unlikely Champion (Weigandt)
Yesterday I posted a story and video with thoughts on this year's preseason title favorites—Eli Tomac, Ken Roczen, and Marvin Musquin—who are all basically eliminated from title contention just six races into the season. Jason Anderson has absolutely taken on the look of a champion; his 2-1-3-4-1-1 finishes look exactly like that of great title runs in the past.
We'd be getting ahead of ourselves to say the trophy should just be handed to Anderson right now, though, as even a 28-point lead could be (nearly) wiped out in one weekend. What's perhaps more shocking than Anderson leading big (or Eli, Kenny, and Marvin knocking themselves out of it) is who would be in position to take advantage. Justin Barcia is second in the standings. Barcia was out of a ride prior to this season! Barcia is now one Anderson mistake away from leading this championship. Several people have mentioned to me in recent weeks that this feels like Nick Foles coming from the Philadelphia Eagles backup quarterback to leading the franchise to its first Super Bowl victory, complete with the Super Bowl MVP Award. Foles was supposed to be the face of the Eagles franchise when he was a starter back in 2013, but he tailed off a bit, got traded, and only ended up back with the team as a backup behind wunderkind Carson Wentz. It took an injury from Wentz this year to get Foles back on the field, and he eventually rekindled his 2013 magic and led the team to the title in one of the most unlikely stories in NFL history.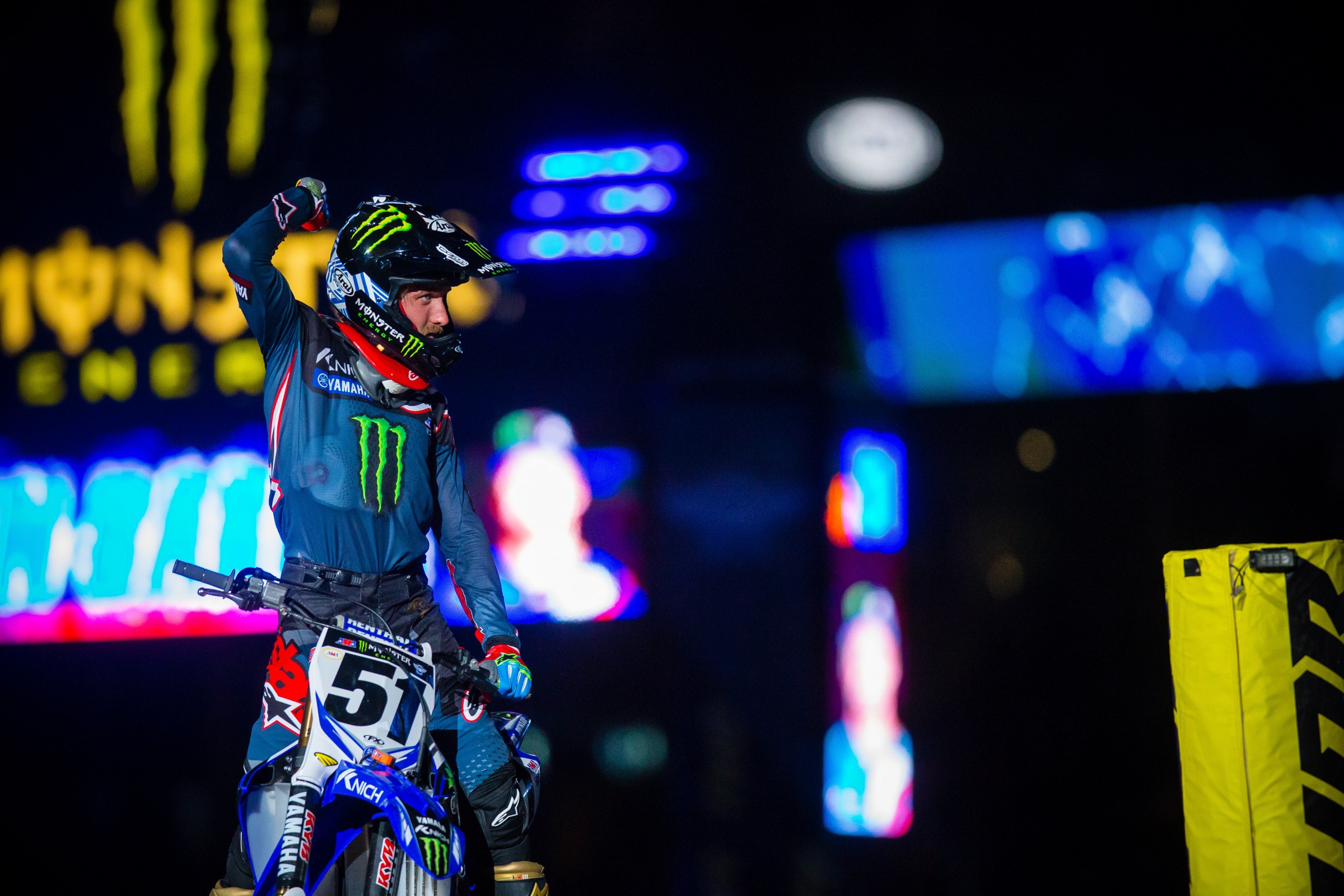 That's what Barcia is trying to do now. He's gotten close to his 2013 level again, when he won two 450SX races as a rookie. (In 2013, Foles was in his first year as a starter and similarly lit up the league.) He still hasn't gotten a win yet, and I think that's stunted him slightly these last few weeks. After coming so close to the win in Glendale, I could tell he was no longer just happy to be on the podium like he was at Anaheim 1. Barcia now wanted to win—badly. The next weekend in Oakland, he looked so good in practice and in his heat and might have been a holeshot away from making it happen. Alas, while Barcia is generally a good starter, he didn't get the jump in the main. He got a good start in San Diego, but his rear brake went out and he lost some spots before finishing eighth.
It's amazing how one thing can make such a huge difference. If Barcia had holeshot that Oakland main event, would the series look totally different now?
The good news for Barcia is that at least he's still healthy and still in it. If somehow this dream scenario works out, it would have to rank as one of the most unlikely title runs ever—but now we've seen that these things really can happen.
Pro Perspective (Jason Thomas)
If you're a 250SX East Region racer, you're more than ready to get this series kicked off. Having to sit around and watch everyone race for a month has a way of getting old very quickly. Every Saturday night is full of envisioning yourself out there and how this first round will go. There has been another month of off-season prep added to what the rest of the field had to go through, and by now, monotony doesn't even begin to cover these last few weeks.
Tonight will be a bit restless as all of that adrenaline and anticipation ramps up. I always woke up with stomach butterflies on Saturday morning and, more than anything, just wanted to get the schedule going. Nothing is worse than the waiting. These 250 East racers have played out every possible scenario in their minds, from a podium finish to not even qualifying. It's finally time to get their bike on the track and show what they've been working on for the last five or six months. AT&T Stadium is one of the largest stages that supercross has to offer and a great opportunity for the youngsters to make their first professional statement. I wouldn't suggest the same sort of statement that Zach Bell made here in 2013, but hey, whatever works. After waiting and watching, the time is finally now.
Foreign Brands (Andras Hegyi)
Rockstar Husqvarna's Jason Anderson has gotten two successive wins for the first time in his 450SX career. His San Diego win was his third this season, and this is the first time Anderson has earned three wins in a 450 supercross season. Anderson is now the third rider to have at least two consecutive wins with a non-Japanese bike in Monster Energy AMA Supercross. In 1975, Jimmy "Captain Cobalt" Ellis won all four rounds of the series aboard a Can-Am. And at four different times Red Bull KTM's Ryan Dungey pulled off the trick. He won two straight in 2012, three in a row in '15, and again in '16.
Five Years Yellow (Andras Hegyi)
Justin Hill, the 2017 250SX West Region Supercross Champion, is getting used to that Autotrader/Yoshimura Suzuki. At Oakland he got his first Suzuki podium, and one week later in San Diego he collected a victory for Suzuki. In doing so, Hill has put an end to Suzuki's longest winless streak in the history of 125/250 supercross, going back to 1985. Hill gave Suzuki its first win in the small-bore class since 2013. Prior to Hill, the last Suzuki winner in 250SX was the current 450SX points leader, Jason Anderson. El Hombre last won with the RM-Z250 on April 27, 2013, in Salt Lake City. That means it has been 77 rounds (including both West and East Regions) since Suzuki last got a 250SX win.
And thanks to Hill, Suzuki can celebrate its 95th victory in the history of the 125/250 supercross. Hill became the 28th winner in the saddle of Suzuki RM125 or RM-Z250 in supercross. The younger Hill brother is only the fifth rider to win with at least three different brands, as he had previous wins with KTM and Kawasaki. (The record holder is the versatile Nathan Ramsey, who saw victories with four different brands: Kawasaki, Yamaha, Honda and KTM.)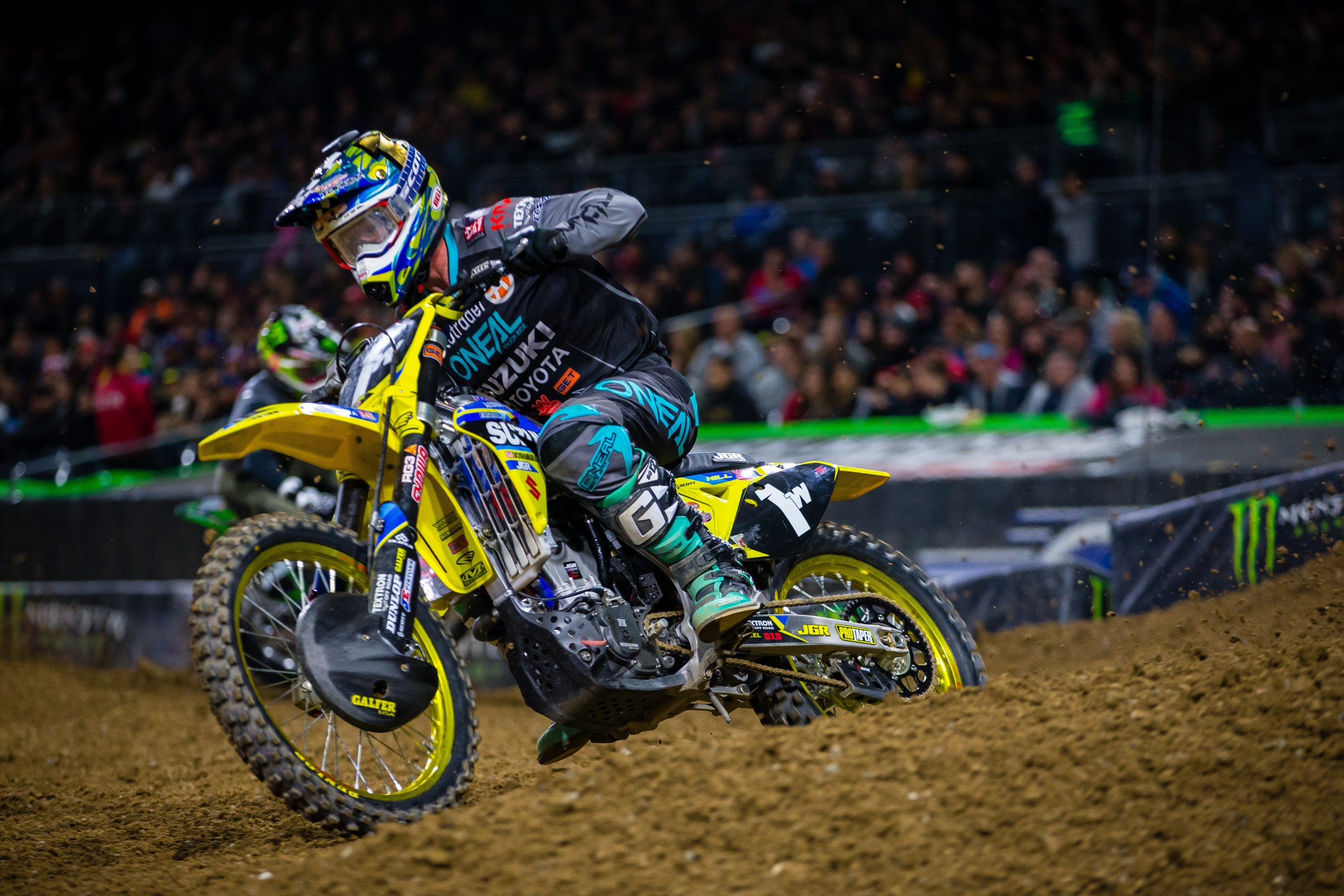 Suzuki winners in 125/250 supercross:
Damon Huffman, Ryan Dungey (12 each), Denny Stephenson, Travis Pastrana (8), Brian Swink (7), Ezra Lusk (6), Keith Turpin, Branden Jesseman (4), Davi Millsaps, Ron Tichenor, Todd DeHoop, Buddy Antunez (3), Tim Ferry, Mike Healey, Donny Schmit, Jimmy Button, David Pingree, Blake Wharton (2), Blake Baggett, Bobby Moore, Ty Davis, Tallon Vohland, Phil Lawrence, Brian Deegan, Andrew Short, Broc Hepler, Jason Anderson, Justin Hill (1).
Riders to win with at least 3 different brands in the 125/250 supercross:
Nathan Ramsey (KTM, Kawasaki, Honda, Yamaha)
David Pingree (KTM, Suzuki, Kawasaki)
Brock Sellards (KTM, Honda, Yamaha)
Joshua Hansen (KTM, Kawasaki, Yamaha)
Justin Hill (KTM, Kawasaki, Suzuki)
Mr. Moto-Cross (DC)
Thor MX is celebrating its 50th anniversary this year with a slick commercial that's been showing on the big screens during Monster Energy AMA Supercross. The date celebrates multi-time FIM 250cc World Champion Torsten Hallman's entry into the motocross aftermarket business, which more or less kick-started the American motocross industry as we know it.
Hallman, the first global ambassador of motocross, posted this on Facebook:
Wow, such a reaction I have received from people being at the Anaheim Supercross. Why? Because the THOR 50-year anniversary video was showed several times during the races, showing some old video clips 50 years ago. I think it's remarkable that a 'good old times' video can cause such a reaction. Several people have now ordered my Mr. Motocross book, covering the 'Golden Era of Motocross,' just to find out more about the roots of motocross - that's great!
We have several copies of Hallman's book Mr. Moto-Cross (including an original!), and while it's not packed with amazing photos, it's a great read and a true history lesson about the origins of our sport and what pro motocross life was like in the sixties and early seventies. In other words, you must have this book on your shelf. And you can order one right here.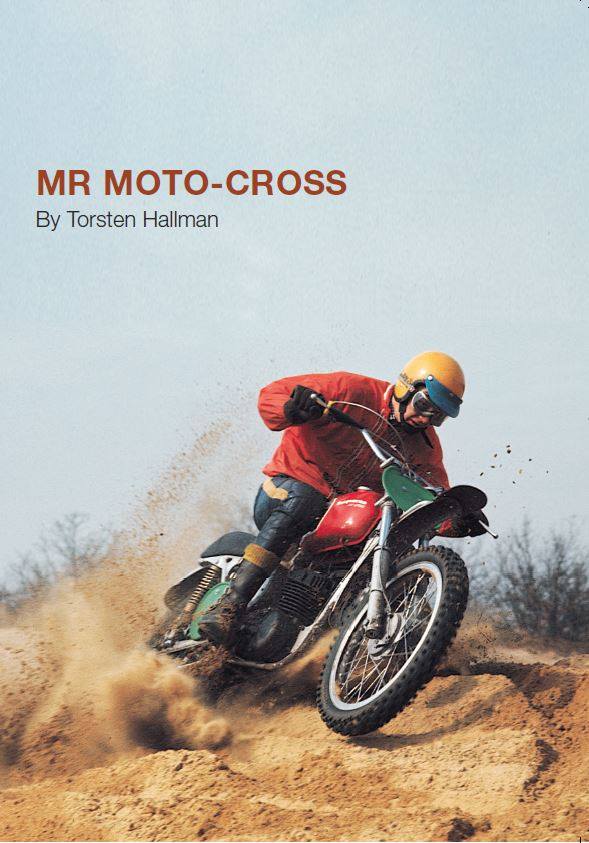 (By the way, the book is also available through Amazon, but it costs three times as much as going directly through Torsten Hallman!)
Random Office Old School (DC)
Okay, maybe not so random, but I found the 1970 catalog for Torsten Hallman Racing and here's how it all looked at the end of the sixties.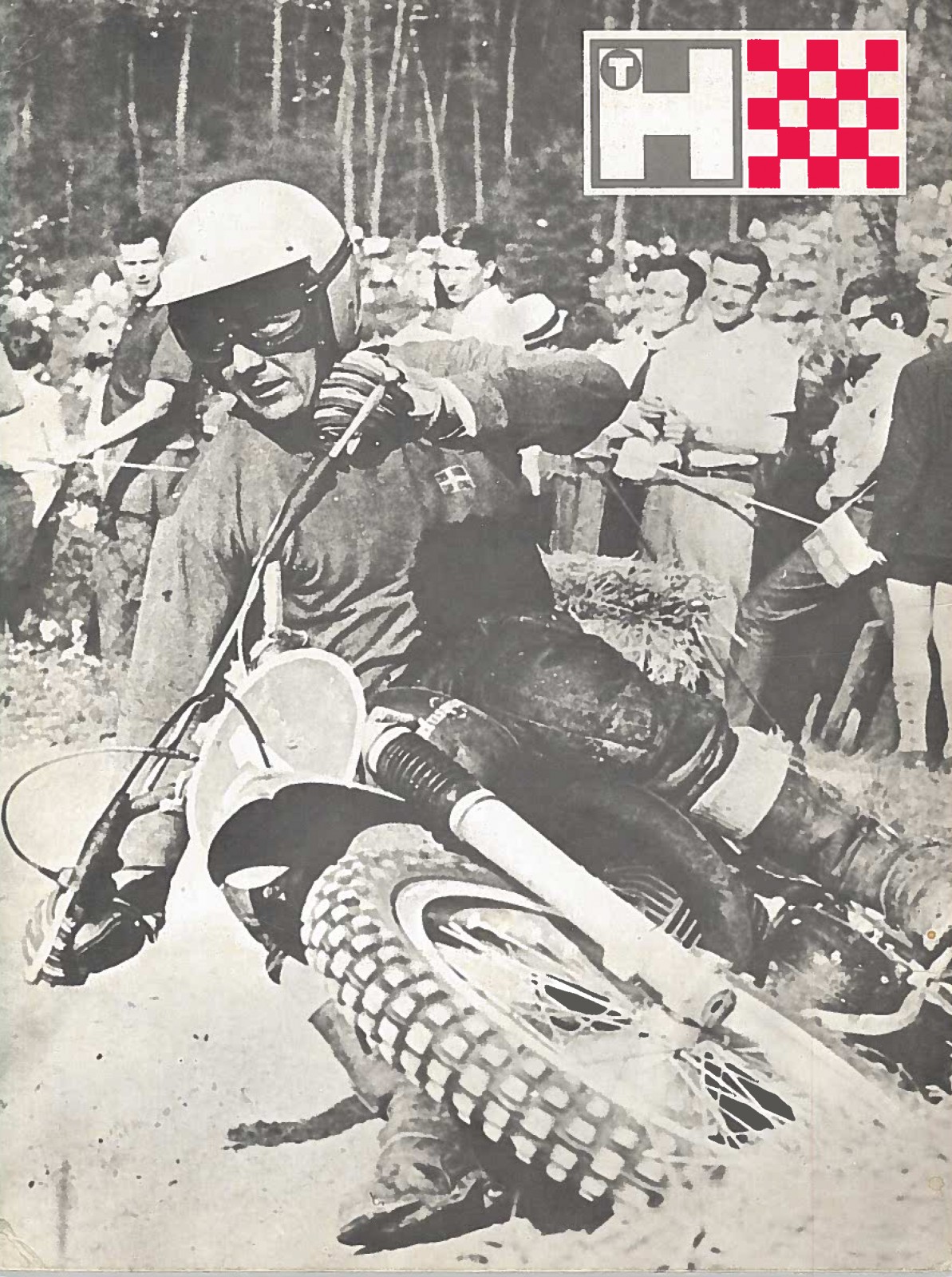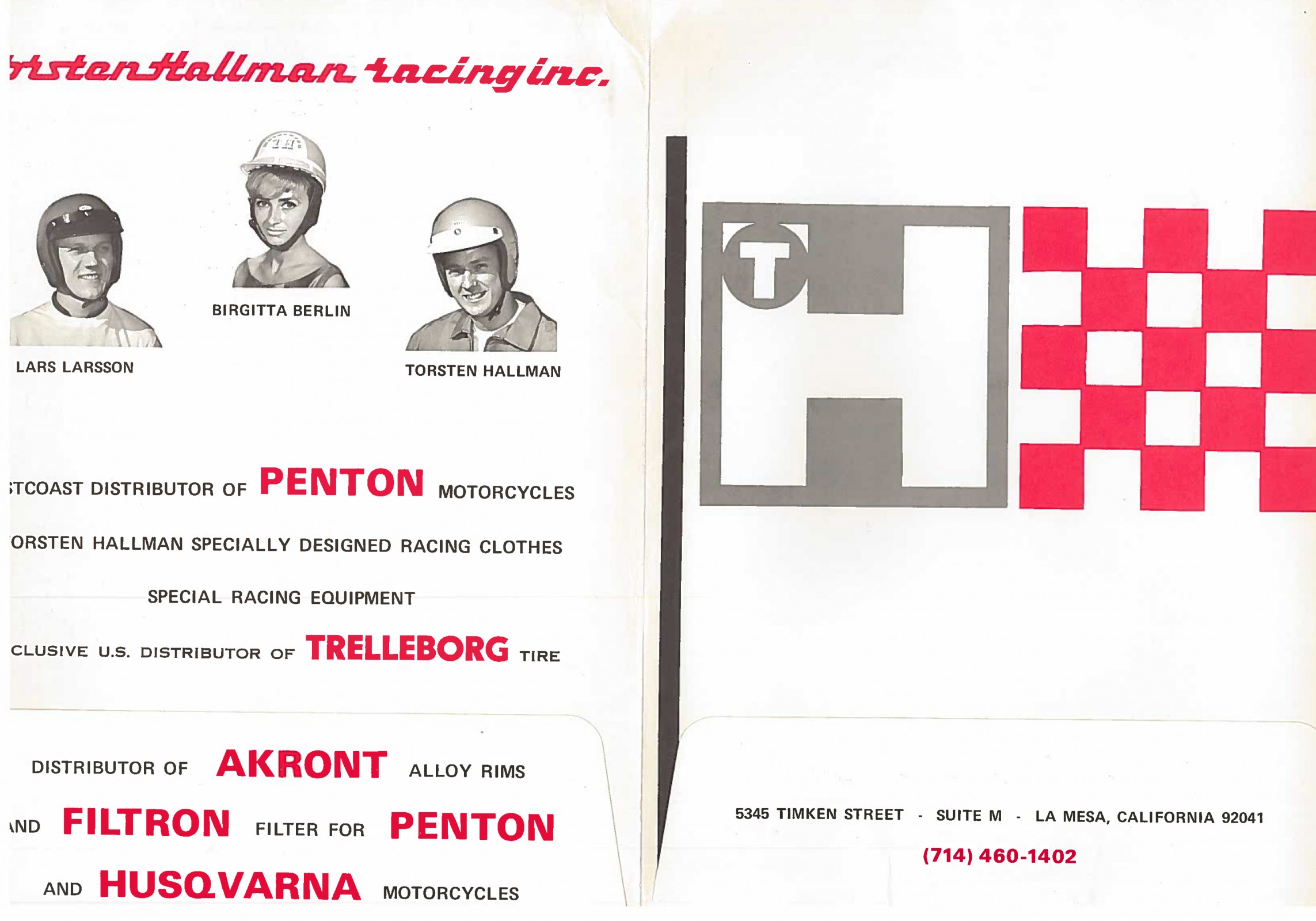 Hey, Watch It!
2018 Hawkstone International highlights:
DMXS remix of Ken Burns' Civil War documentary:
Ride 365's latest subject is Kailub Russell, pulled together by Mason Bader:
Great listen here: Eighties' British Grand Prix racer Rob Andrews talks about his career, racing and the good old days!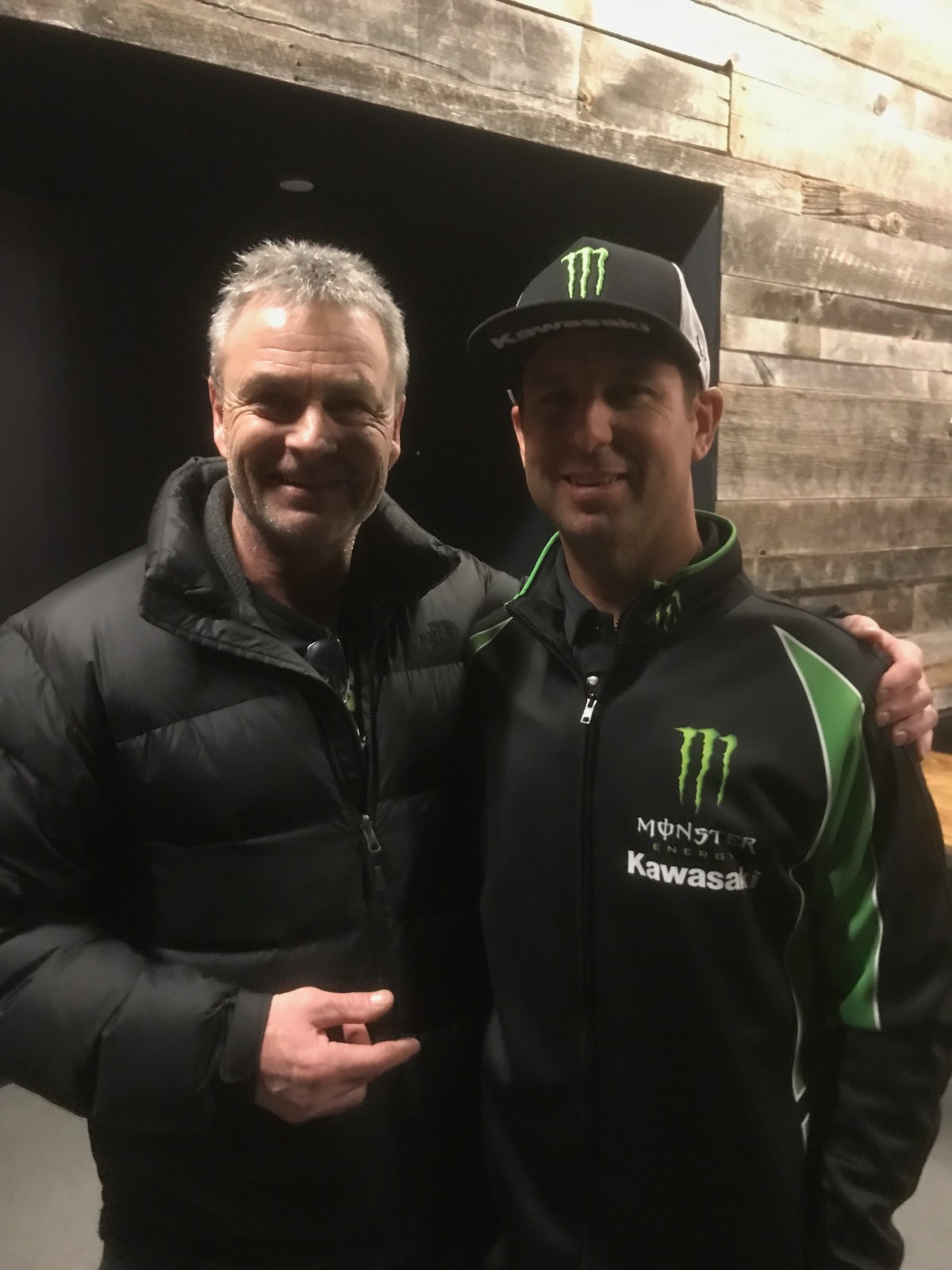 Head-Scratching Headlines of the Week
"Woman climbs into x-ray machine because she didn't want to leave her bag" —metro.co.uk
"Celebrity Big Brother: Omarosa calls Vice President Mike Pence 'scary'" —ew.com
"In Tastiest Olympic Gaffe Yet, News Station Confuses Pyeongchang with P.F. Chang's" —vanityfair.com
"Missing skier found 2,800 miles away -- confused and wearing same gear" —mynbc5.com
"Arizona woman wakes up with British accent" —cnn.com
Random Notes
There was a terrible motocross accident posted on Dano Legere's Instagram of a 10-year-old whose arm was stuck between the swingarm and rear tire, completely shredding the top of his arm to the bone. They've set up a GoFundMe to help with the family's expenses.
Chad Reed will turn 36 on March 15. That's getting up there for a supercrosser, but he can take some inspiration from the Olympics: on Wednesday, 35-year-old Aksel Sindval became the oldest Olympian ever to win a gold medal in Alpine skiing—and he did it in the downhill, no less!
And thanks to Sicwicks for the moto-inspired candles! Check out their line at www.sicwicks.com.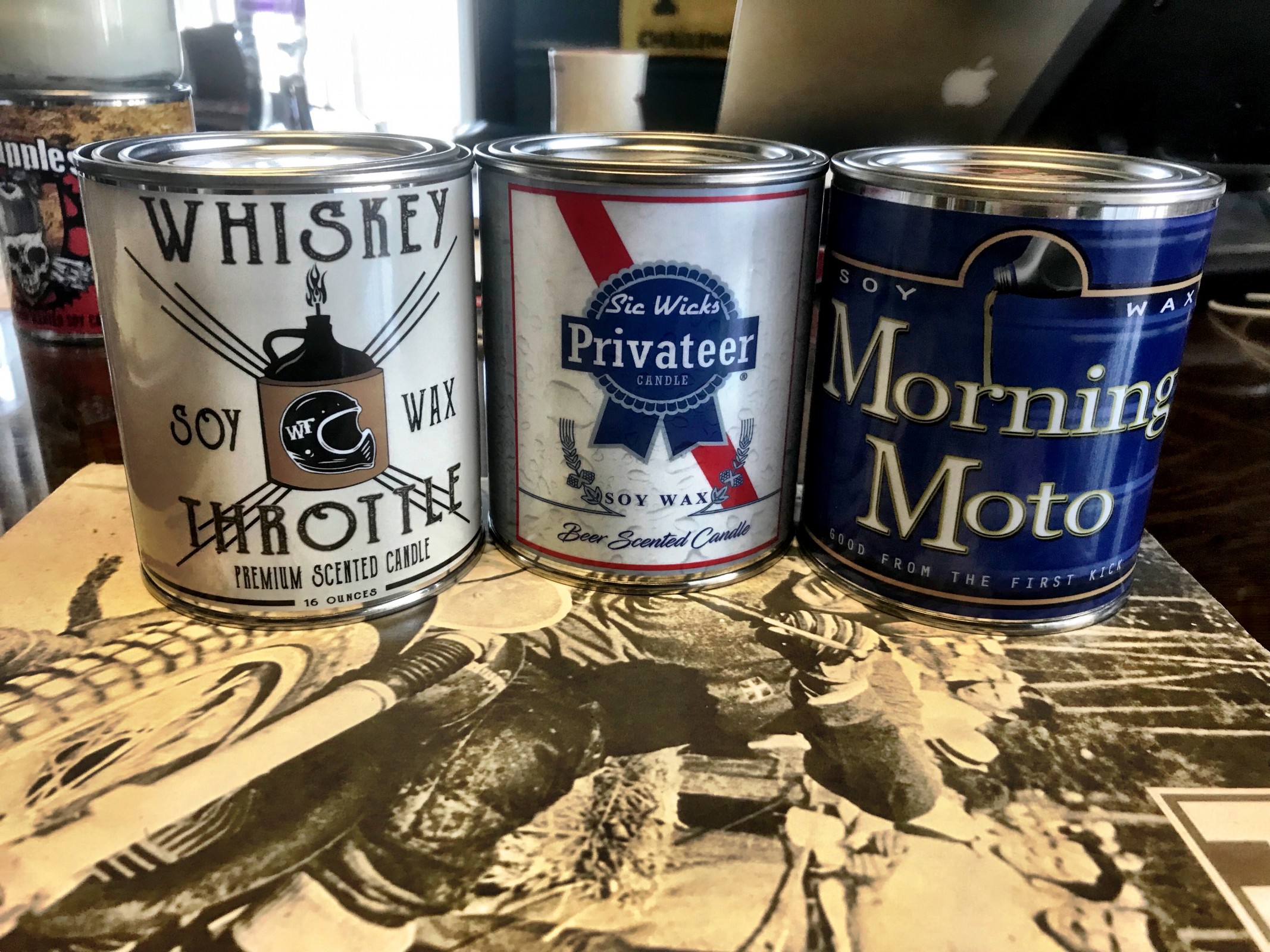 Subscribe Now and Get a Free EVS Gift Pack
Subscribe now for as low as $9.98 and receive a FREE EVS Gift Pack, plus access to our digital edition.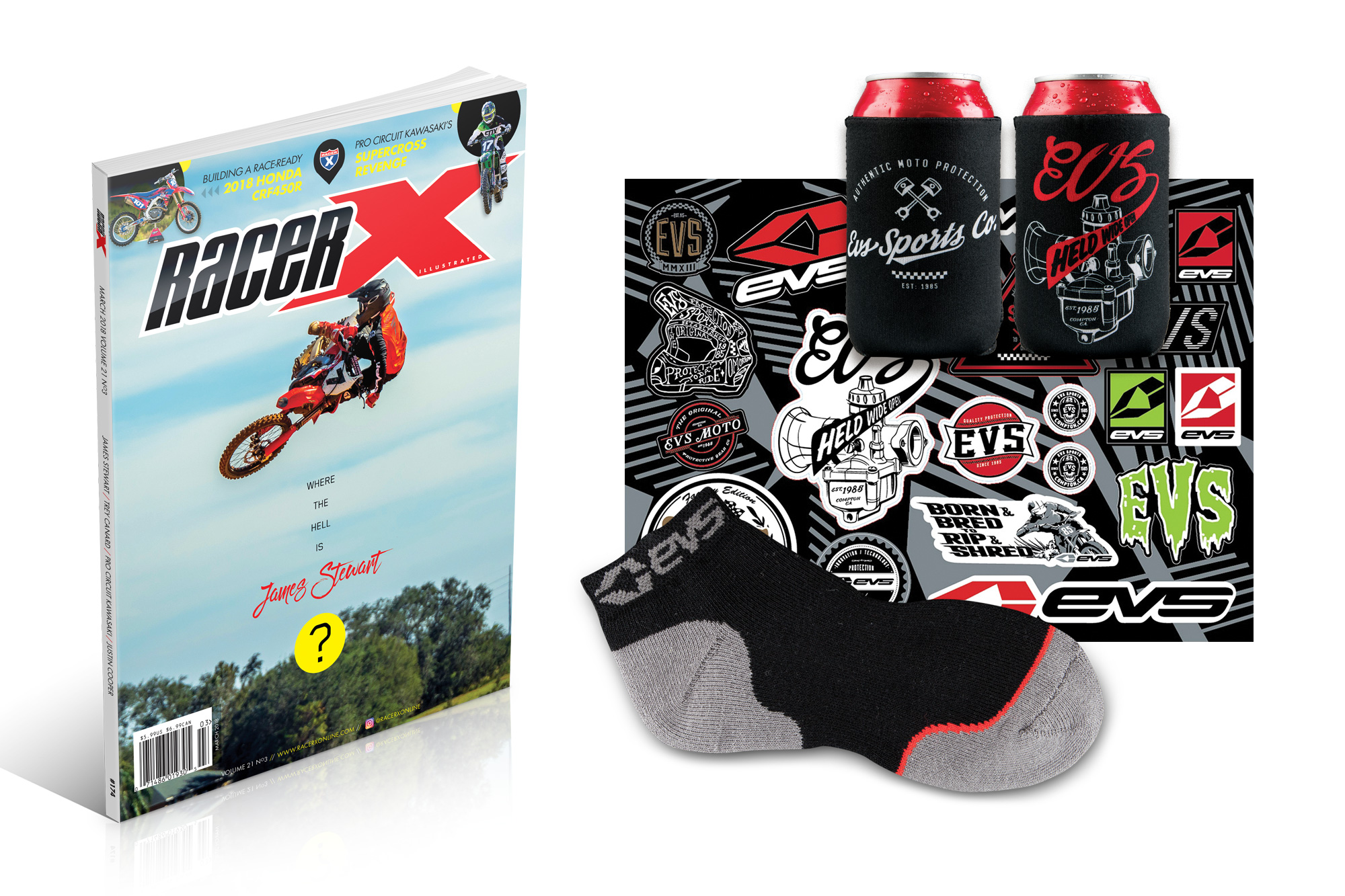 Racer X Brand Garage Sale | 30% Off Select Apparel
Racer X Brand is having a Garage Sale! Make sure you head over to Racer X Brand to receive 30 percent off select apparel.
Hurry though, there are limited quantities left so make sure you get your gear before it's gone.
Visit Racer X Brand and use coupon code: GRGSALE18
Supercross Hangout with Matthes, Weege and/or Jason Thomas
Subscribe today for as low as $9.98 for a chance to win two free tickets and all-day pit access to the following Monster Energy Supercross event of your choice: Seattle, Minneapolis, Foxboro, Salt Lake City, or Las Vegas. You'll get to hang out with Steve Matthes as well as Racer X's Jason Weigandt or Fly Racing's Jason Thomas for part of the day, which could include scouring the pits for free lunch and a brief tour of some race rigs—basically, whatever Matthes, Weege, or JT get themselves into on a normal day at the races. Weigandt will be available to attend Foxboro and Las Vegas; Thomas will be at Minneapolis, Seattle, and Salt Lake City. Matthes is there no matter what.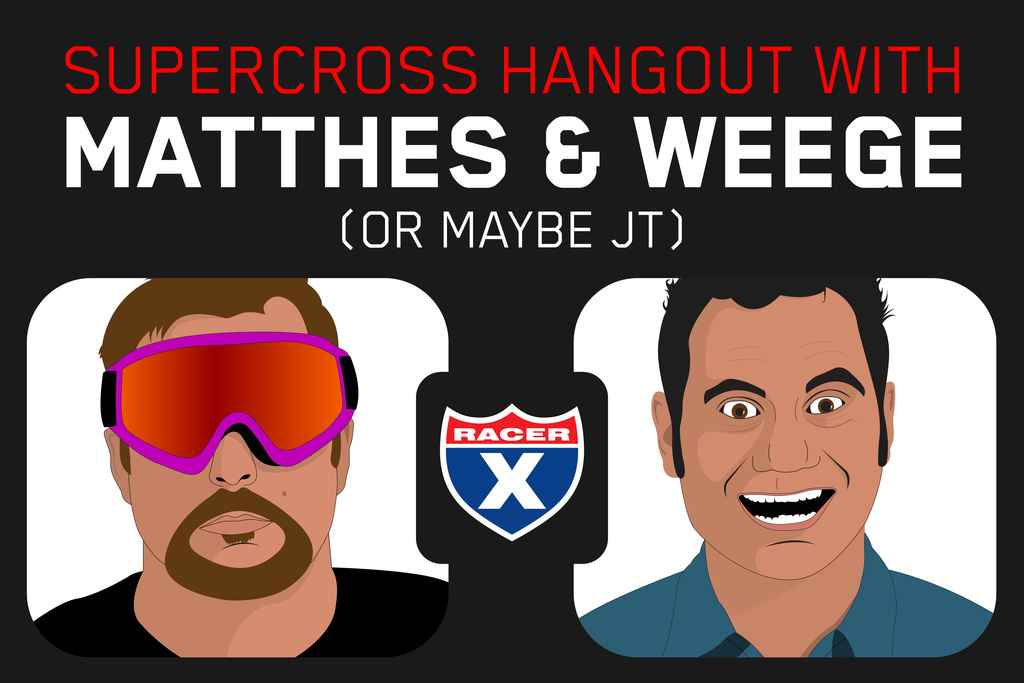 Races include Seattle, Minneapolis, Foxboro, Salt Lake City, or Las Vegas.
The Supercross Hangout winner will be randomly chosen and contacted the Monday before the Seattle Supercross. Upon being contacted, the winner will choose their preferred event: Seattle, Minneapolis, Foxboro, Salt Lake City, or Las Vegas. If the winner fails to respond within 24 hours, a new winner will be chosen. The winner will also be announced on the Fly Racing/Racer X Podcast during the week leading up to the Seattle SX. For questions and concerns, email online@racerxonline.com or harass Weege, Matthes, or JT on social media. Travel and hotel accommodations not included.
That's all for this week. Thanks for reading Racerhead. See you at the races.