San Diego, CA
San Diego
Monster Energy AMA Supercross Championship
Rockstar Energy Husqvarna's Jason Anderson picked up his third win of the 2018 season in San Diego after catching and passing Cole Seely halfway through the main event. In a team statement, Anderson said, "My starts saved me tonight. I felt great riding, but this track was hard to push on and make a pass. I had to be really patient, but I feel like I picked apart the lines and got by everyone. I felt pretty good."
Red Bull KTM's Marvin Musquin found himself back on the podium for the first time since his win at the season opener at Anaheim 1. He's back to his normal training program since injuring his shoulder in Houston. In a team statement, Musquin said, "It's great to be back on the podium. I've been working really hard and feel I've made a lot of progress. We made some good bike setup changes going into the main event, which really helped get me comfortable and have a good race. I'm looking forward to continuing to build from here."
Rocky Mountain ATV/MC-KTM-WPS's Blake Baggett scored two back-to-back third place finishes. He and Seely had an intense battle in the main with block passes straight out of the nineties. They were cutting across the track to take each other's lines, and although they kept it pretty clean, there was contact before the straight away before the mechanics' area that sent Seely off the track at one point. In the press conference, Baggett commented on Anderson and Musquin up front and referenced their incident from the week before by saying, "I was just giving it my best shot. Some guys maybe got tired or made mistakes or stuff like that. Honestly, when I saw these two up there, I was hoping that a little training partner action would take place and I would capitalize on it. We're going back to Florida so maybe it'll happen soon, and I'll be there to pick up on it."
For a third time this season, Seely was in position to take his first win of the season. He led 12 laps before being chased down by Anderson—his old 250SX rival. Seely would slip back to fourth, failing to make the podium. "It's frustrating, for sure, but I'm trying to take away the positives," he said in a statement. "I've got good speed, rode aggressive in the heat race, and my starts have been better, so I just need to put it all together. I just need to figure out that last missing piece that's keeping me from winning races. I started making little mistakes; I'd start to feel the front end tuck and would have to back it down a little bit, and in all the spots that I had to back it down, those guys caught up with me and made passes. After that I got tight and just couldn't keep going forward. I held on and pushed as long as I could but I wasn't getting the traction I felt I needed. I didn't predict that the track was going to get so slick. During our briefing after the heat race, I said I wanted to keep the bike the same and liked the way it handled. In hindsight, I should've made some adjustments, but I need to continue working on it and hopefully get a win soon."
Following a sluggish start, Red Bull KTM's Broc Tickle got back on track in San Diego, putting in his first top five finish of the year. "I feel like we're getting closer to where we need to be. I've been putting in the work during the week with the team and it's finally starting to come together," Tickle said in a statement. "I know what I'm capable of and I know that I tend to get stronger as the season goes on, so we're going to take this top-five finish and keep building."
Smartop/Bullfrog Spas/MotoConcepts Racing's Justin Brayton said in an interview after the race, "Overall, the night was okay. Even in practice, I qualified well and I felt good on the bike. I just didn't execute my starts; that's the main thing. I knew going in the track would be really difficult to make passes on, and if you had good track position in the beginning, you could sprint and get away from that pack where everyone is kind of mixing it up. But I was in that battle again. I made my way to sixth and that was kind of it. I struggled with the beginning of the race, with the start. Overall, the track was okay, and I'm happy with my riding. I just needed a better start."
Autotrader/Yoshimura Suzuki's Weston Peick went down in the first turn after being part of the first turn domino effect—Peick was knocked down by Eli Tomac, who was hit by Ken Roczen. In a team statement, he said, "San Diego was a bummer, plain and simple. I was feeling well all day. I was the sixth-fastest rider in practice, which was better than where I have typically been qualifying. I got off to a decent start in the heat race, made a few bobbles, and worked my way up to third. I was feeling solid in the main event. I probably would have come out of the first turn in the top five, but Roczen went down and I fell. The bike got stuck on top of me. I got back going and riding really well, passing from 17th up to seventh place. I would have liked to pass Brayton and Tickle, but I'm happy with the progress I'm making. The Suzuki RM-Z450 is working really well." That incident didn't prevent Peick from slicing his way through the field and collecting seventh place. He's only eight points out of third place in the standings.
Although he's yet to fully recover from a shoulder injury sustained at Anaheim 1, Rockstar Energy Husqvarna's Dean Wilson finished a season-best ninth in San Diego. "Today was definitely more progress," he said in a team statement. "I was far outside gate in the main event and rode a steady race to end up ninth. It's good, and my shoulder is slowly healing. I think I'm only going to get better from here. Tonight was a good night to build off."
Monster Energy Kawasaki's Joshua Grant was also part of the first-turn carnage. He came together with his teammate Eli Tomac and then spent at least 20 seconds trying to get their bikes apart. Grant wasn't happy when he came by the mechanics' area on the first lap. "I was feeling really good and knew if I got a good start in the main event, I had a chance at the podium," Grant said in a team statement. "After getting caught up in the first-corner carnage, I was way back and just tried my best to charge for 20 straight minutes. Eleventh place isn't terrible, but I'm hungry for more. I'm looking forward to the East Coast dirt."
"The day was a huge improvement for me, for sure. I made it through the whole practice day solid, consistent. I think I qualified 18th, which is better than what I've been doing lately. I never crashed in practice and then had a solid heat race," Rocky Mountain ATV/MC-KTM-WPS's Benny Bloss told me in an interview after the race. "Then in the main event, something I've been trying to work on is consistency and just trying to be smooth. I made it 20 minutes, probably 26 laps, I would say, solid, smooth and I never fell, which is huge for me. I'm extremely excited about that. It's a big win. I think I got 12th maybe, 12th or 13th. I had a fun night and I'm ready to do it again next week." Bloss has been in California since around November and is excited to be returning home for the first time.
Despite a horrible crash in the main event in Oakland, Tyler Bowers was able to line up in San Diego. The privateer finished just inside the top 15 in fourteenth. "Tonight was horrible. From my crash last week, I bruised my lungs and broke a bunch of ribs and bruised my shoulder really bad," he told us afterward. "I broke my pinky and sprained my wrist and have a black eye now, too. I was just happy to be out there this weekend."
"It's awesome to get back in the main and post a solid finish," a pleased Adam Enticknap said in a team statement. "The last few rounds hadn't gone our way, but we kept making improvements and I think they showed today." Enticknap had been working on his starting technique and it showed in the LCQ and main event, where he ended the first lap of each race in the third- and eighth-place positions.
With Justin Bogle's injury, Malcolm Stewart will remain with Autotrader/Yoshimura Suzuki until Bogle is able to return to racing. In San Diego, Stewart went down in the first turn and later hit a Tuff Block. He finished 17th. "I wasn't feeling that good all day, until the main event came. I went down in the first turn, got back going, and climbed up to 12th place. Then I hit a Tuff Block and went down. Overall, I was riding well. I just need to clean the mistakes up and make it happen in order to get the results I feel I should be getting."
Another bad night for Monster Energy Kawasaki's Eli Tomac. After going down in the first turn, Tomac was unable to finish the race. Afterward we learned he'd ripped most of his grip off and the bike itself was pretty twisted up. "I felt great on the bike all through qualifying and into the heat race," Tomac said. "I got off to a decent start in the main event and ended up catching my handlebar on another rider in the first corner, which caused us both to go down. It's unfortunate that these things happen, but it could be worse."
"Perfect days don't come very often, so I'm basking in the goodness of going 1-1-1…fastest qualifier, heat win and main event win. Everything was clicking with the team and my RM-Z250. I was ripping the whoops and rhythms in practice, doing what I needed to do to get the top qualifying time. We watched film after practice and decided to leave the bike alone, because it was working really well," Autotrader/Yoshimura Suzuki's Justin Hill said in a team statement after claiming his second podium and first win of 2018. "My strategy in the main event was to calculate everything around me. At one point I thought I could trail [Adam Cianciarulo] and execute a wham-bam pass towards the end. Then I realized there were some people behind us that were riding well, and if we tangled it could jeopardize the win. I started increasing my intensity and pressing harder. I knew I had the speed. For the most part, I was trying to be calm about picking up the pace and not do anything rash. I had good runs through the whoops and knew where I could gain. The pass was made before the whoops, so I could pull away in the sand section. I had a couple ideas on accident avoidance in order to stay ahead. Once I got a small gap, I tried to get back into a zone, click away good laps."
The day started off positive as Monster Energy/Pro Circuit Kawasaki's Cianciarulo logged the second-fastest lap time in timed practice. When the night show started, Cianciarulo picked up his second heat race win, just ahead of his teammate. With that confidence going into the main event, Cianciarulo charged forward after a fourth-place start and quickly made it to second by the end of the first lap. He challenged Joey Savatgy for the lead and took over on the second lap. In the final stages of the race, Cianciarulo went back and forth for the lead and eventually settled into second where he would finish. In a team statement, Cianciarulo said, "I am really happy to grab my best finish before the break. I rode a little tight for a while and let Justin [Hill] slip away from me. It's going to be interesting coming back to an East/West shootout mid-season, but it's going to be good to get a little break now. I am going to enjoy being at home for a while."
GEICO Honda's Chase Sexton picked up his second podium of the year, and the 18-year-old had to earn it. "I didn't get off to the best start; some of the ruts in front of the gate were pretty messed up, but I got a decent enough start," Sexton explained in a team statement. "These guys were riding good. I passed Joey Savatgy and got up behind these two. They were battling pretty hard and I was trying to be there in case anything happened. But nothing happened, and then I got held up by a lapper and they kind of dropped me. But it was a good race. Track got pretty tough at the end, so I'm just happy to get third."
After leading the first official lap of the race, Savatgy was passed by his teammate Cianciarulo. Savatgy would slide all the way back to fourth. The good news for Savatgy heading into the break? He's only four points behind points leader Aaron Plessinger. "Today was a rough one after going down in practice," he said in team statement. "With this being the last race for a while, we had to tough it out and go after some points before the break. I wish I could have made it to the podium to help cut into the points even more, but all things considered, it was an okay night." Savatgy's wrist was sore from crashing in practice, when he was also hit by his bike.
"I guess we survived. It was really a tough week, dealing with a crash in Oakland. Kind of just been in survival all week, but trying to tough it out. Just really tough it out for one more week. It's been tough to be there, but I was happy with a fifth," Troy Lee Designs/Red Bull KTM's Shane McElrath said in an interview after the race. "I didn't feel like myself all day today, just struggling on the bike. My body wasn't working very good. A fifth is fine. We made up some points on Aaron [Plessinger]. I seen he went down, but he got up, which is good. We're learning and growing, and Indy's going to be a fun one."
GEICO Honda's Christian Craig was disappointed with his sixth-place finish. In a team statement, he said, "Honestly I don't even know what to say at this point because I'm just sounding like a broken record. Felt awesome all day in San Diego. Really thought it was my night. Qualified third and was riding awesome—everyone on the team was pumped on how I was riding. I finished second in my heat and felt tight the entire time. In the main I got a terrible start and passed a few guys early on but just couldn't get up where I should be and where I'm capable of being. Luckily we have a few weeks off, so I can figure out whatever is going on right now and break this trend."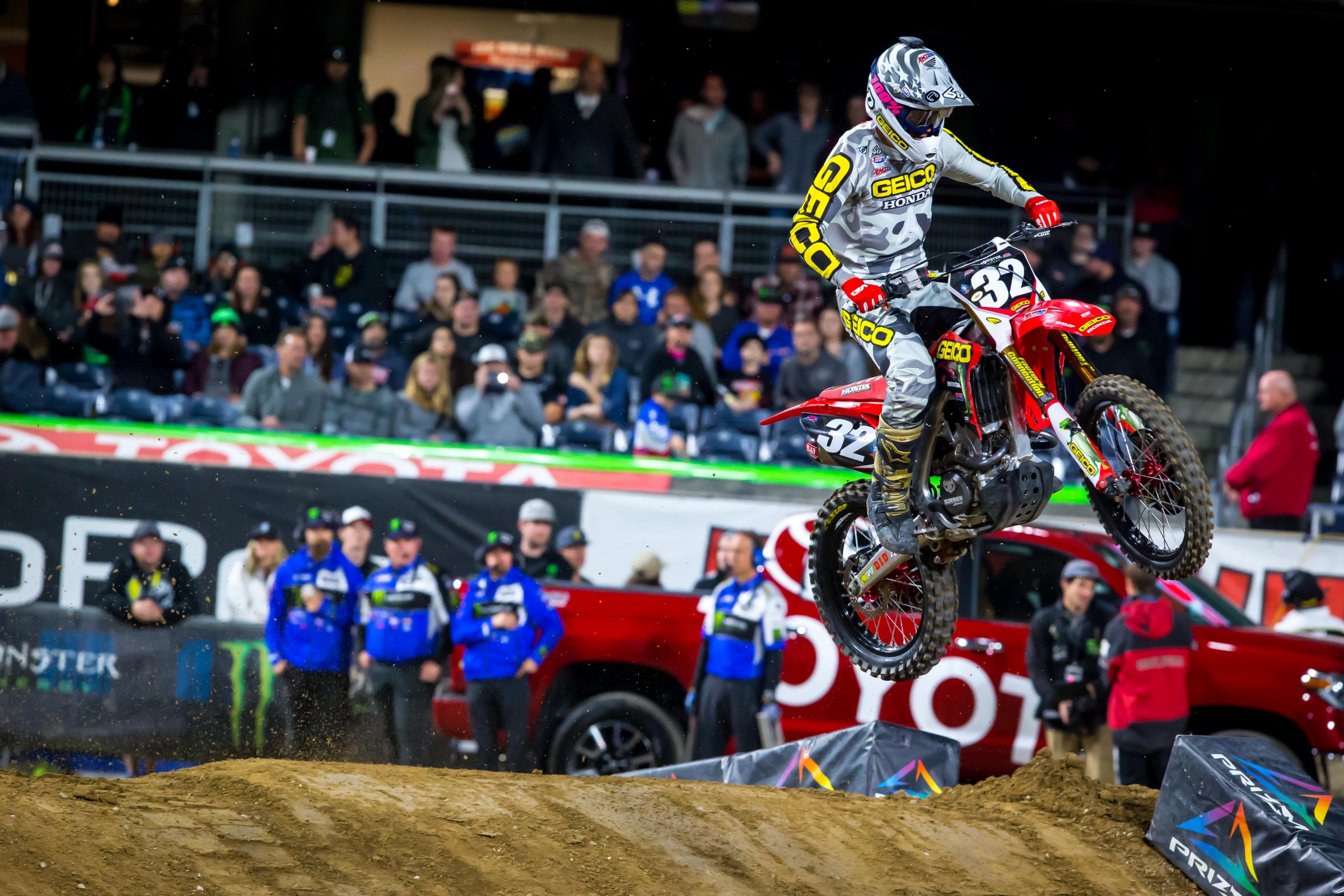 "Another solid night in the books for me and the team," 51Fifty Energy Drink Yamaha's Kyle Chisholm said in a team statement. "I enjoyed the track all day and found a good flow from first practice that I used throughout the day. I'm happy with another solid finish but I really want that top-five. We're close and I'm going to use the break to work on some areas that need improvement."
Rockstar Energy Husqvarna's Mitchell Harrison got a mid-pack start and finished ninth. In a team statement, Harrision said, "I had a pretty good qualifying session and great starts all around. I had a decent start in the main, but my arms got tight. I can't wait for the break, and I'm looking forward to coming back strong."
Autotrader/Yoshimura Suzuki's Phillip Nicoletti mentioned in a team statement, "I finally rode well, even though the result doesn't show it. The bike handled awesome through the whoops. I felt strong, despite being banged up from the previous race. I had a brain fart on the second lap of the main event and tucked the front end in the sand. I tried to put in clean laps after the crash and worked up to 11th place. My entire body hurts, so it will be nice to take a week off now that the 250 West series takes a break. I'm going to head back to North Carolina and spend my time there training and riding."
51Fifty Energy Drink Yamaha's Hayden Mellross said in a team statement, "I did the best I could tonight and that's all I can really ask for," Mellross commented. "This food poisoning has been kicking my butt all day and my usual race-day energy just wasn't where it needed to be. I rode smart and consistent and worked my way up. I'm excited for the break so I can rest up and come out swinging for the home stretch of the series."