Oakland, CA
Oakland
Monster Energy AMA Supercross Championship
Red Bull KTM's Marvin Musquin is on the fast track to recovery from a shoulder injury, placing a fourth-place finish in Oakland on top of his fifth last week in Arizona. Early in the race, he was in the hunt, starting third and staying close to leaders Cole Seely and Ken Roczen. He lost some ground, but then Jason Anderson came through and put a block pass on Musquin, and Marvin ended up on the ground.
Anderson and Musquin are training partners with Aldon Baker so any incidents between them garner extra attention. After the press conference, we asked Anderson about the pass but he said he would rather not talk about it. We did find Marvin in the KTM pit to get his side.
Racer X: Talk about your night.
Marvin Musquin: We got good starts today, in the heat and in the main. That was nice to be able to do that. Practice went good, too. Overall, I'm happy. I was able to train pretty much every day on the bike this week, which is big for me coming off that shoulder injury. It's doing a lot better. We're building. I was looking forward to a really good main event. Got a good start. I was running third and trying to keep up. [Jason] Anderson just pushed me really high in the berm and I couldn't do anything and I went down. So, I got up and then, in the same lap, [Cole] Seely went down. Then I passed him. We battled for a lap or two and I passed him and ended up fourth. That's all I got today. It's a decent result for me right now. I was looking forward to getting back on the podium, to be honest, tonight. It's a bummer to see that. Jason was quicker at the end of the whoops.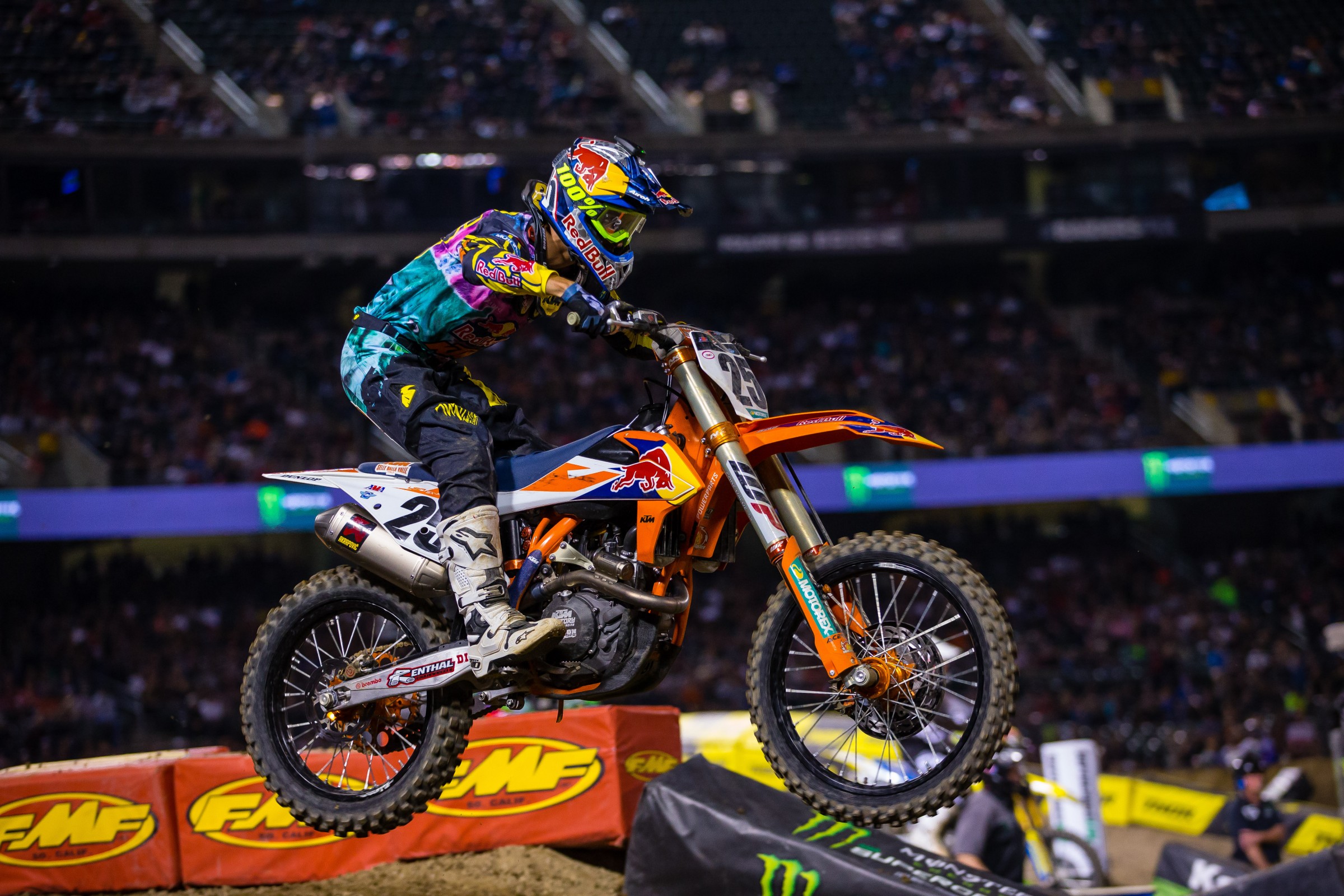 Are you a little unhappy with the move that he put on you there?
Yeah, for sure. I feel like it's been two weekends in a row. He's racing hard, which is understandable, but also I'm mad at him because we know each other. It's a bummer to make somebody crash like that. It's not like he's racing me for the championship right now.
Were there any words exchanged from the last time? You guys kind of got together last week, right?
No. Last week, yeah, it could have been a little dirty, but everything was fine and he got me. But I feel like today he got a little hot. Next time it'll be my turn.
What did you think about the track? It was rutted out there. It was tough to hit your line every lap.
Yeah, it was tough. That section after the whoops, it was a really nice rhythm section, but the transition was short, like the three-three. So, the landing and takeoff of the next one was really close, and the next one too. I thought it was a great track. I really enjoyed it. I like it when it's rutted like that. The first qualifying, it was a little bit sketchy. I did one good lap and backed it off a little bit. I didn't want to do a stupid mistake. But overall, it was good. A lot of rhythms. A lot of options before the whoops, inside, outside. I want to see more things like that where you can either go three on, or two on, stuff like that. Different combinations. We need that. Last weekend in Phoenix, it was also really nice for that. You get to see good racing with tracks like that.