Nitro Circus Goes Next Level with All-New Moto Show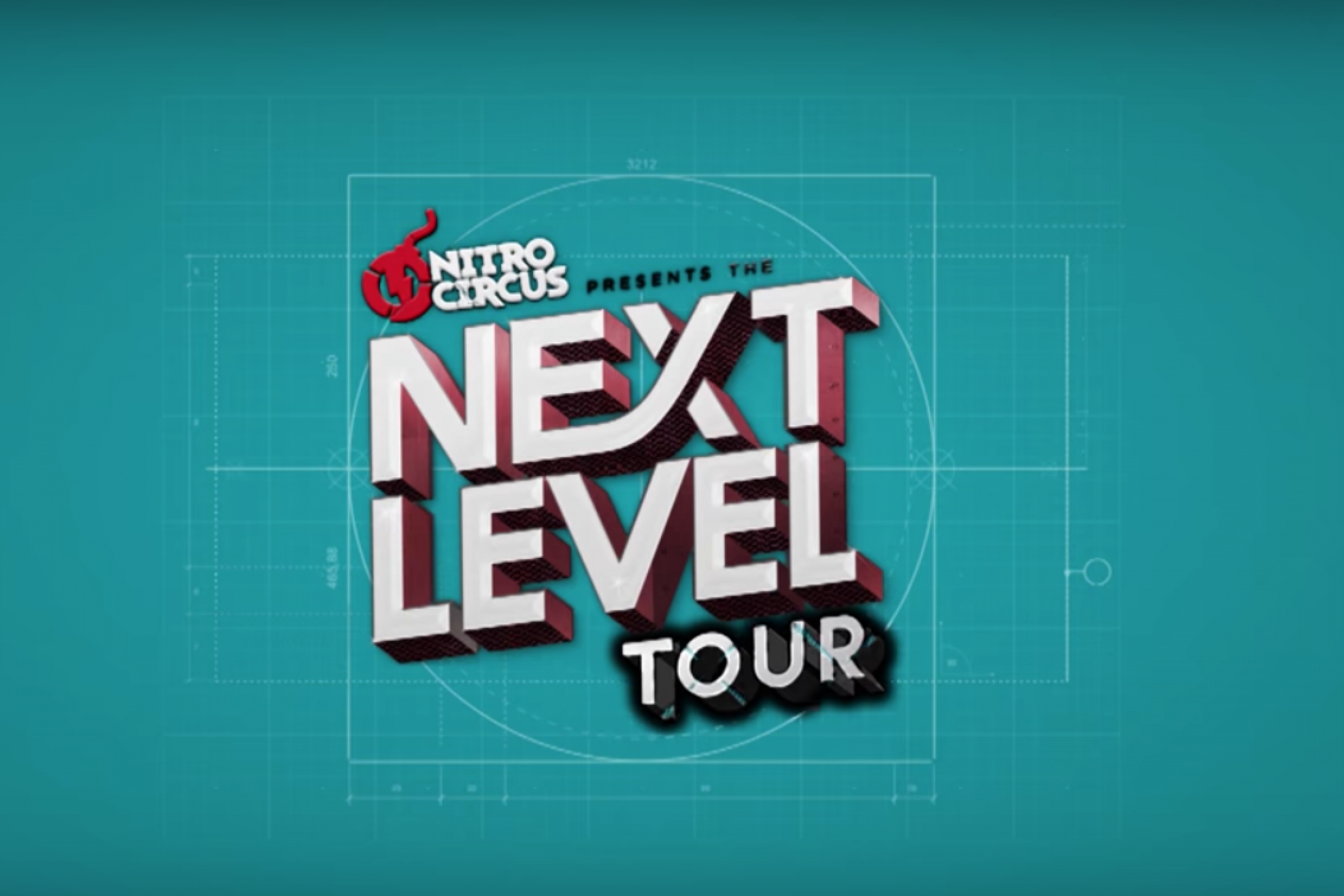 Nitro Circus, the global youth entertainment phenomenon, returns to North America this year with the epic Next Level Tour. This spectacular brand-new production, an all-moto adrenaline-rush, will have death-defying tricks, jaw-dropping world firsts and absurd stunts. It all adds up to a thrilling show simply too big to fit indoors. The Next Level Tour launches in mid-May, just in time for summer, and will visit over 10 cities across the continent through June.
Tickets for Nitro Circus: the Next Level Tour go on sale starting Friday, January 26, and are available at nitrocircus.live. A full list of tour dates is below.
For an advance look at the Next Level Tour, go here.
The brainchild of Travis Pastrana—global superstar, action sports icon and Nitro Circus ringleader—the Next Level Tour features the best athletes in action sports taking on the biggest ramps in the world. The Nitro Circus design team has put it all on the line with this show, doubling down on the risk factor. The FMX Next Level takeoff ramp alone, towering 15 feet above the show floor (five feet taller than anything toured before), launches riders more than 60-feet into the sky. The lander also looms large, standing 23 feet high.
This innovative setup, the result of years of research and development, was first dreamed up at Travis' "Pastranaland" compound and then perfected at Nitro World Games. These breakthrough designs were never supposed to tour, as they were considered far too large and complex to be set up more than once. But Nitro Circus was determined to showcase them, and the future of action sports, to its diehard fans around the world. Now, after months of hard work, these ramps are hitting the road.
Progression is truly in this monster's DNA: the FMX Next Level ramps feature elements from the jaw-dropping setup used by Josh Sheehan in 2015 to stomp the previously unthinkable triple backflip on a motorbike, as well as the extremely sketchy FMX front-flip ramp used at Nitro World Games. It was off this same ramp that Gregg Duffy made global headlines in 2016 when he landed the world's first double front-flip, while last summer Harry Bink scored a huge world's first of his own: the front-flip rock solid.
Dov Ribnick, Nitro Circus' vice president, said, "I'm so stoked to be taking this set on the road. This really is a breakthrough in FMX and the team we have assembled can't wait to throw down the biggest new tricks in FMX on this tour."
As if they needed more motivation, every night Nitro's athletes will battle in a full throttle Next Level Series FMX competition. For the first time, Nitro Circus will host an in-show competition to find out just who is the gnarliest rider on the planet. At each tour stop a panel of judges will determine a winner with the overall champion crowned at the end of the tour. While cash prizes are on the line, bragging rights are truly the top prize for this crew.
In addition to pushing FMX to its limits, one Nitro Circus' daredevil will go airborne on a 450-pound snowmobile while a new cast of hilarious characters will take stupid to an entirely different level, flipping motorized contraptions too ridiculous to be believed.
Also new for 2018, fans can also get up close and personal with the Nitro crew thanks to the Nitro VIP Club package. In addition to having premiere seats, VIP Club pass holders will now have the chance to take a behind the scenes look at the show with an exclusive pre-show track walk. VIP Club pass holders also have the opportunity to meet some of the riders during an autograph signing session, receive a souvenir poster, and get a chance to win cool Nitro Circus swag.
Tour dates for Nitro Circus: the Next Level Tour:
| | | |
| --- | --- | --- |
| DATE | CITY | VENUE |
| May 12 | St. George, UT | Legend Solar Stadium |
| May 18 | Reno, NV | Greater Nevada Field |
| May 25 | Kelowna, BC | Apple Bowl Stadium |
| May 27 | Lethbridge, AB | Univ. of Lethbridge Community Sports Stadium |
| June 1* | Eugene, OR* | Autzen Stadium* |
| June 3 | Boise, ID | Memorial Stadium |
| June 9 | Moncton, NB | Moncton Stadium |
| June 15 | York, PA | PeoplesBank Park |
| June 16 | Virginia Beach, VA | Virginia Beach Sportsplex |
| June 19 | Myrtle Beach, SC | TicketReturn.com Field at Pelicans Ballpark |
| June 22 | Pittsburgh, PA | Highmark Stadium |
| June 23 | Cincinnati, OH | Nippert Stadium |
Tickets for all cities go on sale Friday, January 26, at 10:00 a.m. local time, *except for Eugene, Oregon, which goes on sale the following day: Saturday, January 27, at 10:00 a.m.
Sponsors for Nitro Circus: The Next Level Tour include Kevlar, Yokohama, Parts Canada, Brimstone, Grunt Style, Vivid Seats, and EDGEtv.
For Nitro Circus news, exclusive behind-the-scenes content, tour updates, and more, go to NitroCircus.com and follow Nitro Circus on Instagram and Facebook.