Anaheim, CA
Anaheim 2 (A2)
Monster Energy AMA Supercross Championship
Well, here we are again. Much like a year ago, Eli Tomac has put himself in a huge points deficit during the month of January. Much like a year ago, a rider trained by Aldon Baker riding for an Austrian factory team has the points lead. Is it the same, though?
Tomac struggled mightily last January. He had arm pump issues and didn't look anything like himself on the racetrack. His results were mediocre and his frustration was evident to anyone around. Questions were flying in every direction. "What's eating Eli?" was a question I heard a few times and might have even written myself. He was expected to be a championship contender and through three races, he simply wasn't. He left Anaheim 2 with a 25-point deficit and no signs of championship life.
As for the points chase, both Ryan Dungey and Jason Anderson looked rock-solid through three rounds in 2017 and 2018. They both won one round and performed well at the other two. From the outside, they had all of the momentum, and as we remember, there was talk of a crowning less than a quarter of the way through 17 rounds. Ken Roczen's departure last year left a gaping hole in the series and most considered then two-time defending champ Dungey to be a lock for another title. As we know, though, Tomac came storming back to nearly win his first title. This year, though, it's Jason Anderson and not Ryan Dungey.
The real question is, how does that change the scenario? I believe that Anderson's speed is better than Dungey's last year. That should give him an opportunity to win more races than Dungey was able to last season. Jason's raw speed is also accompanied by a willingness to take chances that Ryan was not. Those chances are a double-edged sword and have seemed to bite him at some point in the past, taking him out of championship contention.
Last year, at this Anaheim 2 round, Jason got into a skirmish with Vince Friese that left him disqualified and without a full round of points. A move like that this year would be catastrophic. Everyone associated with Jason and his team will certainly be working to keep him calm, even-keeled, and thinking championship. His trainer has been down this road more than a few times and will be in his ear every day. To win, he has to eliminate that huge mistake or miscue that he hasn't avoided in the past. The toughest part of that dynamic is that he can't simply cruise to decent finishes. He will need to win.
Last year, Dungey didn't win many races. He often was not the fastest guy and needed every bit of help he could get. Eli Tomac was able to capitalize on that and rip off nine (should have been ten) victories. Those wins brought Eli back into the fray when most would have counted him out in January. Jason will need to counteract any similar advances from Eli with wins of his own. He has the speed to do just that, but he may lack the consistency that Ryan Dungey wielded.
For Eli, he knows the road map he must now navigate. He will need to win races, and a lot of them. He proved last weekend that the shoulder is strong enough to win, moving forward. He's in a deeper hole than in 2017. The interesting question is if Jason Anderson's speed and ability to run away with wins is a more frightening scenario than Ryan Dungey's relentless consistency. Ryan was simply unwilling to let Eli gain more than five points in a weekend. Jason may not be able to match that. In 2015, he had eight finishes of ninth place or worse. In 2016, that number came down to only one occurrence. Last year, he had the DQ at Anaheim 2, plus three more rounds of ninth or worse, including a 19th at Toronto. With a 43-point lead, he is in a great spot, but it wouldn't take many 19ths to change the whole dynamic.
All of this isn't even accounting for riders like Ken Roczen and Cole Seely. Roczen will need to get back to his early-2017 form to beat Eli and Jason at their best. He may well do that in the coming weeks, but until he finds that razor's edge, I think he will be on the outside looking in. I just think Eli will find a way to claw his way back into this. That's really where I see this championship being decided.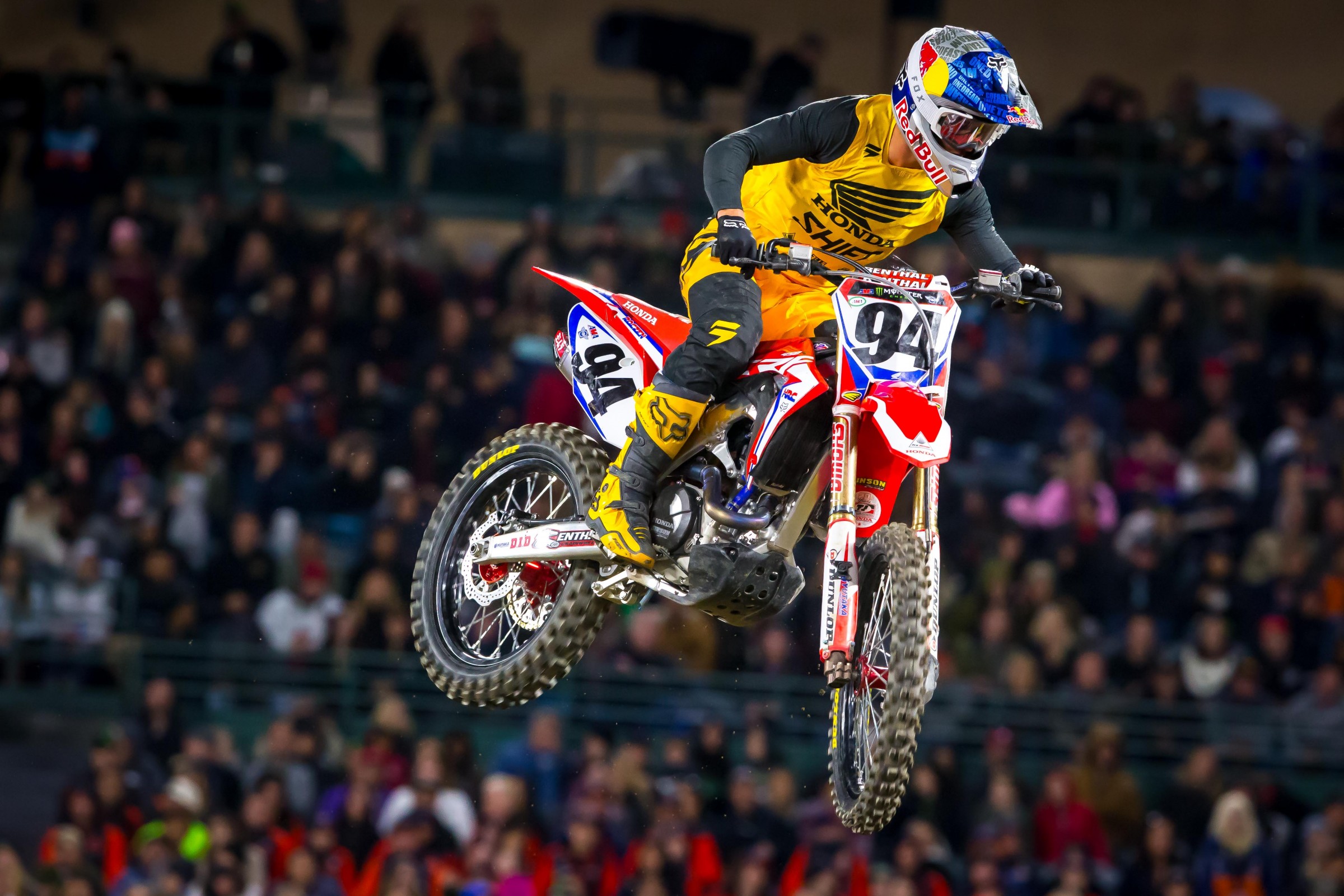 Jason Anderson has proven to be on his best form ever. He should be able to win races and leave Eli virtually no margin for error. Jason's biggest challenge will be to eliminate the window of opportunity that Eli could pounce on. One big mistake or DNF can flip a long-shot chance into the exact same hunter mentality scenario that Eli excelled with last year.
Eli is the hunter, but the prey has changed this season. Jason has the ability to simply run away and hide from Eli where Ryan didn't last year. There are a lot of points in between the two, but that gap came down even with a bum shoulder last weekend. Glendale will be a critical round for setting the tone moving forward. Eli absolutely dominated this round last year and will be looking for more of the same. Jason could change the narrative with a bounce-back win, and for Kenny, it's go-time to make this title a reality.