Anaheim, CA
Anaheim 2 (A2)
Monster Energy AMA Supercross Championship
Monster Energy Supercross' debut of the Triple Crown format created exactly what was invented to do—create chaos and put some new faces up front. Fundamentally, the cream will rise to the top, though, and when it was over familiar names Eli Tomac and Joey Savatgy were holding the big trophies.
Wait, Tomac? The same guy who couldn't even race last weekend? Well, sort of, because this didn't look like the same rider at all. Eli (Monster Energy Kawasaki) was fast in practice, and consistent in the three main events, going 5-1-2 to grab the overall. This is a potential season-saver for Tomac, who still faces a massive points gap to Jason Anderson but certainly looks more dangerous now that he has his health.
"It was just time [that I needed to recover]," said Tomac. "I don't want to make up the sob story that "Oh I was so hurt." I hammered the shoulder and it just wasn't coming around. The past week we made big, big gains so I knew we'd be able to give it a run tonight."
As expected, the first main event of three looked the strangest compared to a typical supercross main—because at eight minutes and one lap, it was far shorter than a regular supercross main. Justin Brayton holeshot but Cole Seely got around, and then Seely rode strong and pulled away to an easy win. Even though Tomac looked back to his usual speed in practice, he didn't bulldog his way through the pack in this one, nor did Anderson. The entire top ten seemed evenly matched.
"I just think a lot of the other guys are more mellow when it comes to 20 minutes," said Anderson. "The first race tonight, they were just going for it. I think you have a lot of guys who are very talented and can go very fast for eight minutes. I think that's what you saw in the first one."
Seely won the first race but not just because he got a good start in a short race—he was on his game tonight. In race two he started behind Tomac but stalked him the whole way, and even after bobbling late he was able to get back to Tomac's wheel for a close second. He blew the start in race three, though, starting 14th on his #14 HRC Honda. He made a bunch of quick moves but once he got to eighth, it was tough to make up anymore ground. Still, his 1-2-7 highlighted his best riding so far this year.
"On the gate [there was pressure] that last little bit to close the deal," Seely said. "But I knew I was riding really well in the first two mains, I think I was 14th on the first lap in the third main and it was hectic. Guys were really not giving me an inch. I felt like I had the win in my grasp and these guys were trying to take it from me. I wish I had been able to push forward and make a few more passes.
"I'm just getting more comfortable," continued Seely. "I said after A1 I was kind of getting frustrated that after all of the work that I've put in that the nerves were getting the best of me. So just more comfortable. Having a lot of fun right now and the bike's been awesome. We messed with some settings this week but I wouldn't say the bike is why we're getting better. I was just in my groove."
Anderson's start was terrible in the first race, but he also appeared to play it a little cautious working his way forward. This season has seen a more patient Rockstar Energy Husqvarna rider, and even the crazy three-main format didn't take that out of him.
"Especially those first races, to try to stay patient was pretty tough," said Anderson. "You want to pass the guys but you don't want to fall down—maybe that 7th could have been a 12th or a 13th. Trying to take some notes from the last champion [Ryan Dungey]."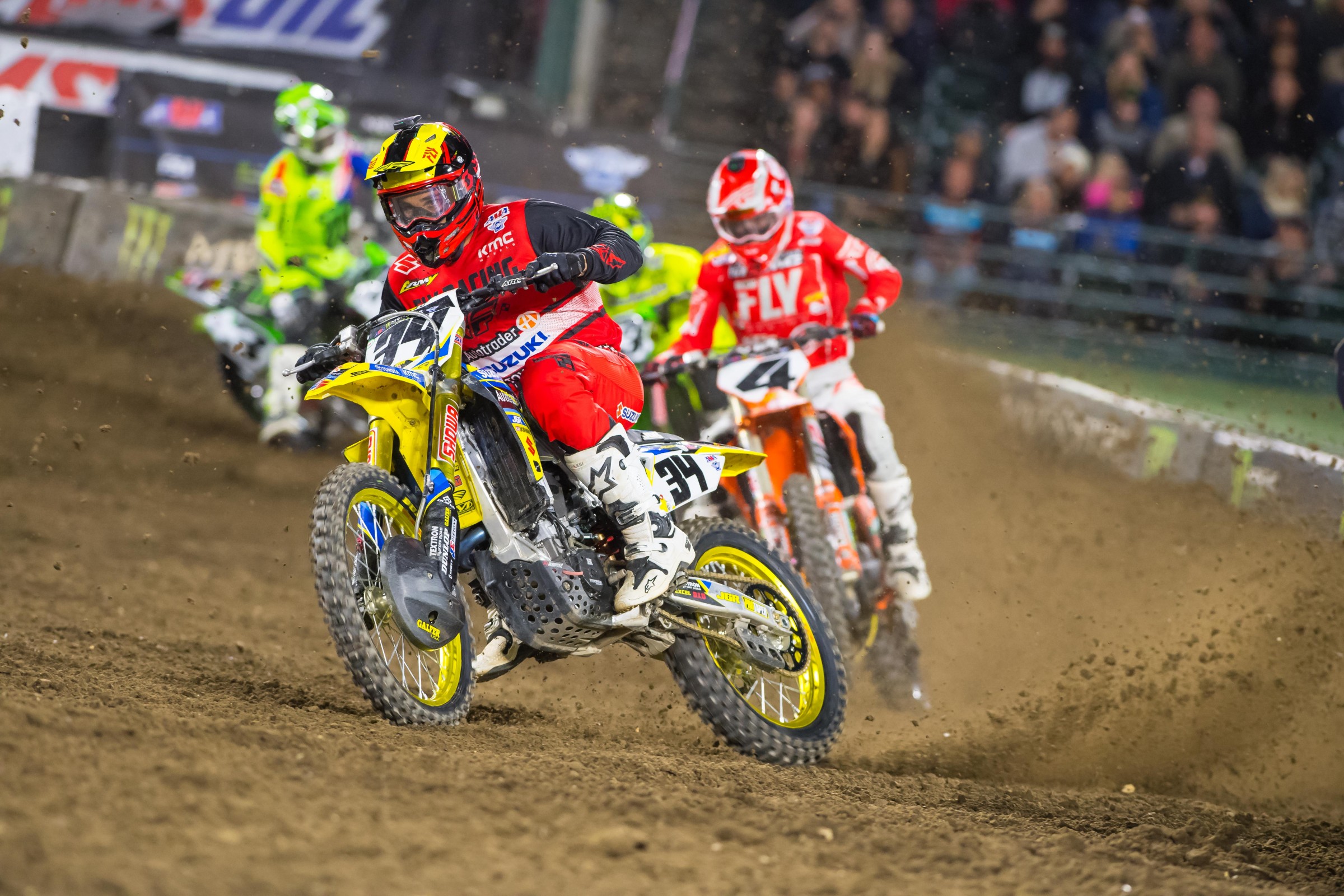 While early-season injuries to Tomac and Marvin Musquin threatened to take the air out of the series, the fact is that only Anderson can say he's had three good races (and three podiums) to start the year. Everyone has experienced ups and downs already and there's probably much more to come. Musquin did return despite damaging his shoulder last weekend, and he clocked second-fastest in practice. He told us during the afternoon that he was worried about the shoulder fatiguing as the night went on, and that finally happened in the final race when he pulled off about halfway through. Still, his 9-11-21 scores earned him 13th overall and ten points on the night. That's ten more that he would have gotten by sitting out for the weekend.
Ken Roczen's night was not stellar, and he admitted to us that perhaps revisiting Anaheim 2—the race where it all went sour for him last year—might have been a factor.
"Not the greatest night, I definitely did not ride like myself out there," Roczen said. "I didn't want to take it like "Oh it's Anaheim 2" but that was somewhat lingering. It's not like I forgot how to ride a dirt bike, but it just absolutely wasn't my night. I felt horrible out there, like I was riding on egg shells. The worst part was I felt horrible after the first main and I had two more mains to go!"
Roczen started mid-pack in the first two races and actually got shuffled around a bit instead of moving forward like he did at Anaheim 1. He rode better in the final race, his 11-12-4 finishes giving him ninth overall. Seely has now jumped his HRC Honda teammate Roczen for second in the standings behind Anderson.
Justin Barcia, a title contender after back-to-back podiums to start the year, got bad starts in all three races—surprising since starts are usually a Barcia strength. The Monster Energy/Knich Yamaha rider persevered and edged Roczen in the overall with eighth, with 8-5-9 scores. This also puts Barcia a point ahead of Roczen in the standings.
There were some hellacious battles in the 3-7 range all night. Justin Brayton was the best of the bunch, nailing good starts in all three races and nearly getting an overall podium with 2-6-3 scores for fourth. Brayton, of SmarTop/BullFrog Spas/MotoConcepts Honda told us regardless of the format—three mains or one main—he's feeling as good as he's ever felt and thinks a win could be in the cards. He says he has to take advantage right now because he feels great and that feeling can be fleeting.
The likes of Weston Peick, Josh Grant and Blake Baggett were in huge battles all night. Autotrader.com/Yoshimura Suzuki's Peick is proving ultra-consistent this year, he was fifth overall, giving him 5-5-5 scores in the first three rounds this season. That makes him—wait for it—fifth in the 450SX standings. Grant (Monster Energy Kawasaki) and Baggett (Rocky Mountain ATV/MC KTM) looked faster tonight than in the previous two races. They were good. Grant was sixth and Baggett seventh overall. Baggett had a crash in race two but came back to tenth. He might have been in contention for a podium if that hadn't happened.
Joey Savatgy did a good job of taking the chaos and drama out of the 250 class. He nailed three good starts and went 1-2-1 for the win. Savatgy, after so many untimely crashes last year, is working on staying consistent this season, but as usual he put some heat on himself for letting Shane McElrath edge him in race two.
"I struggled quite in a bit in the second main and Shane got away from me. It was nice to be able to reground, go over a rundown, go back out and fix it," Monster Energy/Kawasaki's Savatgy said. "In a normal race we'd have to wait until next week. I kind of liked that about the format."
Savatgy said that getting this race win was kind of a "monkey off his back" after supercross ended so sadly last year. He also only won one race last season, the 250SX East opener in Minneapolis. Even though he won some races in Lucas Oil Pro Motocross, he said he felt this was different and it was positive to get another supercross win under his belt.
McElrath (Troy Lee Designs/Red Bull KTM) was second overall with 5-1-4 scores. He has to feel this is one that might have gotten away—he was dicing with Christian Craig for second in race one and said he was a bit "impatient" and went down. He was fifth. He got a bad start in the second race. Still, he also said this was maybe the most fun he's ever had at a race.
"There was a lot of pressure, even in the first six (minutes) plus one," said McElrath. "I thought it was a really good race track this weekend, and I would rather see an easier section than people crash. It was really intense everyone was fast and I think with the shorter distance I think everyone got a lot of confidence from it. This was probably the most fun I've ever had at a race."
Christian Craig put his GEICO Honda on the podium for the first time this year. "I'm not happy," said Craig. "The past two weekends, I'm not going to complain about fifths but with the off-season I had I was really confident. Third and a podium is good but I want to be where Joey is and winning."
Adam Cianciarulo (Monster Energy/Pro Circuit Kawasaki) had a big getoff in practice but suited up for the night show and got better in each race. He nearly ran Savatgy down for the win in the final race of the night. He ended up fourth overall. Mitchell Oldenburg continued to show good speed and ended up fifth.