New Suzuki Squad for Hansen and Bisceglia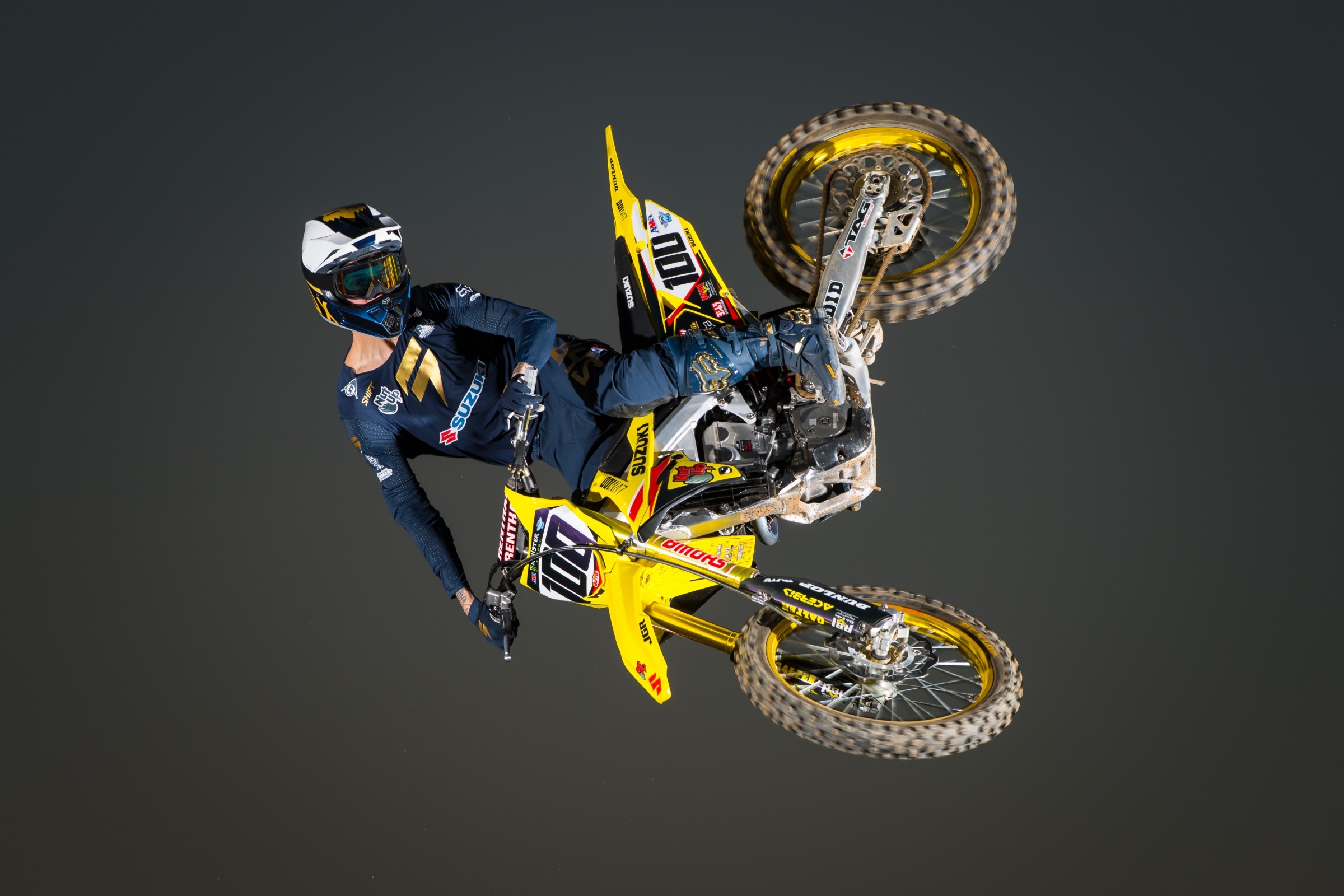 Josh Hansen is back in the 450SX full-time for the 2018 Monster Energy Supercross season, starting a new team called Nut Up LVN100 Suzuki. Hansen raced 250SX West Region last year and had three top ten finishes with a season-best of seventh.
He'll have a teammate too, as Matt Bisceglia has finally found a landing spot, moving up to 450SX full-time alongside Hansen. Bisceglia was supposed to ride 250SX for Autotrader/JGR Suzuki last year, but he was injured and missed all of the supercross season. He looked strong on a 450 in guest appearances in Lucas Oil Pro Motocross the last two seasons, including a run with the now defunct RCH/Yoshimura Suzuki team in 2016.
There's a bigger RCH connection here. Kenny Watson, one of the long-time principles of RCH (and it's forebearer, Hart & Huntington), will run this new team. Hansen and Watson go way back, so this is an easy fit.
Our Simon Cudby shot pics of the team this week, and put together this short interview with Watson.
Racer X: Kenny we are out here in Lake Elsinore with about a week to go to A1. What's going on?
Kenny Watson: A couple of months ago I got a call from Josh Hansen. We had always talked about working together, and now all the stars have aligned. I had the relationship with Suzuki, and Josh always loved riding Suzukis, and he wanted to get on a 450. Josh had an injury before Monster Cup where he hurt his heel really bad, so he couldn't race in Vegas.
As we put this program together we were thinking about a second team rider. I knew Matt Bisceglia from when he rode for RCH, and being around the team and Yoshimura. I asked Josh about putting a program together for Matt. Josh is pretty misunderstood by a lot of people. He is doing this team for the love of the sport and he doesn't really have to help anybody, but we now have Matt on our team.
We have a three-year business model to build this deal into a full-blown race team. Cary Hart I did it at Hart & Huntington, then at RCH. We are starting small and we're not saying we are going to go out and win everything, but we want to go and make a really strong presentation at the races, and build an experience so that when people go home, they remember coming by our truck and having a good time.
What is your support program from Suzuki, and what's your connection to the JGR team?
Chris Wheeler at Suzuki committed to work with us, and there were some good parts left from 2017 that we thought we could use. Chris said he had no problem as long as it was okay with JGR because they are the factory team. I've had a relationship with JGR's Jeremy Albrecht for a long time. Both Josh and Matt have ridden for Jeremy in the past, so it was a perfect fit. I told Suzuki and Jeremy that if one of the JGR riders got an injury during the season, and if both Josh and Matt were both healthy, we could send Matt to JGR as a fill-in and he would be comfortable right away. So it's a win-win for Suzuki.