Last year, in his first year with the Smartop/MotoConcepts Honda racing team, Justin Brayton finished 12th in the 450 Class in Monster Energy Supercross. It's not a bad finish, considering that he crashed out of one race and missed the next with an injury, but it certainly wasn't what he was used to. Previously a solid top-five or top-seven rider capable of flashes of brilliance, the Iowan is changing his program this off-season to try and be better, earlier, in 2018. Compared to the slow start he suffered at the beginning of 2017—he went 15-17 at the first two rounds—he hopes these changes will provide the antidote and getting him back toward the front.
Brayton has a different program than his competitors. For the past two years, he's headed to Australia to race their supercross series before the one in the U.S. started up. The good thing about it was that he made some money Down Under, and, hey, Australia in the summer isn't a bad place to be, right?
The bad thing about it is that Brayton felt like he wasn't as ready as he could have been coming into Anaheim 2017. This year, he took steps to make sure that didn't happen.
"I did it a lot different this year in Australia. I got my own practice track close by. I had a practice bike this year and pretty much set up my whole program like I was over here [in the U.S.] preparing, where last year I didn't do that," Brayton told us on the PulpMX Show on Monday. "[Last year] we basically hung out on the beach as a family. Then when I came back here, I was way behind the eight ball. So, this year I knew if I wanted to come back to the States and be competitive, that I obviously needed to do it the right way. That's what I did. I feel so much better already, just the few days that I've been out here in California. I feel good on the bike. There's going to be no changes at all to my bike, so that's nice."
And then there was the issue with the motorcycle. Brayton didn't ride the all-new, late-arriving 2017 CRF450R last year in Australia, and had limited time once back in the U.S. to learn about the machine.
"I believe it was December 6 or 7 last year when I first rode the new 2017 in stock form," he says. "We're way ahead of the game this year compared to last year. I lined up for Anaheim last year with pretty much a stock chassis and suspension on it, which is pretty tough to do in supercross."
Speaking as a former factory mechanic, that's less than ideal with a new model. I spoke with MCR Honda manager Tony Alessi about Brayton, and Alessi reported that Brayton is very pleased with his bike this year and wants to go into Anaheim with the settings he has now.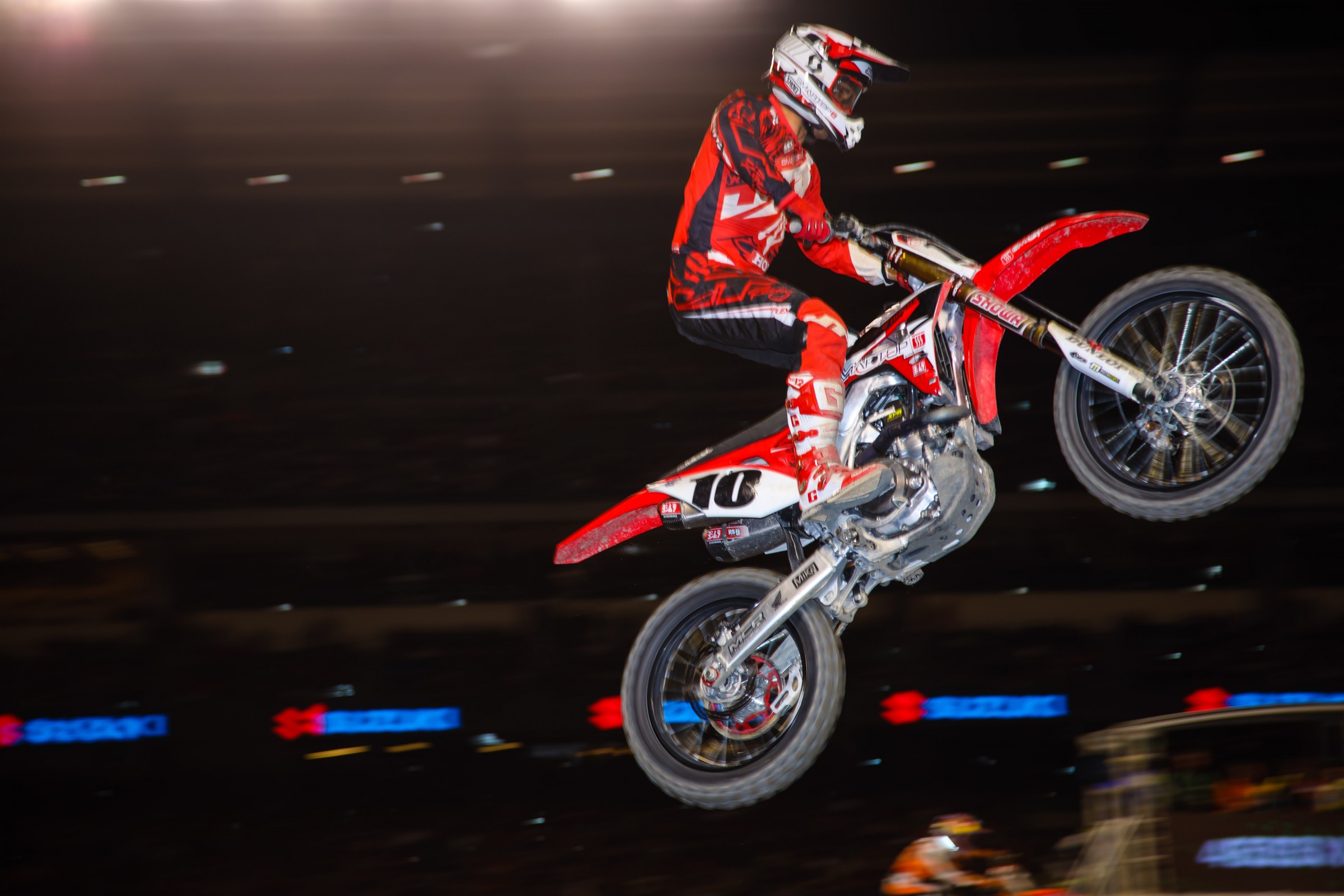 One change in Brayton's program is Tony Berluti. The veteran mechanic, who's been out of the pits for a few years after wrenching for RCH program, is back to serve as Brayton's wrench. Brayton's guy for the last few years, Brent Duffe, remains Brayton's practice mechanic until he finds something else. Although the parting wasn't ideal for Justin, it's something that happens in the industry year to year.
"I got along with Duff super well and was bummed to see him go," Justin remarked.
As for Berluti, Brayton is impressed with the "Silver Fox" of wrenches. "You know what's so cool about him? Obviously, he's a legend in the sport and one of the best mechanics ever, but our first couple days working together, he asked so many questions. Probably stuff he already knows, but just getting to know each other. I thought that was super cool. He didn't come in and be like, 'This is how I've done it for 30 years.' He's a very cool guy."
One thing about Brayton over the years, whether it was at JGR Yamaha, factory Honda, or any other team, is that he can show you something in a heat race. Brayton's never won a 450SX main event, but he has beaten the best of the best in shorter qualifying races. So, one might think the change in format at the three rounds of Monster Energy Supercross would benefit a guy like #10.
Justin agrees. "I've won a lot of heat races in my day and always been a pretty good starter. It's not going to hurt, that's for sure. But I also feel like a lot of people are going to think that same way, like, 'I can beat anybody for eight minutes.' I think there are probably quite a few guys thinking the same thing. But with a good start, I think it could play into my favor, for sure."
So, there's a new mechanic and new off-season program, but the same bike and same team. This combination is something that Brayton hopes will result in a change for 2018.