Jay Schweitzer recently released his latest motocross freeride movie, On the Pipe 7: The Last Hit. It's a really entertaining and well-shot movie filled with some of the craziest guys in motocross: Brian "McGnarls" McCarty, Wes Agee, Tom Pages, Brody Wilson, Jarryd McNeil, Colby Raha, Josh Grant, Jimmy Hill, Danny Way, Mat Hoffman, Chas Burbridge, Jason Ebel, Arlyn Van De Mark, Jeff Griffin, Vinnie Carbone, Alex Harvill, Kyle Katsandris, Tom Parsons, and many more.
The film pays homage to freeriding, the roots of motocross, and gives respect to those who lost their lives pushing the progression of the sport. The Last Hit is about going big over natural terrain jumps and taking riding motocross to the next level. The great shots are matched with a great soundtrack and even better stories of the guys who risk their lives in the name of twisting the throttle.
We recently caught up with the director, Jay Schweitzer, to talk about the movie and more.
Racer X: Jay, I was at the premiere of your latest movie, On the Pipe 7: The Last Hit at the Observatory. It was a good time. How do you feel, it went?
Jay Schweitzer: It went great. There were no kinks. The screen was really bright and the quality looked amazing. Everything was awesome. This is the best response from fans I've had on any of my films in my two-decade span as a filmmaker. From those that have already ordered the video to people that were at the premiere last night. People that have never given me respect or props. Even Donn Maeda [Transworld Motocross] was like, "Dude, I'm blown away." I'm happy with the way the film came out. That's the most important thing.
This is number seven of the On the Pipe series, how long has it been going on for now?
Mike McEntire started the franchise in 2004, but I took a break in 2010 for about four years until 2014.
You said at the premiere that this was four years in the making, which is a lot longer than it typically takes. What made this one different?
This is the longest it's taken me to produce a film. On the Pipe 1-6 was a collaboration with myself and Mike McEntire [Mack Dawg Productions]. After On the Pipe 6, with the increase in piracy due to the internet and people with no respect about stealing our content, we decided that this was it. We weren't going to do any more OTP films. During the filming of Black Friday, the Metal Mulisha film, I had made this really cool segment for Wes Agee, which kind of helped establish him as one of the elite freeriders in FMX. It was about a year later Wes came to me and was like, "What's it going to take to make my name big like a Twitch in the freeride world?" I was like, man, you got to make your own movie, which will help your name grow tremendously.
So, he's like, "Let's do it! I'll get Red Bull involved in the project. We'll do it. I'll get the money and make it happen." I was like, "Alright!" So, we started and we went on a road trip to Montana, just Wes, myself, and his camper. That's when we got those mind-blowing, ridiculous flips and I was like, "It's on!" We figured some of his sponsors were going to come onboard, but they never did. Wes had been promised a world record flip upon signing with one of his sponsors. Unfortunately it never happened, though.
It was supposed to be a project about Wes and his friends. It was going to be called The Lone Wolf. Midway through, Wes was like, "Dude, I'm not getting the support. It's not worth risking it anymore for no money." I was like, "I can't blame you at all, Wes. I'm not sitting in your shoes and risking my life for $30,000 a year." He was like, "I'm just going to start this business with my family and do that." I was like, "Okay. No worries. I'm going to just turn this into On the Pipe 7 and keep filming." So, this project did not start off as On the Pipe 7. It started off as The Lone Wolf.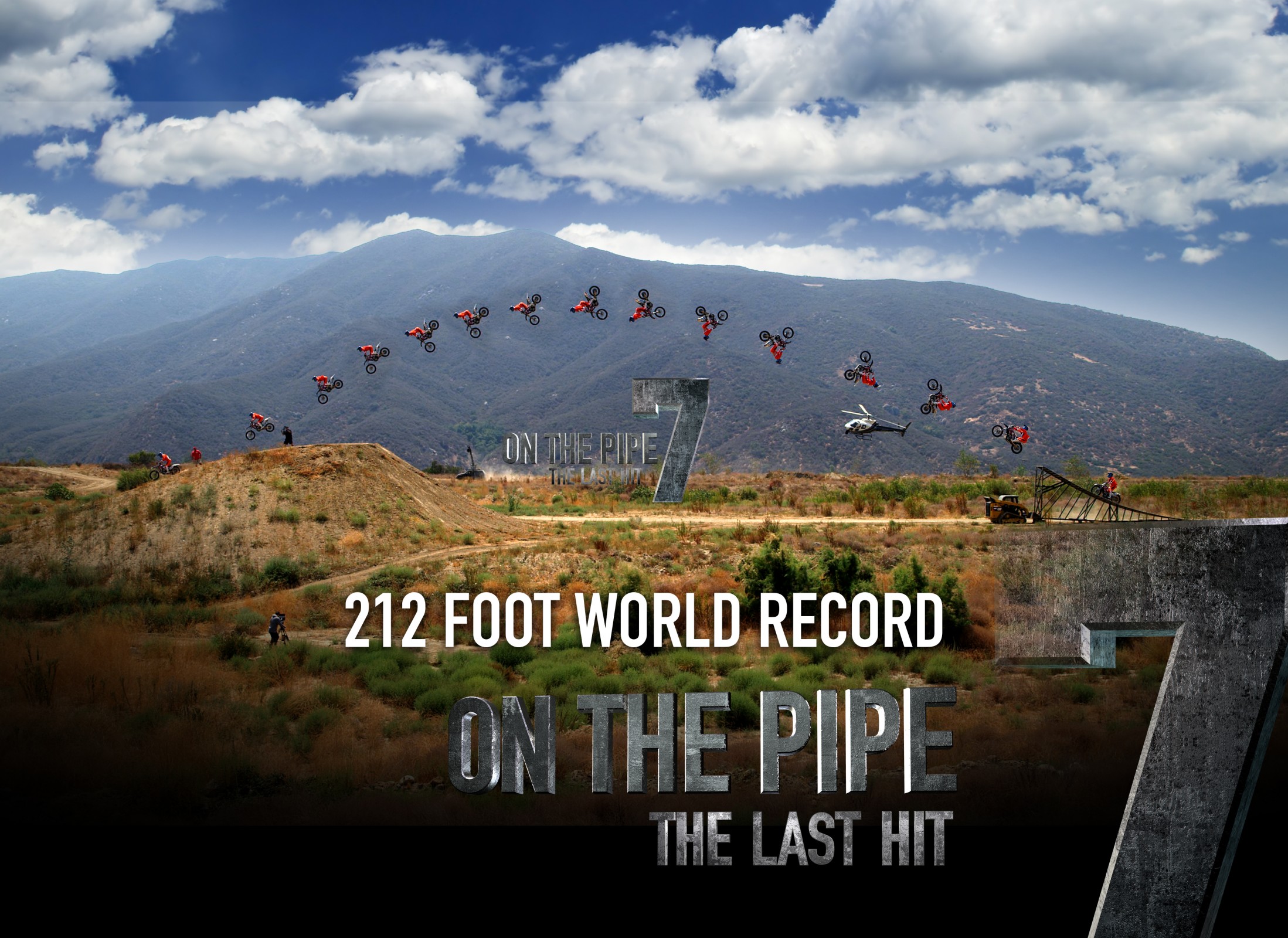 I really like the way that you tied together the whole freeride movement and the history and the progression of the sport of where it's come from to where it's at now while also paying respect to all the guys that we've lost through the progression of the sport. I think that the film was really well put together. It was a nice, full piece.
Yeah. I figured if I was going to end the series, I wanted to go out with a bang and push my own limits as a filmmaker. Otherwise, why am I doing it? When we used to do the On the Pipe movies, they used to take me a year to a year and a half to put out a film. I never just put out a film just because I had to make the Christmas deadlines. I missed tons of Christmas deadlines and lost out on tons of sales, but that was never really as important to me. It was more important to me as a filmmaker to put out a film that I'm happy with in the end. Something that I can go back and watch a decade later and still be proud of it and feel like I made my own contribution to the sport.
To make a movie like this as an independent filmmaker with no help from big corporations was the biggest challenge of my career. I did have some sponsors and some help from SKVI, Metal Mulisha, Brass Knuckles, Pala Raceway, Trick Factory, and Moto XXX. Luckily a lot of my sponsors on OTP7 are all camera companies that I work and shoot commercials with. My friends from Ultimate Arm, Ido aerials brought out the most advanced gyrostabilizer equipment that exists today. If somebody else tried to make that film, you're going to be spending minimum a half-million dollars.
Yes, you had a lot of big budget film equipment on this project and you've been working on it for four years. How did you put all together?
A lot of favors, man. I self-financed OTP7: The Last Hit. There's no shame in me telling you. I got some sponsorship money and then I got a bunch of camera equipment donated. But overall how was everything paid for? Expenses were covered through all my freelance commercial work. Every time I did a job, it went towards paying off someone to do something that I needed for this film. Between 95-98 percent of this film was financed by me just working.
Are you happy with the overall result of the film?
Oh, yeah. It's the happiest I've been with any film that I've ever done.
What was your favorite part about making the film? Any specific moments or shoots that stand out to you?
I would have to say the record line, and working with Wes, McGnarls and Matt McCall. I wouldn't say it was the most enjoyable shoot in the film because it was so much work, but the payoff was amazing in the end. All those one-time flips they did where it was just me and one camera are moments in time you can't put a price on. Since I Started in 1997, I've filmed so many legends, including Cinqmars, Robbie Maddison, Ryan Capes, Bird's, and basically every top freerider over the last two decades. I filmed the biggest jumps on the planet that have ever happened on a dirt bike, whether it's distance jumps or biggest backflips or whatever. It takes a lot to really get me excited. I'd say overall my favorite part of the film was going out with Wes and Brian and documenting these crazy-ass natural terrain flips and the record lines stuff. You can't put a price on documenting history. Times where you only get one chance at nailing there shot.
My two main goals with this film were to push my level as a filmmaker/cinematographer by achieving unimaginable shots while telling the true story of these passionate riders who risk their life in the pursuit of infamy. The second important aspect for me was to continue to push the progression of the sport. Two goals and I feel I accomplished my goals and can move forward with my next chapter with few regrets.
The train jump was another pretty intense segment of the film. Watching Kyle Katsandris crash at close to 200 feet out and then get taken away in an ambulance was horrific and brought me nightmares for a month. Nothing will top Colby Raha evading the police to jump over the train tracks. After this gets out, I'm not really sure what's going to happen with the police, but I guess I'll deal with the consequences as they arise.
Other than the financial struggles, what were some of the other hurdles you overcame during the filmmaking process?
Everything from Wes dropping out into McGnarls coming in and learning how to hit a quarterpipe going the opposite way. Obviously, Wes dropping out was something that was out of my control. I somehow managed to save the film and turn it around with an unknown guy, McGnarls. That was probably the biggest challenge.
As far as making the actual film, other than the archival footage, I shot it all on multiple RED cameras. The post-production was an absolute nightmare on this film. I first cut this whole thing myself and with another editor, Phil Long. We had a pretty good cut going but I knew it could be better. I was like, "How can I take this script and movie to the next level? How can I make this film so that it will stand the test of time?" As a filmmaker, my biggest inspiration in the motocross world is Troy Adamitis. I respect him above any other filmmaker, storyteller in our industry. There's nobody that can touch the scripts he has wrote. I said, "Okay, if I want to get my movie to this next level, I need to bring Troy on."
Last December, I sent him a rough cut of the movie. That's how long ago I had a rough cut. Almost a year ago. He watched it and said, "Jay, this is really good. This has the potential to be one of the best moto films that has ever been made." He was like, "but I can help you make it better." I said, "That's what I'm talking about. That's what I want." So, we came to an agreement and I brought Troy on board to help me recut some of the movie and the order of it and rework the script. Troy and I worked on the script back and forth for the next six months making changes in the edit. I had like six editors on this project. I was the lead editor, but I had a bunch of other editors. I just kind of had to keep reworking it.
It's not easy to keep people's attention on a long film like this. It's an hour and 23 minutes with credits. That's really long for our industry, especially with social media and people these days just kind of not having an attention span longer than a few minutes. The response that I've had from people is that they were sucked into it the entire time. So, I feel satisfied so far with the response.
The post-production was really difficult, but I was fortunate enough to have the best colorist in Hollywood, Greg White from Pearl Street Productions. The entire film was colored in DaVinci Resolve at 4k resolution. Then the sound engineer worked with me on sound effects and balancing everything out for another three weeks. There was just so many things to deal with from color, sound, music rights and clearance, the list goes on.
What's next for you? This was the last On the Pipe movie; are you done making motocross movies?
I didn't name On the Pipe 7: The Last Hit for nothing. It's definitely the last in this series, but I do have one final moto film I'm making before I'm completely out of the industry. It's a film I've been working on with Mack Dawg since 2005, and I believe it's going to be the Holy Grail of motocross films. It's the Daredevil Project. It's the history of the sport that Evel Knievel created, long-distance jumping. We started filming this project in 2005 and no other film company owns a larger collection of long distance jump footage than Mike McEntire and myself. We are going to tell the true story all the way from before Evel Knievel all the way up to Alex Harvill, who has jumped over 425 feet. It's a crazy story. We've been working on it for a long time. It's already all filmed so Mike and I will spend all of 2018 editing it.
You can buy On the Pipe 7: The Last Hit at powerbandfilms.com.