Welcome to Racerhead, which is always delivered on Friday, but man does it feel like #TBT. (That means "Throwback Thursday," Mom.) Yesterday, three big out-of-the-blue things happened that hearkened back to the early days of Racer X.
First, there was a James Stewart-on-a-Honda sighting, and it was huge. In case you missed it, Stewart, who has been off the grid since Anaheim 1, came out to ride with the kids from the JS7 Spring Championship at Freestone MX, along with his brother, Malcolm. James was aboard a Honda CRF450R, and according to our contributor Collin Speckner, who was shooting for Seven, he looked pretty good. He was smiling, he was laughing, and he was having a good time riding dirt bikes—something we haven't seen enough of these past few years. The fact that he was on a Honda was interesting because it reminded us of the time he very nearly signed with Honda as a 15-year-old. Pete Fox was there when Honda showed up with their CR125 race bike and master mechanic Dan Betley to give the bike a tryout in Florida. He snapped a couple of photos and held on to them tightly. Stewart was Kawasaki's future at the time—not Honda's, which ended up signing Ricky Carmichael for 2002. We heard about the photos, but it wasn't until years later that anyone saw them. Had Pete leaked them, it would have broken the internet before that was even a thing!
Ironically, Honda is the one Japanese brand that James Stewart has never raced, though it's the brand Malcolm rode with to the 2016 Monster Energy AMA Supercross 250cc East Region title. The 2018 plans for both of the Stewart brothers remain up in the air, and James notified the AMA a while back that he was not retiring and wanted to keep #7, but time is running out on pulling together a team. But seeing him on a Honda yesterday brought back memories of what might have been for the man who we once called the world's fastest…
The next #TBT came from Northern California. Let me preface it by saying that the rarest issue of Racer X Illustrated for print magazine collectors is the October 2008 issue featuring Snoopy and Charlie Brown on the cover. Inside that magazine was a feature written by Craig Schulz, the son of Peanuts creator Charles M. Schulz. When he was a kid, Craig got into motocross, and that resulted in his father dedicating a week's worth of comic strips to Snoopy morphing into "Joe Motocross." CBS picked up on it and created a half-hour primetime cartoon about Snoopy and the gang racing dirt bikes. It's called You're A Good Sport, Charlie Brown, and you can find it here.
Spoiler alert: Motocross is the one sport where Charlie Brown actually wins!
The comic strips and the TV show were cool mainstream moments for motocross—the cartoon even won an Emmy—and while Craig grew up and became a pilot, he never lost touch with moto. His father even had a ceramic statue of Snoopy as Joe Motocross in the backyard of their home near Napa Valley, and it was eventually donated to the AMA for fundraising.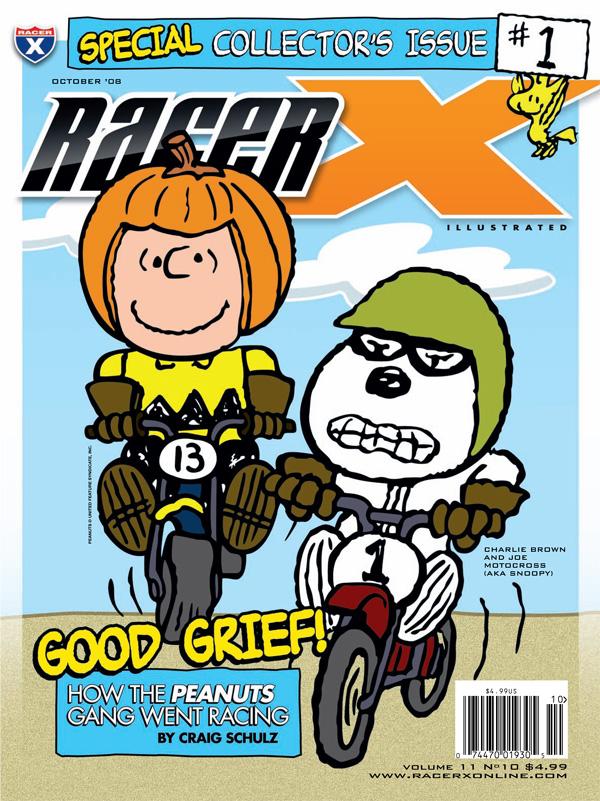 Sadly, Craig Schulz lost that home in the fires that enveloped the region last month, and with it all kinds of Peanuts memorabilia, including his issue of Racer X Illustrated with the feature he wrote for us. His son sent me a letter yesterday hoping we might have an extra copy as he tries to help replace everything they lost in the fire. Turns out we do—my mom is donating her issue!
As for the statue of Joe Motocross, it's in a very safe and proper place: Tom White bought it, and it sits alongside so many other amazing pieces in his Early Years of Motocross Collection.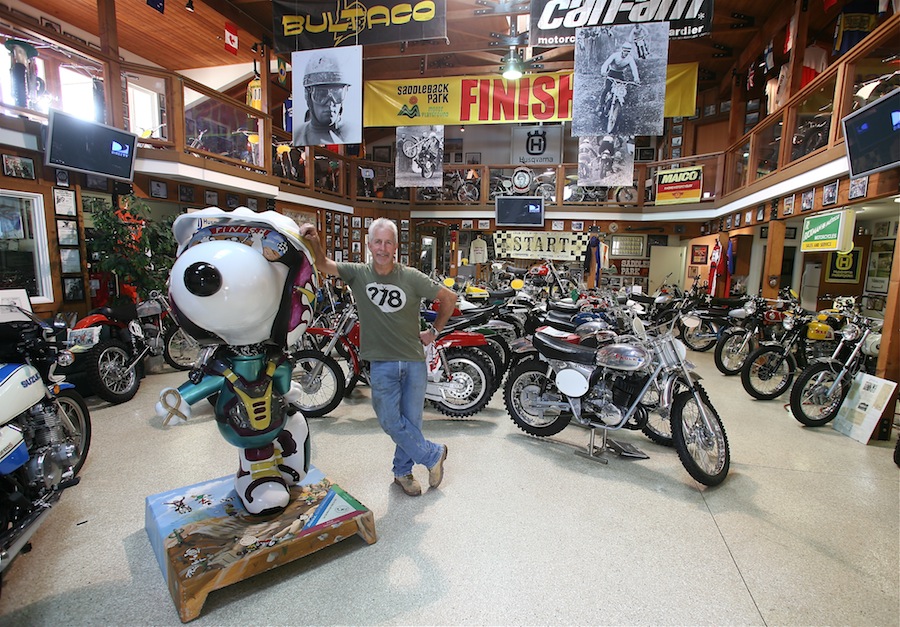 The final thing yesterday that really made it all feel like the true Throwback Thursday was a much more complicated story, and it involves our former contributor and longtime friend, Leeann Tweeden. Back in the nineties, she was a big part of our sport—arguably the OG Monster Girl (only Monster Energy didn't exist yet), and Leeann was more than just a trophy girl. Leeann worked the supercross podium as an announcer, and she was a fitness model for everything from Budweiser to Playboy to FHM to Frederick's of Hollywood to Racer X Illustrated. She also wrote a column called Ask Leeann, answering our readers' burning questions, until it was taken over by Ryan Hughes; eventually (and currently) it became Ask Ping. Leeann went on to lots of television shows as a host and commentator. Throughout her entire career, she has worked with the USO to entertain our soldiers overseas. After all, she grew up in a military family and knows what kind of sacrifices those men and women and their families make for our country.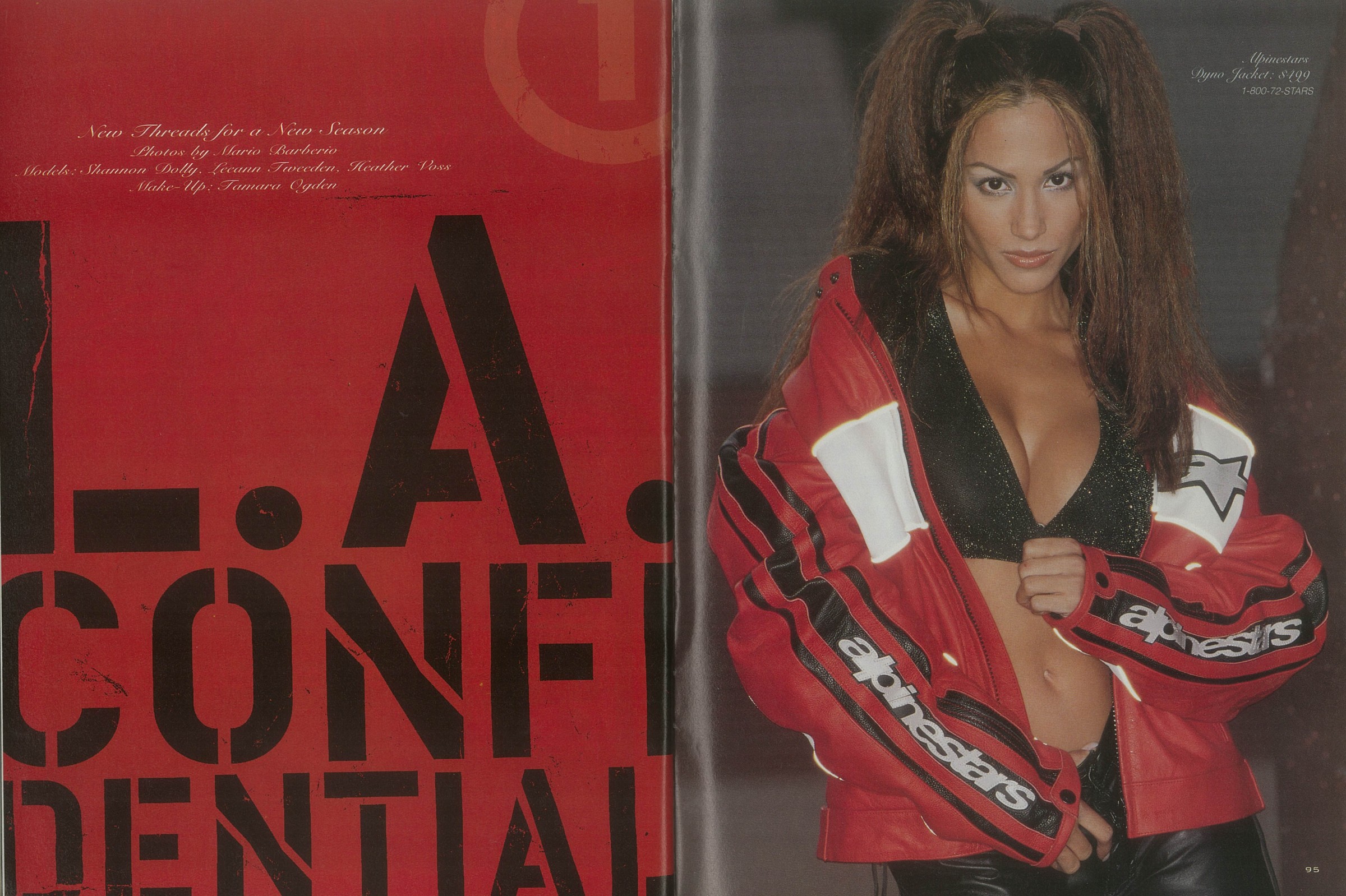 It was on one of those Middle East USO tours a dozen or so years ago that Leeann was co-hosting with future senator Al Franken, then still a comedian and actor. She says Franken encouraged her to kiss him in a skit, which she didn't want to do, and it ended up being way too aggressive for her. On the way home in a military plane, he posed for a photographer by acting like he was squeezing her breasts through a flak jacket while she slept. It was an incredibly dumb idea, and he's now paying a big price for it, as Leeann, now a talk-radio host in Los Angeles, went public with her story and the photo. This revelation comes as we have been collectively watching everyone from movie producers to NFL quarterbacks to senators and senate candidates to the president of the United States having to face the music for the unfortunate and sometimes criminal ways they've treated women in the past.
Unless you've been hiding wherever James Stewart was hiding up until yesterday, you know and have seen all of this. Yesterday was another reminder of just how different the world is now, how much we have evolved, and how not to treat women.
Maybe it was #PTF (Present and Future Thursday) and not just another #TBT after all.
BONJOUR! (Steve Matthes)
I'm currently sitting in my room at the Renaissance Hotel here in Paris for the supercross race this weekend at the brand-new U Arena. I just finished having a couple of cappuccinos with Zach Osborne and Aldon Baker and I can't actually talk about what we spoke about without getting everyone into huge trouble, but that's what these off-season races are good for: tons of bro-down time
Press day happened today, and the riders got two sessions out on the track, two riders at a time. Rockstar Husqvarna teammates Zach Osborne and Dean Wilson were paired up. GEICO Honda's Jeremy Martin and Honda's Cole Seely also went out together, as did RJ Hampshire with Jordi Tixier. Marvin Musquin was out there with the Monster Energy/BUD Racing Kawasaki 250SX rider Brian Moreau. The track's bigger than the old Bercy one, no doubt about it, with pretty hard dirt. There are a couple of quads out there that all the guys handled, and the whoops were small but will get beat up. Also, as Osborne noted, there's one berm out there after the whoops where you go across the start that will be a prime area for stuffing.
It's always a mishmash of who brings what to this race in terms of motorcycles. Musquin and Seely have their full U.S. bikes, while Osborne and Wilson have basically their U.S. bikes, but they're actually ICE One Huskys. Hampshire has his Australian bike from last week that is a stocker with suspension and a few goodies, while Martin's bike was brand-new today. He mentioned that he could feel how harsh it was.
After practice, I channeled my inner Andrew Short and wanted to know more about rally racing. Luckily there was a rally star there named Antione Meo who rides for Red Bull KTM and had his bike there. Because Wacko loves this stuff, he was showing me what the route-marker paper looked like. Then Meo explained the process of staying on time and told us a few gnarly stories. Of course, Wacko geeked out over the bike, and I have to say it was pretty cool. Full of fuel, the bike is about 60 pounds heavier, and Meo said it's a big difference out there. Cool stuff indeed.
Practice is at 3 p.m. tomorrow. Stay tuned on Racer X/PulpMX social stuff for updates. Thanks, people!
Weekly Rundown (Chase Stallo)
Considering it's the off-season, we surprisingly had a week chock-full of news. Here are some things you may have missed:
This rumor picked up steam right after new signee Davi Millsaps sustained a severe concussion and a fractured left elbow in a testing crash prior to the Monster Energy Cup. This week, Yamaha officially announced Justin Barcia will fill in for the first six rounds of Monster Energy Supercross. Barcia previously rode Yamahas while with JGRMX in 2015 and 2016.
In the same announcement, Yamaha said Cooper Webb is back on the bike after undergoing surgery on his thumb, which he injured in practice at the MXGP of USA. "I rode last week on some outdoor tracks in Southern California, and it was awesome! My thumb didn't give me any issues," Webb said. "I've also been working hard off the bike to be in the best possible shape I can be in, and I feel really good. The new 2018 YZ450F is an amazing bike, so I know there won't be a whole lot of time required to get it fine-tuned for A1. It just comes down to me putting the laps in and getting up to race speed and conditioning. I will be ready for A1." For more on his injury, check out this interview Webb did with Jason Weigandt.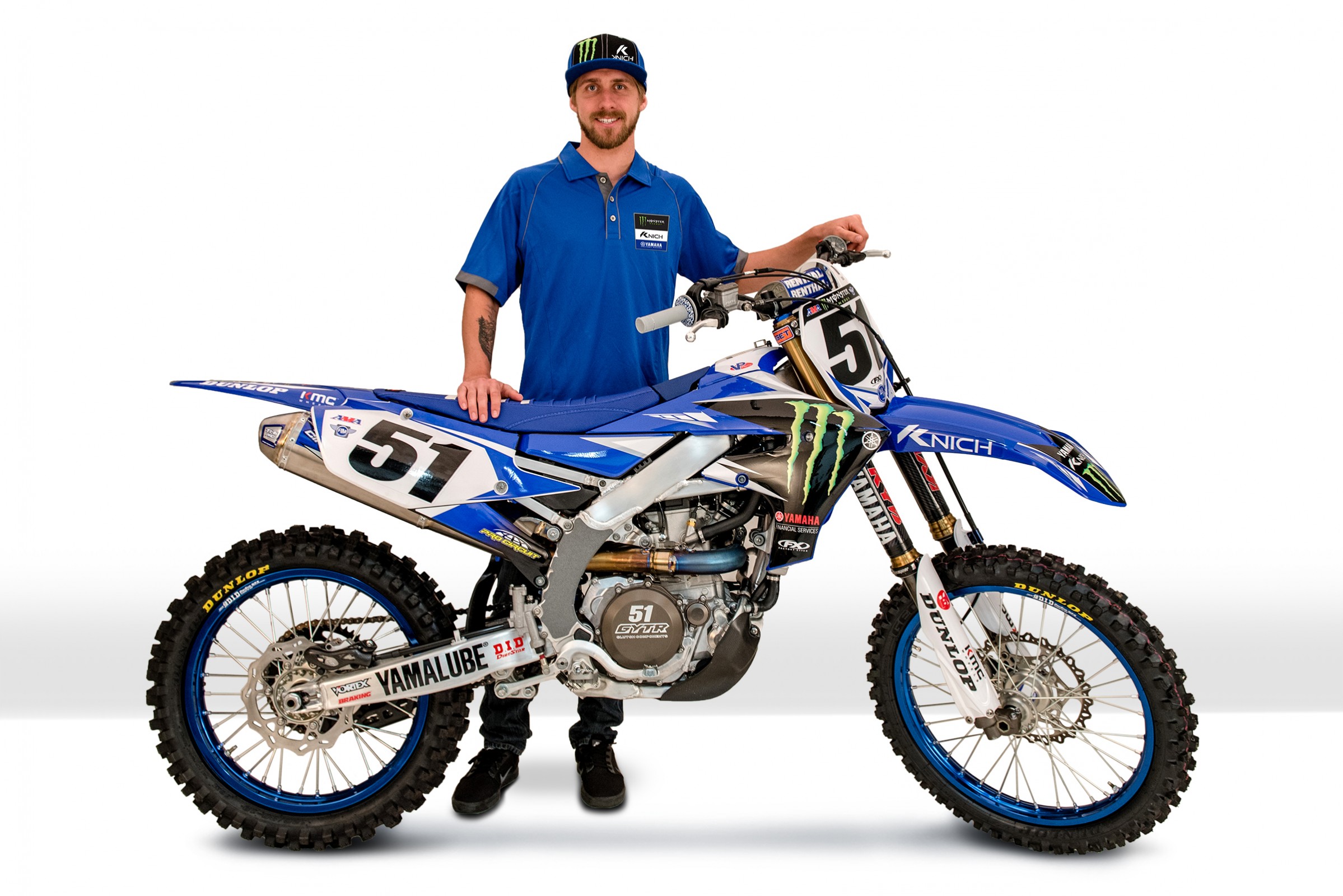 Monster Energy/Pro Circuit Kawasaki's Austin Forkner was injured in a crash earlier this week, according to his Instagram. He wrote that he sustained a broken wrist and collarbone. Details on his recovery time are unknown, but most expect this will relegate Forkner to the 250SX East Region.
Star Racing picked up a new title sponsor this week for the 2018 season. Monster Energy, which supports Yamaha's racing efforts across the globe, including in the FIM Motocross World Championship, will now be the title sponsor for the Bobby Regan-owned team. The team also officially announced a team of Aaron Plessinger, Dylan Ferrandis, Colt Nichols, Mitchell Oldenburg, and rookie Justin Cooper for next year.
Privateer Henry Miller was injured while testing for the 2018 Monster Energy Supercross season earlier this week, he announced on his Instagram. He sustained a dislocated hip, fractured hip socket, and broken L1-L3 in his back. A recovery time is not known at this time.
Brett Metcalfe will race the entire 2018 MX Nationals in his home country of Australia after signing with Honda Racing this week. Metcalfe, 33, spent time with GEICO Honda while racing in the U.S. And Red Bull KTM. And Yamaha of Troy. And Pro Circuit Kawasaki. And factory Honda. And factory Suzuki….
Father and Son (Andras Hegyi)
It seems that we won't see Stefan Everts again as a team manager next year in the FIM Motocross World Championship. This fall, the factory Suzuki team, whose team leader was the ten-time world champion, shut its doors. Following the closure, there were some rumors that Everts would create his own private team, but that's looking less and less likely. Everts is selling the Suzuki trailer and equipment on his Facebook page.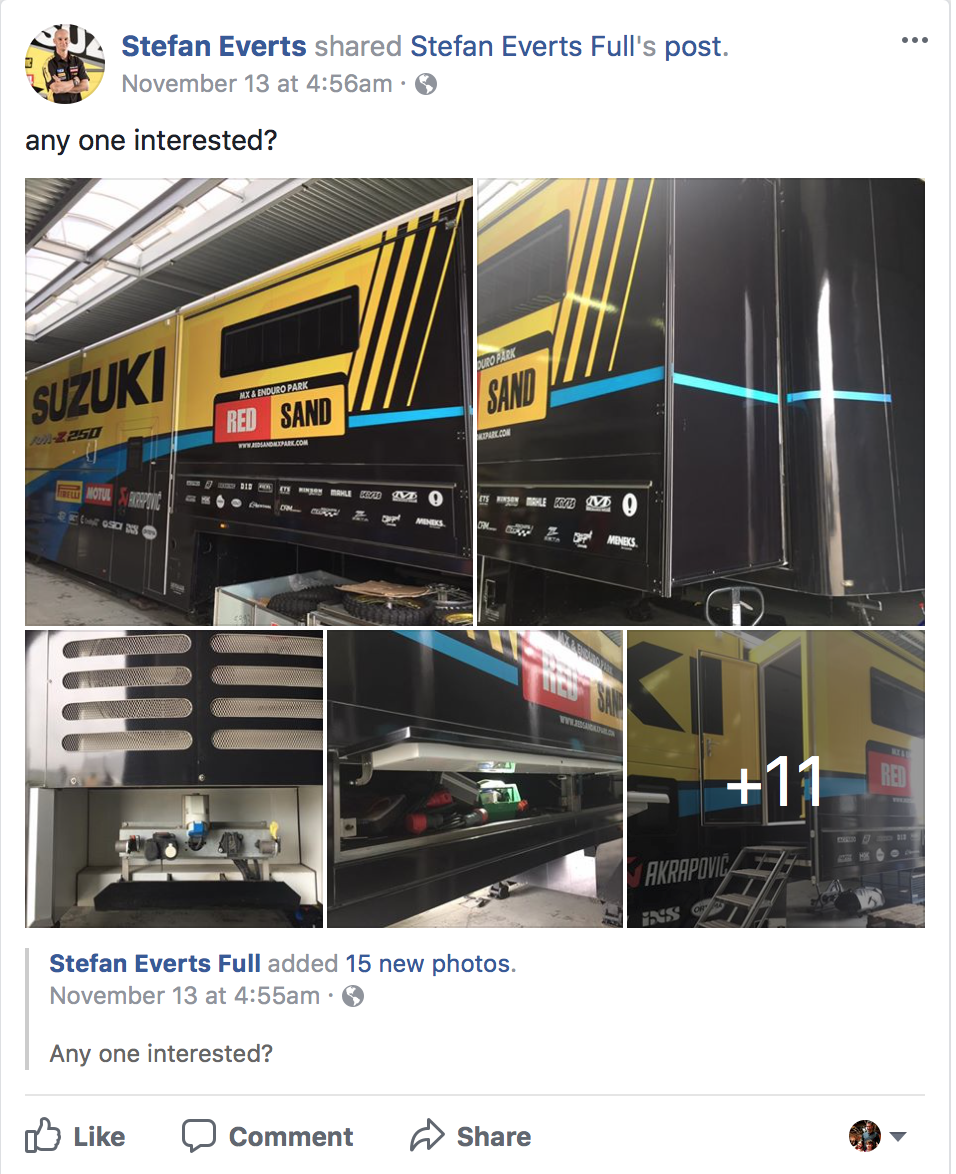 After his retirement following his epic win at the 2006 Motocross of Nations, Everts became a racing boss. He first worked for KTM, then he moved over to Suzuki. Between 2007 and 2016, Stefan worked with his father, Harry Everts, himself a four-time FIM World Champion. Everts Sr. was a KTM and Suzuki staff member. Now, Harry has become the new racing coach of the 2017 MX2 World Champion, Latvia's Pauls Jonass, a factory KTM rider. After his own racing career, which spanned from the sixties to the eighties, Harry became one of the most famous motocross trainers in Europe by finding new talent, helping young riders, and conducting motocross schools. One of his students was Jonass, and the two worked together in 2015, when Jonass finished second overall in the MX2 World Championship. This past year, Jonass raced under the direction of former Dutch rider Marc de Reuver. But this combo split up, and Jonass chose to return to working with Harry Everts to defend his MX2 title in 2018.
As for Stefan, he is focused right now on his son, Liam, an aspiring racer in his own right, and waiting for the next opportunity. In the meantime, he has licensed his name for a much different type of business. If you're old enough to imbibe, you might want to check this out.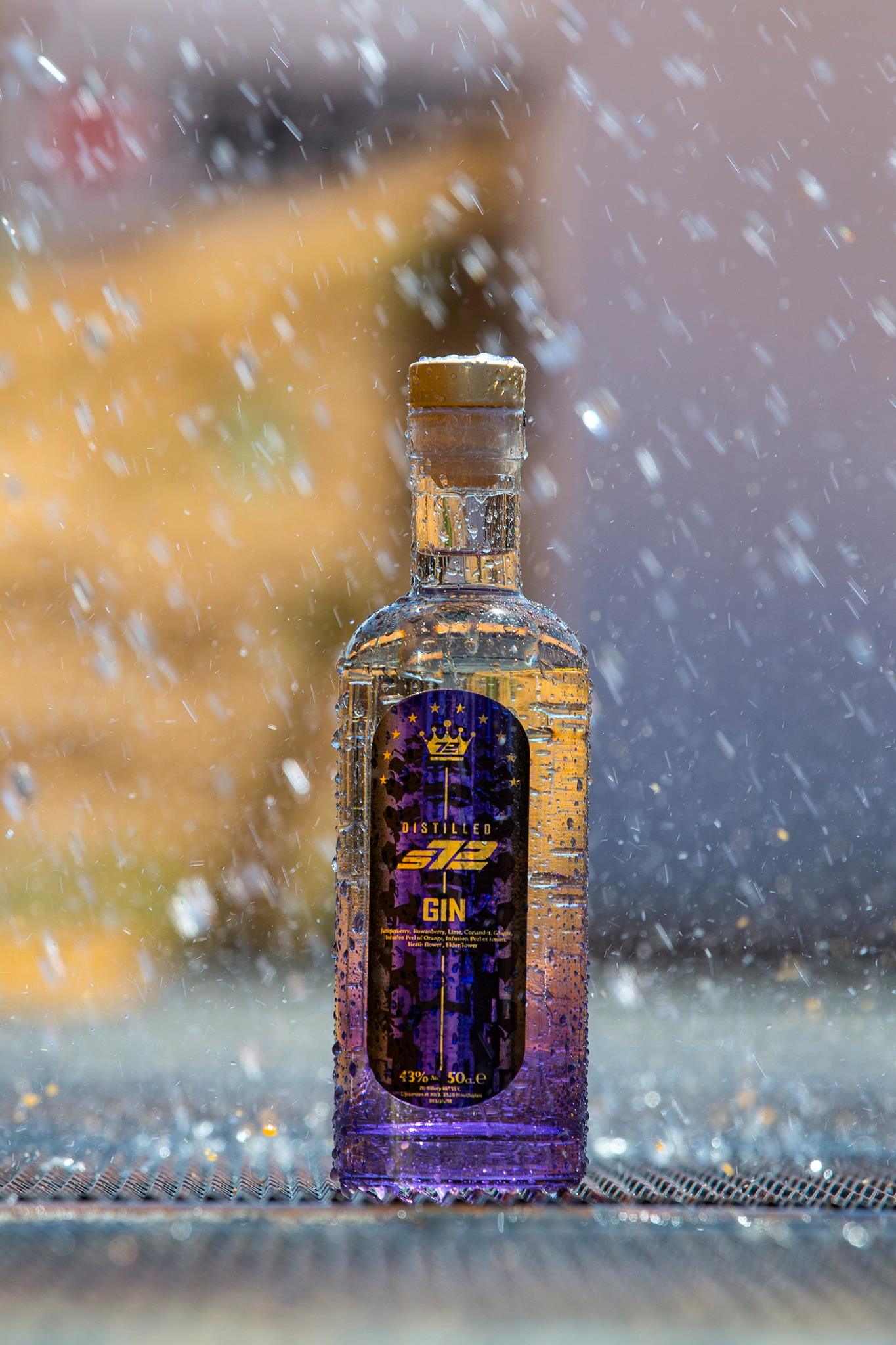 Father and Son, Part II (Jason Weigandt)
Spotted a really cool Facebook post about kids and racing from New England legend Keith Johnson, who now operates the Wick338 in Southwick. Keith's son took his first gate drop over the weekend:
Get ready for a long winded rant...
I'll be honest, I'm fighting back tears in this picture. My son's very first gate drop. I've been racing now for over 40 years. I was never the best. But I traveled to 9 different countries racing. From an Island in Canada to a beach in Holland to the jungles of South America and more. Finished top 3 in some nationals, won some Loretta titles, won a few races here and there. Crashed and burned, broke some bones, tore some ligaments, took a few ambulance rides.
My oldest daughter decided to hang up her boots after a good crash one day and I was thrilled! Didn't ever want see that again!
So when my 7 year old son lined up for his first race this weekend it was bittersweet. I was definitely filled with emotion. None of the stuff I did before compares to watching him in his first race.
Motocross has been a way of life, a religion, and a mindset for my entire life. It has taught me discipline, respect, mental toughness, and kept me grounded.
My son said after the race that people were cheering him on all the way around the track. They all knew it was his first race and they cheered. I truly believe there isn't another sport that creates community like dirt bikes.
So I want to say thank you to all of you dirt-bike people for making my entire life awesome. I want to thank our entire crew at The Wick for being awesome! I want to thank my entire family for being awesome. I want to thank Rick Johnson for starting it all 44 years ago by giving a little 3 year old a minibike.
Dirt bikes are fun, family, community, a way of life, good, and dirty! Some people may read this and say "what the hell is he talking about". But if you don't, then you know exactly what I mean.
Invest in your kids!
End rant...
And here's a cool response from John Dowd:
KJ you couldn't have put that any better. It brought me down memory lane. Those were some pretty awesome life moments for me as well. I don't regret any part of my Racing life! Enjoy the next phase buddy. And believe you me, just (like) my mom told me, it's gonna go by fast.
Racer X Amateur Film Festival (Chase Stallo)
The third round of the 2017 Racer X Amateur Film Festival presented by MotoSport, WASpcam, and Yamalube, has been finalized. Canada's Bryan Allie defeated Canada's Mitch Goheen to advance to the finals.
Voting Percentage
Bryan Allie - 85.5%
Mitch Goheen - 14.5%
Congratulations to both contestants for making the semifinals against a stacked field of entries, and best of luck to Bryan Allie in the finals. You can watch Bryan's video HERE and Mitch's HERE.
The fourth and final round of the semifinals will feature Hungary's Adam Vidovics taking on Australia's Katie Homewood. Voting is open now.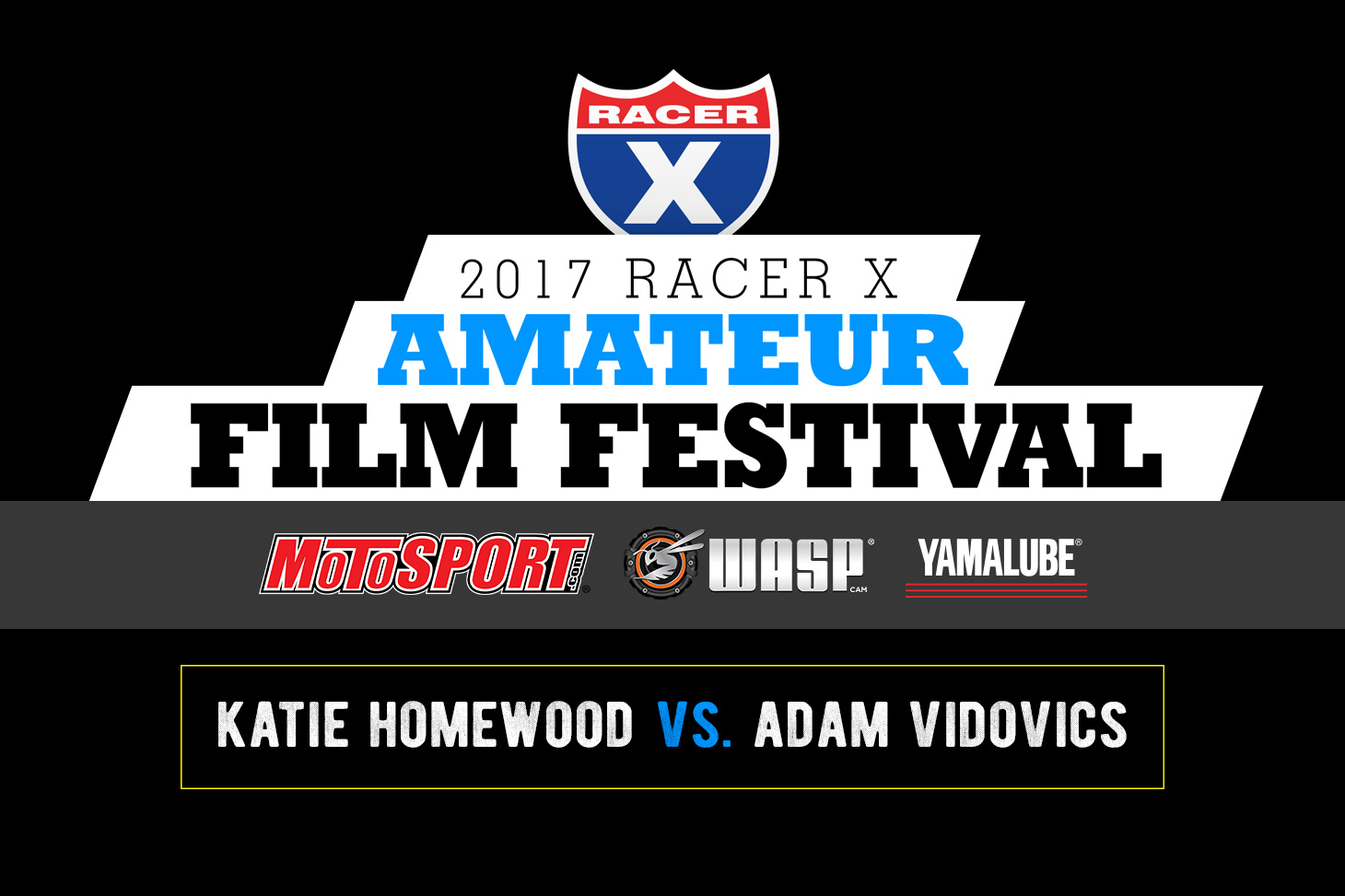 Loretta Lynn's Remastered Moto of the Week: Open Pro Sport – Moto 2
It's November, which means RacerTV has been begun releasing the Loretta Lynn's Remastered motos from this year's AMA Amateur National. Becoming available in the race order, each Monday a fresh batch of 10 motos are released remastered in HD on RacerTV.com.
One of the motos released this week was Open Pro Sport – Moto 2. The Open Pro Sport class at Loretta Lynn's is generally the final stepping stone of an amateur rider's advancement into the pro ranks. In this moto, you'll see riders such as Jake Masterpool, Jayce Pennington, Challen Tennant, Jordan Baily, Joey Crown, and Mitchell Falk slugging it out in an all-out brawl for… second place? Yep, while an onslaught ensued behind him, Justin Cooper (eventual 2017 Nicky Hayden AMA Horizon Award winner) nonchalantly rode his way to a moto win—crossing the finish line with a 20 second lead.
This one's definitely worth watching, as are the rest of the Loretta Lynn's Remastered series. Head on over to racertv.com to check them out today.
Hey, Watch It!
Our own Kyle Scott caught up with Honda HRC's Cole Seely at the Honda test track last week:
One Lap Around the Paris SX track with Jeremy Martin, courtesy of Vital MX.
Random Notes
Racerhead was late last Friday because we were having a field trip over to Scotty Adkins' Pro SX/MX Tech Mechanics' School, which is based right here in Morgantown. Scotty invited us over to check out his very cool shop and talk some shop about two-strokes, four-stroke, eBikes, and more. If you're looking to get into spinning wrenches at the pro level, there's no better place to start than right here: www.prosxmxtech.com.
Racer X and Throttle Jockey teamed up to make a "save the date" bumper sticker for the 2018 Monster Energy FIM Motocross of Nations at RedBud in Buchanan, Michigan. Now we're giving them away! Send a self-addressed, stamped envelope to:
Racer X
ATTN: MXON 2018 Sticker
122 Vista Del Rio Drive
Morgantown, WV 26508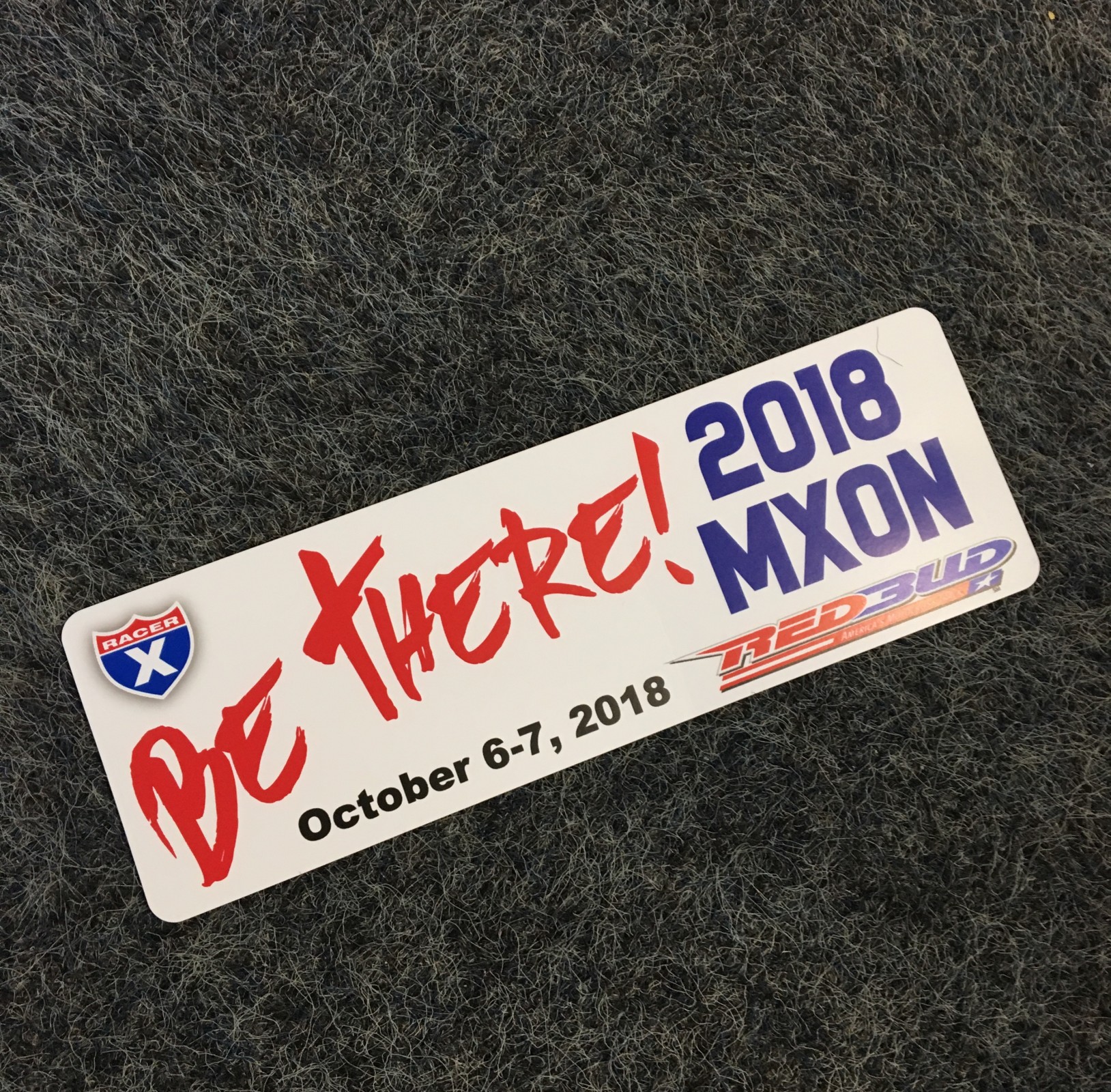 There was a very unfortunate development this week on the business side of our sport, and the motorcycle industry in general. The MAG Group—a collection of brands that were bought up and brought under one umbrella—filed for Chapter 11 bankruptcy. It's a very complicated financial issue, explained in depth here.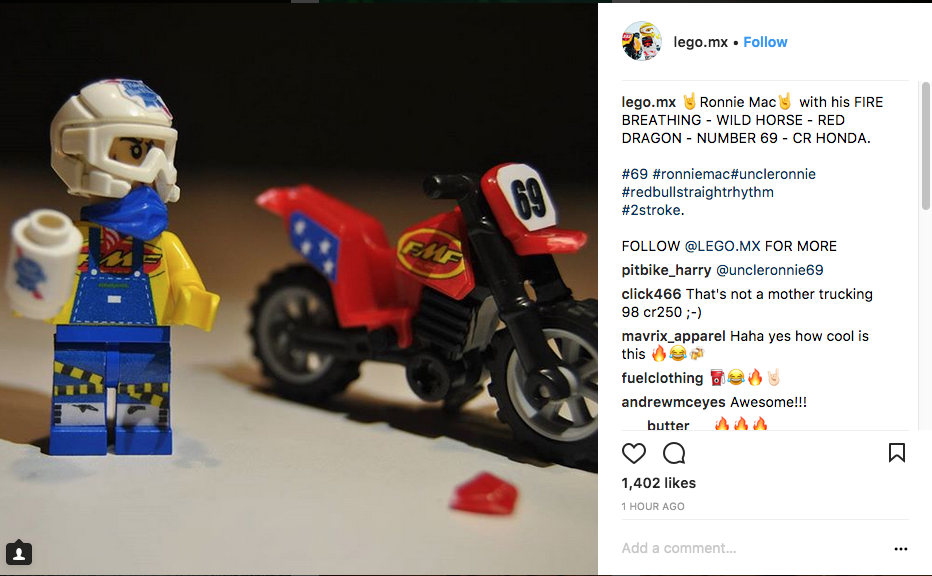 Subscribe now and Get a Free 2018 "Through the Decades" Calendar
Subscribe now for as low as $9.98 and receive a FREE 2018 "Through the Decades" calendar, plus access to our digital edition.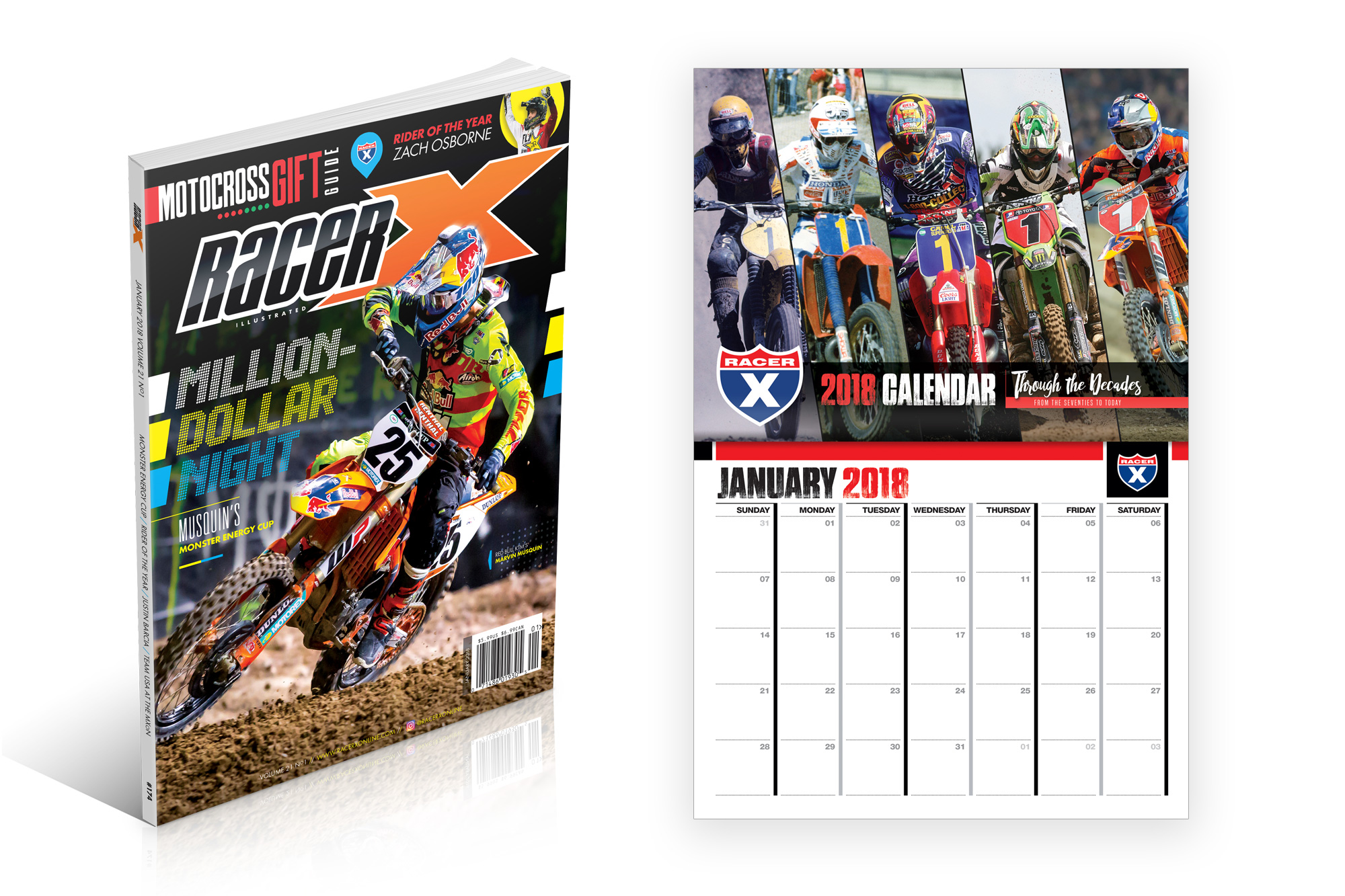 Thanks for reading Racerhead. See you at the races!