Kailub Russell Breaks GNCC's All-Time Wins Record at Ironman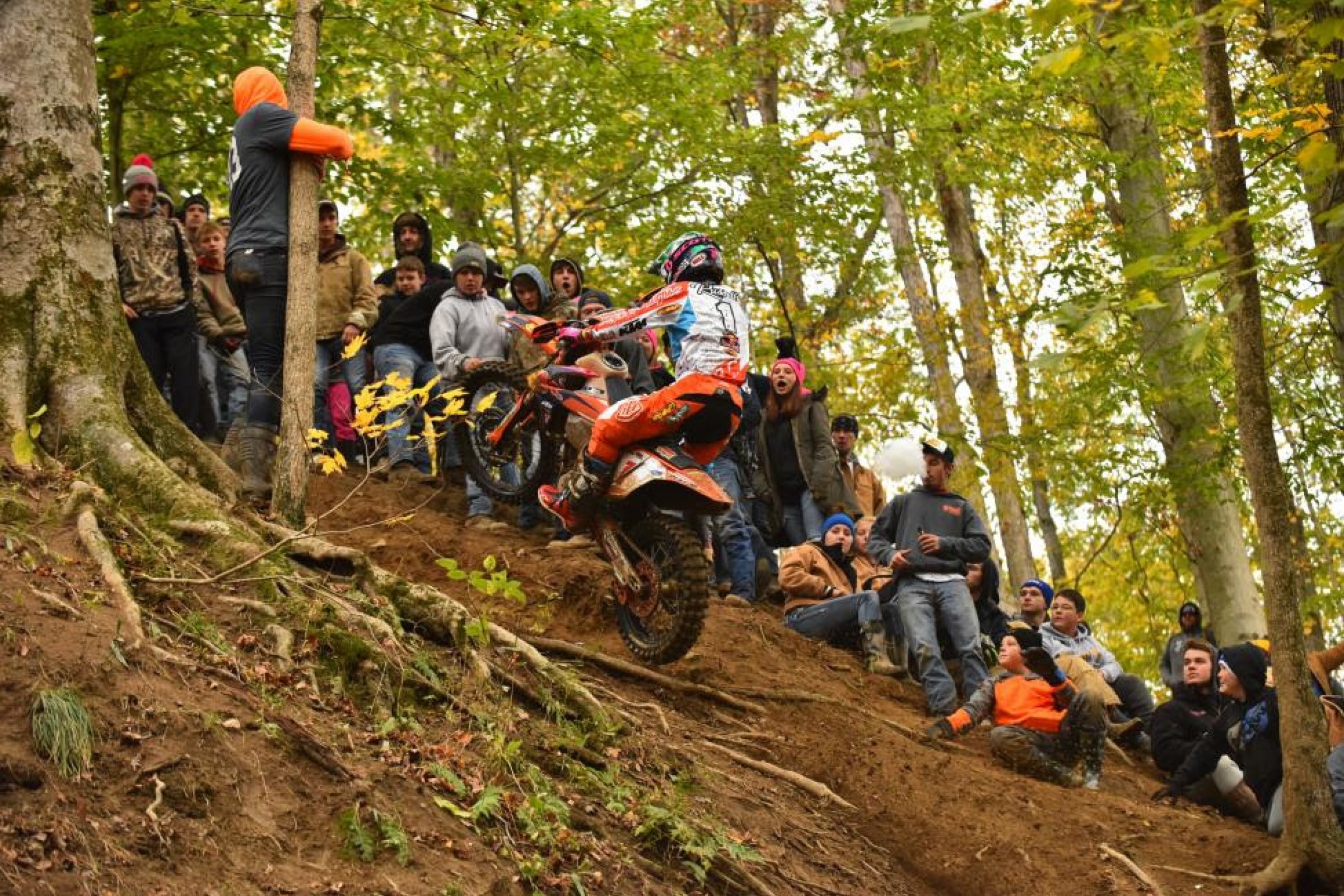 CRAWFORDSVILLE, Ind.- It was a bittersweet day as the 2017 AMSOIL Grand National Cross Country (GNCC) Series presented by Maxxis, an AMA National Championship, came to a close for the season in Crawfordsville, Indiana. Ironman Raceway hosted over 2,398 riders in the course of the two-day Ironman GNCC event, but at the conclusion of today's 1 p.m. pro bike race it was FMF/KTM Factory Racing's Kailub Russell who stood atop of the podium and earned his 47th career overall win, making him the all-time winningest bike GNCC rider.
It was N-Fab/AmPro Yamaha's Ricky Russell who snagged the $250 All Balls Racing Holeshot Award once the race started, but K Russell quickly stole the lead and headed into the woods in first. R Russell wasn't ready to settle for second and took back the lead after K Russell made a small bobble.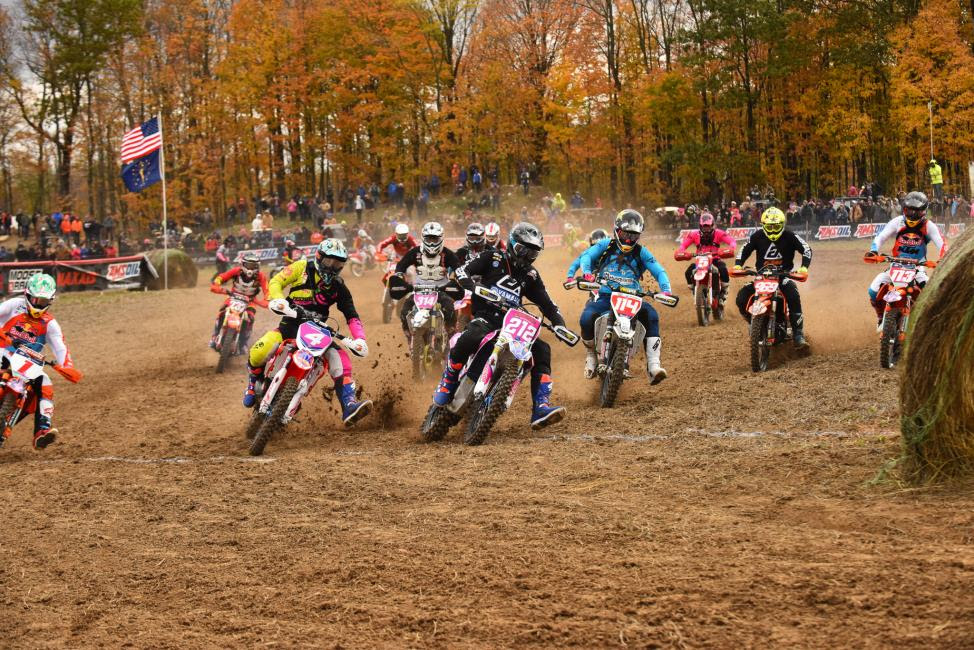 After a three-round hiatus due to injury, all eyes were on Rockstar Energy/Factory Husqvarna Racing's Thad Duvall who had worked his way into third. When the Russell duo reached Twin Hills they were wheel-to-wheel and had a small gap on Duvall.
R Russell was the first to check into timing and scoring, with K Russell not even a second behind him. K Russell worked his way back to the front again during the mid-way point of the second lap, but R Russell remained in the hunt and kept K Russell honest.
Duvall secured the second place position on the third lap and the top three contenders became a little more distant until the last lap when Duvall turned up the competition level. Unfortunately, he couldn't make the pass on K Russell who ended up claiming the last win of the season. This victory marked K Russell's 47th career win, breaking Scott Summers bike all-time wins record.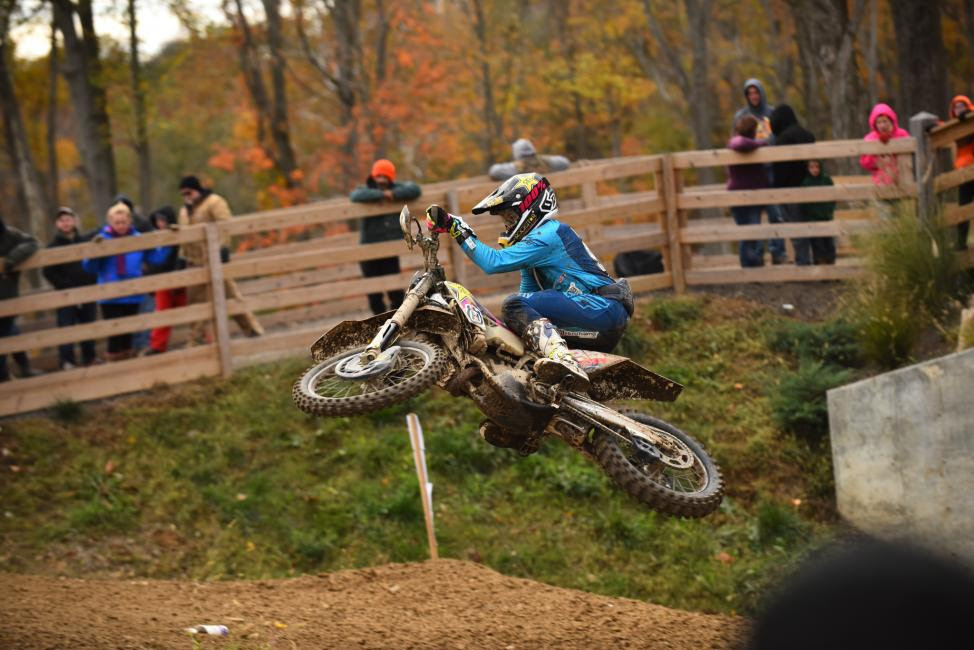 Although he finished as the runner-up, Duvall's comeback ride provided that he will be back in full force next year as he makes his bid for the title. R Russell rounded out the top three overall. Rocky Mountain ATV*MC/KR4/ Husqvarna's Grant Baylor had one of his best rides of the season, where he narrowly missed the podium in fourth, and Josh Strang raced his Rockstar Energy/Factory Husqvarna Racing-backed machine into the top five.
"I've worked super hard up until this point, and I have a lot of people around me," said five-time GNCC champion, Kailub Russell. "It's just the attitude that I bring to the race track that allows me to be so successful and never give up. To take the most wins away from Scott [Summers] is pretty awesome. I grew up watching those guys race so it's pretty surreal."
"I'm a little disappointed in second, because I thought I had the win in me," explained Duvall. "It took me a couple laps to get going, I was pretty timid with my wrist at first. I haven't ridden that pace for a couple months now, but once I got going I just kind of stayed even."
Indiana native and RPM/KTM's Mike Witkowski found himself in a favorable position after the green flag waved on the XC2 250 Pro start to earn the $100 Hot Cams Holeshot Award. JCR Honda's Austin Lee led the first two laps, until Austria's Pascal Rauchenecker made the pass for the lead and continued leading until the checkered flag - marking his first career GNCC win. The 2017 class champion, Josh Toth, placed his N-Fab/AmPro Yamaha in the runner-up position, while Coastal Racing's Craig Delong rounded out the class podium.
Jimmy Jarrett shot off the line to earn the $100 Wiseco Holeshot Award in the FMF XC3 125 Pro-Am class, but at the conclusion of the three-hour race it was Coastal Racing/Husqvarna's Jack Edmondson standing in the middle of the box. Chris Venditti and Rocky Mountain ATV*MC/KR4/ Husqvarna Team's Hunter Neuwirth finished second and third.
With a 23rd overall finish, Levi Keller was awarded top amateur honors and the Open A class win. After a hard crash, Coastal Racing's Alex Teagarden recovered to finish second overall, and Cody Barnes held the third place position on the afternoon amateur overall podium.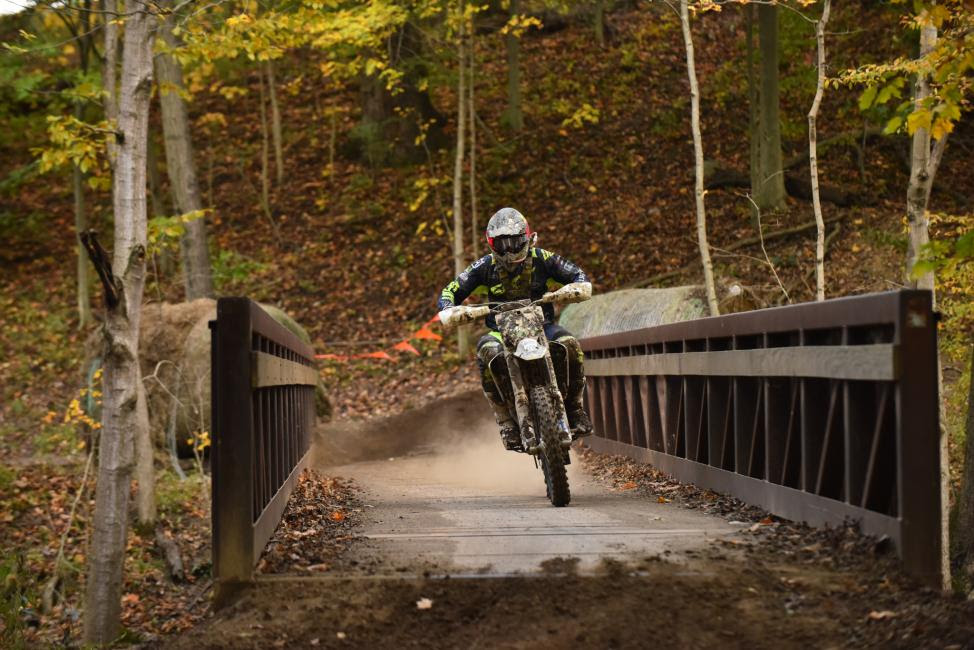 Fly Racing/Maxxis/Seat Concepts/KTM's Becca Sheets took the 10 a.m. overall win over the nearly 900 racers. John Maschino and Phil Smith filled the overall podium. The Motorcycle Shop/Kenda/Bell/V3 Off-Road's Brooke Cosner and RPM/KTM's Rachel Gutish place second and third in the WXC class.
Michael Beeler Jr. ended his youth racing career on a high note where he claimed the overall in the 8 a.m. race. MXTire.com/Cernics Racing/Sidi-backed Ryder Leblond and Max Fernandez rounded out the overall top three.
The 1:00 p.m. race was broadcast LIVE in its entirety on RacerTV.com and can be viewed as an archived video now. Please click HERE to view the full three-hour race coverage. In addition to the archived race coverage on Racer TV, a highlight show featuring the event will air on NBC Sports Network Sunday, December 10 at 5:00 p.m. Complete results from today's racing can be found HERE.
AMSOIL GNCC, PRESENTED BY MAXXIS
Round 13 – Ironman - Crawfordsville, IN
BIKE
XC1
| | | |
| --- | --- | --- |
| OVERALL FINISH | RIDER | BIKE |
| 1st | Kailub Russell | KTM |
| 2nd | Thad DuVall | Husqvarna |
| 3rd | Ricky Russell | Yamaha |
| 4th | Grant Baylor | Husqvarna |
| 5th | Josh Strang | Husqvarna |
| 6th | Trevor Bollinger | Honda |
| 7th | Steward Baylor Jr | KTM |
| 8th | Jordan Ashburn | Beta |
| 9th | Russell Bobbit | KTM |
| 10th | Jonathan Girroir | KTM |
XC2
| | | |
| --- | --- | --- |
| OVERALL FINISH | RIDER | BIKE |
| 1st | Pascal Rauchenecker | Husqvarna |
| 2nd | Josh Toth | Yamaha |
| 3rd | Craig Delong | Husqvarna |
| 4th | Layne Michael | Husqvarna |
| 5th | Benjamin Kelley | KTM |
| 6th | Evan Smith | KTM |
| 7th | Austin Lee | Honda |
| 8th | Michael Witkowski | KTM |
| 9th | Ryder Lafferty | KTM |
| 10th | Trevor Barrett | Yamaha |
XC3
| | | |
| --- | --- | --- |
| OVERALL FINISH | RIDER | BIKE |
| 1st | Jack Edmondson | Husqvarna |
| 2nd | Chris Venditti | Yamaha |
| 3rd | Hunter Neuwirth | Husqvarna |
| 4th | Matthew Sims | Yamaha |
| 5th | Tayla Jones | Husqvarna |
| 6th | Luke Renzland | Yamaha |
| 7th | Mark Herecso Jor | KTM |
| 8th | Kenny Day | Yamaha |
| 9th | Jaryn Williams | Yamaha |
| 10th | Josh Brehm | Yamaha |
WXC
| | | |
| --- | --- | --- |
| FINISH | RIDER | BIKE |
| 1st | Tayla Jones | KTM |
| 2nd | Rachel Gutish | KTM |
| 3rd | Jessica Patterson | Yamaha |
| 4th | Becca Sheets | Yamaha |
| 5th | Brooke Cosner | KTM |
XC1 Championship Standings
| | | |
| --- | --- | --- |
| STANDING | RIDER | POINTS |
| 1st | Kailub Russell | 320 |
| 2nd | Thad DuVall | 227 |
| 3rd | Ricky Russell | 220 |
| 4th | Steward Baylor | 207 |
| 5th | Grant Baylor | 180 |
| 6th | Trevor Bollinger | 156 |
| 7th | Russell Bobbitt | 133 |
| 8th | Josh Strang | 130 |
| 9th | Jordan Ashburn | 126 |
| 10th | Ryan Sipes | 122 |
XC2 Championship Standings
| | | |
| --- | --- | --- |
| STANDING | RIDER | POINTS |
| 1st | Joshua Toth | 247 |
| 2nd | Craig Delong | 289 |
| 3rd | Layne Michael | 280 |
| 4th | Micael Witkowski | 224 |
| 5th | Benjamin Kelley | 193 |
| 6th | Austin Lee | 182 |
| 7th | Jesse Groemm | 164 |
| 8th | Zack Hayes | 138 |
| 9th | Samuel Evans | 122 |
| 10th | Zach Nolan | 112 |
XC3 Championship Standings
| | | |
| --- | --- | --- |
| STANDING | RIDER | POINTS |
| 1st | Jason Thomas | 292 |
| 2nd | Hunter Neuwirth | 253 |
| 3rd | Jack Edmondson | 238 |
| 4th | Mark Heresco Jr. | 233 |
| 5th | Jaryn Williams | 162 |
| 6th | Joshua Adkins | 148 |
| 7th | Devan Welch | 132 |
| 8th | Paul Whibley | 117 |
| 9th | Nate Smith | 62 |
| 10th | Dustin Gibson | 61 |
WXC Championship Standings
| | | |
| --- | --- | --- |
| STANDING | RIDER | POINTS |
| 1st | Tayla Jones | 180 |
| 2nd | Becca Sheets | 174 |
| 3rd | Mackenzie Tricker | 166 |
| 4th | Brooke Cosner | 159 |
| 5th | Rachel Gutish | 118 |