Winchester, United Kingdom
Motocross of Nations
Motocross of Nations
Roger DeCoster was there leading the charge when Team USA begin its historic Motocross of Nations win streak back in 1981, and spearheaded the majority of the squad's successful events. He also won a bunch of these events as a rider with Team Belgium. It's been a while now since that has happened, though. Team USA has now lost six-straight, and this year wasn't even close, as the team finished ninth.
What needs to change? The always-blunt DeCoster talked to our Steve Matthes after the event.
Racer X: Tough day, no other way to put it. Conditions were tough. Vision was tough. Bike issues. Just not a great day.
Roger DeCoster: Yeah, it was I think the worst Motocross des Nations I have been part of. The conditions were tough but they were the same for everybody. I think I want to congratulate the French team including the Netherlands and England. I think it's cool that England got on the podium. It's been a long time for them that they have not been up. But on our side, the two DNF's, two mechanicals, definitely was way too much. I want to say good job from [Zach] Osborne. He rode awesome. He fought. He had issues with his goggles and all that in the first moto, but he still did a really good job and almost won the 250 overall but he lost by one point. If he had avoided that crash in the first moto he would have had that. So, [if] I feel bad for one person, it's for him. He really did a good job and was very positive the whole weekend from the beginning. With the effort he put in, he deserved to be on the winning team.
The dry track yesterday, we saw the results. USA was a podium team or maybe a win with a dry track, right?
Yeah, if we would have needed a little bit of luck for that to be possible, but I think podium was realistically possible. It did not happen. When it's two DNF's there's no chance, there's no way.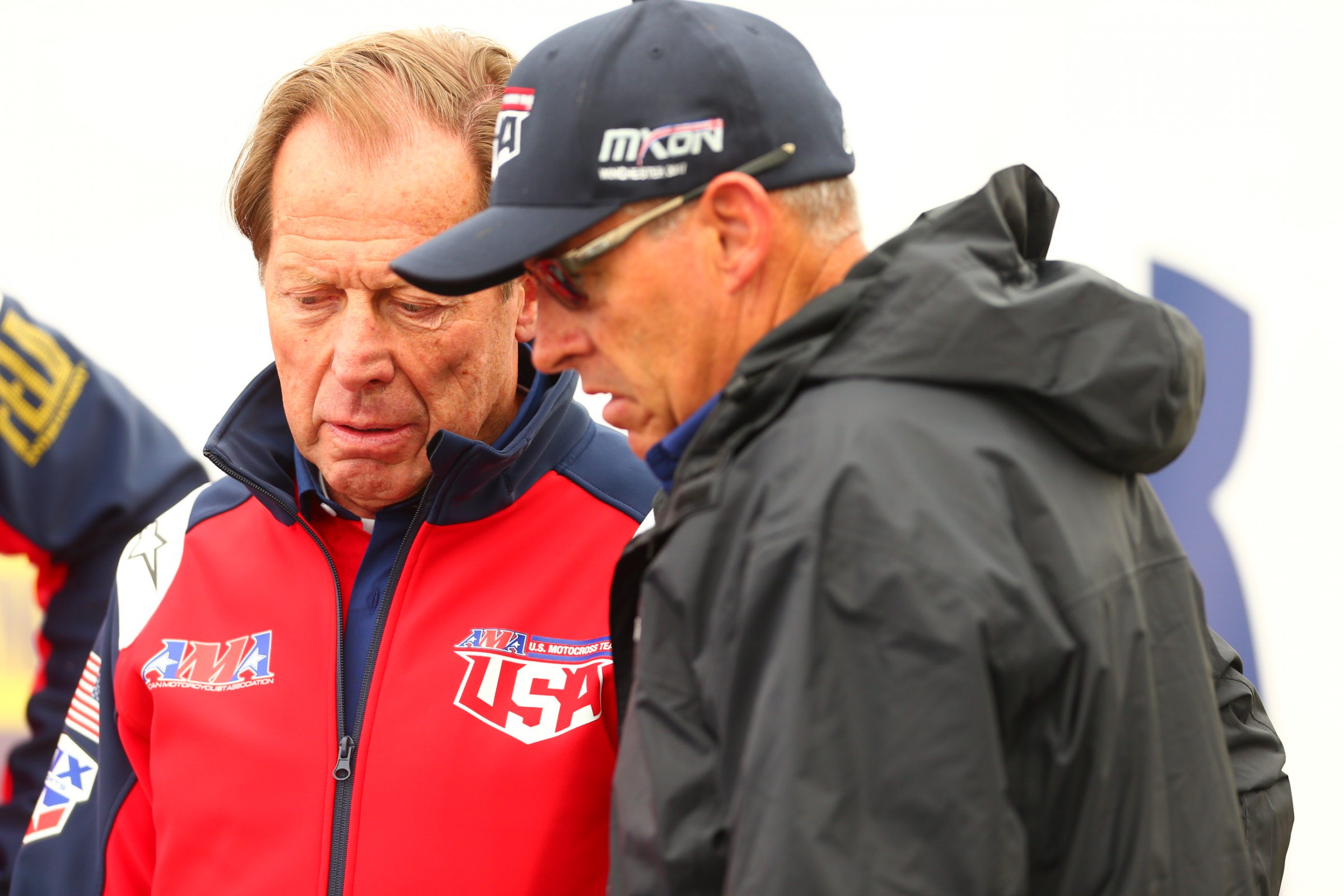 What do we got to do to get these guys … Monster Energy Kawi, Cooper Webb said he didn't want to do it. Eli Tomac's bowed out. Ryan Dungey bowed out for a couple years. What do we got to do to get these teams and riders here?
I think we need to have everybody work together. The teams, the sponsors, the main sponsors, the FIM, the AMA, Youthstream, everybody needs to work together. We need to make a better calendar because now it's even getting late for the Europeans to do the Motocross des Nations in mid-October next year. It's even late for them. They need a break too and the factories need time to work on the bikes and to do testing. I have a feeling that things are going to start to change. There is some feeling that the Motocross des Nations is a big event. If you take it as a single race, it's the biggest race of the year where we get the most press and more press in other countries than the traditional countries also. The motorcycle companies, the sponsors of the team, like Monster, Red Bull and Rockstar, those sponsors, they put a lot of money in this sport. We should do everything we can to give them the best return possible. Otherwise there's going to be a point they're going to say, "This doesn't make sense." I almost feel bad for Monster. We have three American riders and not one guy is with Monster. It's a bummer.
Next year RedBud though, so that should be better for rider lineup and for just to reinvigorate the desire to have a team?
It should help us, for sure. It should help the Americans, but it's also now one week away from Monster Cup. Now it's two weeks. It's better [being in the U.S.], but it's still late.
It seems like we're having more of these losing USA conversations than you want to have.
Yeah, it's definitely not fun. I am at the point I don't feel like putting all this effort and work into this event if I'm one of a few that is trying to make it happen in a right way. I think like I said, the factories also, they want to see more for their money.
Maybe makes you think about all the wins, the 14 in a row. Maybe makes you a little appreciative a little more, right?
I always appreciated winning and all that but you get used to it, then when you lose a few in a row it hurts.