Cody Webb Wins Round 2 of EnduroCross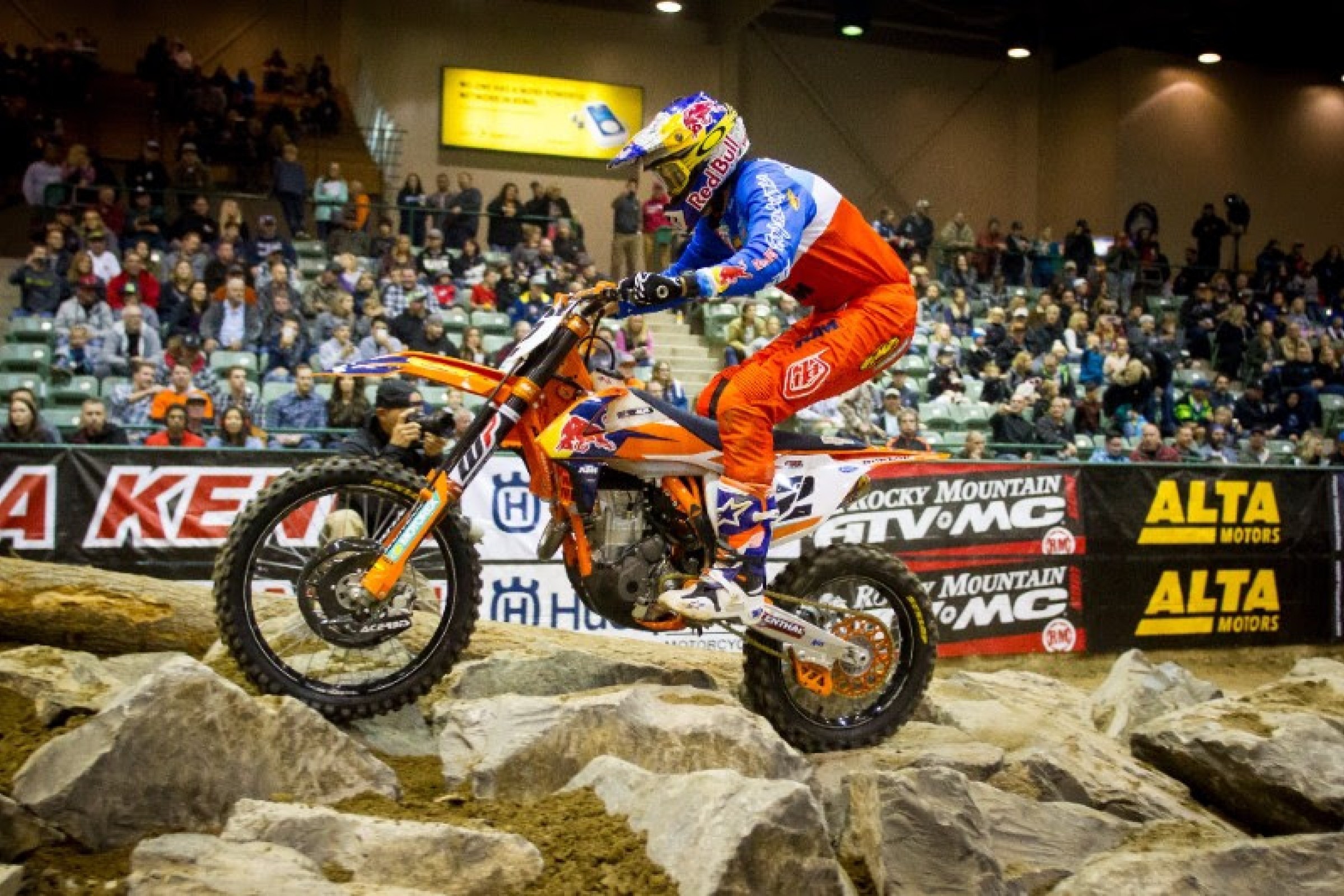 RENO, NV. – FMF KTM's Cody Webb recovered from a couple of crashes to take an exciting win at the second round of the 2017 EnduroCross series in Reno, Nevada. The two-time champion came back from two crashes to make a pass on SRT backed Kyle Redmond late in the race to take the win. Race one winner Colton Haaker also hit the ground multiple times but recovered for third.
After several rounds of qualifying put the top thirteen Super EnduroCross riders into the gate pick qualifier, Webb took the win after passing RPM KTM's Ty Tremaine. Haaker also made a last lap pass on Tremaine to take second.
The bracket race groups the top 12 riders into single lap head to head battles until the final two riders face off. Webb and Haaker worked their way through the brackets to face off in the final for a single bonus point. The two riders leaned hard on each other going to the first turn and Webb used the inside line to his advantage and Haaker ended up hitting the dirt, which allowed Webb to take the win.
When the gate dropped for the main event, Redmond took the holeshot coming out of the first turn but was quickly passed by Haaker through the first series of obstacles but then Haaker crashed in the second turn. Webb was knocked around a bit on the first lap and then crashed at the end of the wood pit, putting him further back in fifth, just ahead of Haaker. On lap three, Webb turned into the No Joke Lane and Haaker ran into the back of him taking both riders down. They both completed the required pass through the No Joke Lane anyway and dropping back to fifth and seventh respectively.
Meanwhile, Redmond rode a steady race out front while Webb and Haaker sliced their way back through the field. Webb caught and passed Redmond for the lead on lap nine of fourteen. Redmond lost a little more time on lap thirteen when he made the mandatory pass through the No Joke Lane. This allowed Webb to take his first win of the season with a perfect night, winning the qualifier race, bracket race and main event.
Haaker crashed at least two more time but still worked his way up to third, just a few seconds back from Redmond.
SRT backed Trystan Hart put in another solid ride to finish fourth on his Husqvarna. Noah Kepple rode at the front of the pack for the entire main and finished fifth on his GasGas. Tremaine, who lives in nearby Gardnerville, showed a lot of speed during the night but a few crashes pushed him back to sixth on his RPM KTM. Geoff Aaron rode a steady main event to finish seventh on his GasGas. Mason Ottersberg rode a Yamaha to his best ever EnduroCross finish of eighth. Beta's Ty Cullins finished ninth and Spain's Joan Pau Segura round out the top ten on his GasGas.
Cody Webb:
"It was a long race so it gave me a long time to recover from a couple of mistakes. The track was really fun tonight and made for some great racing. There were multiple lines in a lot of spots. So, it was great to get the win. I have to thank KTM and my mechanic Robbie, my bike was awesome tonight."
Colton Haaker:
"The track was fast and nothing too difficult but thing came out of nowhere on you. The first one was my fault on the first lap. You couldn't tell if somebody was going to turn into the Joker Lane and I plowed two people there and went over the bars. I think I crashed at least five times so it was good to get back up to the podium.
Kyle Redmond:
"Yeah, I got a really good start from the outside gate. I was out front and I just tried putting in consistent laps but then Cody caught up me and Colton passed me but then crashed. So, second is good. I have not led a race like that for a while so I am happy."
After two events, Webb holds a two point lead over Haaker (49 and 47 respectively) and Kyle Redmond is third with 40 points.
In the Women's class, Shelby Turner took her second win in a row in Reno. The Canadian rode her KTM to a dominant win, leading every lap. Tarah Geiger worked her way through the field to take second on her Honda. FMF KTM's Kacy Martinez was a close third.
In the Vet class, Destry Abbott, took his second win in a row and was joined on the podium by David Stirm and Dan Hayakawa. This was the same three riders that took the podium at round on in Las Vagas.
Kevin Dupius took the Open Amateur class win on his Husqvarna. Joey Fiasconaro and Tyler Smith joined Dupius on the podium.
In the Amateur B class, Jordan Gamboa earned an exciting win. Colton Aeck, a regular Supercross rider finished second in his first Supercross. David Stirm earned his second podium of the evening.
Anthony Johnson took the TrialsCross main event win. Josh Mouzais finished second and Colman Johnson, Anthony's twelve year old brother finished third.
EnduroCross
Round 2 - Reno, NV
Super EnduroCross
| | | |
| --- | --- | --- |
| OVERALL FINISH | RIDER | BIKE |
| 1st | Cody Webb | KTM |
| 2nd | Kyle Redmond | GasGas |
| 3rd | Colton Haaker | Husqvarna |
| 4th | Trystan Hart | Husqvarna |
| 5th | Noah Kepple | GasGas |
| 6th | Ty Tremaine | KTM |
| 7th | Geoff Aaron | GasGas |
| 8th | Mason Ottersberg | Yamaha |
| 9th | Ty Cullins | Beta |
| 10th | Joan Pau Segura Verdaguer | GasGas |
Super EnduroCross Championship Standings
| | | |
| --- | --- | --- |
| STANDING | RIDER | POINTS |
| 1st | Cody Webb | 49 |
| 2nd | Colton Haaker | 47 |
| 3rd | Kyle Redmond | 40 |
| 4th | Trystan Hart | 38 |
| 5th | Ty Tremaine | 30 |
| 6th | Noah Kepple | 27 |
| 7th | Geoff Aaron | 23 |
| 8th | Cooper Abbott | 23 |
| 9th | Joan Pau Segura Verdaguer | 23 |
| 10th | Ty Cullins | 20 |