Jacksonville, FL
MXGP of USA
FIM Motocross World Championship
1.) Any MXGP of USA predictions?
Jason Thomas: I am predicting a lot of heat, humidity, and probably a good afternoon shower or two. That's Florida weather this time of year and with Hurricane Harvey spinning bands of rain towards the east, it is almost a certainty that we will see rain at some point.
As far as the results, I am predicting that we see an American rider win the MX2 class. The MX2 guys are a bit less experienced because of the FIM Motocross World Championship's age limit in the class and most of the USA riders live in Florida, too. Pauls Jonass, Jorge Prado, and Jeremy Seewer will be fast, but I think we have the upper hand going into the MX2 class with Adam Cianciarulo, Joey Savatgy, Justin Cooper, Mitchell Harrison, RJ Hampshire, etc.
In MXGP, Eli Tomac is our only chance at winning or being in that fight. If he rides like he has for the past month, he will lose badly. If he rides like he is capable of riding, he can win and have the fall-out of the MXoN decision somewhat removed. If I was Tomac, I would be highly motivated for this race. He has a chance to change the Indiana narrative and also gain back some of the fan favor that he lost via his decision to skip the MXoN this year.
Steve Matthes: Well, I'm not sure to be honest. I really don't have a grasp on what happens in MXGP. I mean, I fully believe Tomac was holding back at Ironman and will be charging hard this weekend for the win but, man, Jeffrey Herlings on his own bike in some sandier conditions is going to be hard to beat. Also, Antonio Cairoli is amazing and Tim Gajser is back up to speed after an injury. So I really don't have a clear idea of what's going to happen which is awesome really. I wouldn't be surprised to see any of the those four win this race.
In MX2, I'm thinking along the lines of JT because now that Herlings has graduated, the USA guys are just better than what the GP series has to offer in that class. AC and Hampshire will be very strong this weekend.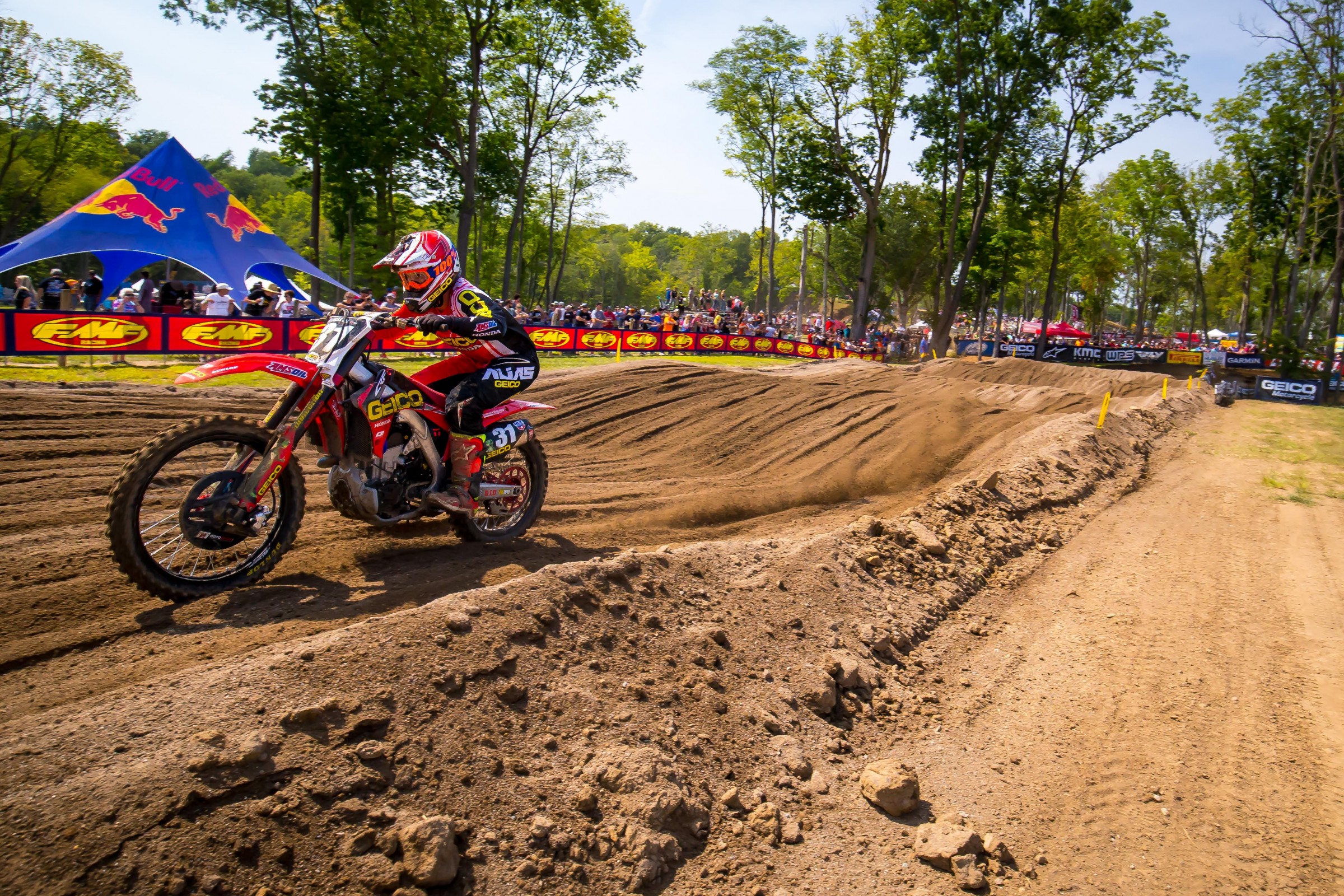 Jason Weigandt: Anyone predicting a winner here is just guessing. You can line up all the facts and they don't compute. For example, I did not doubt that Herlings could win last Saturday, but I didn't expect that level of performance, because Tomac handled all four USGP motos last year with ease, and Cooper Webb battled Herlings hard (and won) in Charlotte. At the very least, you know guys like Webb and Tomac are on the same level of the GP regulars, and that's being generous—based on his rides last year, I should be saying Tomac is A LEVEL ABOVE the GP regulars, but some Euros will come in here and slay me for saying that even though I have four moto wins to use as evidence.
Obviously Tomac backed it way down after his first-moto crash, so we didn't see his best at Ironman, but Musquin has proven to be on Tomac's level this year and he wasn't quite as quick as Herlings for most of the weekend. What am I getting at here? That this race is very hard to predict! Just when you think one rider has a clear upper hand, something surprising comes along—and that includes Charlotte last year, where Herlings caught and passed Webb in moto one, only for Webb to do the same thing to him in moto two.
We're dealing with small sample sizes, many variables and no established pecking order. It's all just guessing, but I'd say Tomac has a lot on his side from finally being able to ride pressure free, and the general comfort of racing at home. But wait, Herlings was away from home last weekend? True. Flip a coin on this, but if I have to predict I'll go Tomac.
(FYI it's too bad Cairoili has his own points lead to protect. The dude is in incredible shape and would also be at the top of the list, but I'm not sure how much risk he's willing to take. It's unfortunate because he's getting somewhat lost in the Tomac/Herlings hype.)
In MX2, I think the trained-for-the-heat American riders will have a big advantage. I wouldn't be surprised to see RJ Hampshire win a moto or even the overall—you have to measure the motivation of the riders carefully in these one-off races, and RJ is coming off a good summer as things just started to come together for him. He'll be very, very hungry to use that momentum for a breakthrough. It's just another race for some, it could be a very, very important race for him.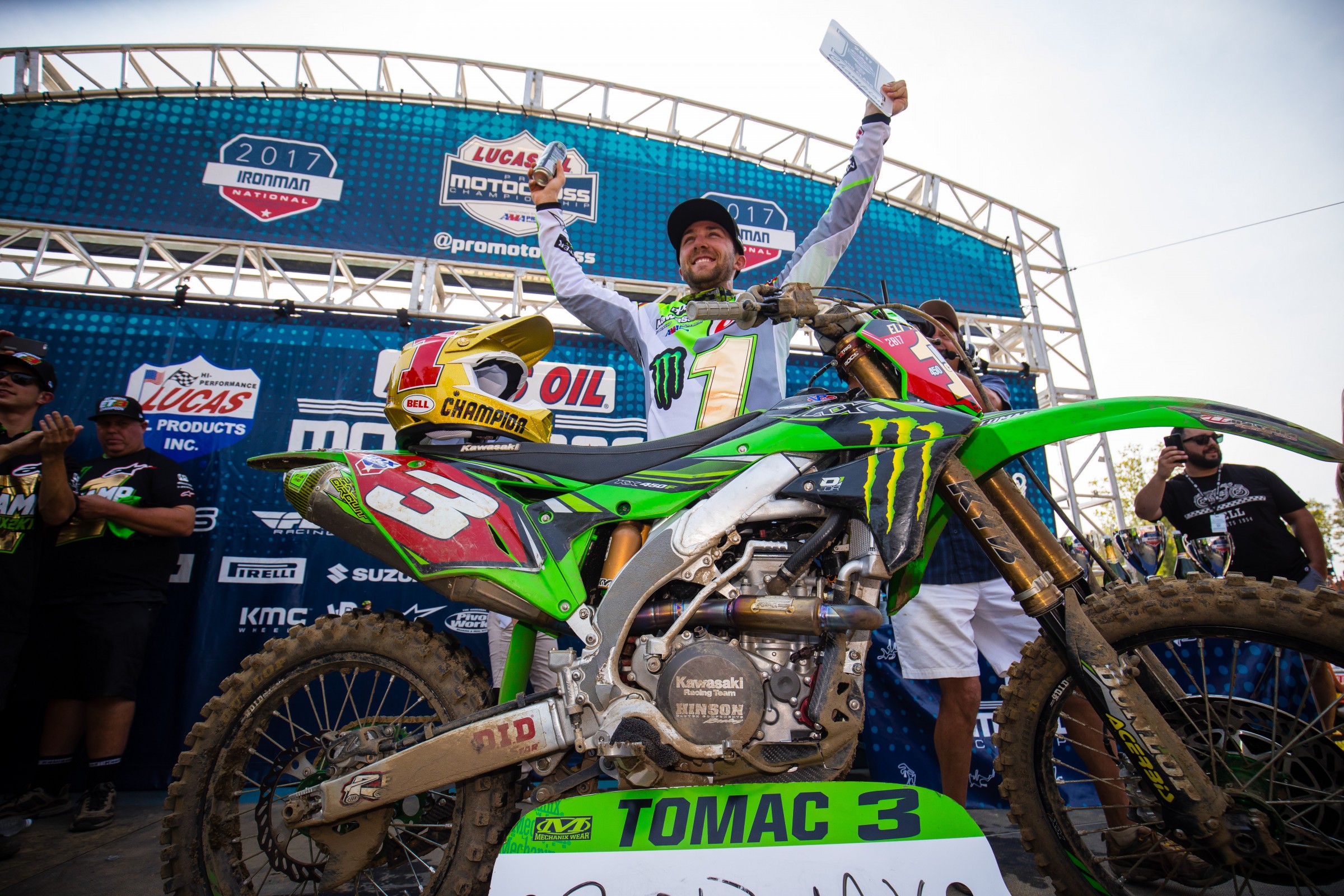 2.) Webb finally gets on the 2018 Yamaha this weekend. Does it make him a contender again?
JT: I don't think it will be like flipping a light switch. If he likes the bike better, he will do better. That's common sense, but to think he will go from where he was this summer to winning in one week is a bit much. I hope he's better and rides with the fire we saw from him in 2016. His riding hasn't really had any emotion in it for a while and that's what makes Webb great. When he is riding at his best, his fire is burning at its hottest.
Matthes: I don't think so. I mean, he'll be strong and in the top five I think, but I can't see this bike turning his results around that much. From what I understand he's been practicing on the '18 for a while now so that should help. You can insert your own "Why would he practice on a bike that's different than he's racing" question right here also. Because he's been practicing on one, that must mean it's not that much different so therefore why would his race results be different? He'll be good, but he's not going to beat Tomac and the MXGP gang in my opinion.
Weege: Yeah this just further proves my point above. Two years ago at Glen Helen, Webb jumped on a 450 and almost won the race—he was tooth-and-nail battling with MXGP Champion Romain Febvre. How he could be on the same-generation bike two years later and actually have gone backward in expectations is really weird. It's hard to understand what you're seeing with such small sample sizes.
All I know is: Webb is too good to have had the season he had. Something has to give, and maybe this is it.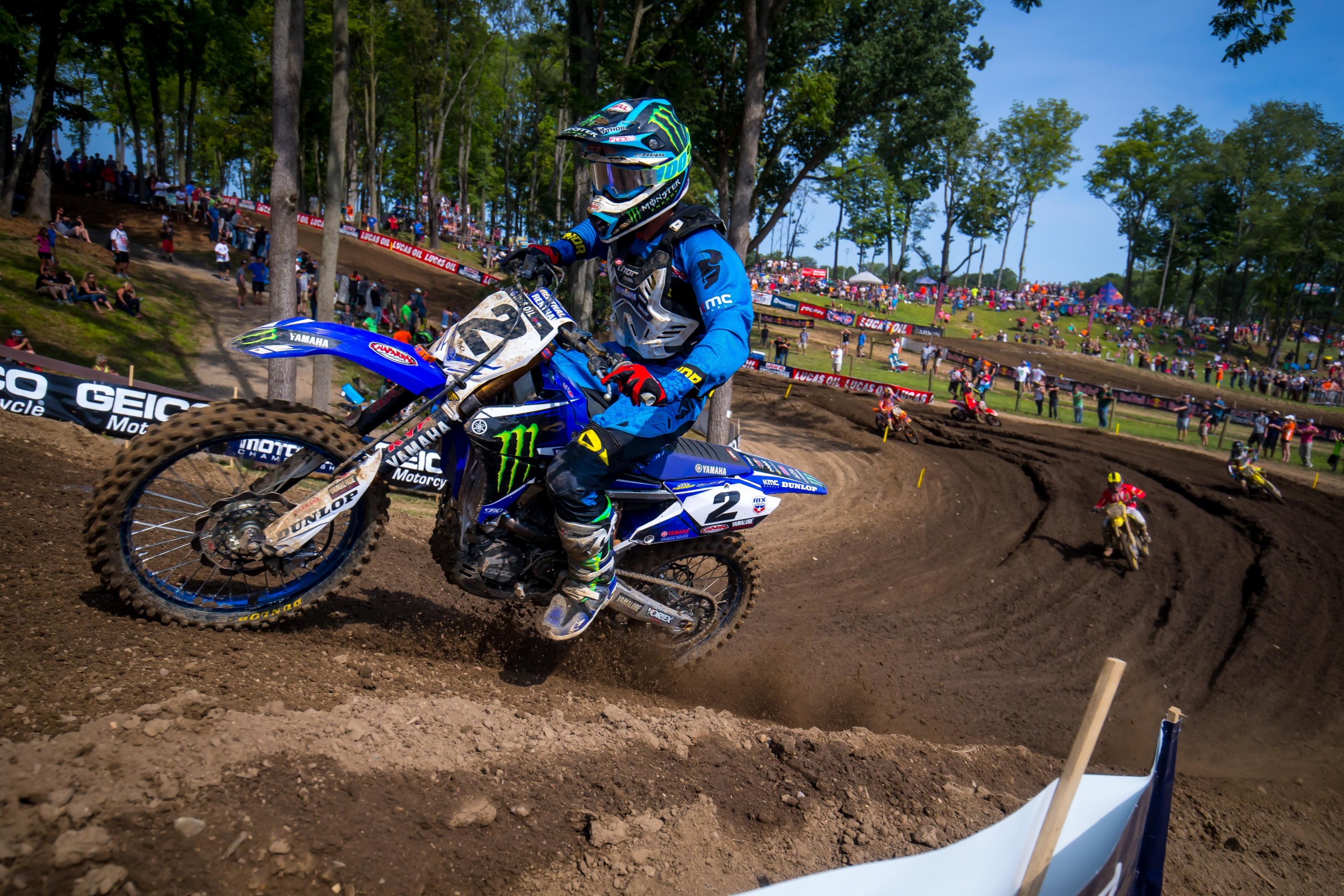 3.) Herlings' ride: all-time or just one-off?
JT: It's up there, but there have been better rides. Looking at the depth of our field and the injury list, it's tough. Marvin "woulda coulda shoulda" won that race, but his crash erased that. Herlings was coming like a freight train, but finishing second in that moto would have cast a different light on it, no? It was a fantastic performance and worthy of huge praise, but it wasn't the greatest ride in history like I have heard some say. He was 22nd at the end of the first lap and while two seconds a lap is a crazy advantage to be gaining in traffic, he also didn't have to chase down the likes of Ryan Dungey, Ken Roczen, Josh Grant, Broc Tickle, Trey Canard, Jason Anderson, etc. Just adding in Ken Roczen or Ryan Dungey changes this whole scenario in my opinion. That's not Herlings' fault and he shouldn't be discredited in any way for it, but that's where I pump the brakes on it being the greatest ride ever. There were way too many situational factors for the guys racing (Tomac's title, Marvin crashing, Baggett's thumb injury) and too many guys simply not racing the event for me to give it that label.
Matthes: Nice loaded question Mr. Editor. It was great for sure and I'm impressed with him racing a different frame in limited practice time and killing it. He was impressive and with confidence being such a major thing in our sport, he could go 1-1 this weekend again. I mean, why not? It was great, it will be remembered for a long time for sure and five years from now not many people will remember Musquin crashing on the second to last lap and giving him the moto and overall win (Herlings wasn't going to catch him) so hey, party on you Dutch fans. I'll remember it up there with another seven to eight other rides I've seen (in the "Not Timmy Ferry" category) in person that blew me away, but it's not number one by any means.
Weege: To me it was both. An all-time ride, but also a one-off. I will resist saying this has any greater meaning—it was one race on one day—but I will not downplay how impressive it was. Many of the strong Americans where not in the field, but still, he was going to barely run out of time of coming from last to first in a moto against a guy like Musquin, who is world-class. He was also FOUR SECONDS A LAP faster than the field for most of qualifying, and it took a late heater for Tomac to even cut his speed gap to two seconds. If websites exist in 10 years, this ride is still going to be talked about as an example of an all-time ride. I agree with Matthes that had Musquin not crashed, it would have merely been a 1-2 for second overall, but if you had a time machine, you could just hear people right now saying "Man ___ rode so good it was almost Herlings at Ironman level." You know it's coming.