Mechanicsville, MD
Budds Creek
Lucas Oil AMA Pro Motocross Championship
In the post-race press conference following Budds Creek, Monster Energy Kawasaki's Eli Tomac was straightforward regarding his recent struggles. Tomac said he fell into "defense mode" over the last few rounds as he approaches his first career 450MX Championship. He righted the ship with a dominating second moto on Saturday, his first moto win since Southwick, and enters Ironman as the odds-on favorite to clinch the title. Currently 28 points clear of second place Blake Baggett, all Tomac has to do to clinch is not lose 29 points to Baggett on Saturday (Tomac holds the tie-breaker). Marvin Musquin is two points further back in third place.
"I was starting to lose my mind a little bit there," said Tomac regarding his recent struggles. "Those three motos before the second one today were pretty disappointing and disheartening. You start going into protection mode and it doesn't work. Found that out a lot at Unadilla. Was really uncomfortable there."
A pair of podium streaks ended Saturday for the Rockstar Energy Husqvarna team. In all previous 10 rounds of the 450 championship this season, the team featured at least one rider—Jason Anderson, Dean Wilson, or Martin Davalos—on the overall podium. That streak ended on Saturday when Davalos, who finished third in the first moto, crashed out in the second moto. Davalos entered the weekend with back-to-back overall podiums at Washougal and Unadilla.
"Today was good," said Davalos in a team statement, "until the second moto. My second motos are usually my strong point. I got third in the first moto and had decent lines. I was leading for a bit but [Justin] Bogle had better lines and passed me. I ended up third. I was top 10 at the start of the second moto, then moved to ninth or eighth then made a silly mistake. My knee was acting kind of weird so I went to the doctor to get it checked out. I'm going home to regroup then will try and finish the season strong."
As for Dean Wilson, things came unglued after he set the fastest qualifying time in the first session on Saturday. In the second session, Wilson crashed multiple times and qualified 14th overall. In the first moto on Saturday, he crashed again en route to 16th. He did rebound for fifth in the second moto, but it was only good enough for 10th overall.
"The day started off well," said Wilson in a statement. "I was fastest in my first qualifier. Then, unfortunately, it went a little downhill from there. I didn't get the greatest start in the first moto, then I ran out of tear-offs so I couldn't see—so I ended up falling in a turn. Then I made a big mistake in a rough section that sent me flying into the fence. It was disappointing. I bounced back in the second moto. I'm all in one piece and I'm looking forward to next weekend."
Coming off his first career 450MX overall podium at Unadilla, Honda HRC's Cole Seely was in line for another podium in the first 450 moto on Saturday. Seely held third overall until lap nine when he made a big mistake that allowed Marvin Musquin into third. Seely would eventually finish fourth. In the second moto he said he had a goggle malfunction and wasn't able to see. He finished the moto eighth for fifth overall.
"I'm happy with fifth overall today," he said in a team press release. "I actually feel lucky to have even gotten that after how my second moto went. I think I've been riding a lot better over the past three weeks and have had much more intensity, so that's a positive. I felt great in the first moto and was closing in on the leaders while in third before going down. I got going real quick, but a few laps later Marvin [Musquin] got by me. If I didn't have that one major mistake, I feel like I could've possibly won or at least got second because I felt good. I just struggled in the second moto, which is the only real negative from today. I had a little malfunction with my goggles, so I had a hard time seeing out there, but it is what it is."
Move over Mike Alessi, there's a new holeshot king in town. Okay, we may be stretching it a bit, but RCH/Yoshimura's Matt Bisceglia is on fire off the gate. He grabbed both holeshots and Budds Creek on Saturday and has claimed three of the last four. Since returning from injury at Spring Creek, Bisceglia has struggled putting two motos together. On Saturday, for the first time all year, he finished inside the top 10 in both motos and earned eighth overall.
"I had a very good day at Budds Creek," said Bisceglia in a statement. "Practice and qualifying were both very smooth and I ripped both holeshots. I was really happy with how everything went. My Suzuki RM-Z450 was absolutely putting the power to the ground. I didn't loop out at all this weekend and I went 6-10 to finish eighth overall. It was a big step in the right direction and I'm really happy with my progress. I'm excited about the last round at Ironman this weekend. I'll come in strong and be ready to go."
Seventh overall with 9-7 finishes is again not what Yamaha's Cooper Webb probably wants out of his weekend, but at least there's some new equipment coming. After Budds, Webb flew back out to California to test the new 2018 YZ450F, which he will race at the MXGP of USA at WW Motocross Park in two weeks. He'll be back on his 2017 bike for the Indiana National this upcoming weekend, as the 2018 has not been homologated via AMA production rules yet.
As we reported on Saturday, Troy Lee Designs/Red Bull KTM's sustained cuts to his hand and had to miss the post-race press conference after trying to break the celebratory champagne bottle on the podium. McElrath couldn't get the bottle open, so he tried to break it on the podium and it shattered and cut his hand, which required stitches. McElrath, who led seven laps in the second moto, finished on the overall podium for the first time in 2017 on Saturday.
"It feels so great to finally put together two good motos," said McElrath in a statement. "I would love to see another two good motos to close out the season next week. With two of our teammates out, it's nice to be able to give this back to the team and see their hard work payoff too."
GEICO Honda's Jeremy Martin wasn't able to stop Zach Osborne's championship celebration on Saturday. The two-time 250MX Champion's very slim title hopes entering the weekend ended when he crashed while running behind Osborne in the second moto. He would finish sixth overall in the moto and fourth overall on the day.
"Budds Creek was solid for me going 2-6 for fourth overall," said Martin in a statement. "Had the speed to win and go for my third overall of the year if it wasn't for a weird mid-race front end tuck that caused me to crash. Looking forward to the last round in Indiana!"
Monster Energy/Pro Circuit Kawasaki's Joey Savatgy, who entered the race third in points, was ruled out for the motos following a big crash early in the second qualifying session. Savatgy aggravated a foot injury originally sustained last weekend at Unadilla when he collided with a lapper at the end of his first moto victory. The team has yet to release an update on his status for Ironman this weekend.
If we learned one thing on Saturday, it's don't make holeshot bets with Adam Cianciarulo. Cianciarulo bet his training partner Chase Sexton $100 that Sexton wouldn't holeshot him in either moto. After losing out on the first moto, Sexton got a little frisky on the start of moto two and actually ran into the gate. He put in an incredible ride to come from dead last to ninth.
"Decent day on Saturday, qualifying was my best yet with P3 and was happy with my riding," said Sexton in a statement. "First moto got in a first turn pile up and came from pretty much last to ninth. Second moto I'm pretty sure everyone knows that I hit the gate! I wanted a holeshot so bad, as soon as I thought I saw something flinch, I went for it! I was 10-plus seconds behind the last guy and I knew I had a lot of work to do. Got back up to ninth again which gave me eighth overall. Happy with my riding, but my starts have been horrendous. Doing starts till I'm sick of them this week. They will be improved for Indiana!"
Sexton's mistiming of the gate actually affected his teammate RJ Hampshire as well. Hampshire, who finished the first moto in third, said when the gate dropped Sexton's handle bar fell into his arm and he was about last coming into turn one. He would go on to finish seventh for sixth overall.
"Felt really good on the bike this weekend," said Hampshire. "First moto we got off to a good start and found the speed early. The three of us went back and forth pretty much the whole moto 'til we hit some lappers. A couple almost took me down! I had a good moto though and was happy with another moto podium. Second moto I had this rookie next to me hit the gate and not stop, then when the gate did drop, his handle bar fell into my arm so I was about last coming into the first turn. Everyone was close, so starting that far back was not an easy task. I felt good all day and had that podium speed. We have one more chance to get that podium overall next weekend!"
Yamalube/Star Racing Yamaha's Dylan Ferrandis had a forgettable day at Budds Creek, going 15-40 and crashing out of the second moto. We heard rumors that Ferrandis might have broken his wrist in the crash, but the team is waiting on some scans to figure out the exact extent of the damage. Besides next weekend's Indiana National finale, Ferrandis is scheduled to race the MXGP of USA and ride for Team France at the Motocross of Nations, so this wrist injury could prove costly.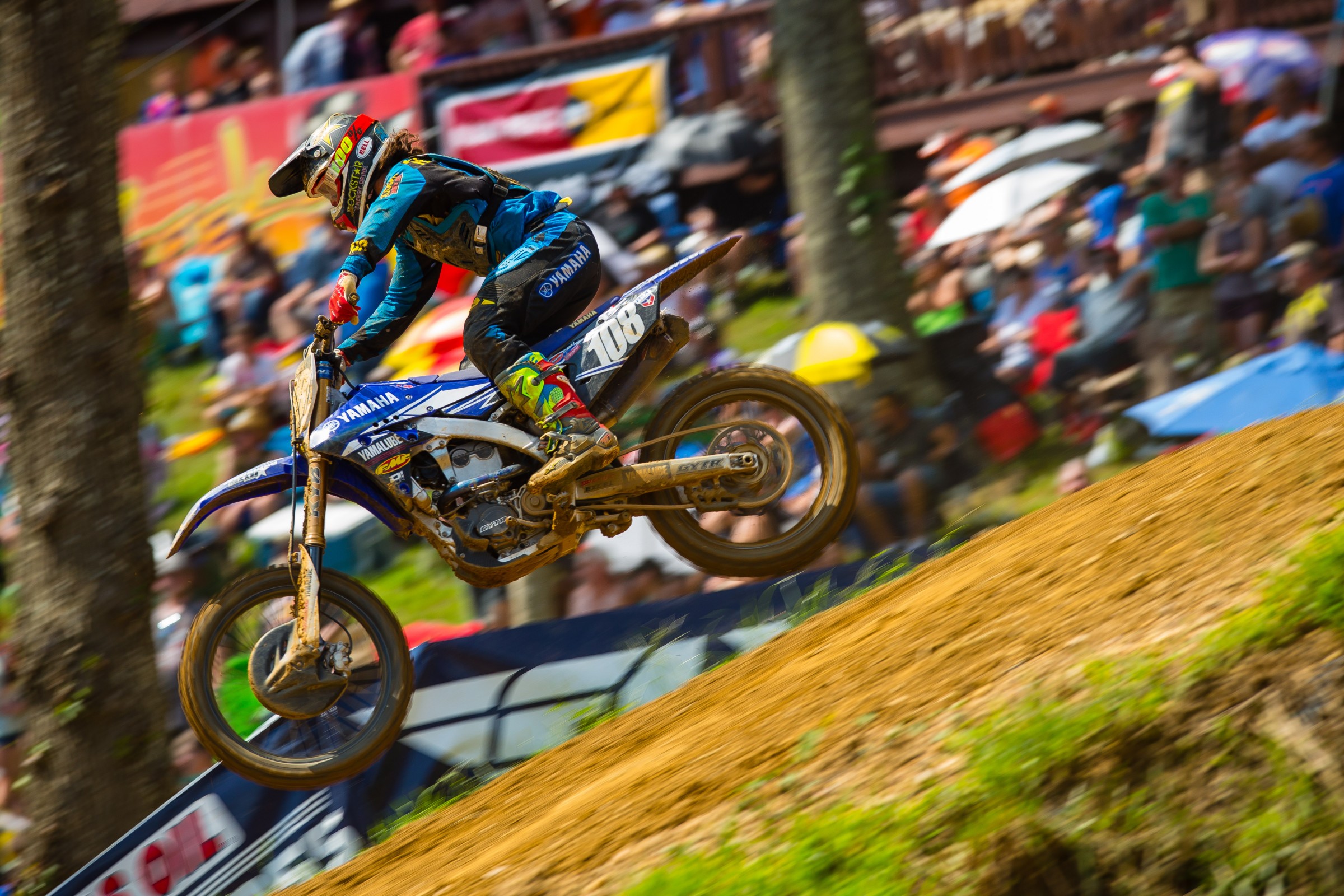 Ferrandis' Yamaha teammates Justin Cooper and Mitchell Harrison are also scheduled to race the MXGP at the WW Ranch in two weeks. Harrison scored a podium finish in MX2 at last year's MXGP of the USA at Glen Helen. For Cooper, this year's GP provides a chance to gain more experience as he transitions into professional racing. The goal for the rookie is to be top 10 at the races, and he was close at Budds Creek, going 15-8 for 11th overall.
Underrated at Budds was Colt Nichols' sneaky-good ride with 7-5 finishes being good for seventh overall. It was his best weekend since his hot start to the season, when he went 5-6-5-4 in the first four motos of the year.