New Berlin, NY
Unadilla
Lucas Oil AMA Pro Motocross Championship
The season may be coming to an end for most of the racers of Lucas Oil Pro Motocross, but for Phil Nicoletti, it just started. The AutoTrader.com/JGR Suzuki rider made his return to racing on Saturday at Unadilla after getting hurt early in the year during Monster Energy Supercross and went 12-18 for 16th overall after a first turn crash in the slop limited his potential in the second moto. Interviewing Nicoletti is always fun, so we of course got in touch with him to get some details about his first National of the year.
Racer X: Wow, your first race back since before Arlington! How was it?
Nicoletti: It was good to be back behind the gate! It's been about seven months. Just to be back in the atmosphere was awesome. It was my home race, but I kind of didn't want it to be my first race back. I would have liked to have been back sooner, just to be able to work the kinks out before. But it was good. Obviously you can't take much out of that race, though, with the way the weather was and everything. I'm just happy to have survived it. Now I'm getting ready for Budds Creek.
How'd it feel just to be racing again?
Well, it had been so long since I've really raced. You can practice as much as you want, but elevating it to be like race day is pretty difficult. Not only that, it's hard to make a practice track simulate a race day track. Obviously I had a lot of trauma to my ankle, my heel was in 12 pieces, and my ankle was completely dislocated, so to come back at a track like Unadilla, it's a little sketchy with all the ruts and everything. But obviously it wasn't a typical Unadilla either—everyone saw the skies open up. That added a whole other factor. I hadn't ridden mud in a long time, but I'm pretty used to it. But I went down in the first corner and that kind of wrecked the whole day for me.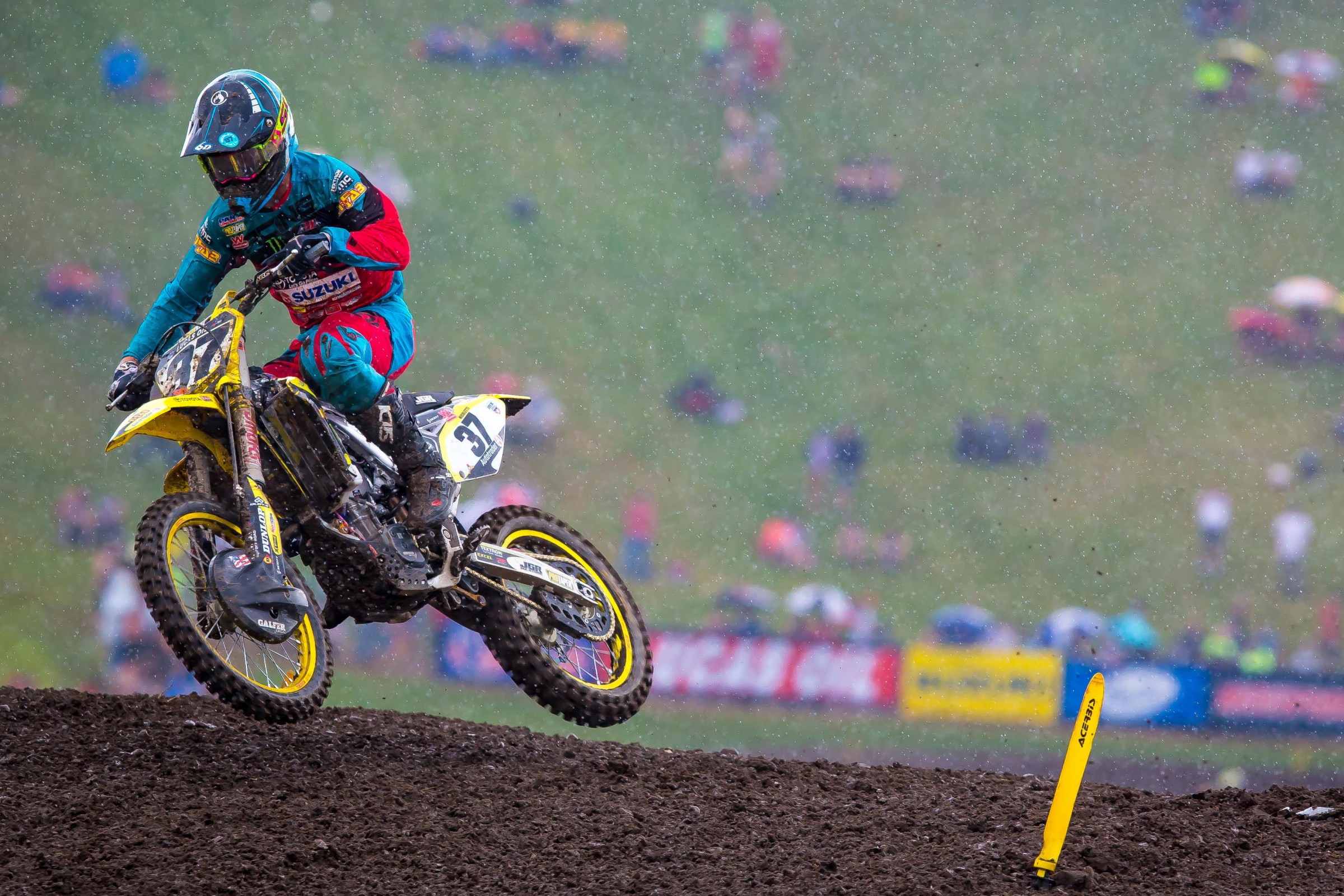 Yes. If there's going to be one race that pours rain, it's going to be the one where Phil Nicoletti comes back.
I should have waited another weekend. I would have saved a ton of parts and I wouldn't have destroyed a bike! It's kind of a bummer, the race bike was brand new with brand new parts. It's unfortunate. You go to a race like that and it completely destroys everything. But, you know, that's motocross. Obviously the results weren't great, but I was just happy to be back racing again this year. When I first got injured I didn't even think I'd make it back this year at all. So just to be back, I'm happy with that.
But as far as the crash in the first corner, I don't know what I hit. I hit something and the next thing I knew I was full scorpion doing a front fender kiss in the first turn. It wasn't ideal. In a mud race you want to be up toward the front to stay out of all the carnage. When I went down I knew it wasn't going to be good. You wreck everything. You wreck your goggles, your gloves, you're just completely destroyed. And the bike was a lot hotter than it normally is so it took a little while to start. I had to change gloves too, and by the time I got going I was already almost a lap down. I was able to come back and still get a couple points, but it was still just unfortunate. That's not how I wanted it to play out; I ride the mud pretty well. But you can't take much out of a race like that.
When you were crashing in the first turn, were you thinking, "Oh no, here we go again?"
Yeah, because, and it's not other riders' fault, but when it's that muddy nobody can see anything. So when I'm down in the first corner and completely brown, they can't see me and they're coming into the first corner flying. You can't really rip a tear-off going around there. So yeah I was pretty nervous about getting clipped or plowed by someone. But I'd say everyone on the gate is pretty witty at what they're doing in the first corner most of the time and I was pretty fortunate I was okay. I just didn't want to get tagged by a footpeg or have someone smoke me in the ribs.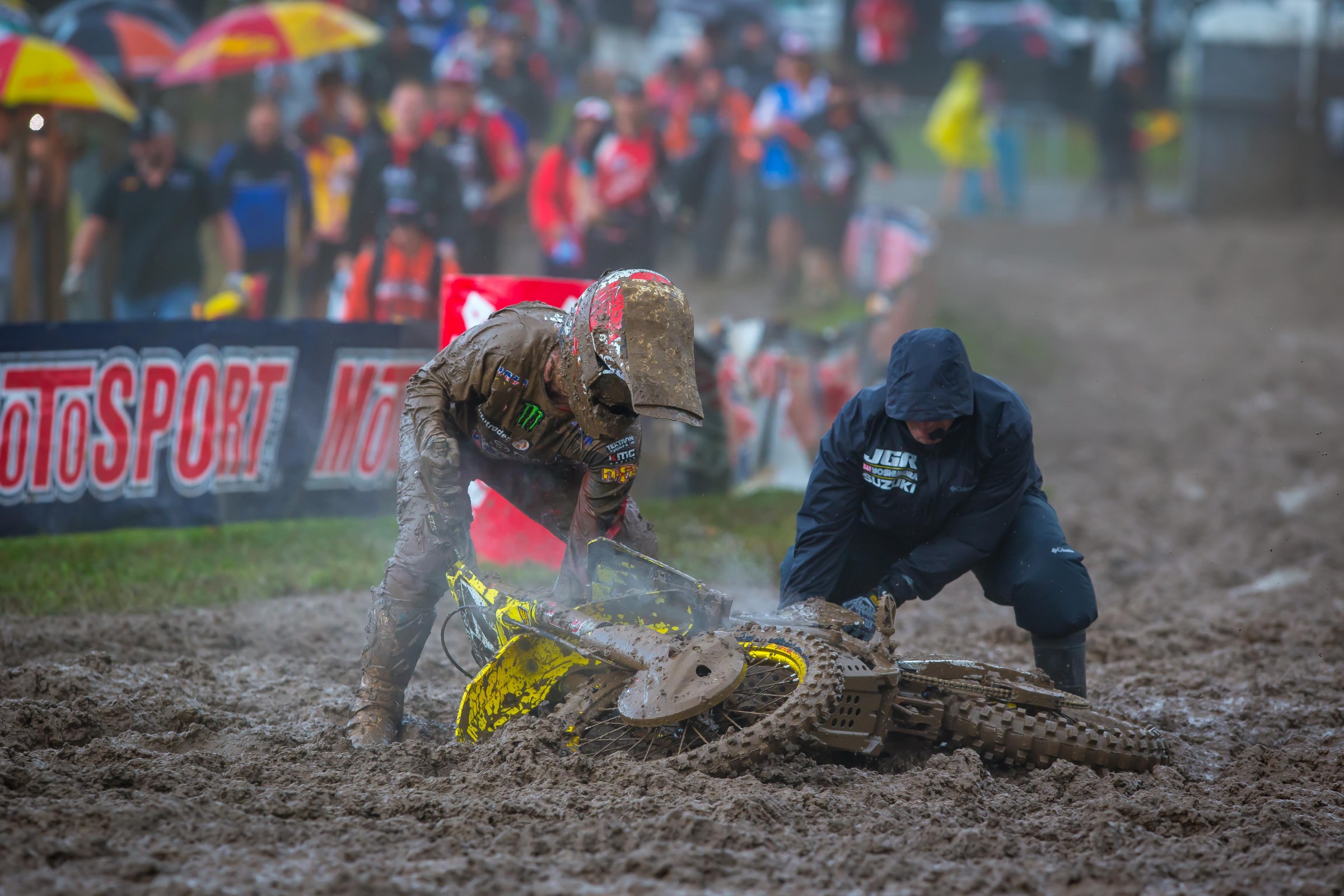 So the mud race is out of the way and we have two more races left. What are the goals?
Well, at Unadilla I thought I was pretty prepared, but the intensity can be hard. Normally I'm pretty good on the first couple laps and my starts are pretty good, but I just lacked that at Unadilla. So this week we'll do some more stuff and try to dial it in a bit more. Obviously I have some kinks to work out. I hadn't really raced a Suzuki 450 so that was all new to me. Budds Creek is next and I like that track, I've done really well there in the past. Two motos in the top 10, that'd be good. And even if I'm not in the top 10, if I ride well for two 35-minute motos, I'm happy. The first moto at Unadilla, even though I got 12th, I was on pace with the guys who were eighth through 10th, so it's not like I was too far off, I just lost the gap in the beginning. If I can fill that gap in the first couple laps at Budds Creek I should be okay. It's been a long road, but I'm happy to be back and get my feet wet at these next two rounds and get ready for 2018.
Yeah, you came back just in time for the off-season.
Yeah, I know! But it's good, I started my base training for 2018 now. I can keep working through the off-season and keep building. I've got a lot of work to do with the ankle, as far as flexibility and stuff. It'll never be the same again, but that's just what happens between man and machine sometimes. You can't predict some things. You have to bite the bullet and move on.