New Berlin, NY
Unadilla
Lucas Oil AMA Pro Motocross Championship
Red Bull KTM's Marvin Musquin is on fire right now in Lucas Oil Pro Motocross and even a classic Unadilla deluge can't put him out. With yet another 1-1 score Marvin now has three-straight overall wins and six-straight moto wins in 450MX, and in the widest variety of conditions. He swept the rough sandy soil of Millville, Minnesota, the slippery hard pack of Washougal, Washington, and then the Unadilla rain and mud. His title hopes remain dim after a mid-season knee injury (and two other costly unrelated DNFs), but he has pared his deficit to series' leader Eli Tomac from 72 points to 31. Four motos remain, and Marvin plans to keep the pressure on.
"Yeah for sure that's the goal right now—to try to gain points, I want to say at least try to get second in the championship, but we'll see what happens," said Musquin. "You see a day like today and anything can happen, and it turned out great for me and not for some others. It could have been bad for me but I was able to get good starts and stay on two wheels. I don't want to look back right now at the bad races…but that's racing."
Musquin is now just four points down on Blake Baggett for second in the series, but Baggett, who will finish the season racing on a thumb in need of repair, showed some feistiness in the first moto. Rain started to fall and Baggett caught Musquin and challenged him, but Marvin says he understood the importance of staying ahead of Baggett and keeping clean vision. Then the race was red flagged three-laps early when lightning appeared in the distance. This led to a long delay, over two hours, to ride out the storm, and by the time the 450s were back the track was completely drenched. When you're hot you're hot, and Musquin pulled a much-needed holeshot in the tough conditions and led every lap en route to the 1-1.
As expected in the tough conditions, everything else was crazy. How crazy? Well, Martin Davalos has now become a rock-solid podium threat in 450 motocross. Say that back again and think of how strange that sounds. After third overall at Washougal, Davalos went 8-2 at Unadilla, but that was good enough for second overall this time. He even challenged Musquin for the lead early in moto two!
"I think I kind of was overriding a little bit, but none of us took a parade lap so we all were taking a lot of chances," said Davalos. "Marv was picking some lines and I was changing it up to see if it was better. I made a lot of mistakes and got behind him and I did my best to keep him close, but I also did my best to not let the guys behind catch me. It was an awesome moto."
Davalos never did get caught, as behind him a battle raged between Dean Wilson, Cole Seely, Cooper Webb, and Eli Tomac. It was Webb who caught fire late, passing all of them to finish the moto in third—but his 7-3 just missed the podium. Instead it was Seely's 3-6 taking third overall, and that finish made him happy. Earlier in the day Seely was also selected to represent Team USA at the Motocross of Nations in England, so he was glad to prove himself in some tough conditions.
"That adds motivation during the week," said Seely. "You can see some guys look a little over it at this time of the season. It's a long year. But after I got the call it definitely put some pep in my step and made it exciting to go back out to the track. When you're training or when you ride, it definitely adds motivation. I've raced a lot this year, but like I said before, I've never gone to the race so I'm excited to go."
Baggett showed signs of his old El Chupacabra form with his challenge of Musquin in moto one, but he crashed in the mud of moto two and finished 11th. That gave him fifth overall. He actually made up five points on Tomac, who had an off-day in the mud, running out of tear offs in moto one and finishing 10th, and then carding fifth in moto two. The 5-10 left him in an uncharacteristic ninth overall.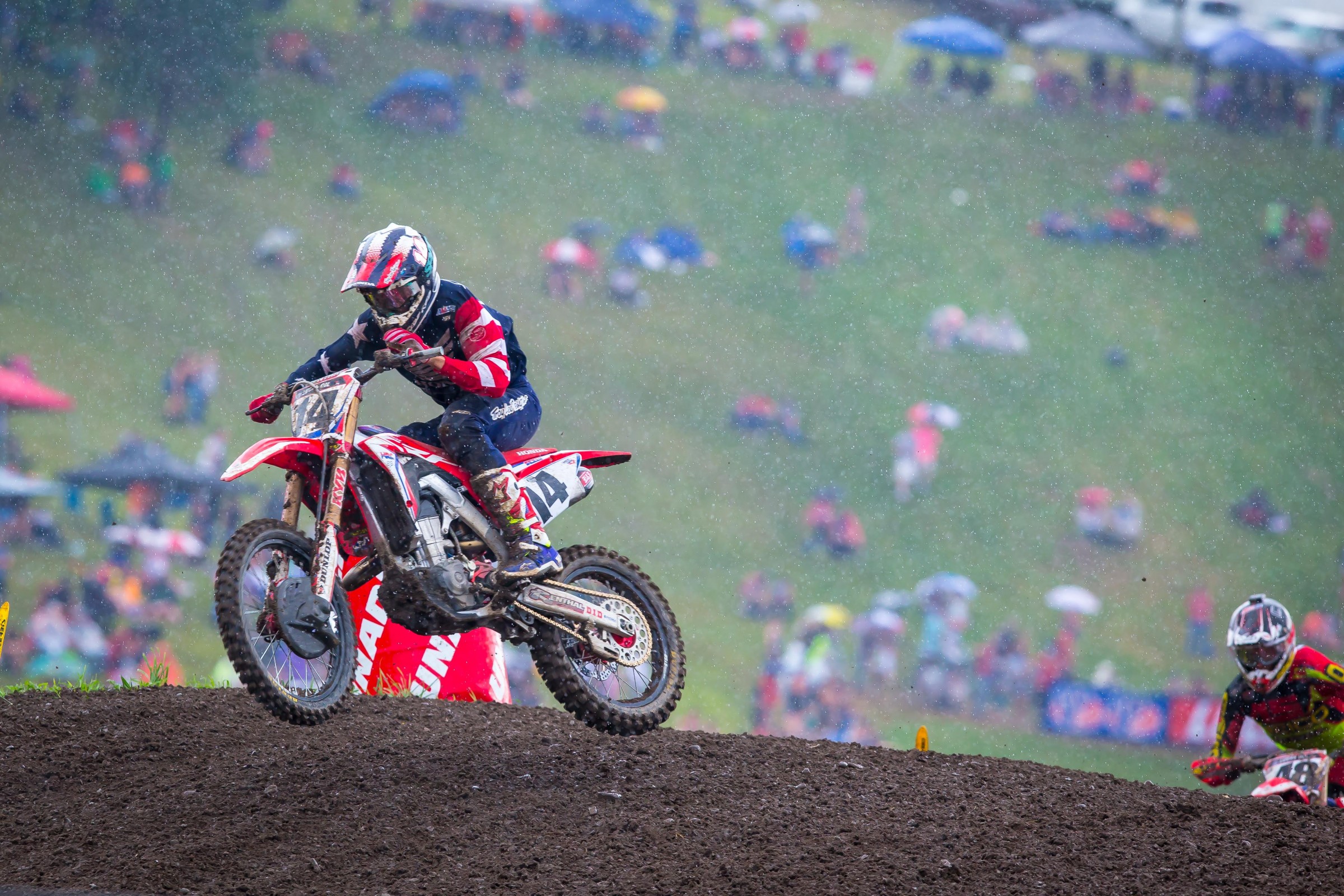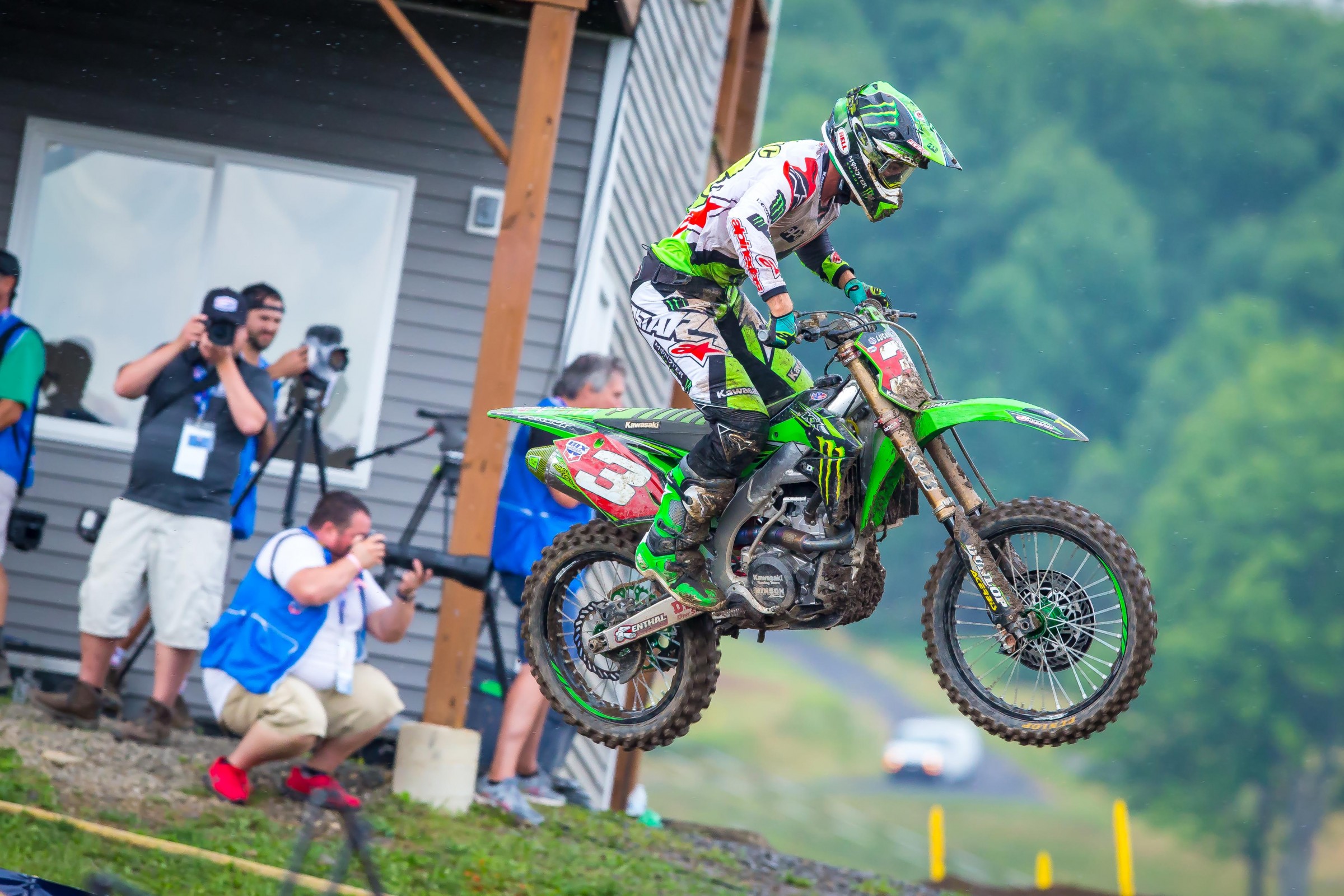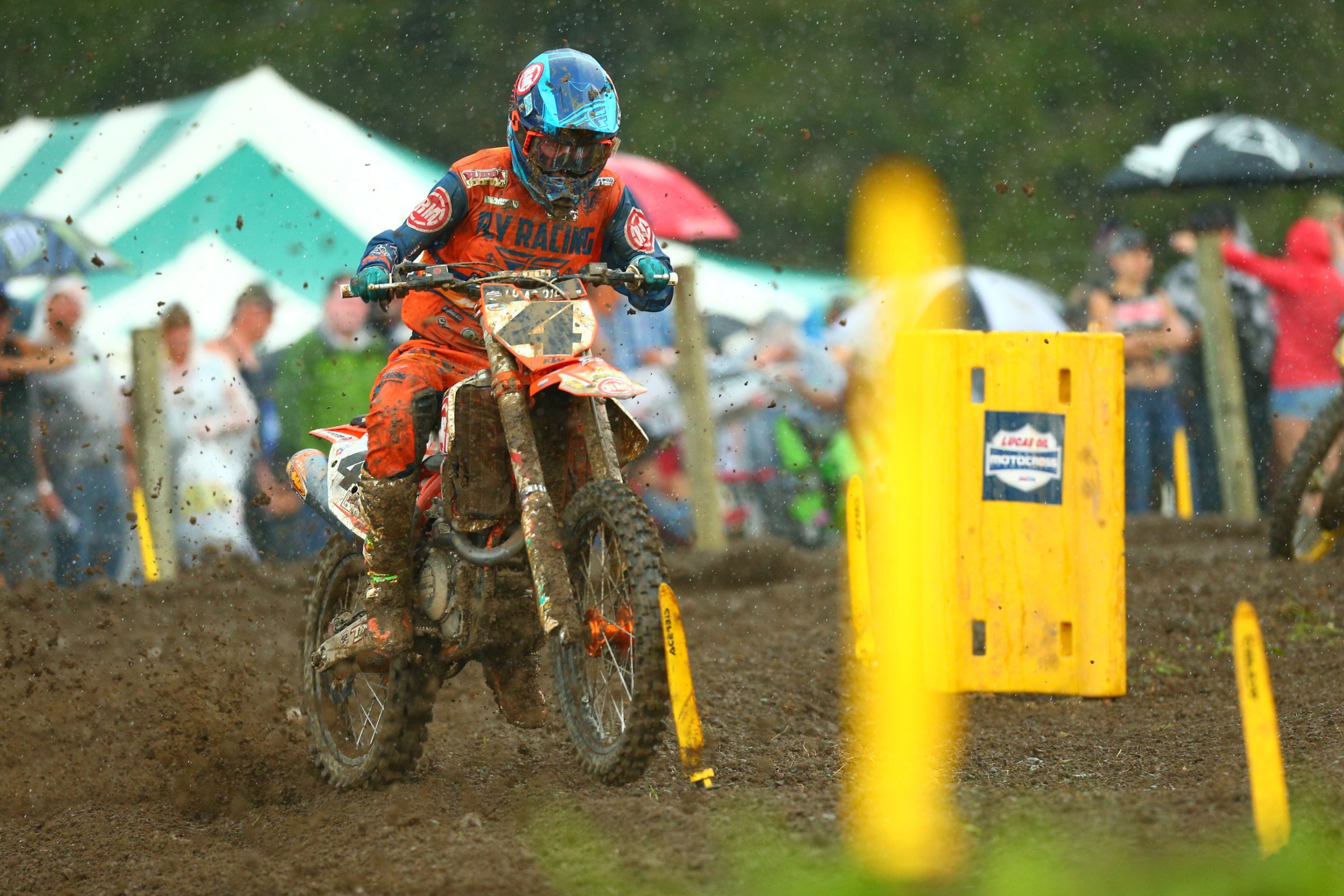 The rest of the 450s? Christian Craig had a brief run going when he carded the fastest time in the first practice session, which held up for the day's top qualifying time. He wasn't quite as sharp in the mud, and went 5-9 for eighth overall. Justin Bogle got good starts and went 4-10 for seventh overall on his RCH/Yoshimura Suzuki. Dean Wilson went 9-4 for sixth overall, but said he was a bit disappointed because he would have liked a podium—but he also admitted the mud races aren't the best for him. Overall, much of the 450 class came down to the second moto start in the mud, as only Webb was able to make up significant ground in the gnarly, super-wet conditions. The start would prove just as critical in the 250 class.
GEICO Honda's Jeremy Martin really needed this win, as his 4-5-9-6 scores at the last four motos were below his normal standards. But while he won the overall via his 2-1 scores and second moto win in the slop, it was actually the first moto that left Jeremy smiling more. He said the second moto was really just about the start in the mud, and he got the holeshot. The first moto, when he rode well to come from fourth to second, was where he found his real encouragement. Was the improvement for the weekend from him or the bike?
"A little bit of both," he said. "I've been working on some things off the bike as well, it's late in the season so you can't get much more fit, but just doing some different things. My parents had a local race [at Spring Creek in Millvile, Minnesota] and it was pretty big, maybe 500 riders, and the track got really rough, there were three or four ruts in every corner. So we went out and did some testing on Monday. I was like 'We're gonna tune this GEICO machine in a bit.' We were able to make some percentage gains on the fork and shock and I felt like it helped today. Obviously the second moto was just survival. Like Joey [Savatgy] said, that second moto was all in the start."
Martin's win ends Joey Savatgy's two race overall win streak, but Savatgy still was happy after winning moto one and taking fourth in moto two. That left him second overall with a 1-4. The day wasn't without incident, though, as Savatgy collided with a lapper while leading the moto and hurt his foot. He was okay physically in the second moto, but just didn't get the start he needed in the mud.
"I got into it with a lapper," he said. "Anyone who watched Washougal saw that happen to me there. Lately, for me, they've been checking up, but then they get back on the gas too early and a lot of the times we have separate ruts but at the end they come together. We made contact, and it actually put a hole in my boot. Got a big bruise but it will be alright."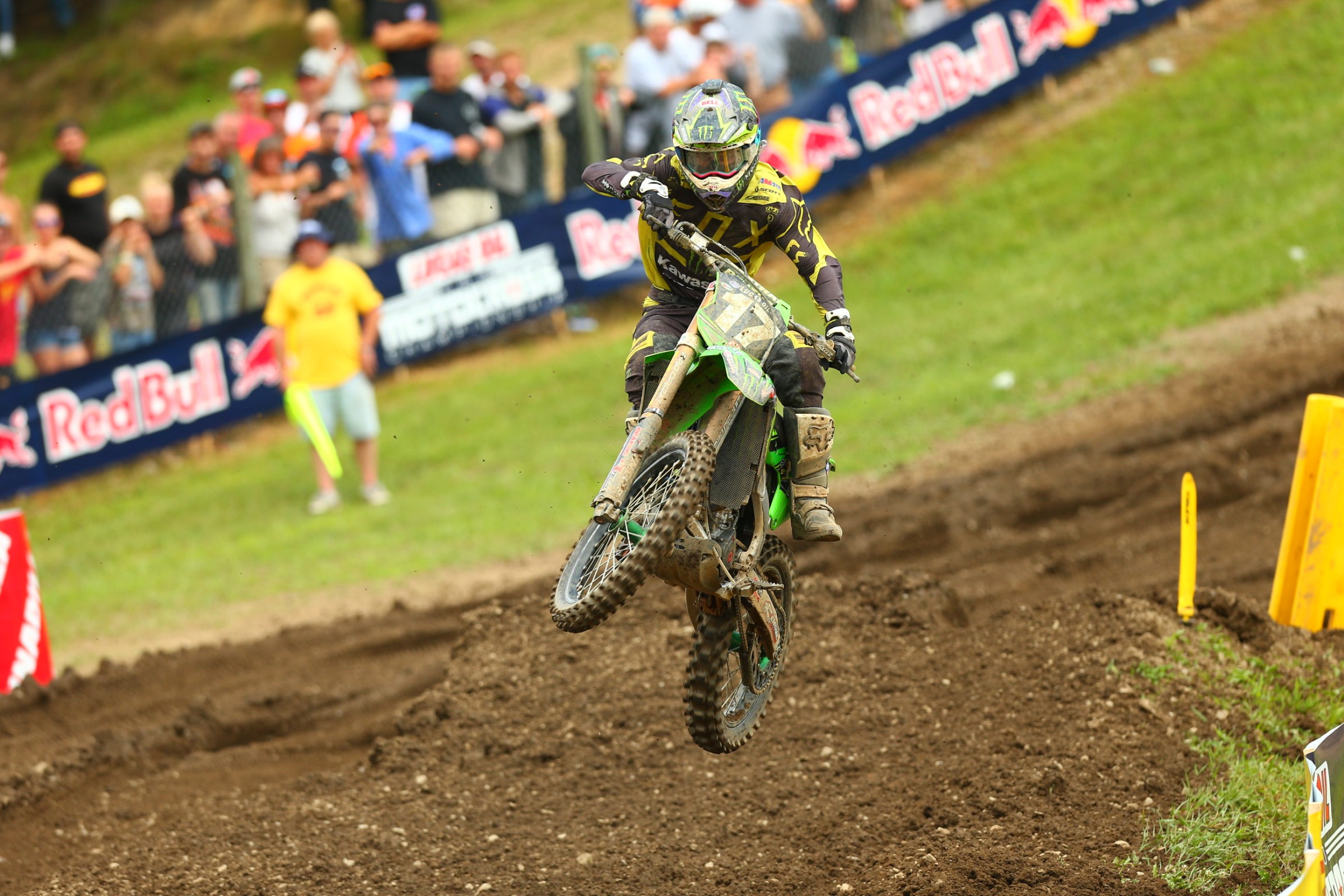 No matter what happens, Zach Osborne grinds it out. "The first moto I just couldn't get into a rhythm," said Osborne. "I just struggled for rhythm, I had a really good last two laps to get third, that kind of salvaged the moto for me. Second moto I just didn't get a good start but I was able to make it up to fifth."
That's yet another day when Osborne seemed like he would have a bad race and turned it into a good one with an overall podium. Why is he able to do that?
"It's more my endurance than anything—I just feel confident in my fitness and I don't get scared of getting tired," said Osborne. "Same thing as Washougal, where I threw up in the first moto, I was able to recover."
Dylan Ferrandis was just off the podium with a 6-3, putting him fourth. Fifth overall marked a strong professional debut for CycleTrader.com/Rock River Yamaha's Justin Cooper, who went 12-2. A week ago, Cooper won the AMA Nicky Hayden Horizon Award at Loretta Lynn's. At Unadilla, a bad start in the first moto left him 12th at the finish, but he was all over Colt Nichols and Shane McElrath at the end. He started moto two second, and the New York native—who had actually never ridden on the Unadilla track (amateurs race on a separate track) stayed close to Jeremy Martin for a while before settling for second. As he did at Loretta's, he did it all while looking smooth and precise, and not on-the-edge like a lot of riders making their debuts.
Then there's Adam Cianciarulo, who came to Unadilla looking to avenge his tough late race loss of the overall win last time out at Washougal. He holeshot and led the first moto early until he tipped over while leading, handing the spot to Savatgy. He picked it up in third behind Martin and stayed there most of the way until dropping to fifth on the last two laps—Osborne and Ferrandis got him. In moto two he started 10th and finished eighth.
Aaron Plessinger loves the mud and was going for it early in moto two—he was the only rider to try to jump the double in the back when the track was as its worst. But he crashed while trying to press Cooper from third, and fell back to 11th. He finished 10th and the 4-10 scores gave him seventh overall.
The results won't show it but privateer Steven Clarke was fast again. He was fourth early in moto one until his bike broke, and he returned in moto two to finish 11th.