Washougal, WA
Washougal
Lucas Oil AMA Pro Motocross Championship
Dean Wilson | Rockstar Energy Husqvarna | 5-6 for sixth overall
Racer X: Your podium streak is over. Kind of a so-so day for you. I thought the second moto you rode really well. Came up from the back a little bit. What'd you think?
Dean Wilson: I thought it was a pretty average, mediocre day for me. I just kind of didn't really feel like I had it all day. I was just kind of fighting the track, fighting the bike. Just never really had a sweet flow out there. Just off a little bit today. I went 5-6. That's the best I had.
You went 5-6 and three months ago you would have killed for 5-6. Not killed for 5-6, but you would have been stoked with a 5-6.
It's all right. You get better results and then you always want those results. The top three is tough. My starts weren't like Millville. I think you need starts here— way more important than Millville. Those S [turns] really just split the pack up. It was all right I guess, but I would like to be on the podium again.
This is a weird track from a lot of the races we have. Are you normally a fan here? Do you normally do okay? Or is this place always kind of weird for you?
Well, I try to come in here and be a fan. I don't try to bring negative vibes like I don't like this place, but to be honest, I just don't really like it. It's just the shadows. Everyone always talks about the shadows, but it's that sky jump where usually you can whip it off of, and then you turn around. Going back in those trees, it's just so … you don't see the ruts. You can't see. The ruts are long and choppy and not much forgiveness. It's a beautiful place, but I don't really gel with the track. I'm not one with the track. I feel like I'm kind of forcing it around the track. Honestly, it's just something I feel like I need to improve, which would be better throttle control and shit like that.
What about Marty [Martin Davalos] today?
I'm really happy for Marty. I think that's awesome. He's always been fast here. Holeshot second moto. Good for him. That's awesome. Being on the podium is great, and it's great for the team as well. So, I'm happy for him.
[Jason] Anderson, you, and Marty all on the box this year.
Yeah, it's amazing. It's really good. I'm happy for him.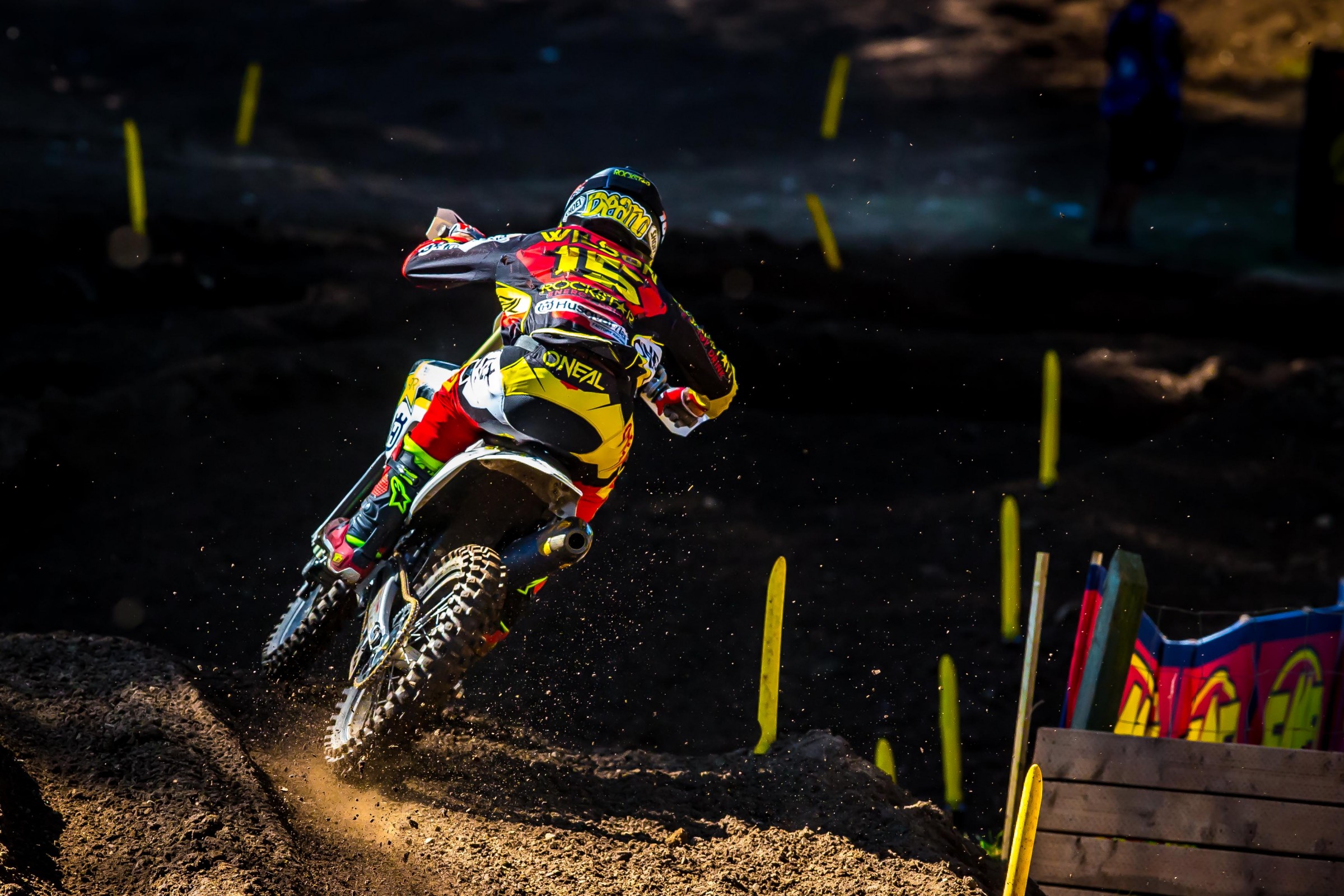 Weston Peick | AutoTrader.com/JGR Suzuki | 6-8 for seventh overall
Racer X: The 2018 Fly stuff came out today. What'd you think?
Weston Peick: It's pretty badass this year.
For real, though.
For real. The gear is pretty awesome this year. The colorways, the two-tones, the different color pants, jerseys, and everything. They definitely killed it this year. It looks good. I'm stoked to be wearing it.
I'm not going to ask Max. He's going to tell me that you told him to never let you wear that color again or anything?
No, I never said that.
Today I think two good motos. You're probably stoked on your first one as opposed to the second. But second one you came up from a bit of a bad start.
Yeah, overall today I just had my head in my ass on the start. I tried to get off to good starts, but the gates were super slick. I think I made the wrong choice on a few things going into this weekend with how slick it was. I didn't really try some things that we should have.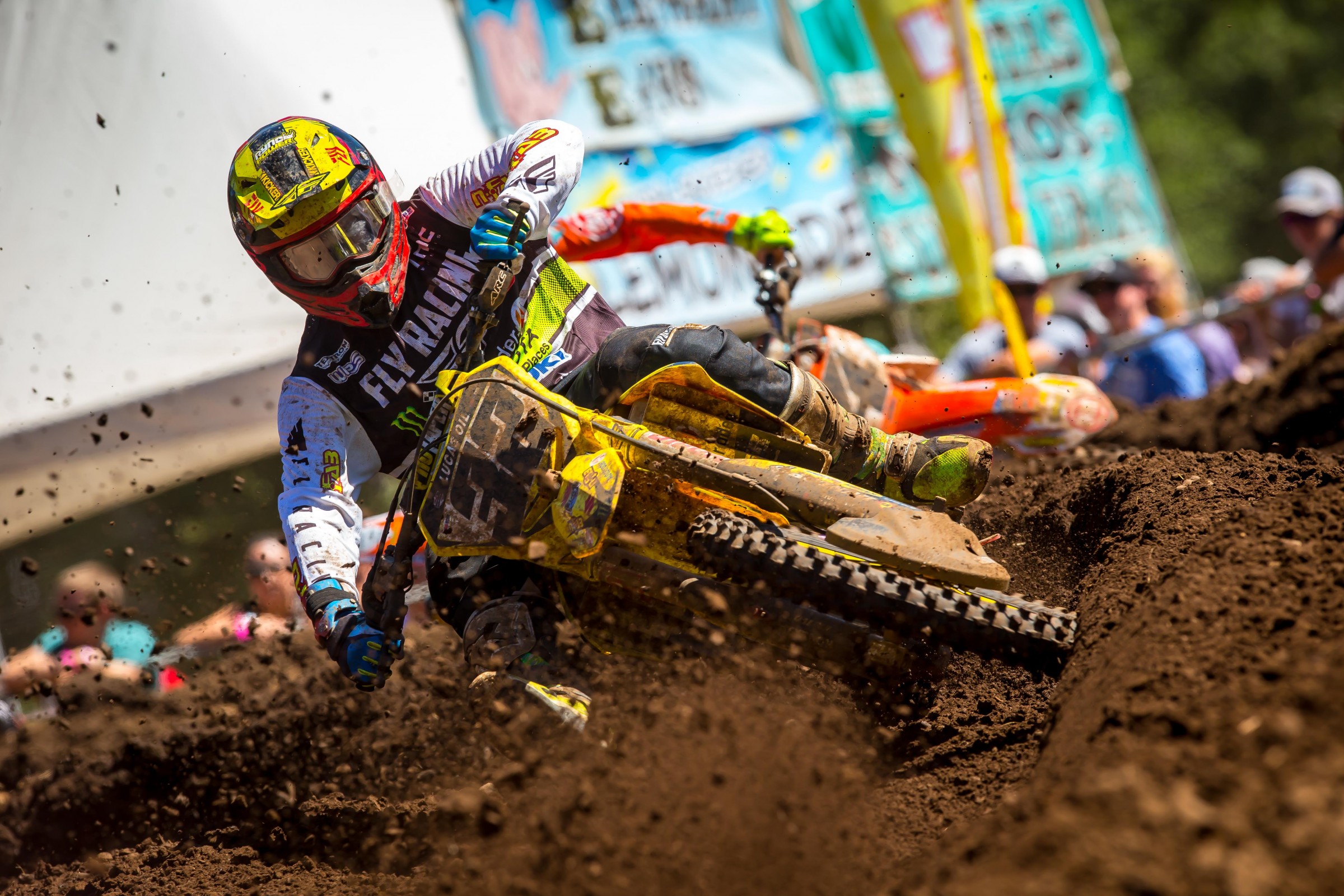 Tires or chassis?
Just some traction control options and gearing and stuff. I ran my package that I would on a really loamy start that I wouldn't spin on. So, I have a lot of horsepower on the bike and a lot of torque on the bottom end right now. I just didn't choose the option that I should have. So, it's my fault with that. Other than that, it's a tight track. Everybody's going so damn fast. It's hard to make progress and pass people when you get a 15th place start. You can't get to the front. I did what I could. I got up to sixth the first moto and second moto I got eighth. I'm not stoked with that second moto, but 6-8 for seventh is better than having a DNF or whatnot. So, I'm somewhat happy with the weekend. Second moto could have been better, but everybody on the team's doing an awesome job. Just looking forward to the next three races and getting up towards the podium.
Second moto I was watching you and Freddy [Fredrik Noren] because I had both of you in my fantasy moto. You caught him. You were on him. Did you make a mistake or did he just gap you a little bit? I really thought you were going by him at one point.
When I caught up to him I was trying everything I possibly could to get by him. He was riding good. He had a good pace going. He was taking the fast line around the track. There was literally only one fast line around the track. I was trying other lines and losing time. I pulled back up to him and I couldn't make the pass. It was real frustrating on my part. I couldn't even get close enough in a rut to move him out of the way if I wanted to, because it was so tight. He rode good. Like I said, I made a few mistakes trying to get to him and I'd lose time, then catch back up, and lose time. That's just how it is racing. Every weekend is different and everybody's going fast.
I talked to Deano earlier. He doesn't like this place. A lot of guys don't like this place. You've always done well here, even when you were a privateer guy. What is it about Washougal?
I've came up here since an amateur and I've always liked the place. It's good scenery and obviously the dirt's not the best, but it's similar to what I ride in California. That's what I'm used to and that's what I'm comfortable on. So, it's a good track for me. I have a lot of fans up here and a lot of good memories up here coming here as an amateur and winning a bunch of money and whatnot. It's just always been a good area for me.
We're having a little pool on Phil [Nicoletti's] finishes at Unadilla. He got mad at me because I didn't give him very good finishes. I gave him like 14-16 or something and he was very upset. He said he wouldn't even go if he knew he was getting 14-16. Anderson's out, we've got some guys out, but what's Phil going to do at Unadilla?
He's been riding good in North Carolina, but the track isn't really that rough there and Unadilla's a pretty god damn gnarly track. I think he'll have one good moto in him for first moto, and then I think second moto it will be a little tough for him. But I think he'll be able to pull a top 12 overall. I can't give you individual scores, but he'll get probably 12th overall, something like that. Ten to 12. You never know. It's his home track, but it's Unadilla. It's a beast. It's a lot of ruts and he's got a bad ankle. You're dragging feet. That can take you out any second.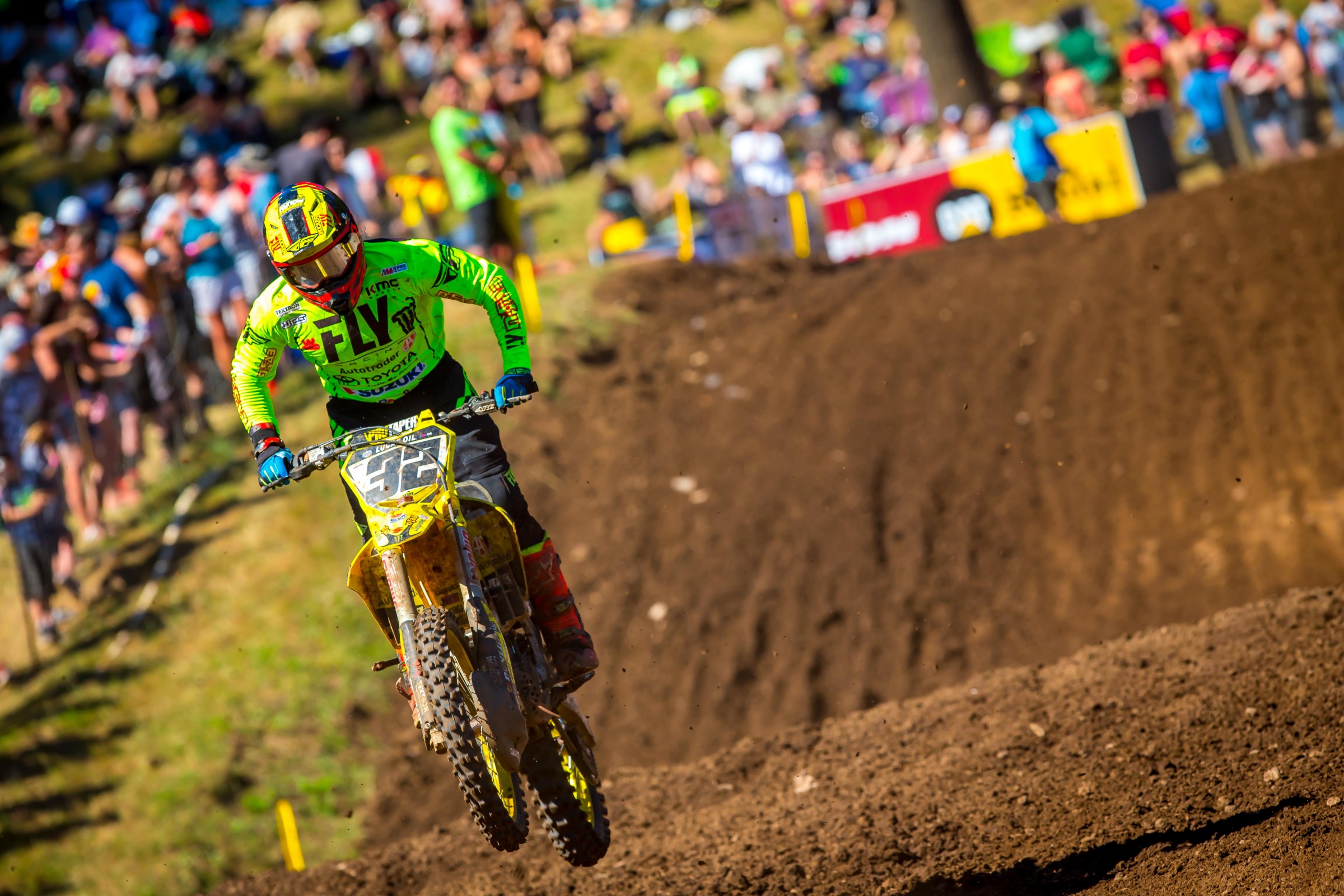 Matt Bisceglia | RCH/Yoshimura Suzuki | 10-35 for 17th overall
Racer X: You're back. I wasn't at Millville. I thought you rode pretty well, except for that second moto problem you had. Today, again, good first moto, second moto not so good. I guess for you it's like the second race of the year.
Matt Bisceglia: Yeah. You know what, man? I'm just happy to be back racing. Today, unfortunately, I had a crash on the third or fourth lap in the top 10, but what are you going to do? I'm just happy to be back racing, showing that I can still go race, still be competitive. I'll use these next couple weeks to get ready for Unadilla and we'll be there.
What'd you think of your moto one?
Moto one was good. I had a good pace and then I just hit a little bit of a wall like halfway and then I started picking it up again at the end. I ended up 10th. I would have liked to stay a little bit closer to [Christian] Craig, because I started catching him a little bit at the end. I think I could have made a push towards him if I was a little bit closer. Like I said, I can't complain. I was out for a long time, almost a year, and I'm just having fun being back at the races.
You're from here, or somewhere around here?
Yeah, I live about an hour south of Washougal. We moved almost 12 years ago now. So, it's been a while, but this is home turf for me.
So, is it like coming home then? I imagine you have a ton of laps on there?
Yeah. I have a lot of laps around here as a kid. It's been a while, but I have a lot of friends, family, so that aspect of it is the most comforting thing about the home race, just having friends, family … everybody I'm familiar with. It was fun.
For our listeners and for me, you were riding for JGR. Now you're on RCH on a 450 and you're on a JGR 250. How does that whole deal happen? Do you go to them? Do they come to you? How does the whole Matt Bisceglia goes from one team to another? I think you're still getting paid by JGR, so how does that all work?
Yeah. It was a little bit of a strange deal. Just one evening after I got done riding I had a phone call from Jeremy [Albrecht, JGR team manager]. I had a phone call from Kyle Bentley [RCH team manager]. I had a bunch of phone calls when I got out of the shower one day. I was like, that's crazy. I wonder what these guys want. Jeremy and the guys over at JGR, they were more than willing to let me do this because it was a great opportunity for me. Thank you to those guys. Unfortunately, with Broc [Tickle] getting hurt, they needed a guy to ride his bike. In their minds thankfully it made sense. Even though I haven't raced all year, I was the first one they called.
Were you fine with it? You were totally fine?
Yeah. I was more than thankful for the opportunity. I was happy that everybody was cool with it. Obviously, I had a lot of people ask if it caused tensions between JGR and myself, and it caused none. Like I said, Jeremy was cool enough. He knew it was a good opportunity for me. So, he let me go over and do this deal for the rest of this year. It's worked out good so far.
A week off. You'll be back at Unadilla. We'll get two top 10s in there and go from there, right?
Yeah. My goal for 'Dilla is to go get two single-digit finishes. That's kind of my goal. I just want to finish both motos strong and finish both motos in the top 10. That's my goal for 'Dilla. I just want to finish both of them.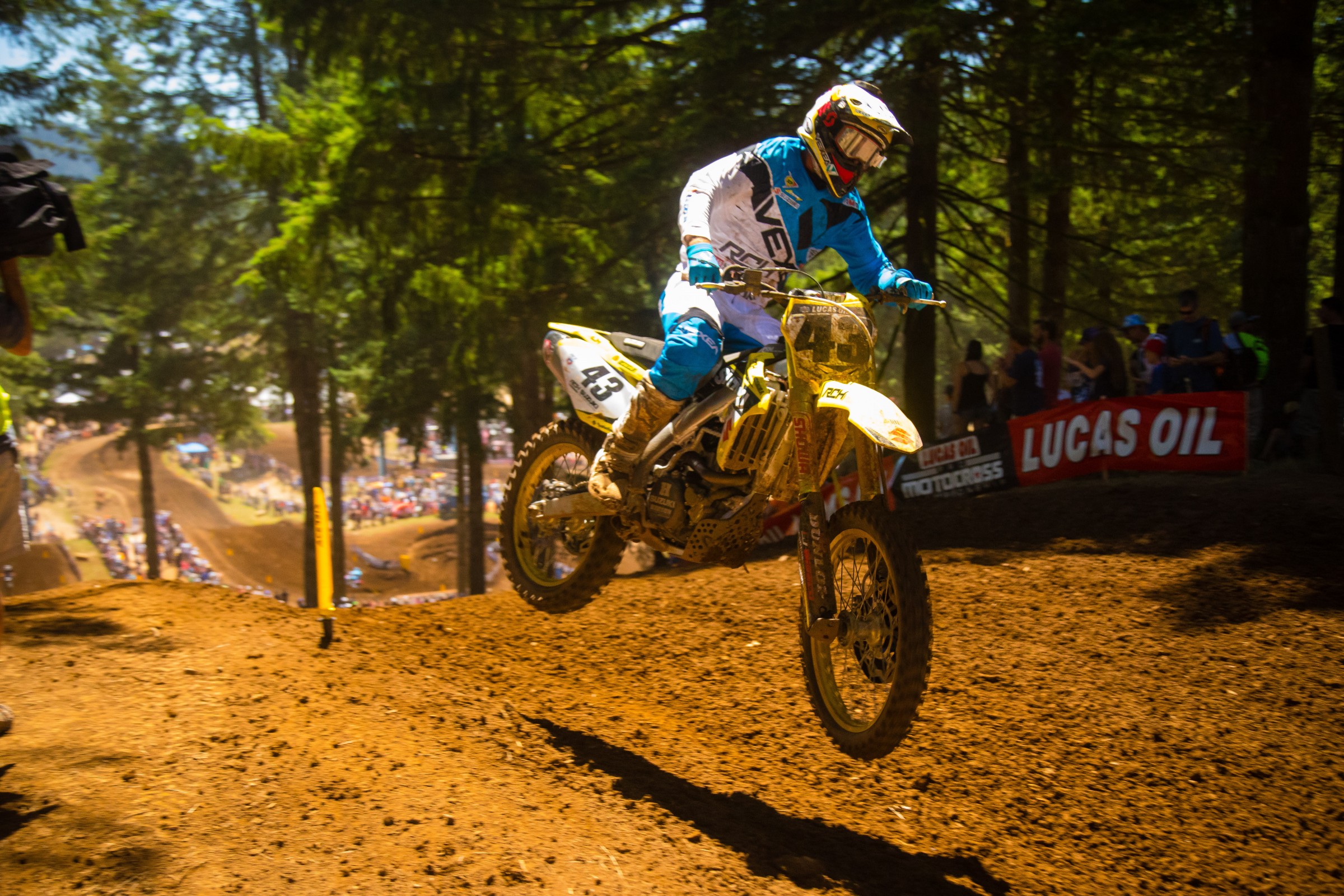 Tyler Bowers | Privateer Kawasaki | 16-19 for 18th overall
Racer X: Getting a little bit of help from Kawasaki, that's cool. Back for the 450 Nationals. Good day I think. Charged from way back in the second moto. First moto was respectable.
Tyler Bowers: Yeah, first moto I got off to a good start. It sounds stupid, but we made some spec changes to the suspension after practice because it was so tacky in practice and a little bit muddy. Got out there in the first moto and it was dry, slick, hard pack, big bumps. It was just beating the hell out of me. We went back in the second moto.
[Mike] Williamson said that, too. Williamson was like, don't go too stiff.
I wish he would have told me that. I thought about it. I was like, I bet it dries out a little bit. But I thought we'd be okay. I was feeling good most of the day and then qualified 12th or 13th. I think first moto I ended up with a 16th after that. I went back to my original setting for the second moto. Felt awesome. So good that I just ate shit on the first lap off the start. I got three turns in then I had to come up from the back and pass up. I was in 15th or 16th and then I got some cramps. It's hard. It's my first one of the year, and first one since last year. These guys have been racing all year. The pace is just pretty high. It's easy to do 35, 40-minute motos back home. Intensity just took a little bit out of me. Especially as the privateer journey—I'm over here in my pickup working on stuff between motos, between my guys. Especially I beat that thing up the first moto. I had shrouds broken. There's oil leaking out of the thing. It's going to cost me a lot of money now. So, I just kind of ran myself dry. Second moto I ended up cramping. Had to get the guys to peel my hands off the bars when I came off. I finished, but I just couldn't use the clutch anymore.
My question to you is, why are you here? Obviously you won PIR [Thursday Night Motocross]. You won some cash there. You've been riding moto for a while. Why are you doing this? What's the motivation?
I was bored. I love racing and the couch sucks, man. I wanted to do outdoors this year and the team I was on wasn't doing outdoors. They actually made it up here with Justin Hoeft. I couldn't get any support from anybody for a little bit. I talked to Kawi and was able to borrow a bike from them. Just been practicing, getting ready, trying to get the suspension dialed in. I had some good suspension from Showa for like the last two or three weeks. We've been working on that. Then I was just like, f*** it, let's go race. I knew I was going to do these other two races and make some money. I thought it was a good idea sitting on the couch, but then I get here and I just destroy the bike. Now I'm like, that wasn't that much fun. But it's a good time. I love racing and it's cool to be here and get out there.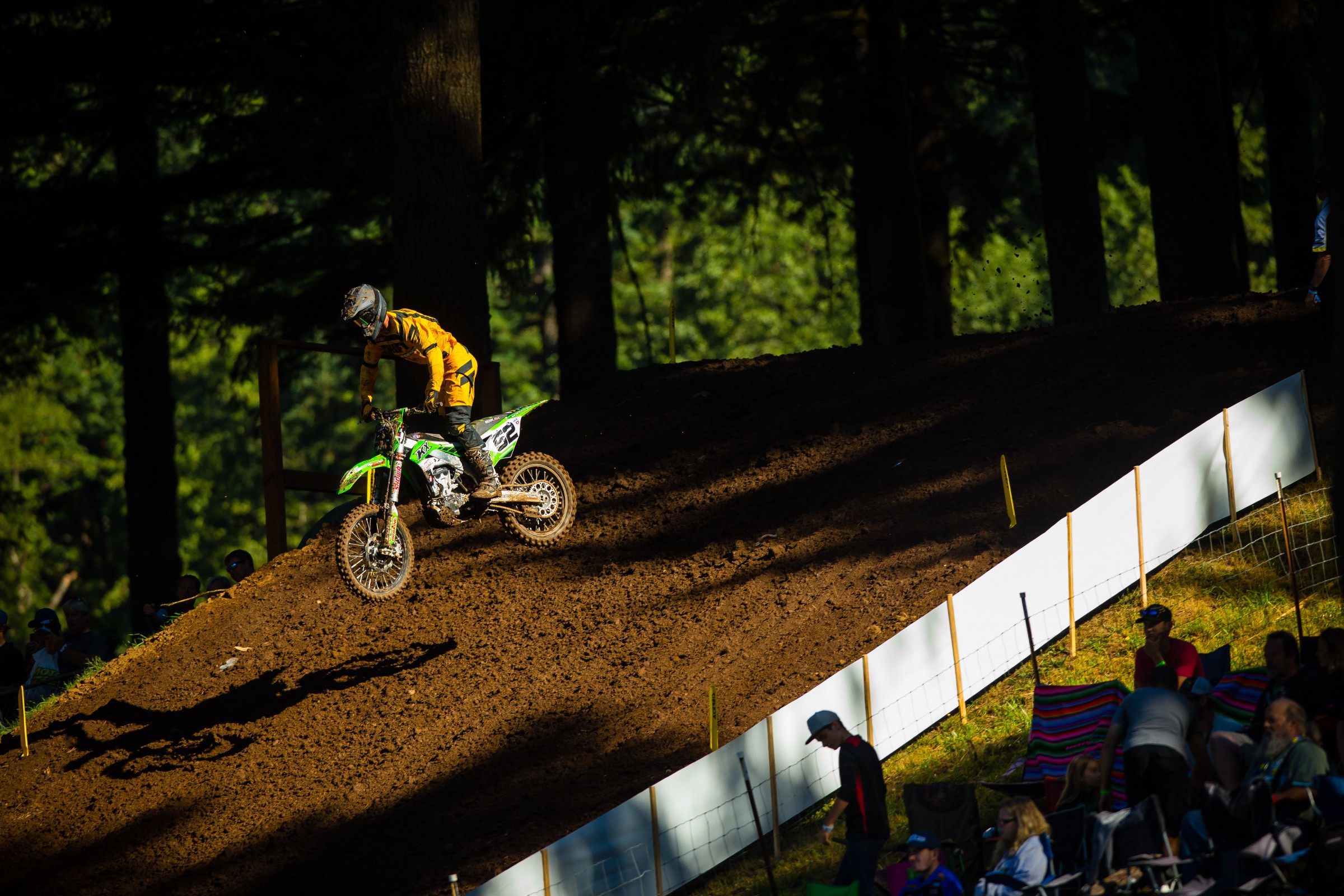 And you won some money at PIR. How that'd go for you? Freddy Noren was putting some heat on you, but you took the win.
Yeah, absolutely. I did the race on Sunday at Mountain View. That was another money race. Made $2100 there. It was pretty good. A couple locals were ripping at that track. Then PIR, I went there and I've never been there before. That place is crazy. It's like the gnarliest fair race I've ever been to. Everybody rips there. I felt pretty good all day. That's part of why I came here. I've just been feeling really good on the bike and wanted to race. So, went there and got off to a decent start and passed into the lead early on and then just tried to charge. Lappers kind of got in the way toward the end. Freddy came in hot at the end. So, I just felt good all moto. I just got into some lappers and Freddy … you know how he rides. Freddy just sends it. Last couple laps I think when he could see me he just went for it. But luckily I was able to come away with a win.
I was telling [Bruce] Stjernstrom, "Look. If the Bear goes 10-10 today, can we think about putting him on the #33?" He said he would think about it. We couldn't quite do it, though.
Why didn't you tell me that? Like I didn't already try my ass off. That would have been really nice.
He didn't say yes. He just said he would think about it.
I don't know what they're doing over there. They're helping me out a little bit and I'm really grateful for that already. It's politics. They got stuff whether they need to fill the spot or not, so be it. My plan from here, just go back home and keep riding and get ready for Monster Cup and Red Bull [Straight] Rhythm and stuff like that.