Ivan Tedesco Wins 125 Dream Race at Washougal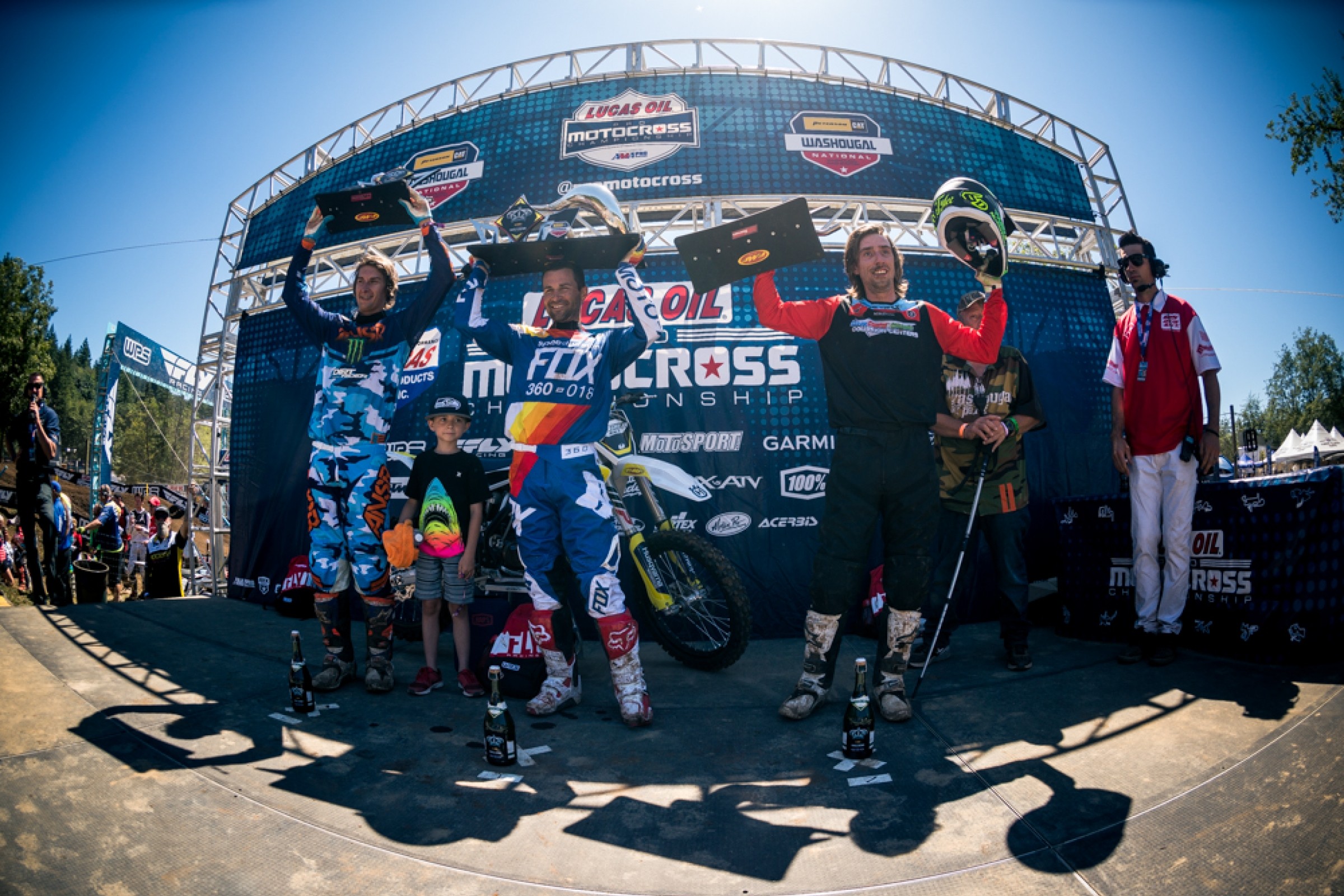 Washougal, WA
Washougal
Lucas Oil AMA Pro Motocross Championship
The final round of the FMF 125 Dream Race Invitational Triple Crown ran in conjunction with the ninth round of Lucas Oil Pro Motocross on Saturday at Washougal.
The race was won by three-time AMA Supercross and Motocross Champion Ivan Tedesco, who was filling-in for Racer X's David Pingree. Second place went to Tyler Villopoto, who is the younger brother of Ryan Villopoto. Chris Johnson took home third, followed by Josh Hansen and Derek Anderson.
Stay tuned to Racer X later this week, as we'll have a full edit from the race.
Results
1. Ivan Tedesco #9 KTM
2. Tyler Villopoto #61
3. Chris Johnson #354 KTM
4. Josh Hansen #100
5. Derek Anderson #241 HON
6. Devin Watson #777 KTM
7. Jarid Blevins #331x KTM
8. Vernon McKiddie #129 YAM
9. Lane Shaw #986 YAM
10. Michael Sweney #41 KTM
11. Ryder Steffy #391 YAM
12. Rory Sullivan #272
13. Daniel Hamillton HON
14. Tucker Saye #693 SUZ
15. Devan Bolin #234 KTM
16. Todd Pratt #515 KTM
17. Sean Ekerson #444 HON
18. Talon Gorman #618 HON
19. AJ Gilbert #156 HON
20. Matt Fouts #237HUS
21. James Hamilton #454 HON
22. Corey Kirkland #91 KAW
23. Garhett Carter #738 KTM (150)
24. Houston Keane #73 SUZ
25. Andy Dibrino #62 HON
26. Cody Holzer #101 YAM
27. Chase Spears #145 YAM
28. Jeff Gorman #821 HON
29. Russ Robbins #503 YAM
30. Royce Devol #15 HON
31. Eli Moore #248
32. Ryan Stevenson #3
33. Michael Lindsay #512 KTM
34. Broc Barnes #524 TC
35. Greg McFarland #317 YAM
36. Daniel Barrett #331 YAM
37. Tyler Edmondson #141 HON
38. James Hanson #296 HUS
39. Chris Gosselaar #125 KTM
40 . Ryan Lockhart #81 KTM
DNS Vince Weiner #281 KTM