Hurricane Mills, TN
Rocky Mountain ATV/MC AMA Amateur National Motocross Championship (Loretta Lynn's)
Amateur National Motocross Championship
As we count down the 36 days until the start of the 2017 Rocky Mountain ATV/MC Loretta Lynn's AMA Amateur National Motocross Championship, we are going to look back at each year in the history of the event. Today we look back at 2009.
Loretta's 2009 isn't as significant for what happened at the race as it is for what happened after it—Factory Connection Honda's Eli Tomac dominated the 250 B Mod and Schoolboy 2 (14-16) B/C classes so handily that it became a realistic possibility that he could skip his final year at the event, which would have been in the A class for 2010, and instead focus on a professional debut at the Lucas Oil Pro Motocross opener at Hangtown.
He and his team decided to make the move, so two months before Tomac would have been on the gate at Loretta's in the A class in 2010, he was instead at Hangtown as a pro. And he went out and won the race.
Tomac became the first rider to ever win his first pro National, which was shocking, but slightly less so considering the way he manhandled Loretta's that previous summer. He won all six of his motos with ease, and it wasn't even against weak competition—Justin Bogle was the rider with the 2-2-2 scores behind Tomac in Schoolboy.
Tomac started his Loretta's run with a 65cc title in 2004. By then, he was only the second rider in his family to score an AMA Amateur National Championship. See, Eli first came to Loretta's as a 51cc rider in 1999, but in 2001 his dad, who you might have heard is mountain biking legend John Tomac, also decided to race, in Vet 30 B/C. John went out and won the championship in his class! Not bad for a sport he was just trying on the side.
Eli used to struggle a bit with the Tennessee humidity, but he got things rolling for good in '07, when he won the Supermini and 85 (14-15) titles (battling none other than Blake Baggett in Supermini). He swept both Supermini classes again in 2008, and then for '09 was drafted by the potent Factory Connection (GEICO) Honda amateur program, leaving his old Suzukis behind. On big bikes, Tomac was even better, and no one was close by Loretta's '09—and no one before or since has ever won the first National they ever entered.
Our man Davey Coombs sent over additional notes because he can't stop himself from running through moto trivia: Ron Lechien was the first big star to graduate Loretta Lynn's (1982) and turn pro (Daytona '83, where he finished ninth in the 250 class), but he wasn't a superstar because of Loretta Lynn's. For years he was a dominant West Coast prodigy, and he even won Mammoth Mountain's 125 Pro Class as a 14-year-old. There was no 125 Supercross class to turn pro for in '83, but Yamaha gave him a bike and a shot as soon as they thought he was ready. By the summer of '83 he was more than ready, and he won his first AMA Supercross at Orlando, then eight days later his first 125 National at Lake Whitney in Texas. Those were his 15th and 16th races, against guys like David Bailey, Jeff Ward, Mark Barnett, Johnny O'Mara, Rick Johnson and even Bob "Hurricane" Hannah.
Back to 2009. While Tomac was arguably the star of the week, the A class was packed with talent, too. A pair of Team Green riders, Baggett and Dean Wilson, battled not only for the AMA Horizon Award, but also for a spot with the Monster Energy/Pro Circuit Kawasaki team for the next year.
They were pitted against each other in 250A, and Wilson got the better of it with 3-1-1 scores and the title. Taylor Futrell was second and Baggett third. Wilson also went 1-1-1 in 450 A/Pro Sport, and with those two titles, grabbed the Horizon Award. Baggett won 250 A/Pro Sport.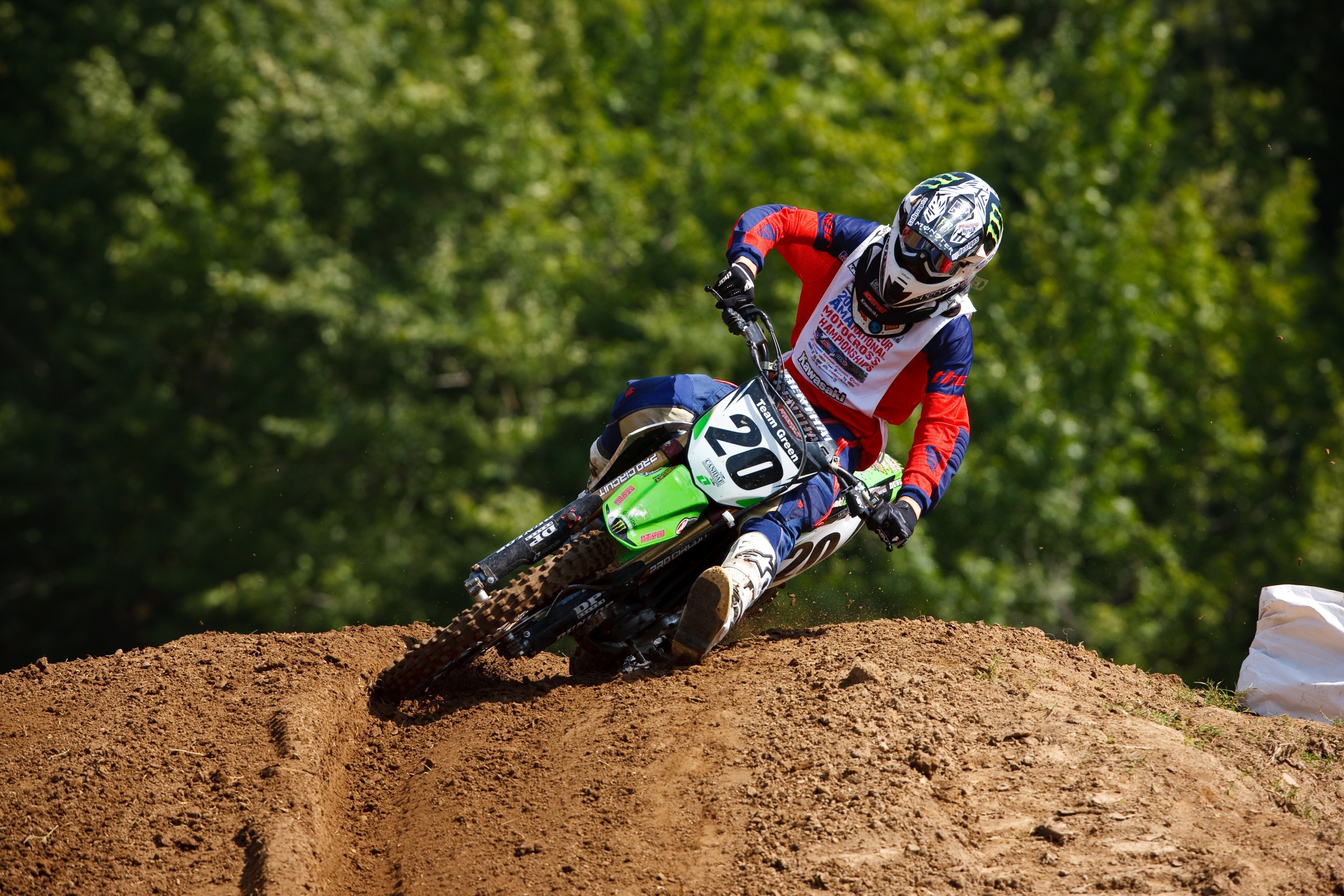 Who was coming next? One can argue that the best battles at Loretta's come in the 85cc (12-13) division. They're always stacked, because minicycles don't get split into A/B/C rankings, and while some riders are smaller and can stay on 65s for a while, and some are larger and get on big bikes early, just about everyone is in the 85cc sweet spot at age 13. The 2009 (12-13) races were intense. Adam Cianciarulo won the stock division with a 1-2-1 over Thomas Covington and Justin Hill. But the Mod division was crazy! This title was going to come down to the late Jesse Masterpool and Matt Bisceglia, who were tied at 1-2 and 2-1 heading into moto three. They were closely matched—so close that they literally crashed into each other and had their bikes lock together while battling around Loretta's famous billboard turn. It took forever to get the bikes apart, and they ended up finishing the moto in 23rd and 29th. Cianciarulo outdueled Chris Alldredge to get the moto win and score an unlikely title with 3-6-1 scores.
On the other end of the age scale came The Doctor, Doug Dubach, who missed Loretta's when the event came around in '82, because he was already a pro. Dubach never stops racing, though, and he finally decided to give Loretta's a shot in 2006. In 11 entries between 2006 and 2012, he scored nine titles in the 40 and 45 Plus classes. In '09, he swept all six of his motos.
PREVIOUS ENTRIES