Tristan Charboneau Earns First Career EMX250 Overall in Portugal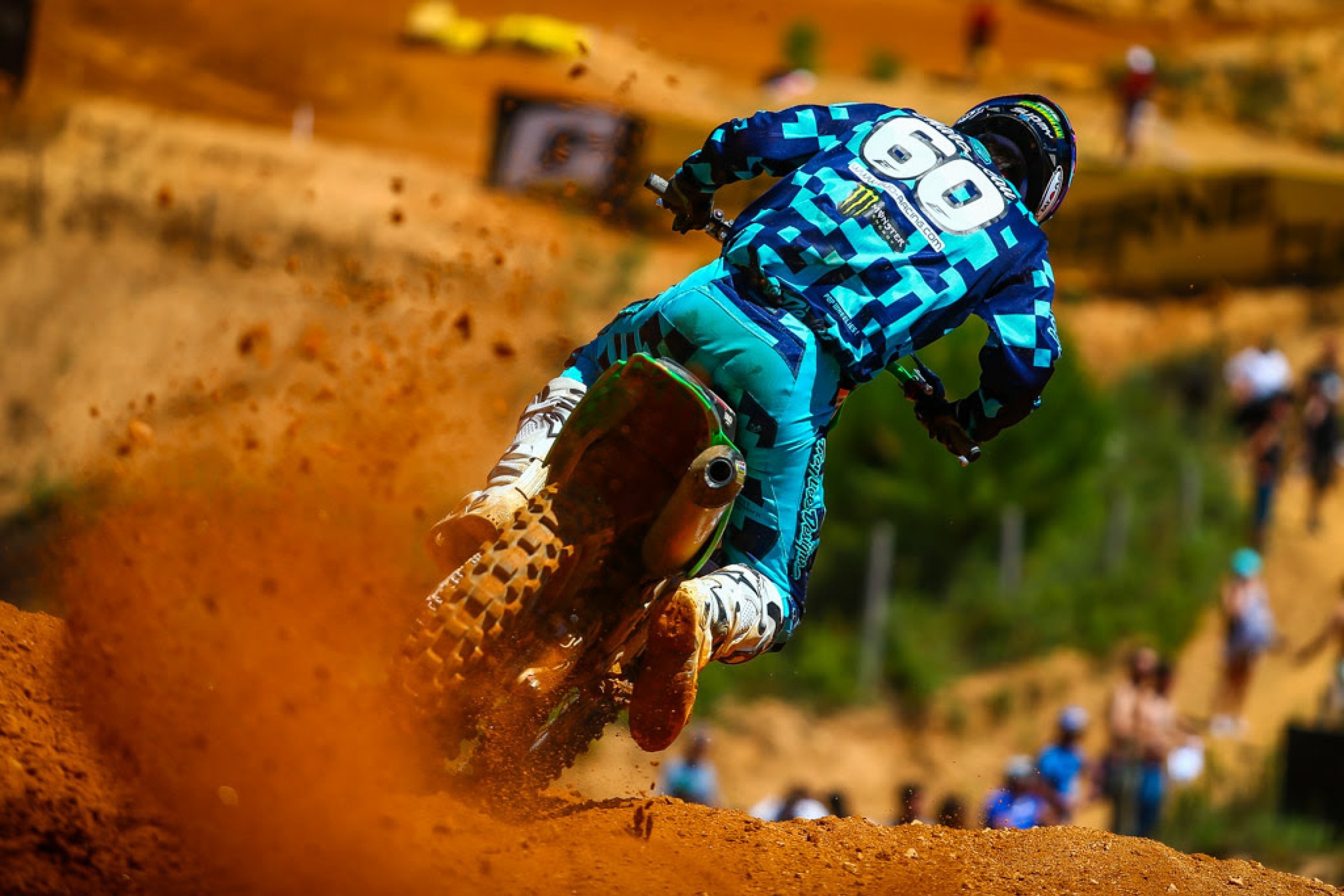 Agueda, Portugal
MXGP of Portugal
FIM Motocross World Championship
Report provided by Youthstream
The MXGP of Portugal has crowned many round winners today and the first riders to stand atop of the podium in Agueda were those of the European Championship classes of EMX250 and EMX125 Presented by FMF Racing. In EMX250 the overall was taken by the American BUD Racing Monster Energy Kawasaki's Tristan Charboneau and in EMX125 Presented by FMF Racing it was Gianluca Facchetti.
BUD Racing Monster Energy Kawasaki's Tristan Charboneau started the weekend by qualifying with the fastest time to earn the first gate pick. The gate choice proved valuable as he would strong in both races. Charboneau led every lap of the weekend to put in the perfect result and in dominant fashion.
The Italian rider, Yamaha SM Action's Simone Furlotti, also had identical race results as he finished 2nd in each. In Saturday's race 1, Furlotti started 4th but had a strong mid race passing 2 riders in 2 laps. Race 2 he again first crossed the finish 4th but his charge came early in the race making his 2 passes on lap 2 and 3.
With his consistent result and 2nd overall, Furlotti takes the points lead from Monster Energy Kawasaki Racing Team's Morgan Lesiardo. Lesiardo in fact had a weekend he would prefer to forget with a 13th and 12th taking 10th overall.
Charboneau's American teammate, BUD Racing Monster Energy Kawasaki's Marshal Weltin was comfortable on the Agueda circuit putting in two 3rd place finishes for 3rd overall. In race 1 he would chase his teammate for two laps while in second until being passed on lap 3 and again on lap 7 before fighting his way back into 3rd. Although in race 2 he didn't see the same luck, off of the start, he battled his way forward passing several to get into third.
Honda Redmoto's Mathys Boisrame struggled in the heat last weekend but made a strong recovery this time around to take fourth overall with 4-4 scores. The Frenchman, still dealing with exhaustion of last week, eventually fell off the pace after strong racing took him up to 3rd during race 1 and 2nd in race 2 before falling back to 4th.
F&H Racing Team's Ruben Fernandez was in a heated battle with Boisrame the majority of race 2, swapping between positions 3 and 4, he eventually finished 1 spot behind Boisrame with a fifth. Combining his 5th with 9th in race 1 he scored 28 points and took 5th overall.
EMX 250
| | | | | |
| --- | --- | --- | --- | --- |
| Overall Finish | Rider | Race 1 Points | Race 2 Points | Bike |
| 1st | Tristan Charboneau | 25 | 25 | KAW |
| 2nd | Simone Furlotti | 22 | 22 | YAM |
| 3rd | Marshal Weltin | 20 | 20 | KAW |
| 4th | Mathys Boisrame | 18 | 18 | HON |
| 5th | Ruben Fernandez | 12 | 16 | KAW |
| 6th | Alberto Forato | 13 | 15 | HON |
| 7th | Jago Geerts | 14 | 14 | KTM |
| 8th | Pierre Goupillon | 15 | 13 | KTM |
| 9th | Mike Stender | 10 | 8 | SUZ |
| 10th | Morgan Lesiardo | 8 | 9 | KAW |
EMX 250 Championship Standings
| | | |
| --- | --- | --- |
| STANDING | RIDER | POINTS |
| 1st | Simone Furlotti | 235 |
| 2nd | Morgan Lesiardo | 227 |
| 3rd | Alberto Forato | 180 |
| 4th | Jago Geerts | 171 |
| 5th | Ruben Fernandez | 162 |
| 6th | Ken Bengtson | 152 |
| 7th | Marshal Weltin | 143 |
| 8th | Miro Sihvonen | 126 |
| 9th | Mathys Boisrame | 124 |
| 10th | Tristan Charboneau | 114 |