Mt. Morris, PA
High Point
Lucas Oil AMA Pro Motocross Championship
You've probably heard of the name Marky Worth before (his real name is Mark, but he prefers Marky). For a lot of his amateur career he was a Team Green rider and won two Loretta Lynn's titles when he was on minis. Going into the pros he got a deal with the now defunct MotorcycleSuperstore.com Suzuki team run by Jimmy Albertson, but in the very first practice session at Anaheim 1 he crashed and dislocated his hip and elbow and missed the remainder of supercross.
A few months later Worth and the team decided to part ways. He went on to race some small amateur races, but then made his way up to Canada to race the Canadian Motocross Nationals in MX2 for the Monster Energy/Leading Edge Kawasaki team with Mike Alessi (Alessi raced MX1).
After not getting the exposure he expected he would in Canada, Worth contemplated whether motocross was the path he wanted to continue to follow and even considered going back to school to get his degree. After taking some time to think and receiving some encouraging words from his good friend Sean Cantrell, Worth is back racing in the U.S. on a full privateer effort. We called up the Arizona native to see how things are going this summer.
Racer X: Growing up in Arizona, what is the moto scene like there nowadays? I know it used to be huge, but it seems to have slowed down a bit.
Marky Worth: It started off very strong. Everybody that I knew rode. I started really young and all my friends that I grew up with it was all because of racing. The moto scene was big back in the early 2000s, everybody raced, there was always the big series out here. It was serious. But it's been tough over the years just because people kind of … I don't know. Things seem to be a little different. A lot of the tracks have closed over the years so the riding is very limited. Only one track is open during the week so the only time you can ride there is on Wednesdays. So it's basically a Wednesday and the weekends are hit or miss. But a couple of the track owners, they do good. They really want to help out guys like me who are trying to make it to the pro level and they've been helping out a little bit more. The weather has been a huge factor as well. The heat and the dryness … it's very hard for these guys to get water, which is understandable. It's definitely gotten harder racing here over the years especially at a pro level.
Coming up through the ranks as an amateur, did you find it tough to get exposure just because you weren't out in California or in the Midwest where some big series are?
Oh, no doubt about that. That's one of the main conversations for us was always, we're not getting exposure. We're in Arizona and yeah, there are people at the track, but in California you have team owners and you have sponsorships and everything's there. In Arizona there's none of that. I definitely think that the fact that I was always kind of under the radar had to do with where I lived. It was kind of depressing at times knowing I had to leave my home to try and make it in the sport, but I've honestly done the best I can to make it work and to go out to California when I feel it's necessary. I like being home. I love Arizona, but it can be really hot and not too much fun. [Laughs] My entire family is in Arizona and it's just where I grew up. I'm proud to carry on that Arizona legacy to the pro ranks and hopefully I can continue that and show people that it's possible.
Did you feel like you were underrated when you were getting ready to "graduate" from being an amateur and turn pro?
Honestly, I do think when I look back at it that there was a little bit of … I feel like I did feel underrated. I was kind of the underdog after I left the amateurs and I didn't' feel like I should have been. Like Loretta's, my A [Class] year, I was feeling really good. First moto, I won by 20 seconds in the A Class and literally after that race I was talking to teams. Things were looking good and then all of sudden the curse of Hurricane Mills took over second moto. I just hit a downed rider and come all the way from last and then that was it at that point. I lost the championship and that was a big kick for me. I was trying to figure out what I wanted to do and I think there was some steps I took. I would kind of get to that point, that barrier of being pro and reaching my goals then I would get kicked back down and I'd be back at square one. It was a constant battle between that little barrier. Finally, after some time I've been able to sit down and collect myself and figure out what I've been doing wrong and what I need to do right. It's worked. Obviously I'm not going to count my blessings yet, but I have been able to do my first couple of pro races and I think hopefully that being underrated kind of dissipates as I get some more attention and get my name out there a little bit more.
Sticking with that theme of you struggling to get over that barrier of getting into the pros. You got hurt in the first practice session of your very first supercross race. Where were you at mentally after that happened?
It was tough. With Jimmy [Albertson] and that whole Motorcycle Superstore team … when that came together I was at a high point in my career. I was excited. I was in living in Texas and I was training for supercross with Shannon Niday. Then at that first race I made that mistake, got a little too excited in practice and got put back to square one. It was very hard for me to overcome that one, because me and the Superstore team ended up splitting ways and it was just a continuous battle with myself. After a while, we went back and started racing little amateur stuff thinking I was going to go race Loretta's again, then I got a call from Canada, which was awesome. Went and raced in Canada and that was a great experience with everybody there. I thought it might get me some exposure, but it was so last minute for me that we didn't have time to be 100 percent. It was really just an experience. After still not getting any attention I was kind of like, man I don't know what's going to happen. Am I making the right decisions? This sport is getting expensive. What am I going to do? I kept looking for answers for a long time and after a while I decided, you know what, this is what I do and this is what I love to do. This is a skill I was blessed with so I might as well go at it 100 percent and that's what I've done recently.
And you did pretty well up in Canada last year. How come you decided not go back there? Was it just an exposure thing?
I didn't really have any offers to go up there. The guys at FXR said that they would support me to go up there, help me out with living up there and entry fees and stuff. But my goal was going to be about how Glen Helen and Colorado went [Worth missed Hangtown due to some minor injuries]. Right now, I think the way it's going, I kind of want to stick down here and see what I can keep doing. Try and break into those top 15s more often and kind of reach those goals. I'd like to stay down here. Like I said, this home for me and being able to race those Nationals like RedBud has always been a dream of mine. If I can continue those results, I think staying down here is going to be the best bet for me.
You finished in the top 20 at both Glen Helen and Thunder Valley. Where does that leave you for the rest of the series? Are you going to try and make every round?
As of right now, the next two are just really far [away] and it would be a quick transition from being here to go all the way to Pennsylvania and Tennessee. I think what we're going to do is try and take a couple more weeks to prepare and maybe head to RedBud. I want to take the time that we have and focus on getting out east. Once we get out there we can kind of pick and choose … we have RedBud, Southwick, Millville and then try and come back to do Washougal, and then maybe the last one at Ironman. We're just taking it weekend by weekend and picking and choosing what we can do. Obviously, financially it's tough to be at every round as a privateer, it's not easy. So right now our goal is to do the ones we can and see where it takes us.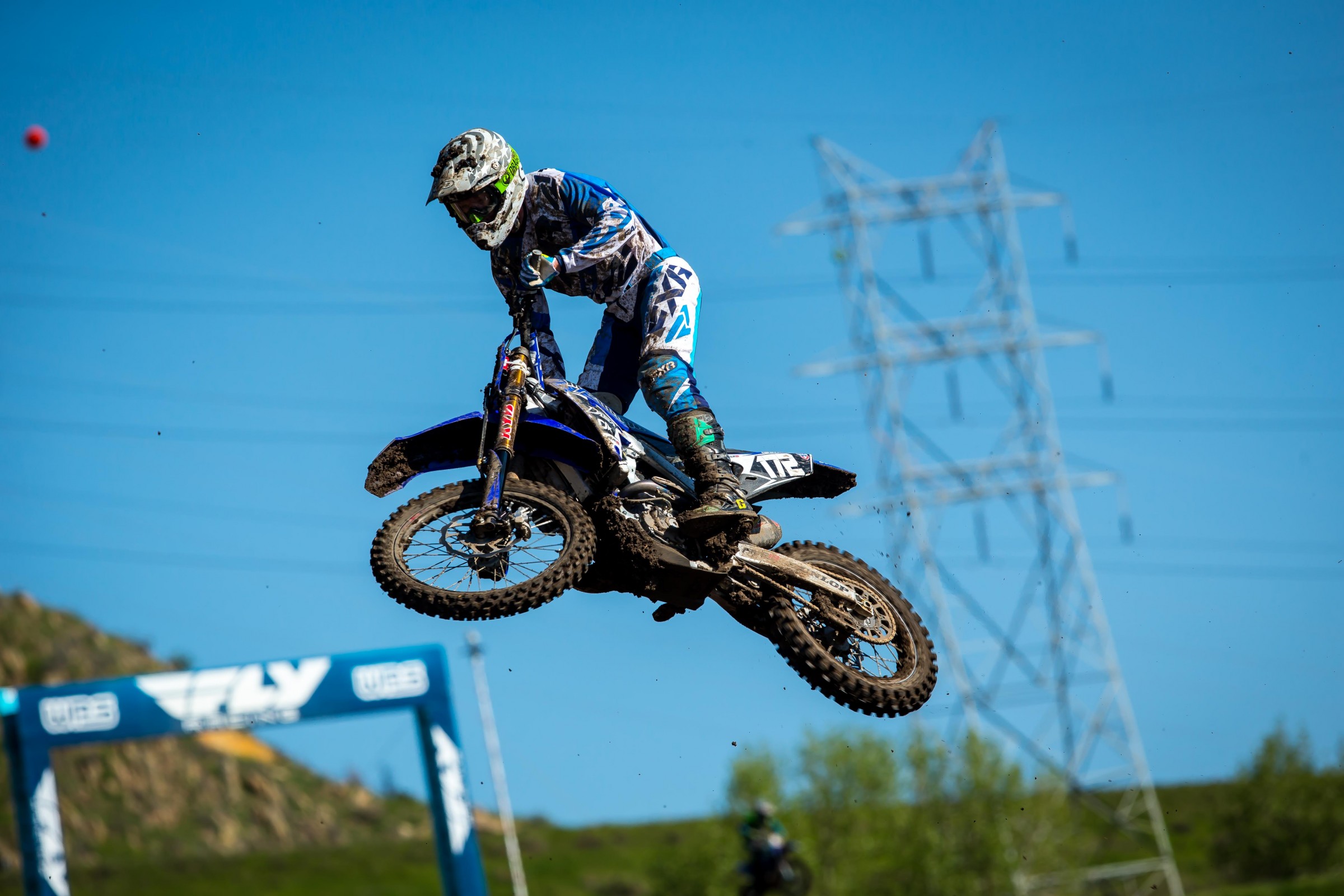 What does your program look like? Are you doing it all on your own?
It's really been about me and my dad. My family is very supportive and my dad specifically, he's the backbone to my program. Him and my mom have been through a lot throughout the amateurs, they've sacrificed a lot for me and my career and it means the world to me. My dad, for a while he was like, "You know what, this is up to you dude. You have to show me that you have the heart and you want to do it." Going through ups and downs I've finally been able to show the effort and all the work that I need to do, and he's been 100 percent willing to help me out. I've been throwing in my own bit of coin too. I bought myself a race bike, and all that stuff. It's definitely kind of depressing watching all the money go away, but for me, it's all for a greater cause. It's all for the love of the sport. It's kind of an investment. You're investing in yourself hoping that one day it will all kind of pay you back and I can chase my dream and really appreciate spending that money and putting in the work. Hopefully it'll pay off.
Any sponsors you'd like to thank?
I'd like to thank FXR, MX Shoppe/JRD, Dedicated Ride Co., Dragon, 6D Helmets, Dunlop, Five18 Designs, Rekluse Motorsports, MotoStuff, DASA Racing, Mika Metals, DT1 Filter Service, Crank Works, Shannon Niday, Mike Mazzone who really has been a huge part of me staying in shape and staying on top of things. Last but not least my dad and my entire family for the love and support which has kept me going since day one.