Rancho Cordova, CA
Hangtown
Lucas Oil AMA Pro Motocross Championship
We're counting down the days to the start of the 2017 Lucas Oil Pro Motocross opener at Hangtown on May 20 with a look back at some of the most memorable motos in AMA Motocross history. This summer, you can watch all 24 motos on all of your devices on NBC Sports Gold. Today, we're looking at the 2006 Hangtown National.
Ricky Carmichael's name will appear often on any list of the most memorable things in Lucas Oil Pro Motocross history. After all, he is the GOAT for a reason: 102 of them, to be exact. But along the way to winning those 102 overall Nationals came a lot of dominant, dramatic moments, over the course of 10 and a half seasons, leading to 10 straight championships and pretty much every conceivable record: most wins, most titles, most moto wins, most laps led, most riders passed in a single race, even most riders lapped in a single moto (all of them, Millville '06). But the first moto of the 2006 Hangtown National is on the list for a different reason—a rare, dramatic loss, after an uncharacteristic mistake that he could not completely overcome.
Going into the opening round of what was then called the Toyota AMA Motocross Championship, presented by FMF, Carmichael was on the hottest streak in the history of motocross. Riding for the Makita Suzuki team, Ricky had not lost a National since July of 2003, almost three years before. In the time since he has won 27 straight AMA Motocross Nationals: the last three of '03, while riding a Honda CR250, all 12 in '04 (on a CRF450), and all 12 again in '05 (now a Suzuki RM-Z450). He had also tacked on three more championships to his resume, plus two AMA Supercross titles ('05 and '06).
Team Kawasaki's James Stewart, on the other hand, was long overdue for a win. Everyone was, really. No one since Kevin Windham back at the '03 Washougal 250 National had beaten Carmichael, and that included Team Yamaha's Chad Reed, the still-fast Windham, and (throughout 2005) Stewart, the man who had actually broken one of Carmichael's records: most wins in the 125cc Class.
However, Stewart had struggled on the bigger bikes outdoors, mostly because he was still on a Kawasaki KX250 in the summer of '05 while Ricky and practically everyone else had already moved on to four-stroke 450s. Kawasaki put Stewart on their new thumper for '06, and he very nearly won the AMA Supercross Championship on it (and he did claim the FIM component of the season). Hangtown would mark the first outdoor match-up on equal equipment for the fastest 250cc rider ever and the fastest 125cc rider ever—finally both on 450s.
The morning of the race (Sunday back then) things weren't looking good for Stewart and the Kawasaki team, as they were having trouble with what was described as a "plugged petcock" in the first morning practice and suspension in the second practice. Plus it was chilly and raining, not an ideal day for racing.
Carmichael, on the other hand, was brimming with confidence, and if there is a moment that illustrates that best, it's the shot of #4 grabbing the first 450 moto holeshot, wide open in the left-handed first-turn sweeper, reaching for a tear-off!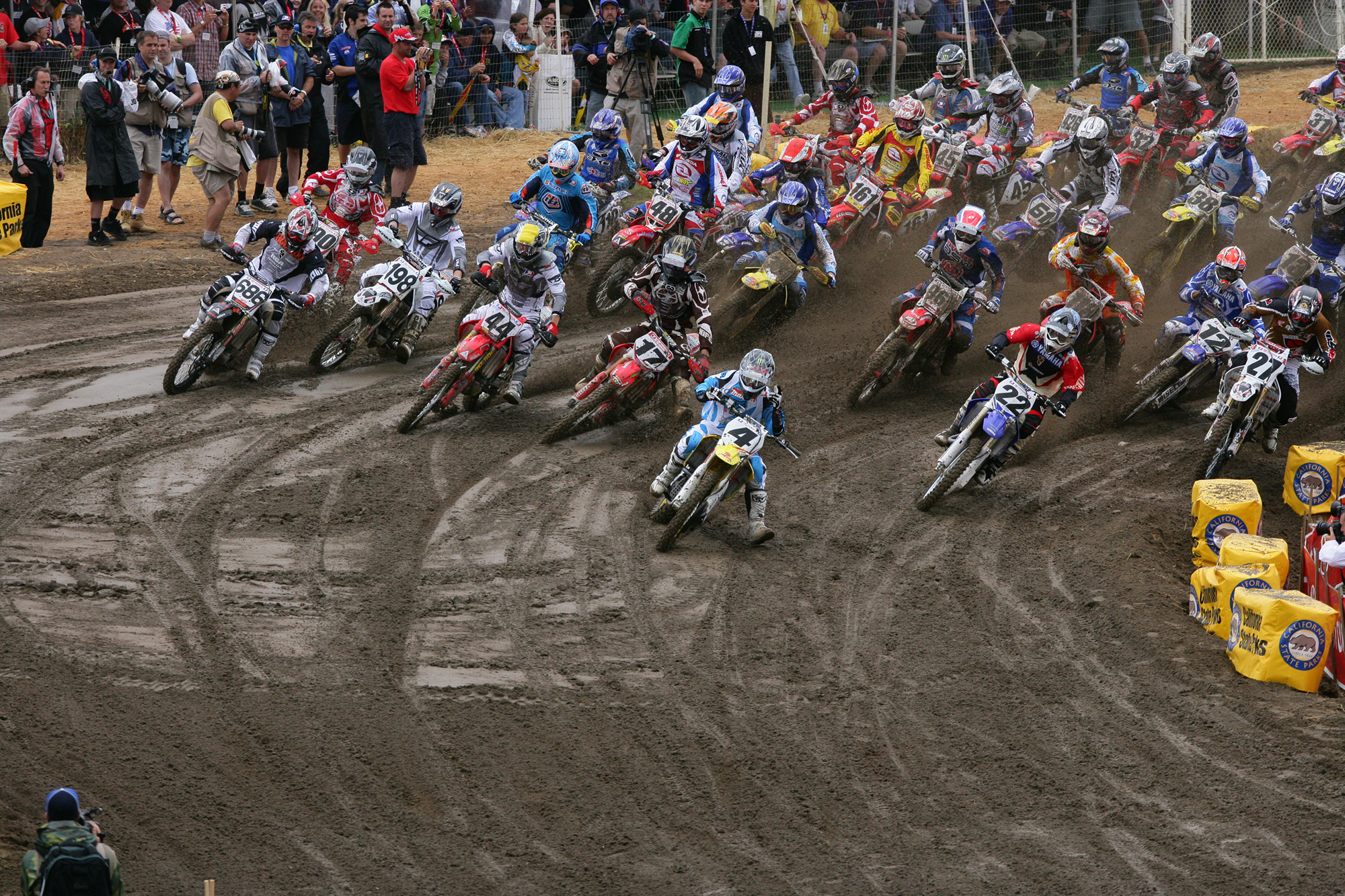 What happened next was wild and unexpected. As Carmichael got to the second turn up a short incline, and started to lean right into it, his front out washed out and all of the sudden #4 was down on the ground in front of everyone.
"Man, I got an awesome start, got the holeshot, and I just went into the first turn there," Carmichael told Cycle News' Kit Palmer later. "It was really rough and a little wet, and the bottom line is that I just lost my front end. I fell down, got high-sided and off the bike, and I just laid there behind my bike. Everyone went by and I got up. After that I just tried to make as many passes as possible."
But not all was lost, as no sooner did Carmichael get going that he realized he could already see Stewart's big #7, James having not crashed but simply gotten caught up in traffic.
"It seems like every time I crash something happens to him," said Carmichael of Stewart. "I was a little surprised to see him. I thought maybe we could freight-train to the front."
At the front was none other than Chad Reed, the Australian superstar who had been something of a third wheel in the RC-Stewart SX title split. Reed had won a grand total of one AMA National since arriving in the U.S. in 2003, but then again, he was an admitted supercross specialist and did not take it as seriously as he would in years to come. And when Reed ended up making an unforced error and running off the track, former prodigy Robbie Reynard found himself in the lead on a privateer Honda. Reed would pass Reynard back and use the clear track to open a massive lead, but the two favorites were rising through the pack fast.
Once Stewart led Carmichael past everyone but Reed, the two started to engage in a dogfight that saw them pass one each other back and forth several times. It was clear that Carmichael was determined to get around his heir-apparent, but it was also clear that Stewart was just as determined. The elements were in James' favor too, as Carmichael ended up having to toss his goggles at a crucial moment late in the race.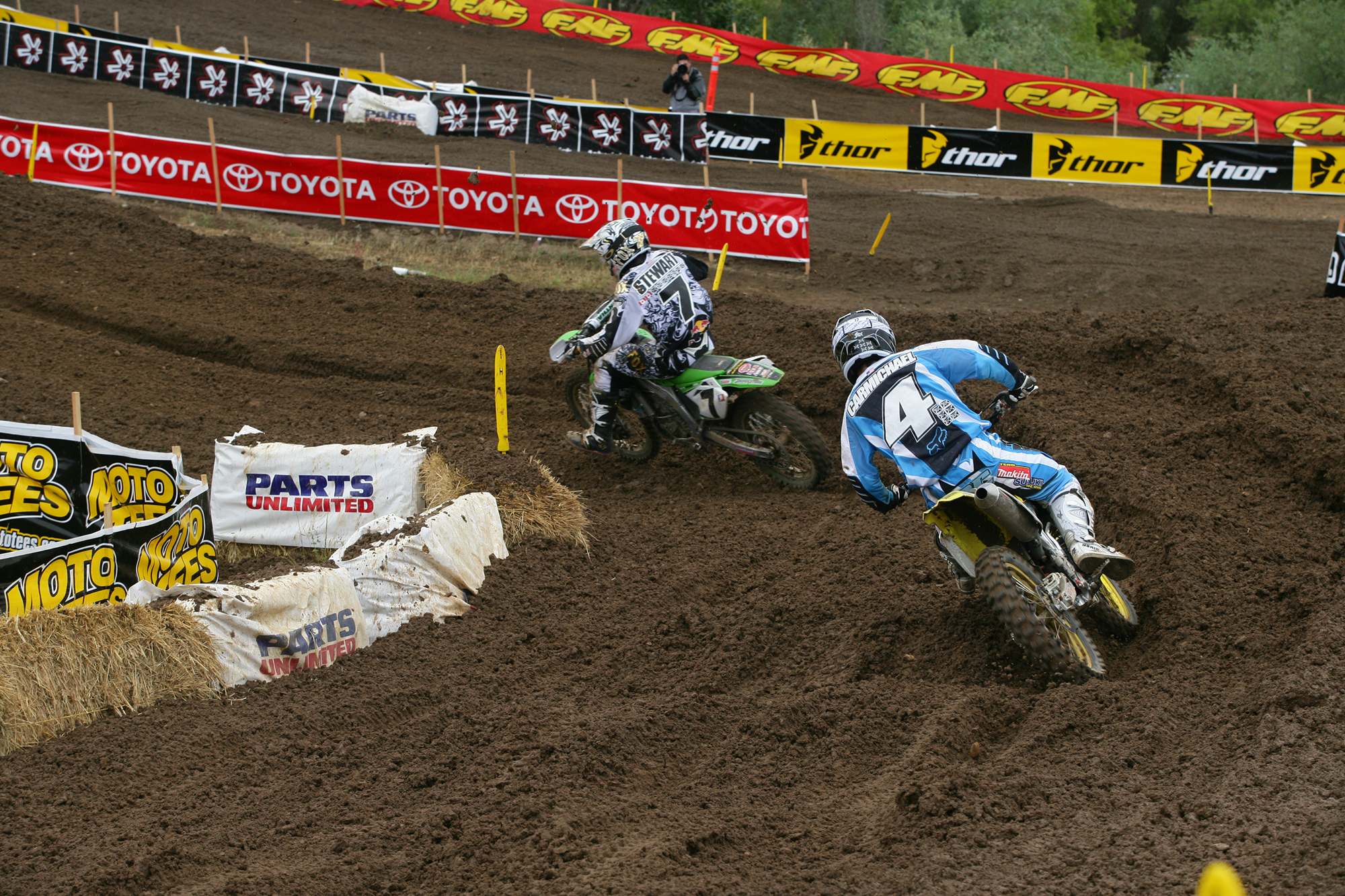 "I didn't want to be behind him and run out of tear-offs," Stewart said to Cycle News' Palmer, and that proved to be a very wise strategy.
"I should have tried to make a pass way before I did," Carmichael would admit later. "I just wasted my goggles when I was behind him—and he was riding good. But, at the same time, the lines, it was really hard to get by, and I was kind of waiting for a mistake. I think I waited too long."
Just ahead of both of them was none other than Chad Reed, and both Stewart and RC had a shot at him, albeit a long one. Stewart, riding one of the best races of his career, never stopped charging. With Carmichael still on his rear fender, albeit now covered in sandy roost, Stewart got close enough on the last lap to blitz past Reed when Chad came upon two lapped riders, and he sped off to the checkers. Reed did manage to hold Carmichael off, which was huge because it meant RC would have to not only win the second moto, he would need Reed or someone else to also beat Stewart to keep his years-long winning streak in tack.
"I felt awesome," said Stewart after his first-ever moto win in what is now the 450 Class, as well as the first time he ever beat Carmichael outdoors. "I put 35 strong minutes in, and me and Ricky had a good battle. I was able to start closing in on Chad and went for it the last few laps."
"I felt good and was putting in consistent laps," said Reed, who told Cycle News he had tossed his goggles as well, after the moto. "I could see them battling and kind of staying the same. They would catch me; then I'd pull it out again. Then, about the middle of the races, I just started missing all my lines, and they just gobbled me up…."
The second moto was nowhere near the thriller the first was, but the damage had been done. Carmichael won in a relative runaway, avoiding a crash in the second turn this time and then emphatically pulling away quickly, eventually leading Stewart by as much as 45 seconds, despite a cut in his ankle from the first moto crash that would require stitches. James knew he only had to finish second to take the overall, and he let RC go and just focused on staying ahead of the other 38 guys.
"I got kind of a bad start, and once I got into second I kind of sat there," said Stewart. "I knew with second I would get the overall, and I didn't want to throw it away trying to catch Ricky—he already had a good gap. All I had to do was try to stay up; I had fun out there. For the first time in a longtime outdoors, I actually had fun on the racetrack."
As for the winning streak ending, Carmichael said, "I didn't even think of the streak, to be honest. It never even crossed my mind one time. I just came here to try to win the race. We won one moto—it would have been nice to have gotten around Reedy, oh well."
After his Hangtown loss, Carmichael put the rare defeat behind him and promptly won the next six races on the 2006 schedule. The next race he would lose would be Washougal, where he had the race in hand but then had that crazy late-race crash and threw it away over the tunnel jump. Between Washougal '03, where he lost to Windham, and Washougal '06, where Stewart won, Carmichael won 33 of 34 AMA Nationals, with Hangtown his one and only overall defeat. That's why he's the GOAT.
Motocross
Rider
Hometown
Motos
Bike
1
James Stewart
Haines City, FL

United States

1 - 2
Kawasaki KX450F
2
Ricky Carmichael
Havana, FL

United States

3 - 1
Suzuki RM-Z450
3
Chad Reed
Kurri Kurri

Australia

2 - 3
Yamaha YZ450F
4
David Vuillemin
Murrieta, CA

United States

4 - 5
Yamaha YZ450F
5
Travis A Preston
Hesperia, CA

United States

6 - 4
Honda CRF450R
6
Nicholas Wey
DeWitt, MI

United States

7 - 6
Honda CRF450R
7
Kevin Windham
Centerville, MS

United States

5 - 8
Honda CRF450R
8
Jeff Dement
Spring, TX

United States

11 - 7
Suzuki RM-Z450
9
Davi Millsaps
Cairo, GA

United States

9 - 10
Honda CRF450R
10
Josh Summey
Huntersville, NC

United States

12 - 12
Honda CRF450R
Full Results