Rancho Cordova, CA
Hangtown
Lucas Oil AMA Pro Motocross Championship
We're counting down the days to the start of the 2017 Lucas Oil Pro Motocross opener at Hangtown on May 20 with a look back at some of the most memorable motos in AMA Motocross history. This summer, you can watch all 24 motos on all of your devices on NBC Sports Gold. Today, we go back to Gatorback Cycle Park and the opening round of 1990.
The events that made the second 250cc moto of the 1990 Gatorback National one of the most memorable motos of all time were actually set in motion exactly one year earlier. It was at the '89 Gatorback National where Rick Johnson, then at the absolute height of his reign as America's motocross and supercross king, snapped his right wrist in practice after colliding with Danny Storbeck. After six rounds of the 1989 Camel AMA Supercross Championship Johnson was a full race ahead of his Honda teammate Jeff Stanton in points when he got hurt on the morning of the outdoor opener, which everyone had him pegged to win. Instead, RJ spent the summer trying to get his form, speed and health back, and he even won a race—the 1989 U.S. 250cc Grand Prix at Unadilla over future superstar Jean-Michel Bayle.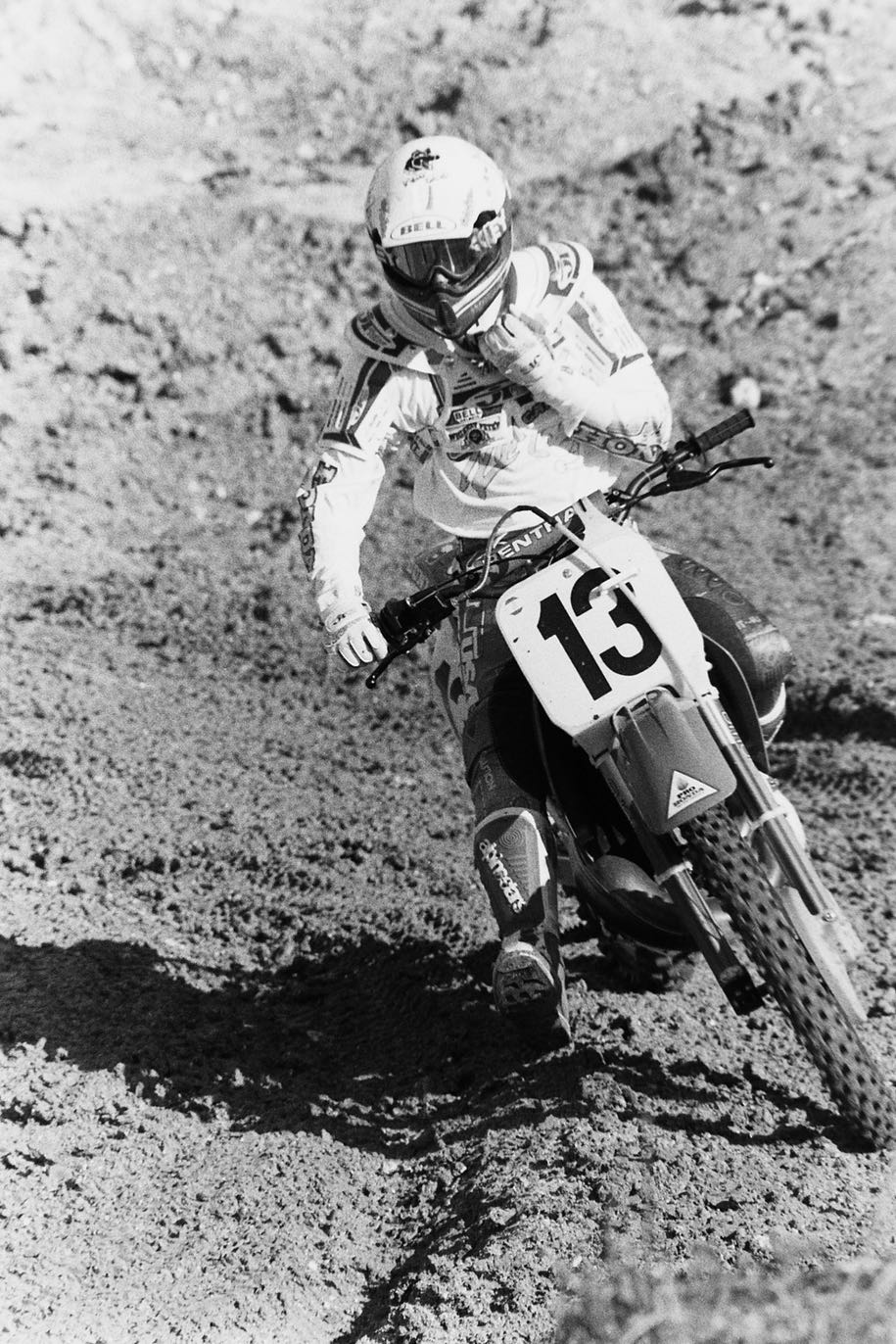 When the 1990 AMA Supercross Championship started up Johnson was having a hard time even reaching the podium, as Stanton, the reigning AMA Supercross #1, and Bayle and Yamaha's superfast 250cc rookie Damon Bradshaw took turns at the top. Johnson did earn third at Atlanta, one weekend before his return to Gainesville and a chance to redeem himself after the previous year's freak accident.
In the first moto Johnson got to second place early behind local standout and Suzuki factory rider Ron Tichenor and eventually made the pass and pulled away. Stanton, no longer in RJ's shadow, chased him down at the end of the moto, but couldn't make a pass.
The second moto was the wild one. ESPN's Motoworld host Larry Maiers called "one of the best races ever." It featured the Beast from the East, Bradshaw, still a teenager who was riding in his first national on a 250cc motorcycle. Stanton and Johnson and Tichenor were all up there too. Bradshaw was absolutely lighting up the Gatorback track, on which he was a regular visitor as an amateur. But the pace and heat proved to be too much—he didn't know how much work the 250 would be—and he wore himself out. He also re-injured a knee that had been bothering him since the San Diego SX with some epic launches out of the bottom quarry that Cycle News reported to be as far as 140 feet.
Soon it was down to Johnson and Stanton, Honda teammates who were no strangers to battling with each other. They would trade the lead back and forth several times, as Johnson showed the world that he was back, and Stanton tried to prove that he was a capable champion and the team's new leader. (Jean-Michel Bayle and Mike Kiedrowski were vying for that role too, but they were dispatched to the 125 Class when the outdoors started in 1990.)
Here's the Motoworld highlights of the race
"It was so close out there," Johnson told Cycle News' Ken Faught after the thrilling second moto. "I didn't have time to see if it was Jeff or Damon behind me. They were using some of the same lines and I just didn't know."
"I rode a good race, but Rick rode a better one," Stanton told Cycle News. "I'm not disappointed, it was real fun."
"You love to be in one of those races," added RJ. "Not at the time, but when you look back on it. I rode my butt off and I was tired. It's been a long time since I won a National and I feel I am riding up to par. There's still room for improvement though."
---
Unfortunately, Johnson's comeback would be torpedoed just one week later when he broke his right hand at the Daytona Supercross. He tried to comeback again later in the season, and ended up winning the season-ending Unadilla 500cc National. But recurring wrist troubles at the start of next year's AMA Supercross Championship proved to be too much, and 10 years after his AMA Motorcycle Hall of Fame career began, Rick Johnson called it quits.
Here's the full hour-long show of the 1990 Gatorback National, hosted by Larry "Supermouth" Huffman:
Motocross
Rider
Hometown
Motos
Bike
1
Rick Johnson
El Cajon, CA

United States

1 - 1
Honda
2
Jeff Stanton
Sherwood, MI

United States

2 - 2
Honda
3
Ron Tichenor
Palm Harbor, FL

United States

4 - 3
Suzuki
4
Mike LaRocco
La Porte, IN

United States

6 - 4
Suzuki
5
Doug Dubach
Costa Mesa, CA

United States

5 - 5
Yamaha
6
Damon Bradshaw
Charlotte, NC

United States

3 - 11
Yamaha
7
Johnny O'Mara
Van Nuys, CA

United States

7 - 8
Kawasaki
8
Fred Andrews
North Canton, OH

United States

9 - 10
Suzuki
9
Larry Ward
Woodinville, WA

United States

15 - 7
Suzuki
10
Brian McElroy
Brooksville, FL

United States

10 - 13
Suzuki
Full Results