We're counting down the days to the start of the 2017 Lucas Oil Pro Motocross opener at Hangtown on May 20 with a look back at some of the most memorable motos in AMA Motocross history. This summer, you can watch all 24 motos on all of your devices on NBC Sports Gold. And we're starting with one of the most notorious races ever.…
The Coors/Yamaha 125/250 National at Saddleback Park held on April 5, 1981, is remembered as the Saddleback Massacre. Two 45-minute duels between Kent Howerton and Bob Hannah that saw the two men split moto wins, with Team Yamaha's Hannah winning the crucial second moto in a knock-down, drag-out fight with Suzuki's Howerton. Motocross Action's Jody Weisel would write of the event: "When the Saddleback National was over and the sun set into the smog-hazed Pacific Ocean, there was garbage on the ground, money in the winners' pockets, blood on the track and new life in the Nationals. Perhaps Saddleback 1981 won't be remembered as a watermark in American motocross history, but for several reasons, it ranks high on the memory quotient among the experienced race-watchers." The headline on Jody's feature? "Saddleback Sunday Massacre."
First, some background. Bob Hannah was just getting back up to speed after missing the entire 1980 season—he'd shattered his leg in a water-skiing accident at the end of the '79 season—when he swept the AMA Supercross and 250 Motocross Championships. He was at the peak of his career before the accident and, at that point, was the fastest, most dominant motocross rider America had ever produced.
With Hannah out, Yamaha did not win a single 250 National in 1980, nor did Hannah win the '81 opener at Hangtown. That race was easily won by Howerton, the reigning AMA 250cc Motocross Champion.
The following week, the series moved to Saddleback Park in Irvine, California, then the epicenter of American motocross, for Round 2. And Hannah seemed incensed by what Howerton said after winning the opener: "I'm going to try to do better than I did last year. I want to win them all; I want to win every moto." Hannah wasn't going to let that happen, and it became obvious right away at Saddleback.
Team Kawasaki's David Bailey, the future superstar, took the first-moto holeshot, followed by Hannah and Team Honda's Donnie Hansen. Howerton was a little ways back but found his way to the front, meeting up with his old nemesis Hannah. He darted past Hannah, only to have Bob pass him back. The next time Howerton got by, Hannah stuffed him in the berm at the bottom of the IRC Downhill.
"When I went off the top of that double jump I was kind of surprised that he ran into me," Howerton told Cycle News' Mark Karyia after the race. "It was pretty darn aggressive, bumping into each other like that, but I'm not gonna back off, I'll fight.
"He just gassed it and ran straight into me," Howerton added. "It knocked the bike out from under me and I fell backwards onto him and landed on his bike, then he gassed it and it drug me halfway down the hill.
"The first time he passed me, he rammed me, so I got a little mad and passed him back. Second time he passed me, he rams me. Third time he passes me, he rams me. Fourth time he got rammed; I rammed him on purpose just like he rammed me three times out there. That's all, he was riding dirty. If he wants to ride dirty, I'll ride dirty, but that isn't the way I want to ride. That's the way it goes sometimes. It don't matter to me; I'd just as soon not, but.…"
Hannah, who made contact with Howerton at one point over the iconic Magoo Double, turned around and flipped Howerton off. By the time Howerton got up and going, he was back in third, with Honda's Hansen between himself and Hannah. Howerton made quick work of Hansen, then caught and passed Hannah yet again—and this time apparently without any ramming.
In the crucial second moto, Howerton led early, with Hannah coming up on him at the 15-minute mark to make the pass for the lead. From there, the classic duel was on; Howerton tried to find a way past all over the track, and Hannah managed to rebuff him every time. It was enough to start wearing the super-fit Texan down, especially the arm he'd landed on in his first-moto crash with Hannah.
"I just couldn't hang on to the bars; my arm got so tired," Howerton told Cycle News. "Coming down those downhills, it'd just start shaking and my hand would come off the bars."
Finally, on the last lap, Howerton tried one last desperation pass, making contact again—only this time, Howerton went down in the process, and Hannah rode off with a popular win and a place in motocross folklore. Hannah himself would call it "the hardest 45-minute moto of my life."
The day after the race, in a sit-down interview with Motocross Action's Dick Miller, Hannah said flatly that the only reason he won that day, on a bike that he felt was much less powerful than Howerton's works Suzuki, was because "He angered me into beating him yesterday. That's no kidding. I wouldn't have beat him yesterday if he hadn't touched me. He made me so mad I tried harder than I would have. I couldn't have tried any harder."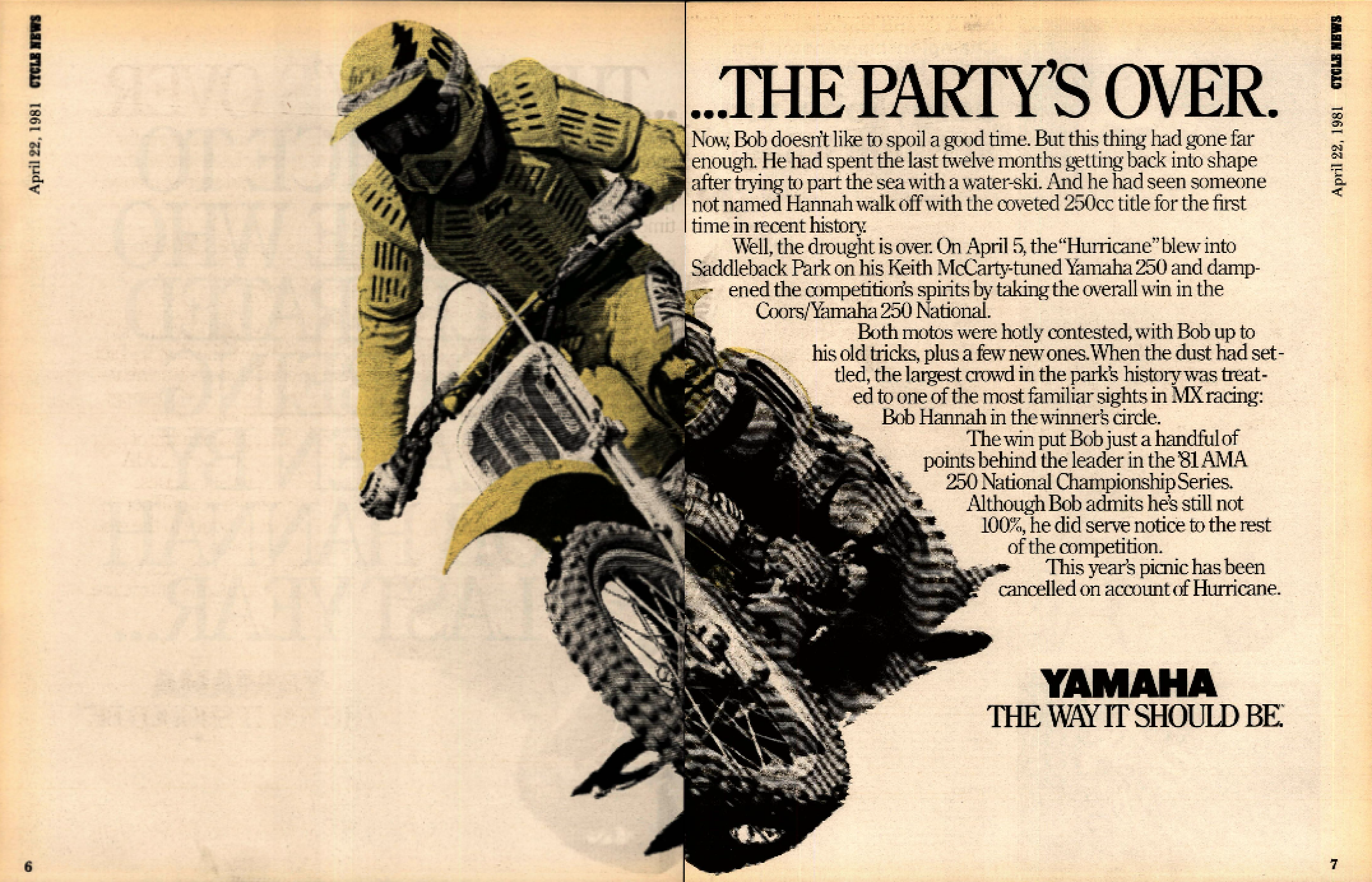 Motocross
Rider
Hometown
Bike
1
Bob Hannah
Whittier, CA

United States

Yamaha
2
Kent Howerton
San Antonio, TX

United States

Suzuki
3
Donnie Hansen
Simi Valley, CA

United States

Honda
4
Warren Reid
Westminster, CA

United States

Kawasaki
5
Ron Turner
Lakeside, CA

United States

Suzuki
6
David Bailey
Sugar Tree, VA

United States

Kawasaki
7
Rick Burgett
Sandy, OR

United States

Yamaha
8
Ron Sun
Sherwood, OR

United States

Honda
9
Kris Bigelow
Rochester, MI

United States

Yamaha
10
Jim Tarantino
Los Angeles, CA

United States

Honda
Full Results
---
And you can buy the "Massacre at Saddleback" by Todd Huffman's MX Files crew right here.
Would you like to hear Kent Howerton's take on the whole controversy? Steve Matthes just spoke to the Rhinestone Cowboy for this week's Fly Racing Racer X Podcast.
Visit again tomorrow for another of the 24 Most Memorable Motos in Lucas Oil Pro Motocross history.