New Venue for Sept. 3 USGP Announced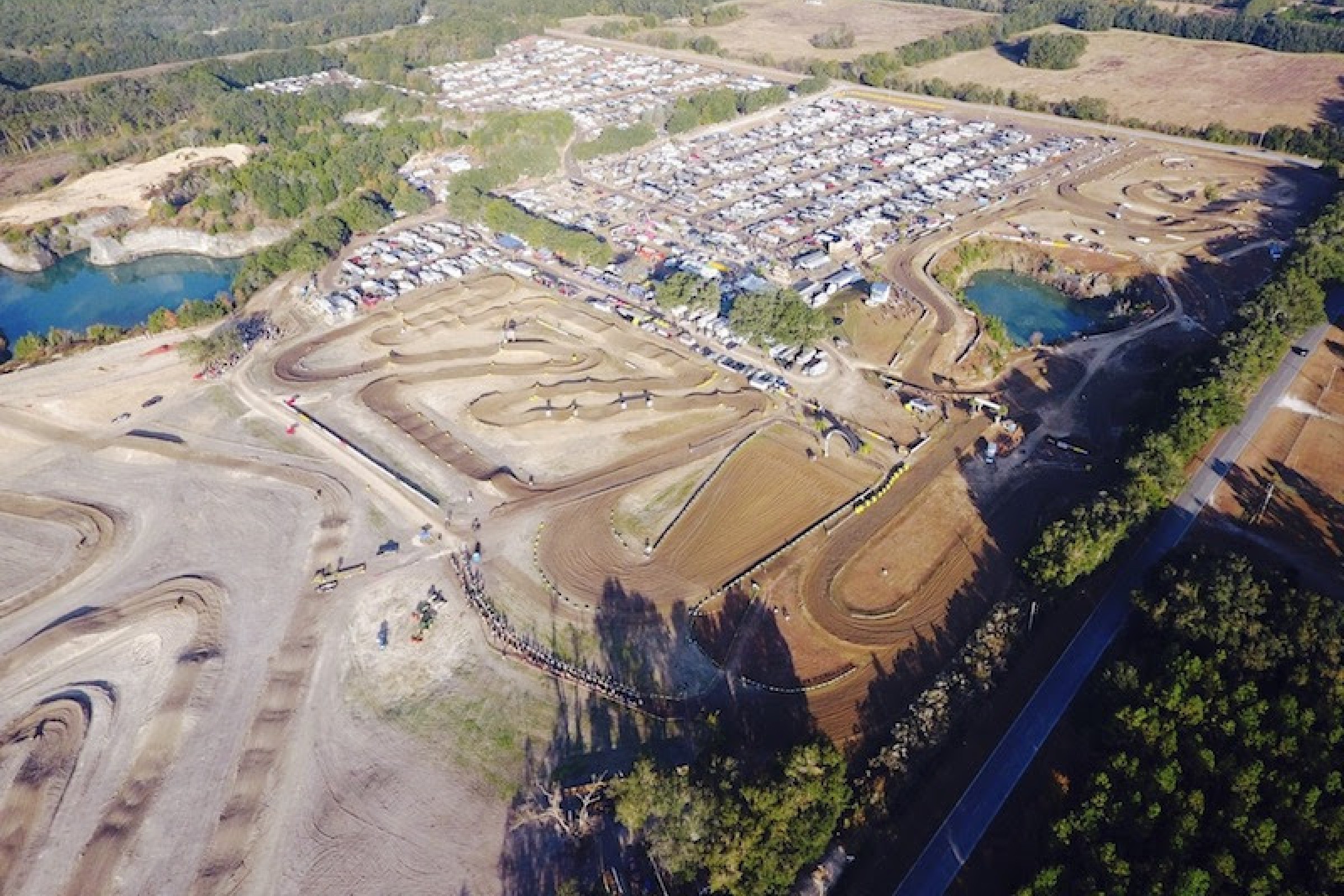 Last year's Charlotte, North Carolina, MXGP of the Americas is no more, but during the press conference announcing a new tie up between MX Sports (promoters of Lucas Oil Pro Motocross and sister company to Racer X) and Youthstream (promoters of the FIM World Motocross Championship) there was said to be a replacement venue coming soon, and it would be located in the American Southeast.
Today, that new USGP venue became official via a Youthstream press release, and it's the popular Gatorback Cycle Park in Gainesville, Florida. Gatorback hosted AMA National motocross races from 1983-1997, and has hosted the Thor Winter Olympics (aka The Mini Os) on Thanksgiving weekend for over 40 years.
The new race will be dubbed the Monster Energy MXGP of USA and will take place on September 3, the weekend after Lucas Oil Pro Motocross concludes in Indiana. It will serve as the 17th round of the 19-round Grand Prix circuit. Previously, the series had concluded in the U.S. with another USGP at Glen Helen, but that race is no more, and Grand Prix teams have expressed a desire to end the series back on their home continent.
David Luongo, Youthstream Vice-President and Head of Operations, stated: "We are very excited to come back in the United States of America for the Monster Energy MXGP of USA. Gatorback is one of the most historical tracks out there, the venue is beautiful and the MXGP fans in America will have the opportunity to watch the best motocross riders in the world to race on a classic U.S. track which will be very exciting for everybody. I really want to thank MX Sports and the AMA that helped a lot to make this event to happen and also Mr. Kern, the owner of Gatorback facility, to take this opportunity to bring back the MXGP World Championship in USA."
"We are excited that Youthstream and MX Sports are working together to bring the Monster Energy MXGP of the USA to Gatorback Cycle Park this fall," says Wyn Kern of Unlimited Sports MX, which operates Gatorback. "We are going to give motocross fans the rare opportunity to see the best racers from AMA Pro Motocross line up against the best riders from the FIM's MXGP World Championships, on a classic American motocross track. Add the fact that Unlimited Sports MX will host national-caliber amateur racing on this same Labor Day Weekend and Gatorback Cycle Park is going to be the capitol of the entire motocross world come the first of September."
Davey Coombs, President of MX Sports Pro Racing (and Racer X Editor-in-Chief), stated: "This is very exciting for American motocross, and also for MX Sports, finally having a chance to work with Youthstream to build a successful new race together here in the U.S. Our fans, not to mention most of the top riders, have long been familiar with what a great motocross track Wyn Kern and the Unlimited Sports MX crew has at Gatorback Cycle Park, so there is a lot of buzz already building about bringing the best professional motocross riders in the world here once again for a new MXGP in the USA."