St. Louis, MO
St. Louis
Monster Energy AMA Supercross Championship
Well, the points keep tightening in Monster Energy Supercross, but despite that Eli Tomac and Ryan Dungey just don't do drama. They've been absolutely respectful to each other and void of any rough riding or trash talk even as their title bouts loom larger and larger. But as the pressure mounts, someone else was ready to get involved in the fracas this time and stir the pot—someone who has plenty of experience with championship drama.
Tomac and Dungey got off the line together for the first time in a few weeks. Dungey secured the lead but Tomac found a nice outside line entering the whoops, which gave him a run and the inside in the next corner to take the lead. For about ten minutes, he inched away from Dungey, but then Dungey started reeling him back in, taking a lead of 2.8 seconds down to about 1.4. The fans were bracing for a battle, especially as Tomac began to approach lapped traffic. But when Dungey got to Chad Reed and tried to put him a lap down, he couldn't find a way around! Reed stayed in the main race line for three laps, and Dungey couldn't find an opening despite blue flags waving for Reed the whole time. Finally Dungey made the move, but by then Tomac had extended the lead out to about seven seconds, despite having to move through swarms of lappers himself, which means the three laps Dungey spent stuck behind Reed could have been his best chance to make a move on Tomac. By the time Dungey was through, it was too late to do anything, and Monster Energy Kawasaki's Tomac was free for his fifth win in a row, chopping Dungey's points lead down to four.
But the big question is, why did Reed make it so tough for Dungey to get around him, being a lap down? Some ill feelings were apparently building since last week, when Reed went down hard with Justin Bogle in a first-turn pileup. Dungey was involved in the start of that crash, although he managed to avoid going down himself. Sources say Reed wasn't happy about Dungey, and feels he may have started last week's pileup, which left Reed with road rash all over his rear end. This weekend, Reed passed Dungey in the second turn of the heat race and then rode a wide bike to try to hold him off. Dungey didn't like those moves from Reed and mentioned it in his post-heat-race TV interview. Reed likely didn't take a liking to those comments, and extracted a small measure of revenge in the main event.
"I don't know where it's coming from," said Dungey in the post-race press conference. "I guess I don't know what I did wrong. I have a lot of respect for Chad, he's been in the sport a long time. I'm not going to come in here and push the guy around or anything, I'm gonna race him clean. I guess I don't know where this attitude and everything is coming from. Like, the heat race, we were going through the whoops side by side, he sees me, and tries to come over and take my front wheel out. I mean, we're going through the whoops. What can I do? Then I try to make the pass on him and he tries to blow you off the track. It's kind of a bummer. That guy's been around a long time and that much experience, you'd think he would understand what it's like to be in the position that I am. But he has no respect for us and what we're doing, what we're trying to do. I have a lot of respect for the guy, still do, but tonight was a low blow."
So the fans didn't quite get the Dungey/Tomac battle that looked to be materializing. Tomac admitted the track was tough and he could feel Dungey was close. "I was [changing a lot of lines in the whoops]. I was searching. Early on it was a good line and then after a few laps it started dancing around, so then I thought maybe I would go to jumping, but then I felt Ryan there so I thought 'I need to go back to the fast skim line.' There were a lot parts on the track like that tonight, like the dragon's backs or the 2-3-3 where if you messed something up you messed up the whole section. So it was a really tough race track."
Dungey was at least happy with his riding this time. "I felt like he [Tomac] was running a good pace, but I wanted to just maintain my pace, and I thought I would get better, and I did," said the Red Bull KTM rider. "I started finding some lines and making up some time. I don't want to say 'woulda coulda shoulda had a win' but at least I would have been closer. I was happy with the performance tonight. I'm not even bummed. Of course you want to win, but, I feel like I rode good, our starts were good in the heat race and the main event. It was a long race, a long main event, so it wears on you but I thought it was good."
Red Bull KTM's Marvin Musquin snuck past several riders early to slip into third and even put the press on Dungey early, but then ended up finishing a distance back in third. "First of all, I didn't have a good start, but my first lap was really good, I was super aggressive, I got inside everywhere and I made a lot of passes, and I got to third on the first lap," said Musquin. "Man, I was feeling really well, I was pushing right behind Eli and Ryan, but it was tough to make a pass. I don't know, I lost some energy, I got tight, the track was tough. Then it's tough, when you're behind and not close anymore, you play it safe. I had a crash in early qualifying and I landed on the concrete, really hurt my whole left side. I was kind of banged up all day. I'm happy with third."
Rockstar Energy Husqvarna's Jason Anderson had his first good start in ages—well, except for last week when he fell early while running fourth—and rode solid, not as quick as the lead trio but ahead of everyone else. Good enough for a much-needed fourth. Behind him, Malcolm Stewart also logged a much-needed good ride, starting around seventh then making moves to get into fifth. Mookie's main events haven't gone well this year but it looked like a top five was coming, until Josh Grant slipped past late for fifth, and then Mookie crashed back to ninth. Still, Stewart was really happy with the night as said he changed his mentality this week and went back to understanding why he comes to the races. He didn't worry about getting tired or endurance anymore, he just tried to stay loose and relaxed, and it paid off.
Monster Energy Kawasaki's Grant looked sneaky quick all day, his smooth style shining on a technical track. His fifth is his best of the season. Cole Seely was in a huge battle along with Grant and Ride365.com's Stewart for most of the race, he ended up sixth with Blake Baggett seventh after a bad start. RCH/Yoshimura Suzuki's Broc Tickle did his usual quiet, effective thing for eighth over Stewart and Smartop/MotoConcept's Justin Brayton was 10th.
The 250s stayed away from some of the drama of previous weeks, but the racing was still damned close. And Joey Savatgy is going to have to restrain himself from punching holes in the wall, because he once again let the lead slip from his grasp due to a mistake. Savatgy quickly knifed into the lead on lap one and controlled a small gap over Jordon Smith, who was riding well but not close enough to show Savatgy a wheel. Then Savatgy lost it all by himself, when his back wheel stepped sideways on a dragon's back and he shot off the track, then he hit a rider as he tried to come back on, and hit another rider under the tunnel. By the time he got that all straightened out, Smith had the lead, and with last week's race-winning experience, he knew what to do with it.
"I think I had a little cushion there, but on the last lap the rhythm section, the 2-3-3 I came a little short there," said Troy Lee Designs/Red Bull KTM's Smith. "I knew Joey had some good lines there, he got a good run in the whoops, I just tried to protect my insides. For sure, this week I was able to think about protecting my insides. Last week I was just thinking about the win!"
"Put ourselves in a position to win, came around to that dragon's back and got squirrely, head hit the handlebars," said Monster Energy/Pro Circuit Kawasaki's Savatgy. "I ran into someone in the tunnel, not sure who, a lapped rider, and bent my front brake down to where I almost couldn't use it. Frustrating. We keep putting ourselves in a good position and I feel like we're giving these things away. We've just got to eliminate that."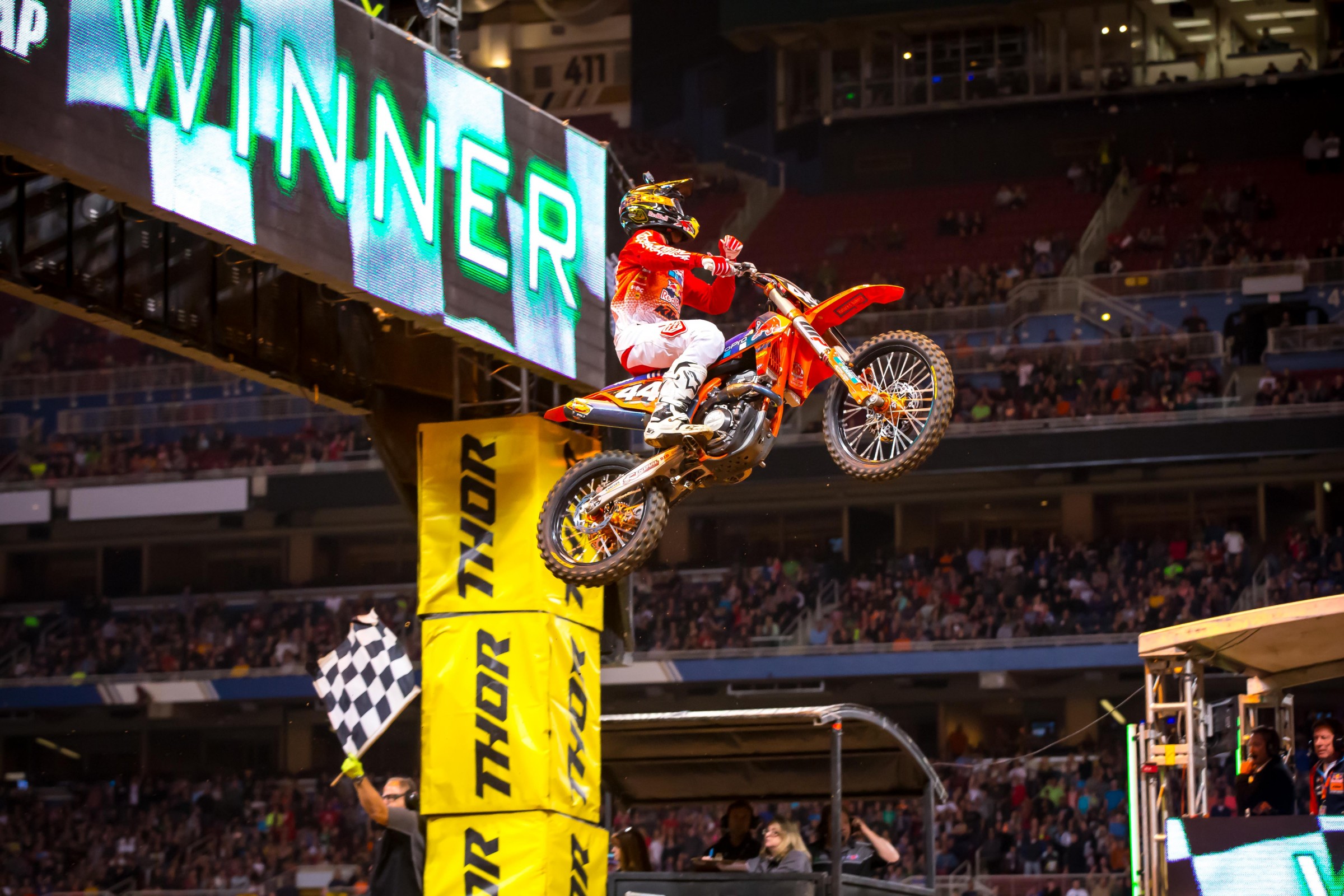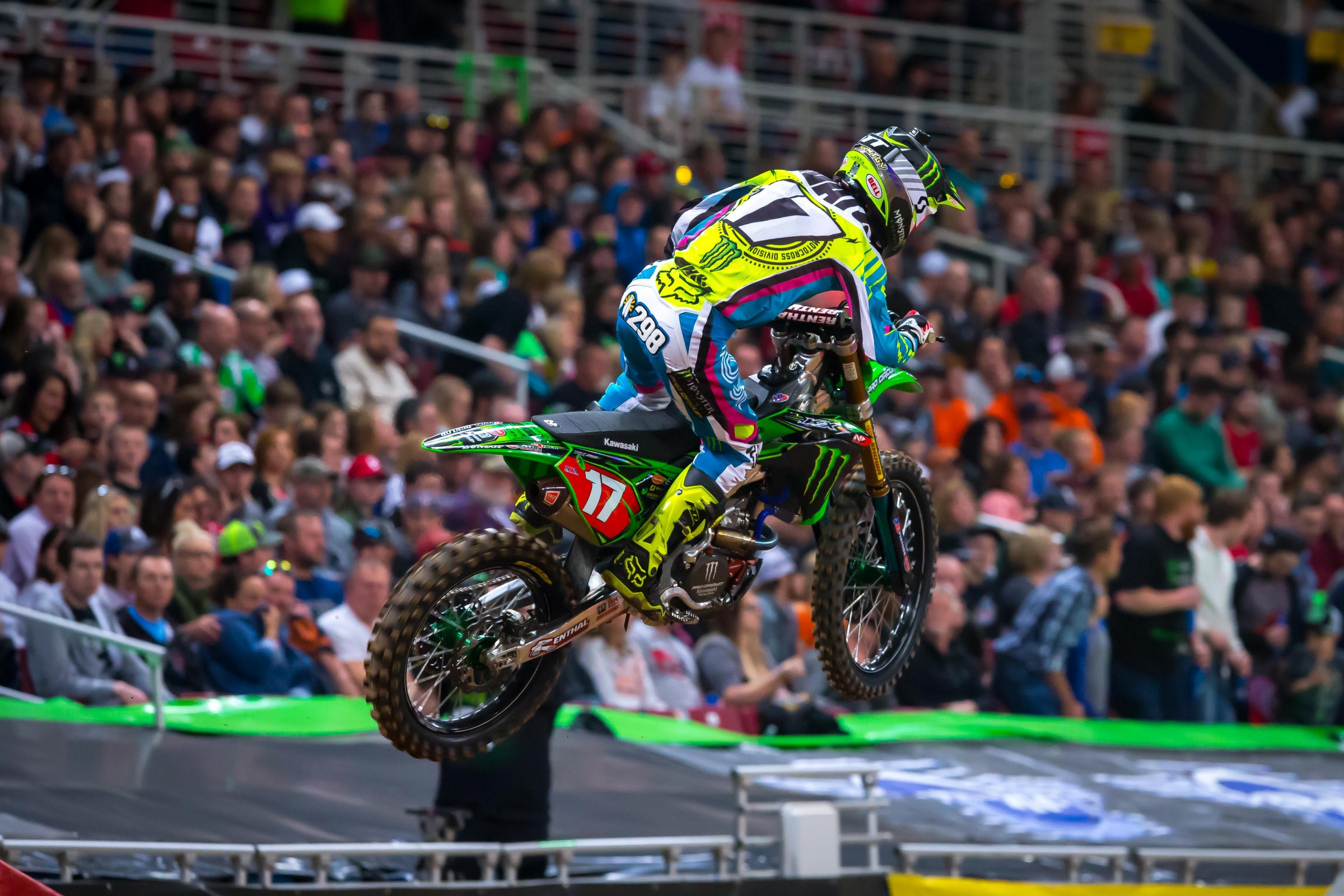 Zach Osborne needed to make up points on his Rockstar Energy Husqvarna after last week's disasterous finish, but he found himself facing some adversity this week. Around Wednesday, he came up with some sort of flu, so he didn't feel good, and then he crashed hard in the first practice and was pretty beat up, saying he hit his face. He chose to skip the second practice to save energy. In the main, he said he felt good around halfway, then a few laps later his legs finally gave out, and he was happy to take it home in third this time.
Dylan Ferrandis was fourth on his Yamalube/Star Racing Yamaha, but he told us that this track took a lot out of him physically with the tacky dirt and tricky jumps. Ferrandis came into this season after huge injuries from last year's GP season, so he entered a little behind on training, and that's hurt his endurance. Christian Craig was fifth and Adam Cianciarulo, who had a big crash in practice, was sixth.