Detroit, MI
Detroit
Monster Energy AMA Supercross Championship
"We're on to Detroit." If you are a football fan, you'll remember New England Patriots head coach Bill Belichick refusing to talk about certain things and just deferring to the next game. This is what I expected from Ryan Dungey last weekend after the main event, but that's not what we got. He was a bit more exposed than I anticipated and may have shed light on his future plans. He was certainly a bit deflated after losing touch with Eli Tomac at the halfway point and then losing two more valuable points to his Red Bull KTM teammate Marvin Musquin late in the race. His 17 point lead has shrunk to 12 and every ounce of momentum has been relocated to the Monster Energy Kawasaki tent. So, as we were leaving Indianapolis on Saturday night, I could only think of one concept for Dungey adopt. He just has to swallow the results and forget it. He has a six-race championship in front of him and gets a 12 point head start. If he can reset his approach and fully embrace that scenario, he is in a great position. Eli is surely riding high right now and has to be thrilled with recent developments but when taking in the entire landscape, Ryan still has an incredibly good chance of winning this title. If Ryan believes that and both riders ride these last six races with the belief that this is their title, we are in for a wild month of April.
As for the track in Detroit, it looks very basic in layout, but I think it will turn out to be more difficult than anticipated. The start is long and has an uphill 180 into the stands. That climb is a tip of the hat to the old Pontiac layout that saw this variation every year. I don't think it will change the start too much, but anything that slows riders down in the first turn is a good thing. Coming down from the stands, there is a rhythm section at the base. That decline will put a ton of force on the front end as riders hit the first jump. If riders only double the first two, it won't matter much but if they go for a triple, they will have to use caution as the forks will be compressed on take-off. That compression makes the initial take-off less predictable. In any case, they will downside the tabletop and double into the following 180-degree turn.
Following the 180-degree turn is the first of a few whoops sections, but with a twist. There is a small whoop right out of the berm, just before the actual whoops start. That first whoop will cause riders to readjust before entering the whoops. The fast line will either be to wheelie that first jump or to jump from that one and land on the next whoop in a way that allows blitzing across the top. The latter technique is very difficult and risky because landing too short will bounce riders up and out of whack and landing too far will set the front end in between whoops and that will almost certainly result in a crash. If built correctly, it will add a layer of difficulty to the whoops that is sorely needed.
The next 180-degree turn leads into a dragon-up to dragon-down section. The fast way will be to jump from the single to the top of the dragon's back and skip across the gap. Landing front end level, riders will be able to blitz down the dragon's backside before hitting the standard supercross triple. Watch for riders to let their rear ends float to the outside over the triple, setting them up for the next 90-degree left-hand turn. They will then cut across the inside of the turn and double, before blitzing into the next 180. They will build speed out of that berm and blitz the next whoops before a big, nasty sand turn. That right handed, sandy 180 puts the riders into the mechanics area. They will see their pit boards and then set up for a left-hand 90. Then they will either step-on-step-off out of that berm or jump over the tabletop. On paper, jumping over the tabletop looks faster as it allows a 3-2 out of the section. Jumping on-off leaves four jumps to traverse, which sounds easy but isn't ideal. Going double-double is simple, sure, but is definitely slow. Going 3-1 is faster but that last single jump will upset the momentum and suspension for the next turn. With a berm to turn from, landing into the turn is always going to be faster than singling into the turn. Riders are able to carry more momentum and as they land from a double, they are ready to turn. Singling forces a reset and a pause before the suspension is ready to pivot.
The finish line section is next and looks very simple. Riders will accelerate across a few small bumps before a short finish line jump. That lands riders into a 180 back onto the start straight and off we go for lap two.
---
Questions I Want Answered:
Will Marvin Musquin change his approach as the points become an issue for Red Bull KTM's title chances?
Does the 250 aggression from Indy continue in Detroit?
How will Cooper Webb fit into the 450 landscape after several weeks off?
Who's Hot:
Eli Tomac, duh. Eli has won six races now and can smell blood in the water.
Blake Baggett has been steadily improving and his confidence is catching up to his speed.
Marvin Musquin had a few rough weeks due to illness, but he's back and ready to win.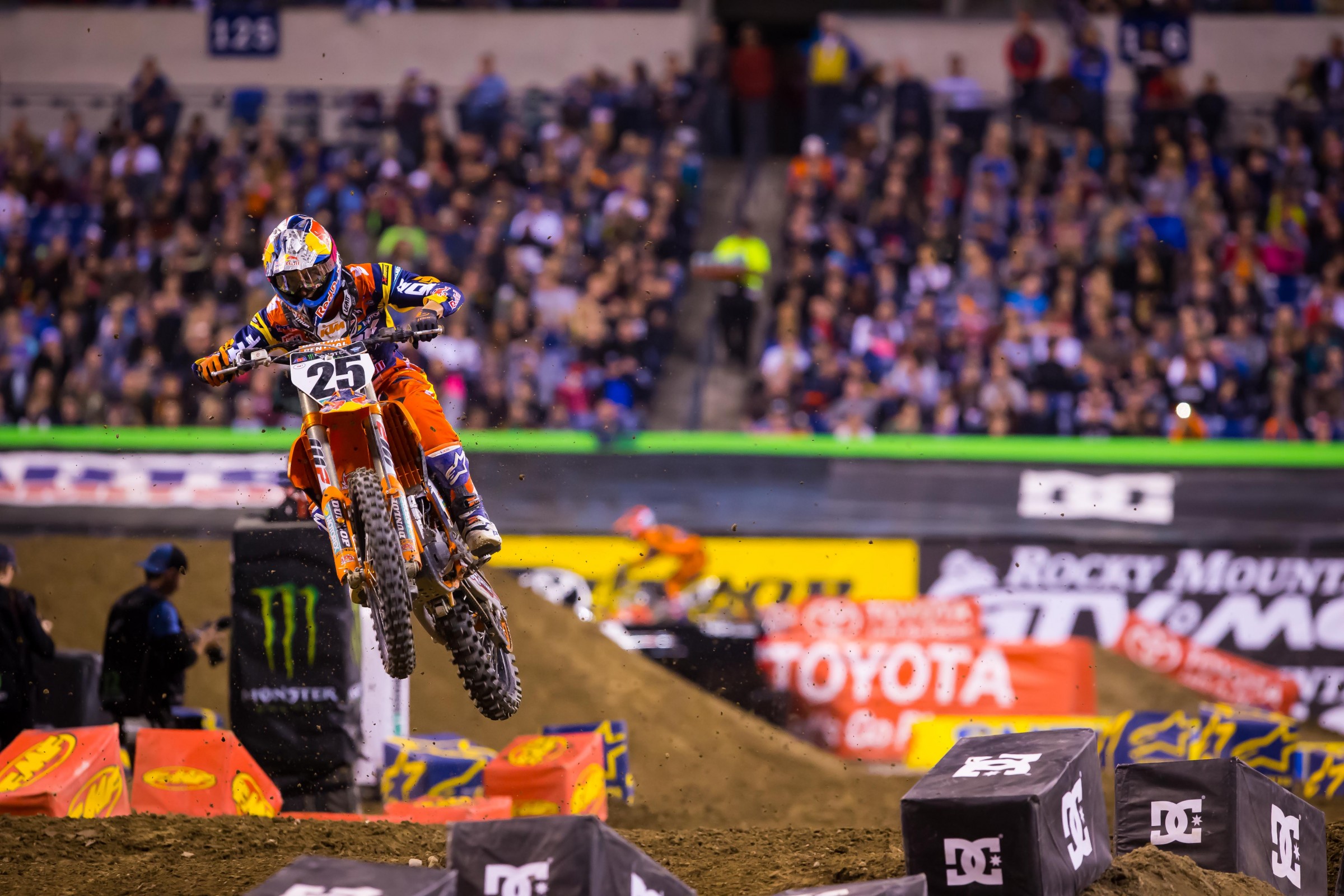 Zach Osborne had a run-in with Adam Cianciarulo in practice and then made contact with his teammate Joey Savatgy in the main event. He won that main event and pushed his lead back to nine points.
---
Who's Not:
Ryan Dungey has given up 12 points in the last two weeks and given Eli Tomac a ton of momentum in the process.
Christian Craig looks amazing on the track, but the results aren't coming so easy. He has to be frustrated and rightfully so, but all he can do is keep on trying and hope it sorts itself out.
Malcolm Stewart looked to be improving weekly, but his fitness is still an issue. His struggles are a testament to how difficult the 450 class is.
Trey Canard ended up in the LCQ and then rounded the first lap in last place. Two thousand seventeen has just been that type of year for the #41.
Bold Predictions:
There are fireworks in the 250 class as the Monster Energy/Pro Circuit Kawasaki boys come out swinging after a festive Indy.
Eli Tomac wins again, bringing the points lead to single digits.
The 722 raps the national anthem during opening ceremonies.
Joey Savatgy wins Detroit after some serious contact with "Wacko" Zacho throughout the day.
Marvin Musquin approaches the rear end of Ryan Dungey's KTM in the second half of the main event and faces a very tough decision.
Adam Cianciarulo writes a Pulitzer Prize winning piece on his practice incident with Zach Osborne. His book tour is scheduled for later this summer.
My Picks
250
Joey Savatgy
Zach Osborne
Jordon Smith
450
Eli Tomac
Ryan Dungey
Marvin Musquin