San Diego, CA
San Diego
Monster Energy AMA Supercross Championship
Unlike a lot of rookies, Jon Jon Ames decided to dive straight into the deep end for his first pro race. He didn't make his debut at Hangtown or Unadilla, he went through Ricky Carmichael's Road to Supercross and made his debut at the most pressure packed event of them all—Anaheim 1. He may have crashed out of the race, but he did make the main event on his first try, which is something even Jeremy Martin can't say. After turning heads in the Anaheim 1 practice sessions he got the call up to fill-in for the injured Chris Alldredge on the Barn Pros/Home Depot Yamaha team the following week.
We caught up with two time Loretta Lynn's Champion to see how his first two races went, how he's adapting to the team, what he thought about his journey to becoming a pro, and to get some clarification on his name.
Racer X: First off, what do you like to be called? Jon or Jon Jon?
Jon Jon Ames: Jon Jon! Jon Jon, Jon, or JJ. The only name I don't like is Jonathan. That's not my name. [Laughs]
Jon Jon, got it. How did your first pro weekend go?
It went alright. I don't want to say it went bad but I don't want to say good. I made it to the main but I crashed early on in the main which put me out for the rest of the night. It was a huge learning experience. I had no idea what to expect. I was a total fish out of water. [Laughs] But I learned a lot just in one day.
Do you think there were extra nerves there? I think Anaheim 1 would probably be the hardest race to make your pro debut at.
Absolutely! People can try to tell you that they're not nervous, they're not this … I mean they are, it's just how they deal with it. I've raced Monster Cup before … and I'm not comparing it to Anaheim at all, but in a way with the people I knew what to expect, but the track and the timed qualifying and just going against those riders, there was absolutely nerves there. But all you can do is try to compose yourself the best you can.
What surprised you about the track specifically?
The transitions really snuck up on me. Just how everything was kind of built because I haven't been able to ride anything like that. That's what surprised me the most and then just how tight it gets, believe it or not. By the end of the night the track is so tight that you've got to turn everything in super sharp, you can't really hit the bowl turns super wide.
What happened with your crash? I saw a picture that GuyB from Vital took and it looked like you hurt your arm or shoulder?
I thought I dislocated my shoulder but I didn't, nothing was wrong with it. Within a day or two my shoulder was fine, I was moving it more. But what happened was I was just … rookie mistake going through the whoops and kind of in traffic and the person in front of me got a little sketchy so I shut the bike down. So as soon as I shut the bike down, over the handle bars.
So then Chris Alldredge goes down last week and you get the call up to the Barn Pros/Home Depot Yamaha team. How did that opportunity come about?
It all started at A1. Ricky Johnson was standing next to Scot Steffy [Barn Pros/Home Depot Yamaha team manager] and I was out there in the practice and Ricky just so happened to point me out and say, "Hey! Who's #179? He's out there throwin' down laps." That came up, "Oh, that's Jon Ames right there." So they talked about it but then just let it go because they had their riders. Then when Chris got hurt—I know Andrew Bower, one of the head mechanics there—and he said, "Well, I've got this kid, privateer Jon Jon Ames." And as soon as he said Jon Jon Ames they were like, "Oh! We watched that kid in practice. He knows how to hit the jumps, he knows how to hit the obstacles. Let's see if he's willing to work with the team." I got the phone call that day and I'm super pumped to be working with those guys.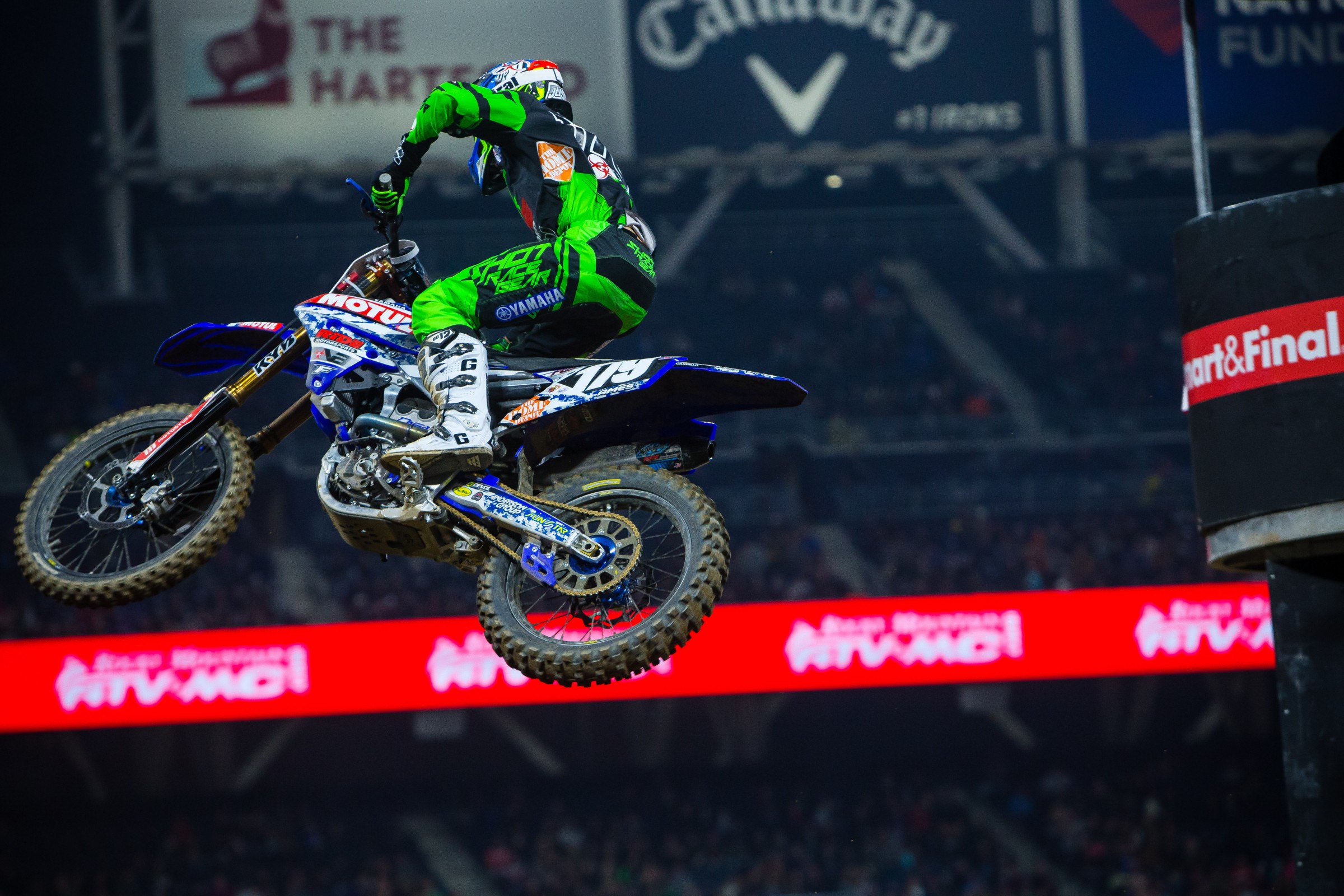 Do you think you're adapting well to the team? With all the rain out there [California] you probably haven't gotten to spend a ton of time with them.
So far we're adapting very well. They know I'm a rookie so they know there's gonna be a rookie mistake. They're just trying to keep me calm, get some experience, and just keep doing what I'm doing. Because they tell me everyday, "If you just keep doing what you're doing don't be surprised when you put it in the top 10 one of these rounds."
How hands on is Ricky Johnson? Is he there coaching you guys up everyday?
He's not there everyday, but we talk almost everyday. He's pretty hands on. He likes to know what your input is on the bike; he likes to put his input on how you're riding the bike. He's never scared to do that. [Laughs] He's pretty hands on. He's not full-time but if you have a question he's the guy to answer it.
So how did San Diego go for you?
I transferred straight from the heat and that was great for me because the LCQ stress is so big. So it was good just to get that monkey off my back. I think around eight minutes to go [in the main event] I had a problem with the bike. We got it all figured out, but since it wasn't my bike, it was their bike—it was the second time I'd ever ridden it—it just lost a little bit of power and I wasn't comfortable out there not knowing what's going on with this thing. It eventually got to the point where I really had a hard time making some of the jumps. So instead of keeping going and do something stupid and getting injured like I did at A1, I did the smart thing and pulled off, talked to my mechanic and said, "Hey this thing's losing power and it smells kind of funny. What should I do?" He said, "No, you gotta take it back [to the pits]."
And before the main event in practice, you were actually on the face of the triple as Jeremy Martin came flying over the berm! Did you see him coming?
Well, it's funny because if you look at the gear he was wearing and if you look at the Tuff Blocks he went over, his gear and the Tuff Blocks weren't that far off. As I was hitting the triple I just caught out of the corner of my eye this Tuff Block moving and I'm like, "Somebody just put it over the berm." I was thinking best case scenario that somebody just went too high up and lost the front over the berm. I had no idea until Mason [Churchill, of M66 Productions] showed me, "Hey, you're never gonna believe what happened in practice!" It was a freak accident. I had no idea he was coming straight for me.
Did you get to see the footage right after practice?
I didn't see it right after practice. I had people tell me that Martin flipped over the berm, but I didn't put two and two together that, "Oh! Well I saw a bike go over the berm!" or something like that. But I didn't put two and two together that he might have almost hit me.
What did you think of the whole Ricky Carmichael Road to Supercross experience?
There's a lot of ways to look at this. I think it helped me with the racing portion because the top guys there [Arenacross] take it just as seriously as the top guys in supercross. They're not going to give you anything. So it got you ready in that sense. But the track is totally different. Totally, totally different. So in that way it didn't' get you ready for the track but it got you ready for the racing, it got you ready for the timed qualifying, and again the nerves … you got to kind of feel the nerves because you're lining up and racing and it's still in front of a decent amount of people. So there were some nerves there. But the only thing is they're not replicating the track, which I think is huge.
Do you think they're too tamed down?
The rounds I did the tracks were not too tamed down. They were pretty big. One thing they did get you ready for is whoops. One hundred percent. I crashed at A1 in the whoops but that's the only time I have ever crashed in the whoops. So I guess I have Arenacross to thank for that because they'll get you ready for 'em, for sure.
So what are you goals now that you're with Barn Pros for a couple races? What are you expecting to do once you get comfortable going through the rest of the season?
I just want to learn, really. Just get experience. I know I've put it in the main two times but I'm still learning so much every round, every day. Every day I get on the bike now I can replicate a little bit more of what I did last weekend. I'm just looking to improve every weekend. Make it out of the heat. Okay, so I've raced A1, I DNF'd. I raced San Diego, I had a bike malfunction and DNF'd. Now we're looking, "Okay let's put it in 15th, let's put in in the top 10." And we'll just keep improving and keep learning. This is really what you gotta do your rookie year. The faster you can learn it the better off you're gonna be when you go to Dallas or when we go to Phoenix or Oakland or any of those rounds.