San Diego, CA
San Diego
Monster Energy AMA Supercross Championship
Round two in San Diego has come and gone, and with it, some damn good racing! Both main events were epic and the new timed main event format was a factor in both mains. A technical track that became more of an obstacle than the obstacles themselves made for an exciting night. We even had another holeshot challenge, this time with disabled war vets that included a crash. Between that and the NASCAR one where the dude [Ed Note: That "dude" was NASCAR race winner Clint Bowyer.] couldn't stop and hit the wall, maybe these should be re-thought?
Okay, enough of that, onto the results!
250SX Results
1 38 Shane McElrath Canton, NC KTM 250SX-F- Well, well, well. This ride was so good it'll even make Grumpy Cat Tyler Keefe happy! Shane's for real and this will be a cool storyline to follow the rest of the West Region Championship. I don't know if he'll win the title (and anyone who says they picked him is lying), but I think he'll be in it the rest of the way. I mean, why not? He's in shape, he's fast, and he's consistent. He also hasn't relied on crazy things to win the last two races. Nice guy as well, and good to see him bloom later in his career. Hopefully he doesn't buy a Lambo and insist we call him Mac-Dawg or something like that.
2 46 Justin Hill Yoncalla, OR Kawasaki KX 250F- Hill was SO fast all day long. Right from the first practice he looked like he picked up the track quicker than everyone else, he jumped things first, had good speed in the whoops right away and then worked at the craft of going around the track instead of figuring things out. Whatever Hill did the morning of San Diego, if he does it again this weekend he'll probably win. I've been interested to see how this Hill/Mitch Payton reunion will work. I don't think I've ever seen a rider since Austin Stroupe that frustrated Mitch as much Hill did his first time with the team.
3 23 Aaron Plessinger Hamilton, OH Yamaha YZ250F- God bless Jeff Emig for saying that Plessinger was like a "rollerball" out there. Brought a tear to my eye. Long live Ross Pederson.
4 30 Martin Davalos Clermont, FL Husqvarna FC250- Not a memorable night for Marty as he crumbled late in the race and slid from first to fourth in two laps. If it was the old format he would've won, but he stopped doing a triple in one of the rhythm lanes, got tired and/or rattled, and that was it for him. It's hard to reel it back in when dudes catch you late in the race. Go ahead and get mad at me for stating the obvious that a 12-year veteran in the 250SX class on a factory bike should never have this happen, but it's the truth.
5 24 Austin Forkner Richards, MO Kawasaki KX 250F- I thought Forkner struggled a bit in the whoops and I'm waiting for his breakout ride in SX. Maybe we all overrated Austin's title chances a bit coming in, but look at the Lucas Oil Pro Motocross Championship last year: he got better as the series went on and I bet we'll see the same thing in supercross.
6 57 James Decotis Peabody, MA Honda CRF 250- Oh, Jimmy D! Looked so good for so long. He led 10 laps! That's got to be the longest he's ever led, right? In the end, like Marty, he's got to be a bit bummed he couldn't hang on for a podium but I guess stomach cramps struck. Probably from him hyper-ventilating that he was going to win his first ever 250SX in his seventh year in the class. On the positive side, he's got to gain a bit more confidence from this.
7 6 Jeremy Martin Millville, MN Honda CRF 250- Well, this title has slipped away from Jeremy after only two races. Getting suckered in by Hanny off the start did him in and he worked hard to get this seventh. But in a short series, with so many dudes to jump over in points, these two finishes will make this title tough to get. It's not impossible, but it is improbable, and for Jeremy and GEICO Honda, that sucks, because he's been fast!
8 37 Phillip Nicoletti Bethel, NY Suzuki RM-Z250- Phil's night was quiet for him. A decent start, got passed, made some passes and this is what he ended up with. There were no cartwheels, Deathcross didn't get him, and he didn't threaten the lives of any other riders. All in all, a good night for Filthy.
9 64 Hayden Mellross Clermont, FL Yamaha YZ250F- A very nice race for Hayden except for the crappy start. He charged hard all race, had consistent lap times, and this is a good finish considering how far back he was. He moved forward all main event. I was wondering if he had something special for Hansen in the main considering Josh put him down in the heat but he, as far as I saw, kept it clean. Classy Aussie!
10 100 Joshua Hansen Elbert, CO Husqvarna FC250- Hanny hit the gate because he … well, I'm not sure what he did. He also screwed up J-Mart beside him and that sucks. As a guy that's started beside people who hit the gate, I dare you not to go when a rider goes out of the corner of your eye. It's tough! Anyways, the #100 redeemed himself by riding really well to get into this spot. How he didn't make the main last week was very bizarre.
11 52 Tyler Bowers Corona, CA Yamaha YZ250F- The Bear struggled a bit at the end of the race and I'm not quite sure why. (I was watching the race up front.) He was a comfy seventh to eighth but the last two laps were terrible for him. I'm taking serious heat on Twitter for being on the Bear's bandwagon in the off-season and him not showing (so far) what I thought he could. I'm riding this out for a few more weeks and hopefully The Bear finds a picnic basket full of good finishes.
12 53 Cole Martinez Rimrock, AZ Yamaha YZ250F- Cole's half-Canadian so I do feel some kinship for him out there. [Ed note: Martinez has ridden the Canadian Nationals in recent years.] He's once again, for the fifth year in a row it seems, putting in solid finishes behind guys on better bikes that are paid more than him.
13 99 Chase Marquier Newcastle, OK Honda CRF 250- Number 99! Did you know that Wayne Gretzky has more assists than anyone else in NHL history has points????
14 71 Justin Starling Deland, FL KTM 250SX-F
15 76 Scott Champion Orange, CA Yamaha YZ250F- Champion saved the wrath of me by riding himself to this finish in the LCQ.
16 11 Kyle Chisholm Valrico, FL Honda CRF 250- Chiz's night sucked. He crashed his way back here and can't be happy. In talking to Tony Alessi at MotoConcepts Racing, he was okay with Kyle's A1 finish but would've liked him to not lose those spots he did at the end. Tony also said that they found some motor mods to help the CRF250R and will be working with Kyle to get those in the bike ASAP.
17 122 Dan Reardon Menifee, CA Yamaha YZ250F- Dandy Dan was right there and looking good for a stellar finish. Then he crashed in the same turn that claimed a lot of guys. There went Dan's good finish, but early on, his speed was good.
18 902 Killian Auberson Switzerland KTM 250 SX-F- If anyone in power would listen to me and have a country night where the riders wear gear and have graphics in the colors of their home countries, than Killian's red/white gear and graphics would look hideous with his KTM.
19 203 Zachary Commans Seal Beach, CA Kawasaki KX 250F- Zac was up front early on but then crashed and found himself working up from there. If you're Zac, hopefully you can get some confidence after running near the front, see the speed those guys have, and build from there.
20 95 AJ Catanzaro Reston, VA Yamaha YZ250F- AJ crashed or his bike broke—not sure what—but no bueno for the Cat who we hope lands on his feet this weekend in Anaheim.
21 74 Bradley Taft Nixa, MO Yamaha YZ250F- As I type this I learned that Taft crashed this week and will be out for a little while. Bummer start to supercross for Bradley and hopefully he'll be back soon.
22 179 Jon Ames Riverside, CA Yamaha YZ250F- Ames got Chris Alldredge's spot on Barn Pros/Home Depot Yamaha but then finished last. I assume it was due to a crash. Maybe it's just Chris' DNA that causes these things to happen?
450SX Results
1 94 Ken Roczen Clermont, FL Honda CRF 450- Ze German did it again. Roczen's two for two on the Honda and he and the team have to be loving it. Ryan Dungey got an incredible jump and holeshot, Roczen made a run early on and when that didn't work, waited until Dungey made a mistake on a triple by drifting wide and popping up. Roczen scrubbed and got by the champ. From there he rode perfect. His speed in the whoops was unbelievable. Kenny's got to be stoked that in round two he backed up his social media talk about training by showing he's in just as good of shape as anyone—maybe even better.
2 1 Ryan Dungey Clermont, FL KTM 450 SX-F- Dungey rode great to hang right there with Roczen for the entire 24-lap race. He's got to be happy that he gave Roczen all he could handle for the entire race and knows that he's ready and a win is coming. Ryan now knows that Roczen isn't going to just "McGrath in '93" the entire field, which I'm sure he knew, but you never really know until you know. I admire Ryan for also knowing he was getting worked in the whoops and then adjusting his line and realizing he had to enter them faster to keep the #94 in sight. That's a hard thing to commit to when you know you have second in the bag and you could end up on your head real fast. By the way, did Roczen steal Ricky Carmichael's lunch money when he was at RCH? RC practically had the pom-pom's out for Dungey on TV in the main event.
3 25 Marvin Musquin CLERMONT, FL KTM 450 SX-F- Marv about looped out on the first lap and if that would've happened he would've been ran over by the whole pack like Alessi at RedBud back in the day. It would NOT have been good. Thankfully he saved it and I'm sure he needed to change his Thor pants after the main. Two third-place finishes to start the year is pretty cool for Marv. Does anyone know why KTM doesn't do up their bikes and gear for retro night or military night or whatever? I don't really care, just curious.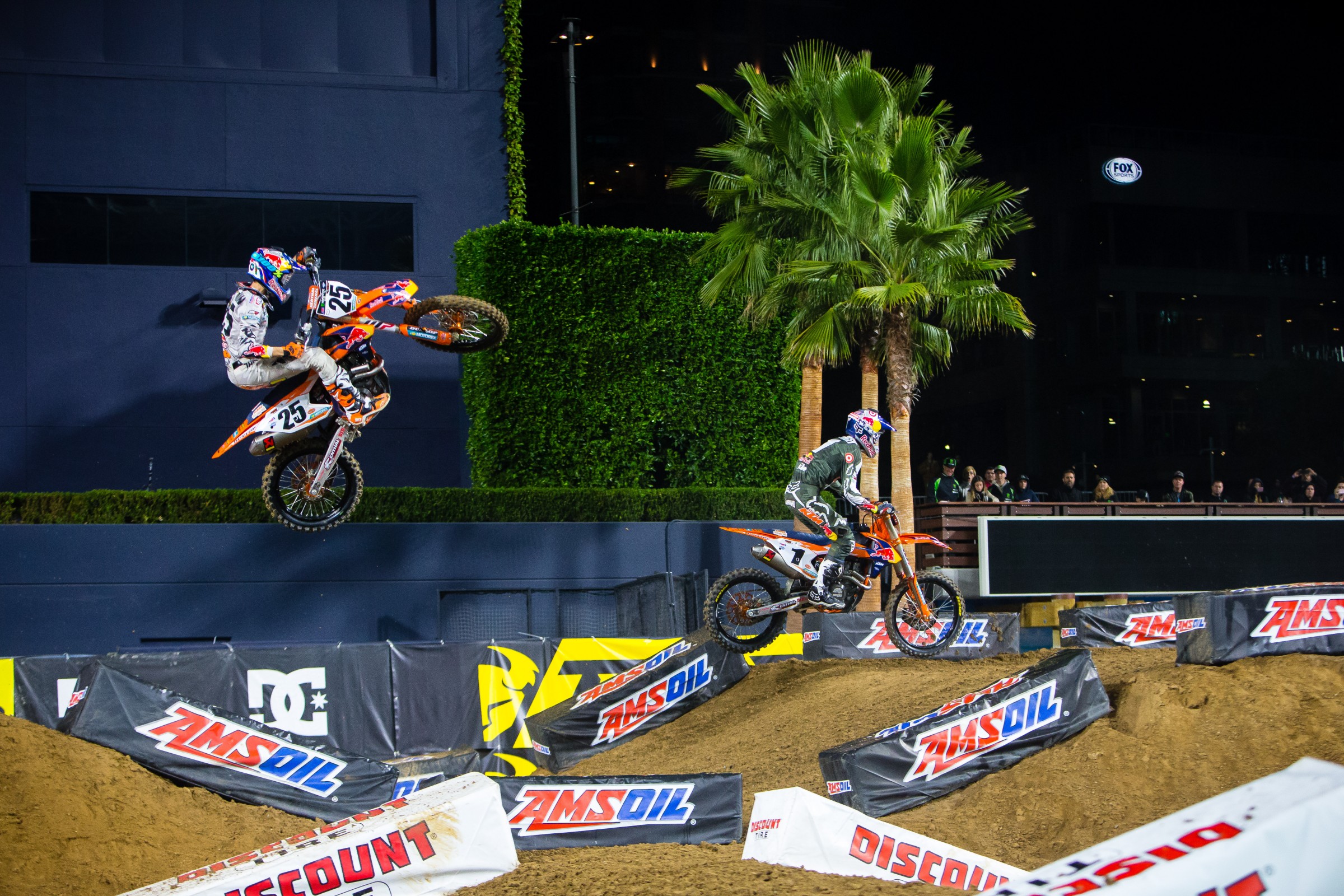 4 21 Jason Anderson Rio Rancho, NM Husqvarna FC450- Another good ride from Anderson but his starts aren't helping him right now. If Eli Tomac hadn't been stood up in a turn by some ruts I think we'd be talking about another Anderson aggressive pass because he was coming in to make the pass no matter what. In case you're wondering, his jersey was untucked again.
5 14 Cole Seely Sherman Oaks, CA Honda CRF 450- Up and down main event for Cole. Got passed by Anderson, passed Tomac, but ended up in a better spot than he did last week. Seely and the other guys have to be a bit depressed that #94 and #1 were so far ahead because I guarantee you their off-season work didn't consist of just trying to stay within 30 seconds of the top-two guys.
6 3 Eli Tomac Cortez, CO Kawasaki KX 450F- Another, for Eli, sub-par result as Seely and Anderson got him late in the race (Tomac had passed Seely earlier). I spoke with a Kawi team member and he said Tomac took 100 percent of the blame for his Anaheim 1 ride and is happy with the bike. He just pumped up, and although I didn't talk to him this week, I suspect that's the issue again. No one can be happy over at Kawasaki and Team Tomac, but the worst thing you can do is panic, stop believing in your bike/program, and go searching. Just stay the course, remain steadfast that what you're doing is right and things will come around.
7 32 Weston Peick Menifee, CA Suzuki RM-Z450- Two good rides for Peick to start the year. He's probably not happy because he's Weston Peick, but I think an 8-7 start is pretty good. One thing about Peick is he rides over the front of the bike with elbows up. It's a bit of a "classic" pose. I was texting with Peick yesterday about some stuff and he was going hours between responses—I'm sure he was super stoked to talk.
8 18 David Millsaps Lake Havasu City, AZ KTM 450 SX-F- I think Millsaps has to be happy with two top 10s to start the season just like Peick. It's a tough field and at this point in his career, I think these results are fine. Would he like to be higher? Sure (especially with his start), but I look at the dudes ahead of him and say that the only guy he probably feels like he "should" be beating is Peick.
9 22 Chad Reed Dade City, FL Yamaha YZ450F- Reed's start was garbage so there wasn't much he was going to do from there. I was surprised that Chad, to me anyways, didn't crush the big whoops. Don't get me wrong he looked good in them, but generally speaking, the bigger the whoops the better he is. Reed's pass on his teammate Cooper Webb was a thing of beauty—railing all the way around a berm on the outside.
10 19 Justin Bogle Cushing, OK Suzuki RM-Z450- A decent start to the season for Bogle on the RCH Suzuki. I'm looking for him to start jumping some crazy stuff soon or log a balls-out fast qualifying time.
11 33 Joshua Grant Wildomar, CA Kawasaki KX 450F- Two good results from JG to start the year and he followed Bogle—seemingly two seconds behind—the entire main event as riders passed them or they passed other dudes.
12 15 Dean Wilson Clermont, FL Yamaha YZ450F- Wilson said he's just doing the first five rounds, but I would bet we'll see him on the East Coast out of the back of the Yamaha truck or somewhere else. He's been the perfect soldier for Yamaha so far, doing what they want him to (including turning down a ride for no guarantee from Yamaha) and so I think they'll try to make something happen for Dean. He dropped a few spots in San Diego from where he started from, but still, not a bad finish. Honestly, his whole set-up, his "deal", results to start the year, etc. remind me of Tim Ferry [Ed note: Of course] in '99 when I was his mechanic. I know, you're throwing up in your mouth at my mention of this, but seriously, if you knew the whole story you would understand.
13 20 Broc Tickle Holly, MI Suzuki RM-Z450- Broc Tickle is the epitome of a solid, steady racer. He's never going to wow you like his teammate Bogle but he's going to be in shape, he's going to get you results and you only appreciate him when he's paired with someone who gets hurt, causes drama on your team, has a crazy parent or chick. Then you go, "Ahhhh, I wish I had more Tickles in my life."
14 2 Cooper Webb Newport, NC Yamaha YZ450F- Oh boy, this isn't good. I was thinking that Villopoto also struggled to adapt to the 450 class so I went back and looked at his first few results. RV went 5-7-4 in his first three races then hit the podium his fourth race. So … yeah, that doesn't really work here. Anyhow, it looks to me like Webb is struggling to put the bike where he wants and his good starts are going to waste. I have a theory, which is based on knowing Reed well. Chad's bike set-up is usually only good for him so the Yamaha guys can't lean on that to help Webb, so he's on an island by himself to set the bike up. There's also no JGR Yamaha to lean on (although that relationship wasn't good) so Webb's going to have to figure this out for himself. In asking around, it seems I'm not far off in my theory. Webb's too good to not figure this out, but right now he's got to be so frustrated at life.
15 61 Vince Friese Cape Girardeau, MO Honda CRF 450
16 12 Jacob Weimer Huntington Beach, CA Suzuki RM-Z450- Weimer had a night where he didn't crash but also didn't do anything amazing. He's probably not stoked on his night but onto Anaheim 2 he goes for the third race of his four race deal that I'm hearing is going to go more than four.
17 10 Justin Brayton Mint Hill, NC Honda CRF 450- JB10 had a great start and was right there. It was going to be interesting to see if he could put a poopy A1 behind him. But then he crashed at least twice and that was all she wrote for Brayton, who has got to be a bit frustrated to start the season.
18 85 Thomas Hahn Decatur, TX Yamaha YZ450F
19 40 Fredrik Noren West Farmington, OH Honda CRF 250- Look at this! "Fast Freddie" Noren killed it out there on the 250F riding himself into the main event. And really, once in the main, everything else is just gravy for him as he gets ready for the 250SX East Region. I wonder if Noren will get career-high results indoors when the East Region starts because he's been in the mix.
20 4 Blake Baggett Grand Terrace, CA KTM 450 SX-F- Baggett beats out Brayton for "Fastest guy with garbage results to start the season" award which isn't a good thing. BB4's night started with a Larry Loop Out off the start and went downhill from there. He's been good. Trust me!
21 80 Cade Clason Chesterfield, SC Honda CRF 450- Look, great job by Cade to get into the main with only five days of riding after missing A1 with injury. Yeah, yeah, awesome. But his great charge kept Tyler Enticknap out of the main event, which would've been awesome for him, and awesome for brother Adam, and their giant Golden Retriever Max, and everyone else. The results could've had Tyler in and Adam as "Just Short" but nope, dream-killer Clason had to go and ruin it.
22 314 Alex Ray Milan, TN Husqvarna FC450- How appropriate that Ray and Clason, buddies forever, end up right by each other in the results. They can't get away from finishing around each other. Ray won the LCQ to get into the main and seemed super pumped up on the podium. He told us on the Pulpmx Show that he's scared to get in any of the leaders way in the main and that affects his main event.
Thanks for reading, appreciate the time. Really, I do! Email me at matthes@racerxonline.com if you want to chat about this race or anything really.