Anaheim, CA
Anaheim 2 (A2)
Monster Energy AMA Supercross Championship
1. Ken Roczen won the race, but who really won in San Diego?
Jason Thomas: Well, I know this: it wasn't the Chargers fans. It's an interesting question, though. Ken Roczen is now two for two and was able to pass Ryan Dungey to get his second win. He has the points lead and lots of momentum. He should be the easy answer, right? Maybe not. Dungey should also be feeling great. He got beaten badly at Anaheim and if he was listening closely, he would have heard everyone whispering, "Can anyone beat Roczen?" His San Diego ride should have quelled a lot of that chatter. Yes, he lost to Roczen, but he was able to find Kenny's pace and put pressure on him all the way to the finish. That's something he wasn't able to do just a week before. Ryan answered the question of matching pace with Kenny and although he lost for the second week in a row, he made a statement of his own.
Steve Matthes: I hate the whole "everyone gets a trophy" philosophy that we have in today's world, but I think there really were two winners in San Diego. Roczen got the 25 points and the win bonus cash, but after the A1 annihilation we saw, Ryan Dungey's got to be feeling good about his race. My buddy David Vuillemin wrote in his column over on Pulpmx.com that he thinks Dungey shouldn't be happy because he was caught, passed, and finished second but that's a tad harsh. Hey, cobra's are known to be volatile.
Roczen's stoked because he, well, caught, passed, and held off the Terminator that is Ryan Dungey in one of the longest non-Daytona supercrosses in history. But Dungey is all, "Oh, ok, one mistake by the German and I was the winner." Everyone's a winner here!
Jason Weigandt: I know Roczen won but this was huge for Dungey. Well, Dungey might not think so because I really don't think he was very worried in the first place, but, still, Kenny has thrown down unmatchable speed quite often in the last six months. Dungey needed a little reset to make sure he can still match Kenny's pace. He did that in San Diego. I think we all know Dungey is A+ in consistency, starts, and fitness, but Kenny's raw speed threatened to neutralize all that. Now, for the first time since May, Dungey showed he's on Kenny's pace. If Dungey matches someone on speed, he generally has the edge in every other category. This meant something.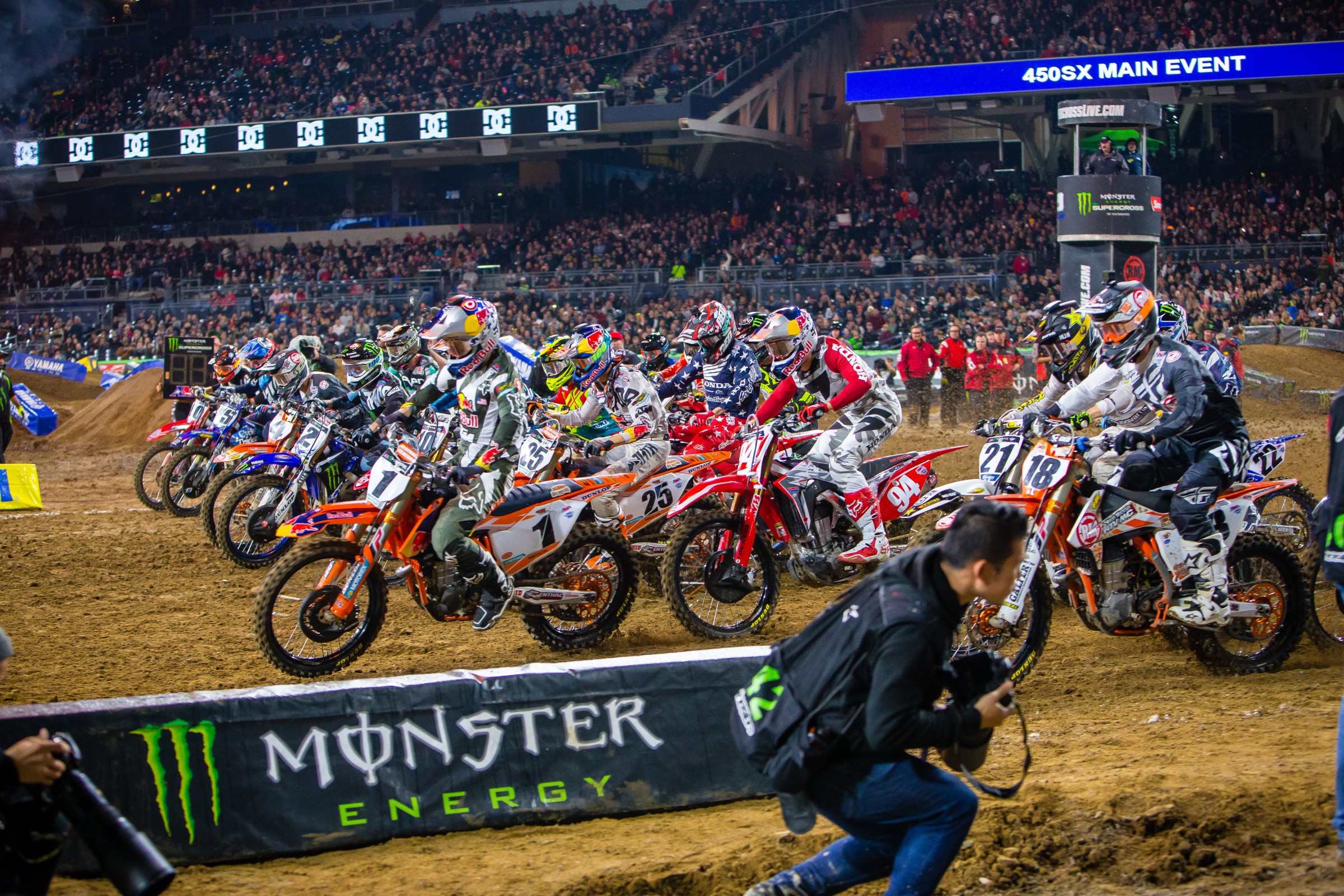 2. Who should be more worried right now: Eli Tomac or Cooper Webb?
JT: I think both have their own concerns, but I am going to say Eli. The expectations for Eli are simply higher at this point. He has plenty of 450 racing under his belt now and is the hope and pride of Monster Energy Kawasaki. They are looking for podiums, race wins, and title contention. Those are the facts. Eli is older and more experienced, therefore the pressure to win is higher.
For Cooper, he's only raced two 450SX races and while they weren't good showings, he has plenty of time to figure it out. If this was 2018, things might be a bit different, but for now, he is still in the learning phase.
Matthes: We asked this on our Racer X Podcast didn't we? Well, let's do it again. I said Tomac because he had legitimate title aspirations and through two rounds, he's been off the pace. Webb is certainly expected to be doing better, but he's a rookie. We're only two races in and he'll figure it out. Tomac though, he's fighting an uphill battle from here on out against Dungey, Roczen, and company. I would think there's some serious group think-tank sessions with Eli, his dad John, and the Kawasaki guys this week to figure out what's up.
Weege: Yeah, Tomac. The Anaheim 1 arm pump was strange, but San Diego didn't look much better. He was fast for three laps in his heat race, passing Jason Anderson, but then Anderson got him back. He was fast for a few laps in the main event, and then he started losing time. Webb can at least point at the rookie stripe as a reason for some struggles. Tomac was supposed to be ready, and it looks like something unexpected might be plaguing him.
3. Can anyone else run with the Roczen/Dungey duo?
JT: That's a loaded question because I think it depends on the situation. If Anderson and Dungey started one and two with Roczen buried in the back, I think Anderson would hang with Dungey for most, if not the entire, race. Roczen seems to be able to sprint away in the early laps a bit better than Dungey right now so with a holeshot, I think Dungey is the only one with a chance to hang with the 94. The other scenario is what we saw this past weekend where both Dungey and Roczen jump out together. In that particular situation, I don't think anyone has the pace or fitness to stay with them when they are on their limit. They are pushing each other to a new ceiling because of the rivalry and everyone else is powerless to match it from what I saw. It reminds me a bit of what James Stewart and Ricky Carmichael were able to do to the field in 2006 and 2007 when they got out front together. Chad Reed was in the mix at many of those races, à la today's Musquin or Anderson, but when those two got the start and butted heads, they were on a different level.
Matthes: I know this past week in San Diego looked like the Cubs versus the Padres but it's not always going to be like that. The Padres—AKA the rest of the field—will get closer, but right now through the first two races we've had the same top three and the top two have been clearly better than anyone else. Tomac's too good to not get better; Jason Anderson has raw speed, baby; and Musquin is the technician of the group. They'll all be there and I think Cole Seely will have something to say at some point. Let's all calm down and reassess in two weeks, okay?
Weege: If Tomac didn't have his issues, he'd be a slam dunk to win some races. But let's just take him off the board until we get a better sense of what's going wrong. As for the rest of the guys, I don't think they'll be as good as Kenny and Ryan every single week, but in their best conditions, on a night when they're feeling it, they are good enough to get it done. Look at Marvin last year in Atlanta. He had a good night, and it was just about good enough to hold Dungey at bay. Throw in a bad start or some mistakes from the Kenny/Ryan duo and the odds get even better.