Anaheim 1 Provisional Pre-Entry List Announced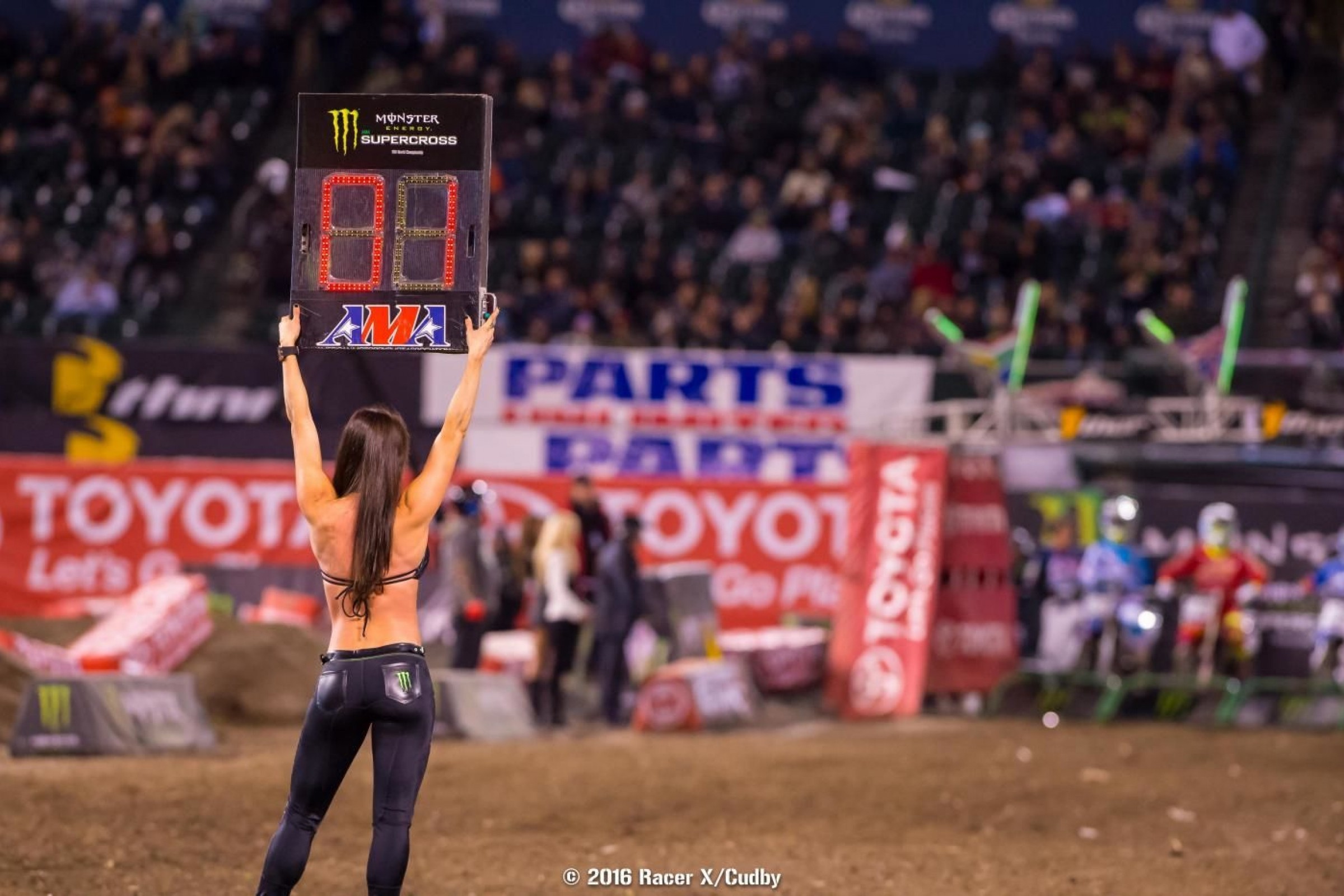 Anaheim, CA
Anaheim 1 (A1)
Monster Energy AMA Supercross Championship
The American Motorcyclist Association (AMA) has released the provisional entry lists for the 2017 Monster Energy AMA Supercross opener at Angel Stadium in Anaheim, California, this Saturday.
While you'll see a lot of riders registered in the 250 Class, not all of them will actually be on the line this Saturday. Most 250 teams enter their entire teams in case of injury. We recently put together a list of which coast each rider will ride. You can check it out here.
Also noticeable is the absence of James and Malcolm Stewart. We've heard that Malcolm is putting together his own deal on Suzukis, but may not have everything lined up in time for the opener. As for James, we haven't heard much there either.
You can view the provisional entry list for the 250 and 450 Class below.
450SX Provisional Entries — Entry Count: 58
| Number | Name | Hometown | Bike | Sponsors |
| --- | --- | --- | --- | --- |
| 1 | Ryan Dungey | Clermont, FL | KTM 450 SX-F Factory Edition | RED BULL KTM, MOTOREX, AKRAPOVIC, DUNLOP, FOX, OAKLEY, TARGET |
| 2 | Cooper Webb | Newport, NC | Yamaha YZ450F | Monster Energy-Yamalube-Chaparral-Yamaha Financial Services-Factory Yamaha |
| 3 | Eli Tomac | Cortez, CO | Kawasaki KX 450F | MONSTER ENERGY KAWASAKI |
| 4 | Blake Baggett | Grand Terrace, CA | KTM 450 SX-F Factory Edition | Rocky Mountain ATV/MC - KTM - WPS |
| 10 | Justin Brayton | Mint Hill, NC | Honda CRF 450 | Smartop/MotoConcepts/Honda |
| 14 | Cole Seely | Sherman Oaks, CA | Honda CRF 450 | Honda HRC |
| 15 | Dean Wilson | Clermont, FL | Yamaha YZ450F | |
| 18 | David Millsaps | Lake Havasu City, AZ | KTM 450 SX-F Factory Edition | Rocky Mountain ATV/MC - KTM - WPS |
| 19 | Justin Bogle | Cushing, OK | Suzuki RM-Z450 | RCH Suzuki Factory Racing |
| 20 | Broc Tickle | Holly, MI | Suzuki RM-Z450 | RCH Suzuki Factory Racing |
| 21 | Jason Anderson | Rio Rancho, NM | Husqvarna FC450 | ROCKSTAR ENERGY HUSQVARNA FACTORY RACING/BEL-RAY/SCOSCHE/FMF/WP |
| 22 | Chad Reed | Dade City, FL | Yamaha YZ450F | Monster Energy-Yamalaube-Chaparral-Yamaha Financail Services-Factory Yamaha |
| 25 | Marvin Musquin | CLERMONT, FL | KTM 450 SX-F Factory Edition | RED BULL KTM, MOTOREX, AKRAPOVIC, DUNLOP, THOR, ALPINESTARS, 100%, AIROH, LEATT |
| 32 | Weston Peick | Menifee, CA | Suzuki RM-Z450 | Autotrader/JGR/Suzuki/Bad Boy Offroad/Wienershnitzel/Monster/KMC wheels/Toyota/Fly Racing/Scott |
| 33 | Joshua Grant | Wildomar, CA | Kawasaki KX 450F | MONSTER ENERGY KAWASAKI |
| 40 | Fredrik Noren | West Farmington, OH | Honda CRF 250 | Honda, TiLUBE, O'Neal, SIDI |
| 41 | Trey Canard | Edmond, OK | KTM 450 SX-F Factory Edition | KTM, RED BULL, AKRAPOVIC, MOTOREX, WP, DUNLOP |
| 42 | Kyle Cunningham | Willow Park, TX | Husqvarna FC450 | Munn Racing/O'Neal/Matrix/BTO/Bell/Lones Stone & Landscape Suppy/FMF/Race Tech/XBrand/Sidi/Dunlop/Premium Motors Racing/Recluse/Mika/Xtrig/Dubya/Excel |
| 51 | Justin Barcia | Greenville, FL | Suzuki RM-Z450 | Autotrader/JGR/Suzuki/Toyota/Monster Energy/NFAB/Wienerschnitzel/Alpinestars/Bad Boy Offroad/KMC wheels |
| 61 | Vince Friese | Cape Girardeau, MO | Honda CRF 450 | Smartop Motoconcepts Honda |
| 67 | Jimmy Albertson | Shawnee, OK | Suzuki RM-Z450 | Suzuki/FMF/Merge Racing/Rekluse/Seven/Acerbis/Bell Helmets/180 Decals/Oakley |
| 80 | Cade Clason | Chesterfield, SC | Honda CRF 450 | K1 Speed/SSI Decals/ BWR Engines, Race Tech, FXR, Yoshamira, Pro Taper, Mobius |
| 85 | Thomas Hahn | Decatur, TX | Yamaha YZ450F | CycleTrader Rock River YAMAHA GPI RoostMX |
| 94 | Ken Roczen | Clermont, FL | Honda CRF 450 | Honda HRC |
| 96 | Vann Martin | Houston, TX | Honda CRF 450 | Allsouth Sprinkler Company, Legends and heroes, Hondaofhouston, Fox |
| 120 | Todd Bannister | Colorado Springs, CO | Honda CRF 450 | Advance concrete/fox/spy/Novik gloves/vex/beeG creation/Rocky Mountain cycle plaza/Faf graphics/ fast lap fitness/ rekluse clutches/ pirelli tires/ seat concepts/ smpro wheels/flo motorsports/lucky devil tattoo/yoshimura/ |
| 151 | Dakota Tedder | Surfside, CA | Kawasaki KX 450F | Team Tedder/Monster Energy/Kawasaki/Lucas Oil/Thor |
| 178 | Ronnie Ford | Paducah, KY | Husqvarna TC250 | TXS Productions Combs Motorsports GrassrootsHusqvarna LambertsCafe TimTarrillion Flyracing MindFxScience schmidtperformance Cyclewerx Advancedautomotive BillsPipes Formabootsusa Pirellimx 719design Motoseat Worksconnection Dubya streamlinebrakes protaper motul X Brand Goggles Shades of Gray Motostuff Mobius Braces |
| 181 | Dustin Pipes | Fresno, CA | Suzuki RM-Z450 | TPJ/Fly Racing/Suzuki/Carl Nelson Insurance/Double E Trucking/Progenex |
| 194 | Joel Newton | ULLADULLA, Australia | Suzuki RM-Z450 | Pirelli/Motorhelmets/Yoshimura/Maxima/Alpinestars/Factory Backing |
| 236 | Mike Bottolfson | Somerset, WI | Yamaha YZ250F | Risk Racing/Thrivent Financial/Bill's Pipes/Integrity Electrical Services/Motool/Mika Metals/Dt1 Filters/Ogio/TCX Boots/Hot Cams/Vertex/Black Diamond Graphics/X Brand/Mike B Painting |
| 251 | Kyle Gills | Boise, ID | Honda CRF 450 | Fly Racing/Western Power Sports/EBR Performance/Koubalink/Airpro/Yoshimura/Blackheart MX |
| 278 | Parker Anthony | Americus, GA | KTM 450 SX-F | Bigfoot Racing, Shoei, Gutts Racing, FMF |
| 282 | Theodore Pauli | Edwardsville, IL | Kawasaki KX 450F | Outlaw Motorsports. Top Secret Designs. St Louis Tattoo. Motorcycle closeouts. BSM. Skillz Racing. PRL. JH2. Route15 Cycles. Ryno Power. Pirelli MX. JM racing. Motool. Arai. Novik Gloves. Sidi boots. Maxima. Yoshimura. Tamer holeshot. Rekluse. Dirt Tricks. Dt1. Mika Metals. Works connection. Bolt Hardware. Holiday Mowing. Mom & Dad |
| 291 | Kyle White | Davis, IL | Honda CRF 450 | K1 Speed, BWR Engines, SSi Decals, Race-Tech Suspension, Freeport Honda Kawasaki, Rekluse Motorsports, Bel-Ray, TuBliss, Works Connection, No-Toil, Evans Waterless Coolant, MotoSeat, Yoshimura, RK-­Excel, Dunlop, FXR, Arai, Dirt Tricks, Pro Taper, WebCams, THINK Technology |
| 314 | Alex Ray | Milan, TN | Husqvarna FC450 | FXR/TXS/K 1 SPEED/ NOLEEN J 6/ PRL/ ARAI/SIDI/ REKLUSE/ 2XU/SSI/ XBRAND/ GRAHAMS KTM/ SPIDER ENERGY DRINK/ VERTEZ/ DEDICATED RIDE/ NO TOIL/ VERTEX/ DIRT TRICKS/ MOTO SEATS/ EVANS/ WC/ SPEETRO OILS/ KILLER CUSTOM/ BOLT/ BILLS PIPE/ MOBUS BRACES/ STREAM LINE BRAKES/ OHLIN |
| 352 | Alex Harvill | Ephrata, WA | Suzuki RM-Z450 | EVO Suspension/Vision Graphics/Mika Metals/Boyd's Granite/Asterisk/Dragon/Motosport Hillsboro/AlexHarvill.com |
| 377 | Christophe Pourcel | San Antonio, FL | Husqvarna FC450 | Rockstar Energy Husqvarna Factory Racing, Bel-Ray, Fly, FMF, Scosche |
| 447 | Deven Raper | Mesa, AZ | Kawasaki KX 450F | RJC Racing/Kelly's Kawasaki/O'neal/Valley MX/Dubach Racing/Vonzipper/Shoei/Cryo Heat/Rekluse/Magik Graphics/Ryno Power/RK/Excel/Dasa/Xtrig/Renthal/Dubya/Maxima/No-Toil/Dunlop/Acerbis/Cycle Logical |
| 501 | Scotty Wennerstrom | Jefferson, TX | Kawasaki KX 450F | LDF Racing, D&D development, RMW Construction, Wild Souls Ranch, Wennerstrom Fitness & Training, BoarBites, Merge Racing, FM Racing, Rekluse, Bell helmets, Dedicated Ride Co, Hitch Hotel, PMP sprockets, Xtreme Kolors, NoToil, shock sox, Ryno Power, Oakley, Walker Calls, MRK Racing, GP DECALS, Dunlop, WJF, Works Connection |
| 509 | Alexander Nagy | Richmond, IL | Suzuki RM-Z450 | Sportland 2, AXO, Racetech, EVS, Rekluse, BelRay Oil, Motostar Global, Motostuff, Motoseat, Pirelli, ODI, Yoshimura, Spy Optics, Shoei, JJW Designs, |
| 542 | Johnnie Buller | Dinuba, CA | Suzuki RM-Z450 | HELP SMOG PARTS |
| 601 | Billy Carpenter | Manteca, CA | Yamaha YZ450F | Braap Shop Yamaha/Haeseker Racing Engines/Central Valley Motosports/Race Tech/Mika/Galfer/Works Connection/Hammer Head Designs/VP Fuels/Pirelli/FMF Racing/MotoPro Graphics/Dubya/Moto Seat/Von Zipper |
| 606 | Ronnie Stewart | Princeton, NJ | Suzuki RM-Z450 | MicroBilt/PRBC/Yoshimura/Suzuki Racing/Liberty Elevator/H&S Trucking/ISC Racers Tape/RG3/Hinson Clutch Components/Pirelli/Strikt/DeCal Works/Hellbound Racing/Motostuff.com/Novik/Sunstar/6D Helmets/DT1 Filters |
| 608 | David Pulley | Lake Elsinore, CA | Yamaha YZ450F | DMP Motorsports/Yamaha/Dedicated Ride Co./Think Technology/MMR/Dunlop/Moose Racing/Parts Unlimited/Alpinestars/DASA/Vertex/Hot Rods/Pivot Works/Hot Cams/Streamline/MoTool/Rekluse/Dirt Tricks/Saddlemen/American Kargo/MotoTape/FMF/Devol/Mika/ODI/EBC/Kori KryoTherapy |
| 619 | Mark Weishaar | Belleville, IL | Yamaha YZ450F | Contegra Construction/Olmsted Contracting/Motor Medic Racing/Source Mx graphics/Ryno Power/Glory Hog/Dunlop/Scott/Shift/Fox/ARC Levers/Novik Gloves/Enzo Racing/Archview MX/Maxima/FMF/DT-1/Boysen/Mika Metals/Hinson/Vortex |
| 662 | Travis Bannister | Calhan, CO | Honda CRF 450 | |
| 713 | Chad Cook | Oklahoma City, OK | KTM 450 SX-F | TPJ Racing |
| 722 | Adam Enticknap | Lompoc, CA | Honda CRF 450 | Ride Red/Cal Coast Plumbing/Fly Racing/Dave Humphrey/Viking Bait/TPJ/Robert Carrico/7deucedeuce.com/Works Connection/Rekluse/Vortex Sprockets/Dunlop/Epoxy It SoCal/SB training/Dirt Rider/Alpinestar/Asterisk/Jim Castillo/Galfer/REC MX/BOLT/Acerbis/Moto Tape/Scott Goggles/Weston Peick |
| 723 | Tyler Enticknap | Lompoc, CA | Honda CRF 450 | San Luis Obispo Painting/BTO Sports/Pro Circuit/Acerbis/Fly Racing/Dunlop/Scott/Odi Grips/Dirt Rider/Magik/SB Training/Sun Star/No Toil/Asteriks/Jim Castillo/Works Connection/Streamline Levers/Rec MX/Moto Tape/Bolt/Galfer/Alpinestars/Rekluse |
| 745 | Adrian Roman | Bonita, CA | Kawasaki KX 450F | Roman Racing/MMR/Ryno Power/Alias mx/6d Helmets/Maxima Oils |
| 792 | Bracken Hall | Rock Springs, WY | Honda CRF 450 | high Desert, rock springs Honda, pro circuit, ride engineering, Moto seat, acerbic, her, hjc, xbrand, O'Neal, acerbic, proven, works connection, vortex, odi, recluse, Dunya, Reno designs |
| 800 | Mike Alessi | Hilliard, FL | Honda CRF 450 | Smartop MotoConcepts Racing |
| 801 | Jeff Alessi | Victorville, CA | Honda CRF 450 | Motoconcepts JT EVS Alpinestars dt1 Hinson Dunlop BSM racetech Streamline Guts jeffAlessi training Mxexpress |
| 806 | Conner Stouff | Anaheim, CA | Husqvarna FC450 | Mid cities |
| 914 | Brice Klippel | Bradford, TN | KTM 250 SX-F | PRL/ARAI/SSI DECALS/ANKLESAVERS/BWRENGINES/FLYRACING/REKLUSE/TAMER/VERTEX/MOTOSEAT/DIRTTRICKS/NO TOIL/BOLT/MIKA METALS/FMF/RACETECH/MOM&DAD |
| 918 | Michael Akaydin | Louisville, KY | KTM 450 SX-F | FLY/Amsoil/Shoei/Sidi/TomZont Racing/PRL/Dragon/FMF/SunStar/Braking/Atlas/Works Connection/Dunlop/No Toil/MotoSeat/FCA MX/Acerbis/ODI/Mad Cow Designs |
| 981 | Austin Politelli | Murrieta, CA | Yamaha YZ450F | SprinterRentals.com TrippTagger BetterWays UofMX |
250SX West Provisional Entries — Entry Count: 61
| | | | | |
| --- | --- | --- | --- | --- |
| Number | Name | Hometown | Bike | Sponsors |
| 6 | Jeremy Martin | Millville, MN | Honda CRF 250 | GEICO Honda |
| 11 | Kyle Chisholm | Valrico, FL | Honda CRF 250 | HONDA/SMARTTOP/MOTOCONCEPTS/SIDI/HJC/RICKIEFOWLER.COM |
| 17 | Joey Savatgy | Thomasville, GA | Kawasaki KX 250F | MONSTER ENERGY PRO CIRCUIT KAWASAKI |
| 23 | Aaron Plessinger | Hamilton, OH | Yamaha YZ250F | Yamalube/Thor/Yamaha/Rockstar/Parts Unlimited/Rekluse/Neken/CWI/FMF/Alpinestars/Ride 100%/Bell/Toyota of Escondido Action Sports/GYTR/Works Connection/VP Fuels/Dunlop/D'Cor Visuals/Vortex Ignitions/Motion Pro/Braking/Light Speed/ARC/CV4/Xceldyne/Excel/Kite/Twin Air/Mechanix Wear/KYB/Cycra/Mettec/NGK/ODI/Matrix Concepts/Woessner |
| 24 | Austin Forkner | Richards, MO | Kawasaki KX 250F | MONSTER ENERGY PRO CIRCUIT KAWASAKI |
| 28 | Mitchell Oldenburg | Alvord, TX | KTM 250SX-F Factory Edition | Troy Lee Designs/ Red Bull/ KTM |
| 30 | Martin Davalos | Clermont, FL | Husqvarna FC250 | Rockstar Energy Husqvarna Factory Racing, Bel-Ray, Fly, Scosche |
| 31 | RJ Hampshire | Brooksville, FL | Honda CRF 250 | GEICO Honda |
| 36 | Adam Cianciarulo | New Smyrna Beach, FL | Kawasaki KX 250F | MONSTER ENERGY PRO CIRCUIT KAWASAKI |
| 37 | Phillip Nicoletti | Bethel, NY | Suzuki RM-Z250 | Autotrader/JGR/Yoshimura/Suzuki |
| 38 | Shane McElrath | Canton, NC | KTM 250SX-F Factory Edition | Troy Lee Designs/ Red Bull/ KTM |
| 46 | Justin Hill | Yoncalla, OR | Kawasaki KX 250F | MONSTER ENERGY PRO CIRCUIT KAWASAKI |
| 48 | Christian Craig | Corona, CA | Honda CRF 250 | GEICO Honda |
| 52 | Tyler Bowers | Corona, CA | Yamaha YZ250F | 51FIFTY Energy Drink Yamaha |
| 53 | Cole Martinez | Rimrock, AZ | Yamaha YZ250F | IB Corp Racing powered by Rock River/Radikal Racewear/Mika Metals/ DT1 FilterService/Ryno Power/FMF/ Avid MX Graphics/Motoseat/TM Designs/EZ Up/Enzo/Dunlop/Excel/Hinson/Cycra/Maxima/Renn Fuel/Twisted Development |
| 57 | James Decotis | Peabody, MA | Honda CRF 250 | GEICO Honda |
| 58 | Chris Alldredge | Powell Butte, OR | Yamaha YZ250F | Ride Motorsports/Home Depot/Yamaha |
| 59 | Noah McConahy | Spokane, WA | Husqvarna FC250 | JMC MOTORSPORTS INTEGRITY ELECTRIC HUSVARNA |
| 60 | Tristan Charboneau | Tenino, WA | Kawasaki KX 250F | BUD RACING MONSTER ENERGY KAWASAKI - TLD - SCOTT - ALPINESTARS - ELF Lubricants - NILFISK - GIBSON tyres - OHLINS - NEKEN - DIESEL TECH - Pastorello competition - DASSY - PBS - FACOM tools - Suomy - Eight Graphics |
| 64 | Hayden Mellross | Clermont, FL | Yamaha YZ250F | 51FIFTY Energy Drink Yamaha |
| 71 | Justin Starling | Deland, FL | KTM 250 SX-F | Slaton Racing/JMR/KTM |
| 74 | Bradley Taft | Nixa, MO | Yamaha YZ250F | CycleTrader Rock River YAMAHA GPI EVS |
| 76 | Scott Champion | Orange, CA | Yamaha YZ250F | Ride Motorsports - Home Depot - Yamaha |
| 87 | Chris Howell | Spokane Valley, WA | Husqvarna FC250 | JMC Motorsports/ Integrity Electrical Services/ Alliance Steel Racing |
| 95 | AJ Catanzaro | Reston, VA | Yamaha YZ250F | Blue Buffalo, Slater Skins, Enzo, FMF, Defiance, Mika Metals, Vortex, Renn Fuels, Ride Engineering, Hinson, Dunlop, Twin Air, Waynesburg Yamaha, Evans Coolant, Spectro, Guts Racing, Bristol Core, 180 Graphics, ICW, Dubya, Lightspeed Carbon, Acerbis, Matrix Concepts, |
| 99 | Chase Marquier | Newcastle, OK | Honda CRF 250 | Honda, Proven Moto |
| 100 | Joshua Hansen | Elbert, CO | Husqvarna FC250 | LVN100/Nut Up Industries/Fox/Shift/Munn Racing |
| 122 | Dan Reardon | Menifee, CA | Yamaha YZ250F | Yamalube/Thor/Rockstar/Parts Unlimited/Yamaha/Rekluse/Neken/CWI/FMF/Alpinestars/Ride 100%/Bell/Toyota of Escondido Action Sports/GYTR/Works Connection/VP Fuels/Dunlop/D'Cor Visuals/Vortex Ignitions/Motion Pro/Braking/Light Speed/ARC/CV4/Xceldyne/Excel/Kite/Twin Air/Mechanix Wear/KYB/Cycra/Mettec/NGK/ODI/Matrix Concepts/Woessner |
| 137 | Martin Castelo | Murrieta, CA | Yamaha YZ250F | IB Corp Racing powered by Rock River/Radikal Racewear/Mika Metals/ DT1 FilterService/Ryno Power/FMF/ Avid MX Graphics/Motoseat/TM Designs/EZ Up/Enzo/Dunlop/Excel/Hinson/Cycra/Maxima/Renn Fuel/Twisted Development |
| 138 | Blake Lilly | Wildomar, CA | KTM 250 SX-F | CJ Wilson KTM of murrieta/Toyota of Escondido/FMF/ODI/Fly racing/2X motorsports/Five18 designs |
| 141 | Robbie Wageman | Newhall, CA | Yamaha YZ250F | FASTHOUSE/YAMAHA/RENTHAL/REKLUSE/ALPINE STARS/DUNLOP/X-BRAND/N STYLE/KLEN LAUNDRY/PRO CIRCUIT/MATRIX/R ONE/MOTUL |
| 145 | Travis Smith | Lancaster, CA | Honda CRF 250 | |
| 149 | Tallon LaFountaine | Banning, CA | KTM 250 SX-F | Twisted Development, Fox, BTO, Yoshimura, Race-Tech, 6D, Scott, Mobius, ODI, SDG, Hinson, DT-1, PJ-1, Transworld Media |
| 154 | Brandon Scharer | Gardena, CA | Honda CRF 250 | K1 Speed, BWR Engines, SSi Decals, Race-Tech Suspension, Freeport Honda Kawasaki, Rekluse Motorsports, Bel-Ray, TuBliss, Works Connection, No-Toil, Evans Waterless Coolant, MotoSeat, Yoshimura, RK-­Excel, Dunlop, FXR, Arai, Dirt Tricks, Pro Taper, WebCams, THINK Technology, Dunlop, LA Cycles. |
| 165 | Jamie Harvey | Cooma NSW | Yamaha YZ250F | |
| 179 | Jon Ames | Riverside, CA | Yamaha YZ250F | FOX, PRO CIRCUIT, TWISTED DEVELOPMENT, ZLT, ETIKA |
| 182 | JAMES CULBERTSON | Sanger, CA | Honda CRF 250 | No-Toil, MB1, Moto One, Von Zipper, Clawson Motor Sports, RS Morris Construction, Graybar Electric |
| 203 | Zachary Commans | Seal Beach, CA | Kawasaki KX 250F | Rockwell/Nuclear Blast/Homeland Munitions/Kawasaki Team Green/Justified Cultures/FXR/Pro Circuit/Enjoy Mfg./Dunlop Tires/Mika Metals/Motool/Maxima/Twin Air/Xtrig/SKF/RK/Excel/Rekluse/Just1/SCAR Footpegs/TM Designworks/Sampson Racing Comm/Motion Pro/Mastel Linens/Dubya/Innteck/Powerlift |
| 240 | Bryce Stewart | Canyon Lake, CA | Yamaha YZ250F | Barrett Heritage Racing |
| 262 | CONNOR PEARSON | El Dorado, CA | KTM 250 SX-F | Get co racing |
| 271 | Kyle Fry | Whittier, CA | Yamaha YZ250F | DSC/LARRY LAYE RACING/ONEAL/UNI/UFO/SDG/YAMAHA OF CUCAMONGA/YOSHIMURA/HINSON/VARNER RACING/PRO TAPER/DUNLOP/DUBYA/MOTORSPORT PRODUCTS/POWERTYE |
| 275 | Johnny Jelderda | Menifee, CA | Yamaha YZ250F | DRC PROKITCHEN TRINITY schmidt performance |
| 277 | Kordel Caro | Costa Mesa, CA | Yamaha YZ250F | |
| 321 | Bradley Lionnet | Menifee, CA | Kawasaki KX 250F | MX University, Temecula motosports, motoseat, Pro taper, Emig Grips, ODI, |
| 338 | Ryan Surratt | Corona, CA | Kawasaki KX 250F | NUT UP/C4MX/Kawasaki of Modesto |
| 383 | Casey Brennan | Albuquerque, NM | Yamaha YZ250F | Bobby J's Yamaha/Big Rig Tool LLC/Skillz Racing/MMR/Arai Helmets/Oakley/Yoshimira/ProTaper/Maxima |
| 388 | Brandan Leith | Eagle Mountain, UT | Kawasaki KX 250F | |
| 448 | Broc Shoemaker | Santa Clarita, CA | Yamaha YZ250F | P&L Racing, Fly, Alpinestars, Adidas, Simi Valley Cycles |
| 497 | Brock Leitner | Summerland, Canada | Kawasaki KX 250F | |
| 512 | Steven Silverstein | Canyon Lake, CA | Kawasaki KX 250F | |
| 523 | Miles Daniele | Clovis, CA | KTM 250 SX-F | He Motorsports/Alltech Automotive/Jalonen Ranches/Vivid Design Co./Thor/Von Zipper/Race Tech/Notty Films/FMF/Sidi/Shoei/Mika Metals/DT1 Filters/Fastway Pro Moto Built/Acerbis/RTD/Rekluse/Motoseat/Mobius/Grandma and Grandpa/BTO Sports |
| 526 | Colton Aeck | Granada Hills, CA | Honda CRF 250 | TREMX.com, Factory Edge, Complete Electric, P&L Plumbing, Tech One Designs, Shot Race Gear, Action Sports West, MJ Transportation, Rocket Exhaust, MB1 Suspension, Works Connection, Torc 1 Racing, DDC Sprockets, Pirelli, X Brand Goggles, 6D Helmets |
| 648 | Payton Knight | Abernathy, TX | Yamaha YZ250F | EVO Industries South/Privogy LLC/Fly/Defy Graphics/Dunlop/Pro Taper/Works Connection/Rekluse/EKS Brand/No Toil/West Texas clinic of chiropractic/Factory frady racing |
| 660 | Stone Edler | Destrehan, LA | Yamaha YZ250F | |
| 705 | Steven Tokarski | Monrovia, CA | Suzuki RM-Z250 | Suzuki Motor Inc/Dubya USA |
| 715 | Kele Russell | Seabeck, WA | Husqvarna FC250 | peninsula moto group/Alliance steel racing/fusion/no toil/crower cams/kr customs |
| 797 | Kappel Robin | Aubenas France | Kawasaki KX 250F | Kawasaki/Lebig USA/Kenny Ipone/100%/Hot Rider |
| 805 | Carlen Gardner | Paso Robles, CA | Yamaha YZ250F | |
| 902 | Killian Auberson | Switzerland | KTM 250 SX-F | KTM Switzerland/KTM/Motorex/Shift |
| 948 | Johan Nystrom | Sweden | Yamaha YZ250F | TBT Racing/GD helmets/Thor MX/Tex Boots/Bills Pipes/Auto Hansa |
| 976 | Josh Greco | Kearns , UT | KTM 250 SX-F | Flo motorsports, strikt, just 1, sidi, vertex, Motoseat , golden tyre, dirt tricks, tm designs, jjw designs, hammerhead designs, hot rods, no toil, hemlock, stratus, crushed, fuel clothing, motostar, moto tape, Motool, Evans coolant, novik, Rekluse, dp motorsports, tamer , bigfoot, privateer graphics |