Anaheim, CA
Anaheim 1 (A1)
Monster Energy AMA Supercross Championship
For the past two seasons, Andy Bowyer, alongside color-analyst Jim Holley, has called the action for qualifying sessions of Monster Energy AMA Supercross via their online streaming show Race Day Live! A former Team Green amateur rider, Bowyer previously worked for Fox Racing and here at Racer X before taking on the role of host of RDL, and he also works behind the scenes as a digital marketing specialist for Feld Motor Sports, promoters of Monster Energy Supercross.
Bowyer, who previously had no television experience prior to hosting RDL, is beginning to find his groove as he enters his third year. We recently had the chance to catch up with the former-author of "Rev Up" to talk about RDL, how he got the job and much more.
Racer X: Before we get into Race Day Live!, you have an interesting story of how you got this job.
Andy Bowyer: I had my career at Racer X and things went one way and I went the other and I started a career at FedEx. I was away from the industry for a while, which was kind of good. I raced motocross from the time I was four years old until I was 20 and then I worked at Fox Racing and then Racer X. I was so overwhelmed with the sport that it just kind of got numb and I lost that passion. I just kind of frequented some supercrosses here and there, but then I started watching Race Day Live! with Kevin Barnett and Jim Holley and I was like, that's what I want to do. I want that really bad. But how do I get in there? I started hounding Denny Hartwig and sending some emails to Dave Prater and some phone calls to Prater. Just as fate would have it, my family moved to Florida. I was like, well, I'm 100 miles from Feld. I texted Dave Prater and I was like, "Do you have any time today? I'm coming down." He was like, "Well, do you have another day?" I was like, "Nope. Today's the day. I'm coming down." So I pretty much invited myself down and got in front of him and I was like, "What's available? I want back into supercross really bad, in any fashion. If you want me to wash Tuff Blocks, anything. I want back in the game. I'm close and I'm local, so how can I get in?" He's like, "There's nothing open." So I came away a little discouraged.
Waited a couple weeks and he called me and said, "Have you ever done any announcing?" I was like, "No, but I will. I can do announcing. Sure, absolutely." So I did the Monster Energy Cup in 2014 and that was an experience in itself. I got yelled at by Maxey, the show producer, for the first time. The world famous Maxey! If you've ever been yelled at by him—that counts for Kevin Windham or Ricky Carmichael or anybody that's worn a headset—he will put the fear of God in you. And he did. But it was a good experience. Two weeks after the race the phone wasn't ringing. Again I hit up Prater and I was like, "Well, I'm coming down." He says, "Okay, you can come down. I'll make some time for you." On my drive down he called me and said, "I don't want to get your hopes, up but some things have materialized with Race Day Live! and the host can't commit to the season." Kevin Barnett, an outstanding host who did an amazing job. He's a brilliant broadcaster. I learned a lot from him. But some things happened in his neck of the woods that he couldn't commit to the whole series and they needed a guy that could. When I got to the office Prater hit me with that information and he was like, "Do you think you could host this show?" Of course, just like the announcing gig I was like, absolutely! Zero experience, but batter up. That first show in Anaheim three years ago was something I'll never forget. You take the first start you had at Loretta Lynn's and the first time you kissed a girl and the first time of anything and add it together, and that stress doesn't equal the first time they said three, two, one, go—you're live, to 300,000 people. It was something else. I like to think I've gotten a lot better since then, but that's how it all happened.
What's the moment feel like, when they say three, two, one, go and it's your first time ever?
It's absolutely terrifying! You relive it every single time. I've had two years of shows, two full seasons, and you do your breathing exercises and we have a media trainer that works with us. It's just like racing. When it's go time no matter how calm you get yourself, when they point that finger at you and you know the camera is live … I go to a place in my head where I know that I'm in control of what I say and I know what I'm going to say and this is the subject that I know the most about. You have to really fill yourself with confidence, false confidence, whatever way you do it you just do it. The best thing that I have working with me is Jim Holley. He's so professional and he's been around 20 years. I know that if I need help Jim's going to pick me up, and vice versa. But he's been a joy to work with. Executive producer Michael Prince has been a huge help. But Jim Holley above and beyond everything makes that enjoyable. I know that he's got my back.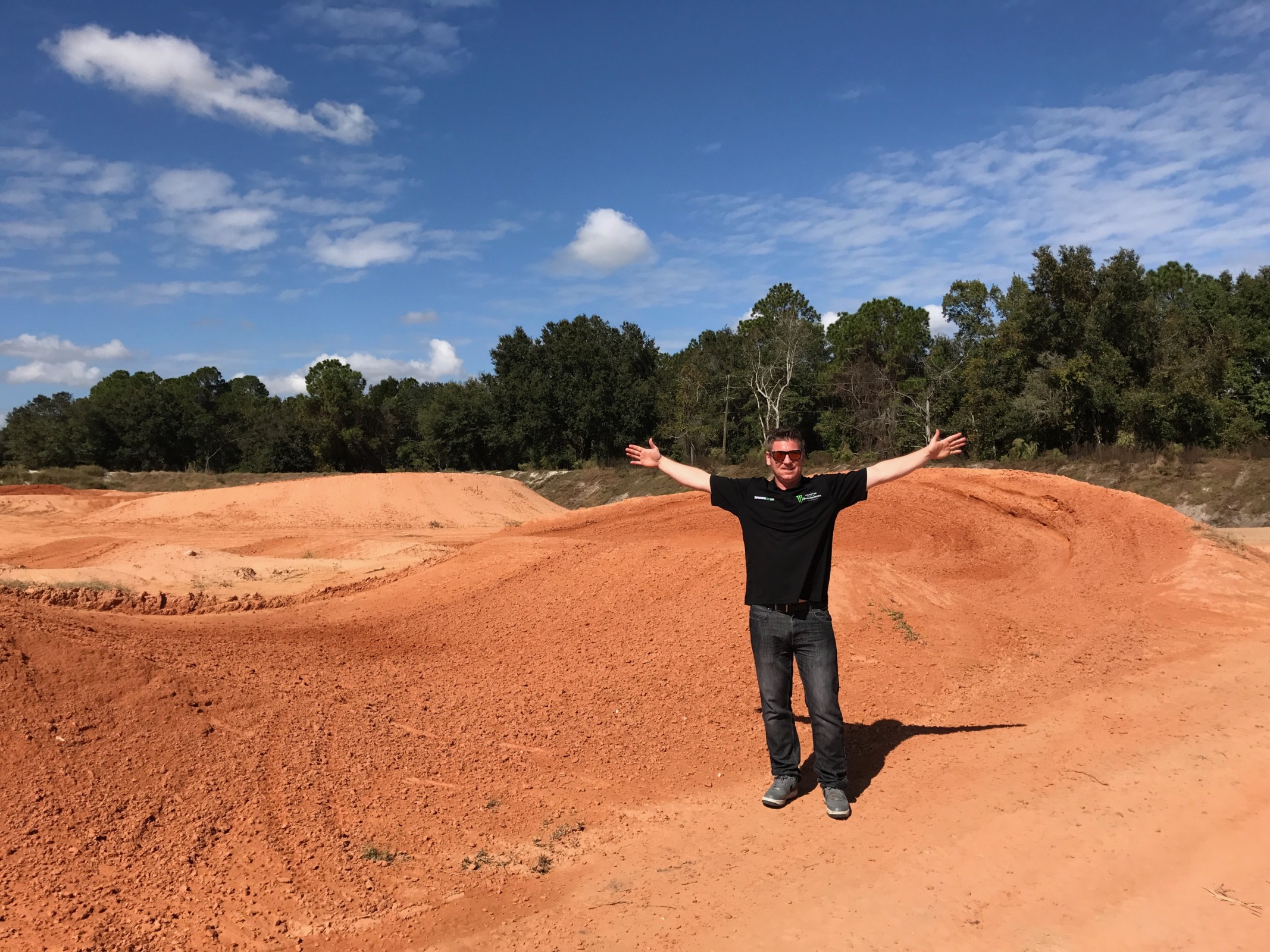 This is going to be your third year. What's different from that first show to now?
I would like to think I've done a lot of work creating my relationship with the riders. I want them to look at me as somebody they can trust and somebody that they're comfortable with. I'm not going to hit them with a question that's going to make them uncomfortable. As a journalist you kind of have to pick and choose your battles, but at the same time it's a small sport. You have to have a positive relationship with those guys if you want to ask them for favors to come on the show. This gets tough. As far as changes go with the show through the three years, I think that's what helped the most is just establishing credibility with the riders, being a familiar face. I'm pretty proud of what we've accomplished in those three years. Really looking forward to the 2017 season.
You actually didn't have TV experience before you took this job. How did you prepare for it?
Luckily enough, I was fortunate enough to have 12 years of print journalist experience with Racer X, so my knowledge was there, but there's nothing like being in front of the camera. The only way I trained for it was to watch NFL pre-game shows, College Game Day, and NASCAR Race Day, any pre-game show that I could watch. After doing the first year of the show I knew what I had to work on. It's the transitions from the producers giving you information and leading into the commercial breaks and leading into guests, you have to do it smoothly and seamlessly, which is easier said than done. I studied Jon Gruden. I studied the NASCAR guys. I watched Jason Weigandt as much as anybody. I think he's the best in the sport, and a good friend of mine. He's been there to help me. And I wasn't too proud to reach out for help. My first show I went up to Ralph Sheheen and I was like, "Hey, I'm going live in 30 minutes. I need some help." I was like, "What do I do? How do you do it? Show me how you do it." He was like, "Just be yourself and have fun." That was some good advice. I actually got advice from Chad Reed before the first show. Jim said, "Hey, Bowyer's coming on with me." Chad just looked at me and he goes, "Hey, have fun with it." That's the best thing you can do going into a show. That's what we're going to look forward to a lot more in 2017. I think my delivery's been a little too uber-professional. I want to have more fun. I want to laugh more. I want the vibe to be a little more light.
How long did it take you to find your groove, if you think you've found it yet?
Not yet. To be honest with you, I think my best days or my best shows are yet to come. I've spent some time with our in-house media trainer and she's really helped me tackle some things. That's the biggest part—when I raced I got nervous. When I do the shows I get nervous. It's not embarrassing. I'm not too proud to admit that, but if you want to get better you've got to recognize your faults and work through them. The first year was a little rough. Second year, even. There were some shows I wasn't proud of, but there were some things I was very proud of. I'm going to build on my strengths and try to crush those weaknesses.
Do you study tape? Do you go back after each race and say, I didn't like how I did this, and I like how I did this?
That's exactly what I do on the flight home. Our show is uploaded to YouTube, most of the post-race interviews are uploaded to YouTube and I go right to them and study very meticulously how I did the interviews, how my questions were, how my delivery was, how fast or slow I was talking. A key thing to remember with journalism is listen to the conversation. Don't wait to speak. Listen to what the guy said and build upon that. But as journalists when you go to interview somebody and you have a set list of questions. Sometimes you just kind of follow where the conversation goes and just ignore those questions, and that's tough but that's what makes it enjoyable. That's what makes it fun to do the shows. You never know what's going to happen. You don't know who's going to say what.
Take us through a timeline of your day at the race. When does it start? When does it end? What's your process?
It's pretty arduous. People think it's a lot of shimmer and shine but we get up at 7:00 a.m. My program is I always go to the gym and I try to get 20 minutes of cardio. That gets my day going. I focus on what I'm going to do throughout the day. Jim Holley and myself, we frequent the pits. We get there as early as we can, when everybody else gets there and we go team to team asking mechanics, what's the story? How was your week? That's where you pick up little tidbits. That's a lot of where that trust thing I was talking about earlier. If you want them to tell you everything, you can't say everything. That's our daily flow. Get there, talk to the mechanics, get as much information as you can. Then you do track walk. That comes up really fast at 10:30. Get some more stories on track walk, but you've got to be careful on track walk—especially earlier in the season. The riders are kind of in the zone and some of them are more outspoken than others but guys like Dungey, they don't like being messed with on track walk. Others like James Stewart, he'd love to talk. When track walk is over, you've got to shove some food down because you're going to stand there for four hours. Get some sandwiches in you and a little bit of coffee, maybe a Diet Coke or a Monster, but not too much. You don't want to be all jacked up. But get ready for show time.
Eleven-fifty comes up fast. Before you know it, you've got your headset on and you're going through the show. Three and a half, four hours later you're inviting everybody to tune into Fox Sports 1 to catch up with Ralph and Jeff. That's just kind of the halfway point. From there the night program begins and you get ready to set up. You've got to take notes. What happened in the heat races? What happened in the Last Chance Qualifiers? So when you go to get those guys on the podium you know what the hell you're talking about. You're asking them about the pertinent aspects of the night. Then when that's over, that's kind of almost the white flag because you've got to get back on your computer and upload that stuff to YouTube. You really don't stop working until about midnight. So from 8:00 in the morning until midnight you're pretty much wide open for Race Day Live!.
How does prep for A1 differ from Detroit once you're 14 rounds in and you've talked to every rider 100 times? Are you on the horn with mechanics and team managers and riders right now?
More so middle of the season. For me, personally, it's harder in the middle of the season because the storylines, unfortunately, they fade. Right now, I could go live in the next five minutes and I could talk for four hours no problem, especially when I see who's in the 250 class. There's literally no shortage of information or storylines. But it's been since the Monster Cup, since Race Day Live! happened it's been since May, so I'm hungry. That fire is super strong. It's easy to do A1. It's fun. You've just got to block out the pressure of knowing so many people are watching you. But by about round 12 if somebody has a big lead it's tough. With Dungey last year, we get to Detroit and it's like, now I have to talk for three and a half hours. The title's almost wrapped up. That's where you have to dig in and ask the mechanics for their cool stories and look for other hooks. It's definitely harder in the middle than it is in the beginning. In the beginning you've just got to hit your marks.
You've kind of mentioned this—you work for Feld but you're also a journalist. How do you balance those two where you still work for the company that promotes the sport but you also want to find the stories? How do you strike that balance?
It's tough. Right now I'm speaking to you as the host of Race Day Live! and not as a spokesperson for Feld. There's two different views, two different mindsets. That's an interesting and a really good question. I think more Andy Bowyer the racer and the fun guy comes out when I put the headset on. I like to use my personality, use my one-liners, my Bowyerisms, and so does Jim Holley. Growing up in Kansas and traveling in a motorhome and trailer for 20 years you develop some funny stories and some funny things to talk about. But being the Feld guy and then being the host of Race Day Live! is like two separate gears, two different ignition maps, if you will, on the toggle switch on your handlebars. But I feel like I transition back and forth pretty good. I really enjoy it. I enjoy both immensely. I'm very proud of being the host of Race Day Live!, but I still have my goals. I want to be down there on the track with Ricky Carmichael or in the booth with Ralph and Jeff someday. I feel like if you don't have goals that supersede what you're doing right now, you're not doing what you do right now the best you can. Always want to be better. You always want to have something that's ahead of you to go for, and I do. I have those goals.
I think we've all dealt with this where maybe something you've said or reported didn't go right and a rider may not have wanted out there and they've been upset. Have you had that happen? How do you deal with it?
For sure. That relationship that you just kind of touched on, I started calling Cooper Webb the Big Bad Wolf just because he didn't have a nickname and he was so aggressive in qualifying sessions. If somebody got in his way, he'd take them out and shake his fist at him or flip him off. Just like the Damon Bradshaw of old. I started calling him the Big Bad Wolf and lo and behold Joey Savatgy comes out and has Lion on the back of his pants for the second and third round. I was like, what's that? And I just kind of heard through the grapevine "the lion eats the wolf." I may not know if that was 100 percent my own doing, but I think it was. I think it might have created a little animosity with myself and the Pro Circuit camp. Those guys are feisty and super competitive and they listen to the shows. They read the magazines. I think it's our responsibility to kind of toe that line. It works out sometimes and sometimes it doesn't, but we're journalists. We've got to make the stories.
Anyone who works in TV or anything like broadcasting knows that behind the scenes stuff could be going crazy but then you have to get on the camera and portray that your mic is working when it may not be, etc. Do you have a story of that and how have you dealt with it?
People don't know. If Jim and myself look like we're struggling, there's a reason for it. There's been times where—technology is technology—I couldn't hear the producer for two hours. And you can't see the producer. So she's telling me, commercial's coming up next, and I can't hear that. So she'll have to stand up and try to give me hand signals. You'll go through that for sometimes an hour on end and you've just got to pull it together. That first season there were some terrible moments where we had Ricky Carmichael on at the Georgia Dome on Skype and there was no audio. I could just see his mouth moving. So we got Ricky, the greatest of all time, on the Jumbo Tron at the Georgia Dome and I can't hear a damn thing he's saying. We just acted. As soon as he would stop moving his mouth we'd answer his question with something that we just prayed would land, and finally Ricky's facial expression starting tightening up and he's like, "I don't think they can hear me." And you're like, "Yup. Definitely want to apologize for some audio problems, but we can't hear Ricky." But that stuff happens. It's pretty gnarly. It's a tremendous amount of pressure. We're blessed with our huge fan base.
Anyone in the industry knows Jim and his vibrant personality. Working with him for the past two years, what's one of your favorite Jim Holly stories?
My favorite Jim Holly story was Santa Clara in 2015. I was in NorCal and had stayed out a little bit later than usual on a school night. Woke up at 8:00 in the morning and I felt good. Went to the gym, but I got a phone call from Jim and he just sounded like he was dying. He's like, "I ate clam linguini and I'm at the hospital. I've got food poisoning." And you want to talk about your support group going away and a feeling of helplessness, that's not good. When you've got Jim Holley for that many weeks in a row and then he tells you he has food poisoning, you're like, "What am I going to do?" Well, you're going to do the show by yourself. So I think Jim's gone. I think I'm on my own. So I'm starting to get my stuff together to prepare myself to do the show by myself and Jim wanders to the stadium and is walking across the parking lot like a zombie with food poisoning trying to make it to the show. Doc Bodner sees him in the parking lot and is like, "What's going on? You look like you're out here in the Sahara Desert." He scoops Jim up and takes him to the Alpinestars Medical truck and plugs him up with IVs. Jim texts me—we're literally like 45 minutes before show time—he's like, "I think I'm going to make it, man! I've got IVs in me right now and I'm feeling a little better." I go to the Alpinestars truck and I get in there and he is super pale. He looks like he's down 10 pounds. He's got IVs in him and stuff and he's barely squinting. He's like, "I'm going to make it. I'll make it to the show." I'm like, "You are the toughest guy that's ever lived." And sure enough three minutes before show time here comes Jim Holley back from the dead and he did that whole show and never missed a beat. Every time we went to break he dove under the shade and was just drinking water and was in the fetal position. We'd go back live and he'd come back like a champion and put that headset on and never missed a beat. He is tough as a two-dollar steak. The legend of Jim Holley is very real. That guy's a beast.
We're all fans at heart as well. What are some of the storylines just as a fan that you're looking forward to next year?
I'm interested to see Ryan Dungey again. The super fan in me, I like his model. I like his approach. I like that he's a two-time ESPN ESPY Award winner. I think he's a great ambassador, but the wolves are coming. I think that's going to be one of the most interesting things. Have we seen the last of the great Ryan Dungey, or can he somewhat maintain his status? Ken Roczen's there. Eli Tomac has a year on his bike. He's a year removed from double shoulder surgery. He's coming. Marvin Musquin is coming. Blake Baggett is coming. I heard Blake Baggett was the fastest guy at the KTM test track. They're all coming, and he's the man. If you want to be the man, you've got to beat the man. The owner of 31 consecutive podium finishes, can he do that again? Can he keep it rolling? As a super fan, that's my number one hook to look forward to, to see if Dungey can hang tough.
My second one is a little personal. Definitely Chad Reed. I got to go riding with that guy last year. We all have a lot of super fan in us but being on the same track and roosting around and jumping triples and stuff with Chad Reed was probably one of the highlights of my entire career on a dirt bike. I got to hang out with him and his family a couple of days at Florida Tracks and Trails. Just got to know Ellie [Reed] and his kids and my kids and my wife. I just love the guy. What a badass. Look at Anaheim 2014 when nobody believed in him. What he did in Atlanta in 2015. He did it. He came out and got two second place finishes last year. He's got a little left in the tank. He's in the best shape of his career. He just beat everybody at the Australian Open. He's 34 years old. Eight Anaheim victories, tied with McGrath and Carmichael. Can the dude actually pull off what would be the unspeakable? If he wins one, people are going to freak out. Anaheim will completely implode. It will be the most awesome thing ever.