Pomona, CA
Red Bull Straight Rhythm
Red Bull Straight Rhythm
It was a banner night at Red Bull Straight Rhythm for the Troy Lee Designs/Red Bull KTM team. The only factory 250 team to lineup for the event, Shane McElrath led a sweep of the Lites (250) podium. It was especially important for McElrath, who is just returning from injuries sustained at Southwick.
We talked with the first-time winner of the event after the race.
Racer X: Congrats on the win. Walk me through your day.
Shane McElrath: Thank you. It's actually pretty stressful just from the stress that we put on ourselves, but this is such an awesome event put on by Red Bull. It's one of the best, non-season races that we get to do because it's no pressure and it's just a good, fun time. The whole team gets to come out. Everybody's having a good time, and that's what's so awesome about it. Just kind of had to put some stuff together tonight that I was struggling with a little bit here and there. Just felt good to put in some solid runs. I knew that it was going to be tough to win if I won, but at the same time it's like everybody else is going to be on their game too. Everything felt good, just each time trying to push a little harder and a little harder to see where if I make a mistake here where can I make that up or what. So awesome to come out with the win. Just excited.
Where do you feel like you really excelled tonight on the track?
Mainly with kind of pushing through stuff. Sometimes I struggle with that on a supercross track. Tonight it was kind of like I could hold the bike wide open and just throw the bike forward and it made the jumps just about perfect. I learned a lot today that I can take to the supercross track and we'll just work away.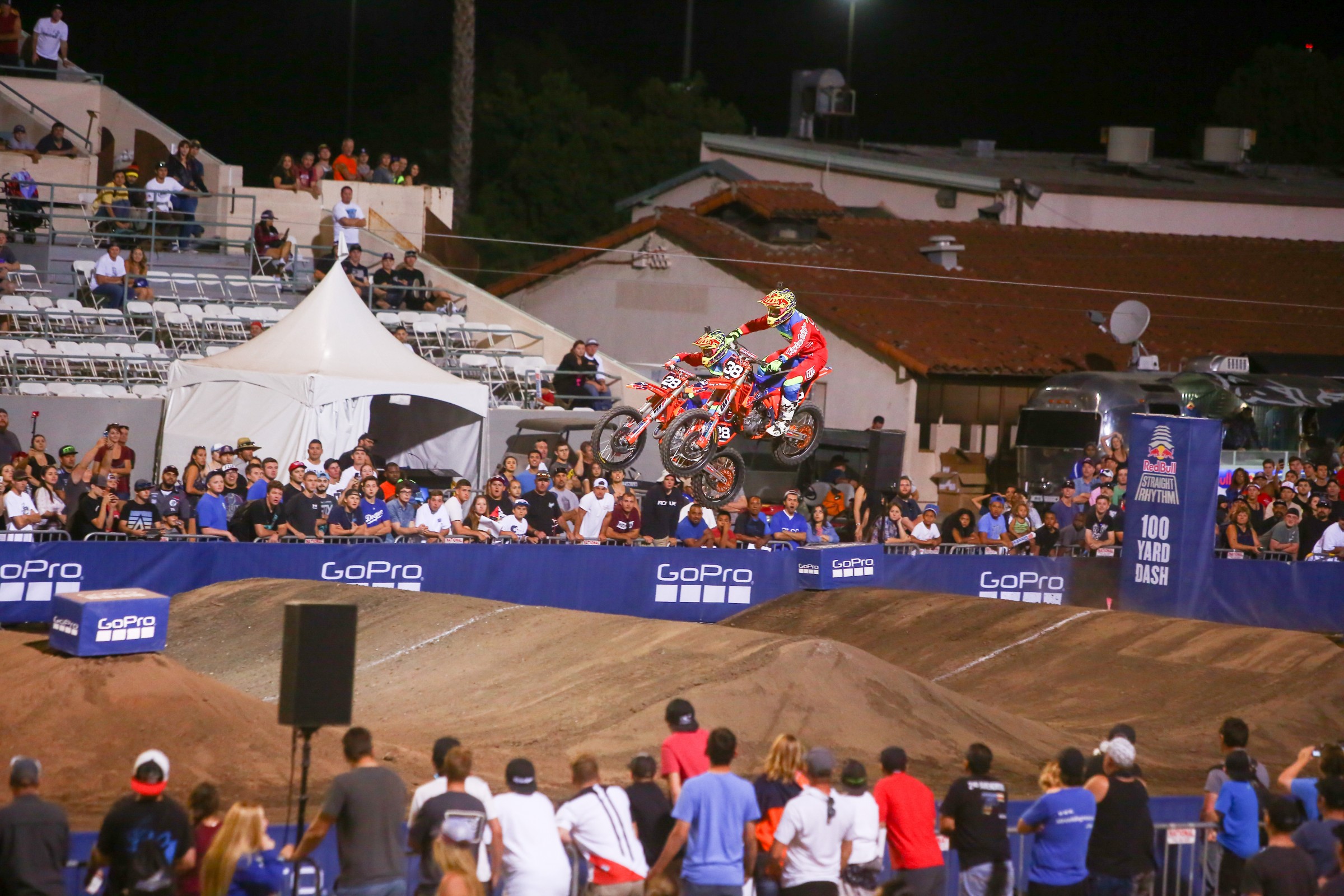 What do you feel like you struggled with?
Probably the nerves, the pressure that I put on myself. Just as much as anybody else out here I hate to lose and at the same time it's hard not to think about that when you're sitting up there in the doghouse. You kind of just got to block all that out and go for it when the gate drops. That's what I struggled with a little bit. It's like putting so much pressure on the end of the night instead of putting it on that one race there.
So this is your second race back after your crash at Southwick. Were the nerves because you haven't lined up recently?
Yeah. I definitely struggled with that last weekend at Monster Cup. That was my biggest thing. I was trying so hard to find a groove to get in. I was just struggling with seemed like everything. Felt like I was at my first supercross again. It was good to get that out of the way. Nowhere near where I wanted to finish. I had pressure on myself as well to do good for the sponsors. I just didn't do my part. So it bums me out at that, but I rode like junk anyway so it's just tough, but I was glad to get that out of the way and get that out before the season.
You were also underpowered, and it was your first race back.
Yeah. We also used that race to test some motor stuff and suspension. It's more of a learning race than anything but at the same time I don't want to ride bad.
How much time did you have on the 350 before Monster Cup?
I rode it about a week and a half.
Obviously you won tonight, but how do you feel like you rode?
Definitely straightened out a lot of things. Going back to the 250 this week I immediately felt like I've missed this thing at home. I can almost put it wherever I want to. And that's the cool thing—it's got a lot of power and it's so rideable. That's the fun part here. On Straight Rhythm you can really push your limits and still be safe, so that's where I feel like I really had a lot of fun today.
How do you feel the track was out here?
It was really good. I think it was fast but at the same time it was really safe, and I think that's what they were shooting for. It made the racing really tight, which was good for all the fans and the spectators and stuff. I just think it was an awesome event all around.