When it comes to motocross and supercross the spotlight tends to shine solely on racers, which means mechanics usually don't get the recognition they deserve. That's too bad because they're some of the hardest working behind-the-scenes personnel in the pits. They're also usually good for some unique insight too, as we found out when we called up Cooper Webb's wrench, Eric Gass, to get his take on the recent GP, the upcoming MXoN, and 2017.
Racer X: How'd the weekend go for you?
Eric Gass: It was freaking awesome! It went really well. Obviously it was a hurry-up-and-wait thing, and I think that's just the GP schedule. Then when you add the bad weather on top of that, I think we were there for three days before we even got to do any racing. That was kind of annoying, but once the racing got going we were ready for it, although qualifying actually didn't go that well. We knew the Europeans would be pretty good at qualifying, but on top of that Austin Forkner and Adam Cianciarulo qualified pretty well too. Coop, I don't know where his head was, but we made some changes to the bike that he was happy with and I think he made some changes mentally.
The first moto went fairly well. We weren't where we wanted to be but second isn't bad, especially to a world champ. Going into the second moto there was a lot of pressure, Coop really wanted to beat those guys. It was also his last race on a 250 in front of his hometown crowd. Then he got a horrible start! He wound up pulling it off though and that was an awesome feeling. Winning is always great, but doing it with a come-from-behind ride, you just can't replace that feeling.
What kind of mental adjustments did he make? Webb doesn't seem like the kind of guy who lacks in confidence.
He mainly just needed an attitude adjustment. As far as confidence goes, you're right, he's full of that stuff. Wrapping up the outdoor championship, and just the whole series, I think he may have had a lack of motivation the last couple weeks. He didn't come into the weekend 100 percent focused and it took him a bit to get his game face back on. But once he did that, once he got the focus and fire back, we were good to go.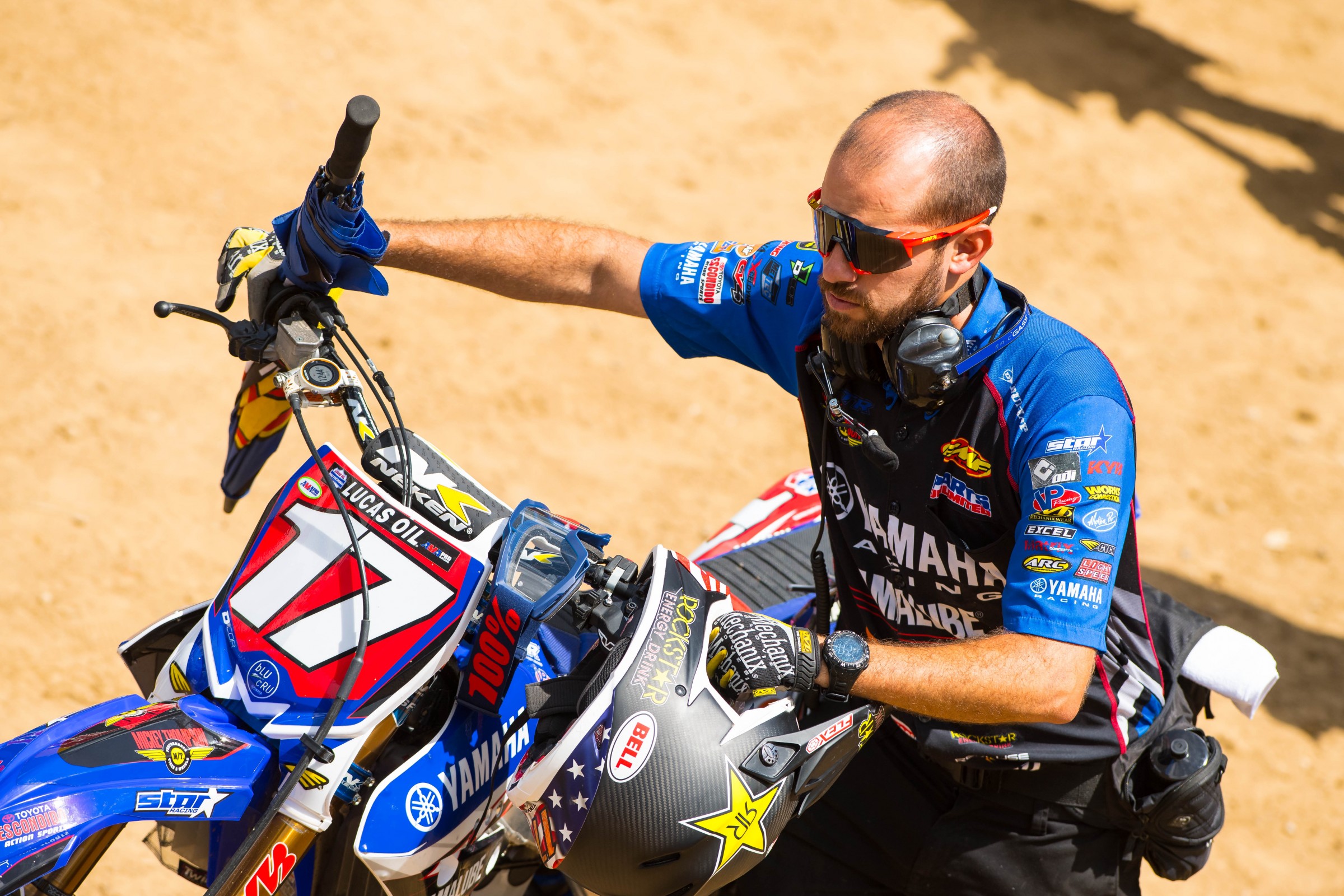 Did it surprise you when Jeffrey Herlings was able to pull a gap on Webb in the first moto?
No. Hats off to that guy. I think there's quite a bit of respect between Cooper and Jeffrey. I don't know Jeffrey, but I do know Coop and we watch and follow the races. There's definitely respect between those two, and we knew he was going to be good. I did think there was going to be more of a fight, but I think the whole GP setup maybe suited Herlings a little better. I think Coop was caught a little off guard by all of it.
When Webb got that bad start in the second moto did you think there was any chance of him coming back for the win?
No. Not just because of the competition, but with the track the way it was it was hard to make up any time, and making passes was just going to be that much more difficult. I was just hoping we could salvage an overall podium. Then halfway through I started realizing we were going to be on the podium in the moto. Then, at the twenty-minute mark, it started setting in. Coop's done it before. He gets in situations like this, which really stresses me and the team out, but he just gets it done. So at the twenty-minute mark I started realizing it was possible. Just looking at his lap times, his attitude, and how he was riding, I could tell he was going for the win and that it was probably going to happen.
Was it gratifying to go out and beat the world champ?
Yes, for sure. I think it was one of the big things Coop wanted to do. He wanted to race the best in the world, and of course he wanted to win. You don't get those opportunities very often. It was also his last race on a 250F and it was in front of his hometown crowd. There was a lot of gratification, not just for Coop, but for the team as a whole. It just goes to show that all the hard work is paying off.
Are you guys racing Glen Helen?
No. Last year we did the GP on a 450 just to get kind of a baseline but Coop felt he didn't have enough time on the 450 this year to be as competitive as he wants. The only reason we did the North Carolina race was because it was a hometown race. He wanted to go out in front of the hometown crowd and he felt his best chance of winning would come on a 250F.
How do you like America's chances for the MXoN this year?
I feel pretty confident. We're actually just leaving Pala [Raceway] now and the guys [Jason Anderson, Alex Martin, and Webb] all did two thirty-minute motos together. There were a few foreigners out there but you can't really make comparisons. We ride here all the time and they were a little bit out of their element. Anderson, he's fresh and he's ready to race and win, and Coop did a phenomenal job last year, especially with what little time he had on the 450. And of course Alex has definitely proven himself outdoors this year. I feel that, with some of the injuries on the other country's teams, combined with the momentum we have coming off our series, I think we have a really good shot if we can avoid really big mistakes. We can definitely win this thing.
Are you staying with Webb in 2017?
Yes. He likes the program we've got going and we're going to keep the crew together.
I don't remember you ever wrenching for a 450 Class rider. Is this your first time?
No, but the reason you don't remember is probably because it was for an unknown 450 rider named Lucas Moraes. He was a Brazilian who wanted to race some Nationals, and not to be rude, but I think he kind of bought his way onto the team. That was back in 2008 or2009, and it was motocross only. But I've never done a full season of racing with a 450 guy.
Are you excited for it?
It's exciting, and it's definitely an achievement in my book. To have a championship rider and a factory team who want me to work for them, it's an honor. I'm looking forward to the challenges of learning all the new racers, setting up a new bike, and gelling with a new team. I'm also really excited to work with Mike Gosselaar. He's been a huge part of so many championships you probably can't even count them all. Getting to spin wrenches alongside that dude is a huge opportunity. I'm not looking forward to having to do a full season of supercross though. I've been pretty fortunate the last few years to only have to do the West Coast. That little break inside the series is pretty nice, but that time has come and gone and I guess it's time to put the big boy pants on!
Are you going to miss the 250 Class?
Definitely. The biggest thing is going to be the easy supercross schedule! But I'll also miss the way the riders ride 250F's. There's quite a bit more respect needed to ride a 450, and I'm definitely going to miss the body English, how they're all over the bike and just holding it wide open. It's always fun to watch the guys rip these things as fast as they can. And the family we've created at Star Racing over the last couple years, without those guys none of these last few seasons would have been possible. I'd just like to thank Bobby Regan for the opportunity to come work with Cooper. I'm really going to miss working with all the guys at Star.
How's Webb going to do next year?
It could go either way. The realist in me says maybe we'll win a few races and battle for podiums. Just judging by how some of the other riders have done after moving up, I think it's a little harder than it looks. However, knowing Cooper, it wouldn't surprise me if he went out and won the championship. His equipment will certainly be able do it, it's championship caliber. The Yamaha guys have done an amazing job with their 450 and the program over there is just ridiculously good. A championship next year wouldn't totally blow me away. I know that would be a huge accomplishment, but if anyone could do it, it's him.
Webb has a bit of a reputation for finding himself at odds with other riders. How do you think he'll get along with the 450 guys?
I think he'll get along with them well. He does ride with a lot of passion and fire, and sometimes that level of focus leads to disagreements with other riders, but that kind of attitude and dedication are good for the sport. I wish more guys were like that. It's not like he's just out there being reckless. You read on the web, people think he's cocky and talks too much, but the people who really know what's going on, they know he's pretty smart. He only talks in certain situations when it's needed. He's pretty smart about what he says, when he says it, and who he says it to. I don't think he'll rub any of the 450 guys the wrong way. I know he's got quite a bit of respect for them, and if any drama does occur, it's going to be a two-way street, not just something Coop did.