Americans Sweep Round 8 of the Canadian Nationals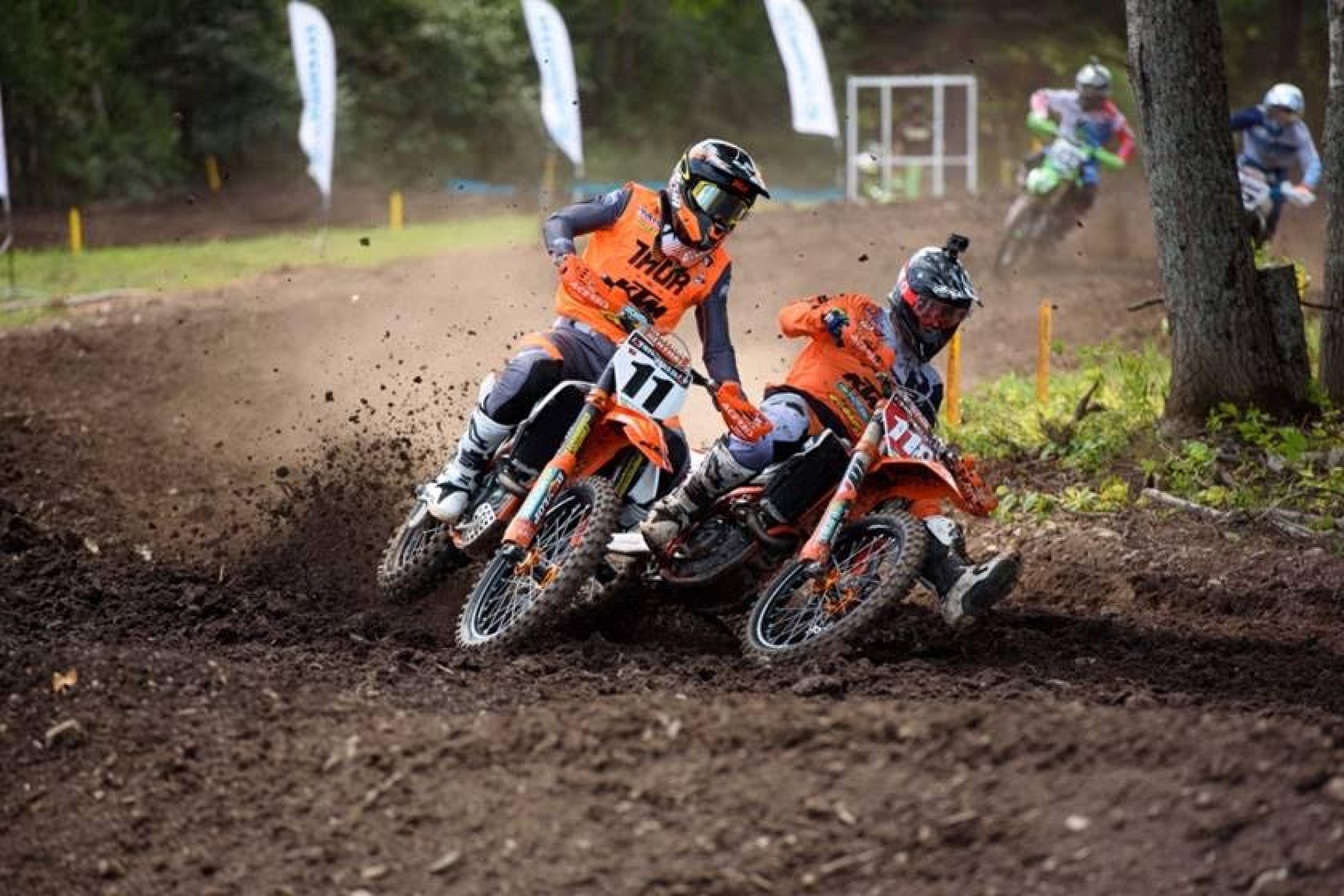 Report provided by CMRC Media
A hot, humid day greeted racers and fans, as Riverglade MX Park in Moncton, New Brunswick, the location for Round 8 of the Rockstar Energy Drink Motocross Nationals, presented by Motovan. Spectators turned up in large numbers and lined the fences to get a glimpse of their favorite riders. Both classes had some spectacular battles as the riders were forced to deal with a lot of roost coming from their opponents' rear wheels, as they tried to make a pass. Fans were again treated to some great racing, as KTM Canada Thor Racing's Davi Millsaps was super fast all day in MX1, scrubbing the big jumps with incredible style. In MX2 class, we saw a first time winner top the podium and our points leader, KTM Canada Thor Racing's Cole Thompson, come closer to claiming his first title.
MX1
KTM Canada Thor Racing's Davi Millsaps put together another dominating performance this weekend, further extending his points lead and putting him in a position to clinch the title next weekend. Millsaps was again the fastest qualifier, posted the fastest lap in each moto and led every lap on the day. Davi passed his teammate, Kaven Benoit, a few corners from the start in Moto 1 and checked out. He grabbed the Royal Distributing Holeshot in the second moto and sprinted away from the pack to a comfortable lead, then cruised home for his fifth overall win of the series. On the podium he said, "The track reminded me of being back in the States and these hard packed tracks are my thing. These are the biggest jumps of the season so far and the track is the best one we have ridden."
Finishing 2-3 for second overall, his best result so far in his rookie season, was KTM Canada Thor Racing's Kaven Benoit, as he continues his push towards becoming the top racer in this country. Benoit grabbed the Royal Distributing Holeshot in the first moto and said, "It was good to lead for a couple of corners," before being passed by Millsaps. Kaven was again good off the start in Moto 2 and spent the entire race running second, until being pushed wide in a turn and passed for good on the last lap by Matt Goerke, after the two riders had exchanged positions more than once. The French Canadian superstar is taking advantage of being mentored by his former hero and Motocross legend Jean Sebastien Roy, and having Millsaps as a teammate. Benoit is looking forward to next weekend's national in his home province, on a track he has put in a lot of laps this summer.
Rockstar Energy OTSFF Yamaha's Matt Goerke went down on the start in the first moto and had to come from the back of the pack to finish seventh. In Moto 2, Goerke got a good start and worked his way up to second after being scored in the fifth position on the opening lap. Along the way he had terrific battles with his teammate, Brett Metcalfe; the two of them hit each other at one point. He also had another altercation with Kaven Benoit that he said was "aggressive but not dirty." Matt moved up to 2nd in the standings and sits 51 points back of our series leader Millsaps, with only four motos left in the series.
After qualifying second and finishing 3-5, Monster Energy Alpinestars Kawasaki's Mike Alessi, finished in the top 5 for the first time since Round 4. In the first moto, Alessi looked like he had the speed to get by Benoit and into second place, but couldn't make a pass and settled for third. After Moto 1, Mike said he felt he was riding well, but following a good start in the second moto he faded back to fifth place, after losing his rear brake in the latter stages of the race.
Rounding out the top 5 was the crowd favourite, Parts Canada Husqvarna's Tyler Medaglia, who finished the day with 5-4 moto scores. Medaglia had good starts all day and was riding good lines in the first moto, until a lapper got into his way, which allowed Brett Metcalfe to get by. In the second moto, Tyler finished fourth, taking the position on the last lap from Alessi. After two consecutive top 5 finishes in the Maritimes, he hopes to keep the ball rolling in the last two rounds.
Rockstar Energy OTSFF Yamaha's Brett Metcalfe had a rough day finishing 4-6 for sixth overall, equaling his worst result this season. Metcalfe had a poor start in the first moto and ate a lot of roost on his way back to fourth. Brett collided with his teammate, Goerke, while battling for position in Moto 2 and went down twice, before finishing sixth.
Absent from the starting line was Honda Canada Racing Fox GDR's Colton Facciotti, after going down hard at the start of Moto 2 last weekend at Pleasant Valley. Race fans hope the talented Canadian multi-time Champion will be back in time for the next round.
MX1 Overall
1.
Davi Millsaps
1-1
KTM
2.
Kaven Benoit
2-3
KTM
3.
Matt Goerke
7-2
Yam
4.
Mike Alessi
3-5
Kaw
5.
Tyler Medaglia
5-4
Hus
6.
Brett Metcalfe
4-6
Yam
7.
Cade Clason
6-8
KTM
8.
Keylan Meston
8-7
Yam
9.
Morgan Burger
9-10
Yam
10.
Shawn Robinson
10-11
KTM
11.
Kyle Swanson
11-12
Yam
12.
Michael Fowler
12-13
Yam
13.
Riley Brough
14-14
Hon
14.
Dusty Humphries
16-15
Hon
15.
Brock Leitner
13-19
Kaw
16.
Alex Harvill
15-18
Suz
17.
Max Tannenbaum
29-9
Suz
18.
Broc Loftus
20-17
Yam
19.
Taylor Ciammpichini
18-22
Hon
20.
Jason Burke
33-16
Yam
MX1 Standings
1.
Davi Millsaps
439pts
2.
Matt Goerke
388pts
3.
Brett Metcalfe
387pts
4.
Mike Alessi
364pts
5.
Kaven Benoit
319pts
6.
Tyler Medaglia
303pts
7.
Cade Clason
300pts
8.
Colton Facciotti
297pts
9.
Keylan Meston
251pts
10.
Morgan Burger
246pts
11.
Kyle Swanson
203pts
12.
Riley Brough
191pts
13.
Shawn Robinson
158pts
14.
Dusty Humphries
137pts
15.
Austin Kouba
114pts
16.
Vince Friese
101pts
17.
Eric Jeffrey
95pts
18.
Alex Harvill
94pts
19.
Gabriel Tremblay
86pts
20.
Taylor Ciammpichini
78pts
MX2
We have to wonder what the MX2 points standings would look like if KTM/Factory Connection/Fox's Dakota Alix had raced the entire series. Since joining the series in the east, he has finished 3-4-2-1 and must be starting to get the attention of the KTM team as they look to next season. Alix got a great jump out of the gate in Moto 1, was able to hold off a charging Shawn Maffenbeier and led every lap on his way to his first win of the series. Dakota again grabbed the holeshot in Moto 2, earning him the Royal Distributing Triple Crown and finished fourth after stalling his bike and being forced to push it up a jump to bump start it. This was the first overall win for the young, talented rider from Vermont; we expect to see him on the podium again before the season ends.
MX101 FXR Yamaha's Dylan Wright finished on the podium again this weekend, missing out taking the top spot by only 1 point. Wright made terrific passes in both motos, coming from outside the top 5 in Moto 1 to finish third after passing Mark Worth, near the end of the race on the outside of a high speed corner. In Moto 2, Dylan passed both overall winner Alix and Worth again, on route to a second place finish. On the podium he talked about his stamina kicking in during the second moto, when asked about his impressive second moto results this season and said he had a much better flow in the second moto.
After going down on the third lap of Moto 1 and remounting outside of the top 10, KTM Canada Thor Racing's Cole Thompson posted the fastest lap of the race, while coming back to finish sixth. Thompson came back in the second moto and grabbed the lead on the first lap, again posting the fastest lap of the moto and went wire to wire for the win. Finishing 6-1 earned him the last spot on the podium. After the race he said, "I went down hard in Moto 1 and it really woke me up. We're coming down to the last four motos and I don't want to give up the championship now." Cole could clinch his first MX2 National Title next weekend in Deschambault, Quebec.
Monster Energy Alpinestars Kawasaki's Mark Worth had a solid day and finished 4-3 for fourth overall, his best result since Round 4. Worth had good starts in both motos and was able to minimize the mistakes that other riders were making. On the podium after the second moto he said, "I had a rough weekend trying to adapt to this track. I had some luck on my side today and don't know if I deserve to be on the podium." Mark moved into the top 5 in the standings and is gaining ground on Brad Nauditt, who sits in fourth.
After setting the fastest lap time in the qualifier, Redemption Racing Big Steel Box KTM's Shawn Maffenbeier got a great start in the first moto and passed Worth for second, with a body check-style move from the inside. He was able to catch up to the race leader Alix, but could not get around him and had to settle for second. In Moto 2, Maffenbeier's bike was bogging on the first lap, forcing him to pull into the mechanics area and rejoin the race at the back of the pack. By the end of the moto, Shawn was up to eighth, putting him fifth overall for the day and 79 points behind series leader Thompson, with only two rounds remaining.
Honda Canada Racing Fox GDR's Brad Nauditt looked more comfortable on his new machine, while holding off Thompson in the first moto to finish fifth. Brad backed that up with another fifth in Moto 2 and finished sixth overall at Round 8. MX101 FXR Yamaha's Jess Pettis finished seventh in the first moto and looked good in Moto 2 before going down while trying to put a pass on Worth for fourth. Pettis finished 7-6 for seventh overall and got bumped out of the top 5 in the series standings.
Round 9 of the 2016 Rockstar Energy Drink Motocross Nationals presented by Motovan will take place next weekend, August 7, at Motocross Deschambault in Quebec. If you are in another part of the country and are unable to attend the race you can see all the action live by downloading the free Conx2share app and live stream every moto on your mobile phone or computer.
MX2 Overall
1.
Dakota Alix
1-4
KTM
2.
Dylan Wright
3-2
Yam
3.
Cole Thompson
6-1
KTM
4.
Mark Worth
4-3
Kaw
5.
Shawn Maffenbeier
2-8
KTM
6.
Brad Nauditt
5-5
Hon
7.
Jesse Pettis
7-6
Yam
8.
Ryeley Gallup
10-7
Kaw
9.
Hayden Halstead
8-9
Hon
10.
Westen Wrozyna
11-10
KTM
11.
Jean Christophe Bujold
14-12
KTM
12.
Taylor Arsenault
13-13
Hon
13.
Vincent Lauzon
15-15
Yam
14.
McCoy Brough
12-19
Hon
15.
Joey Paul
18-14
Yam
16.
John Pauk
17-16
Hon
17.
Davey Fraser
9-34
Hus
18.
Dylan Delaplace
19-17
Yam
19.
Jason Benny
DNF-11
KTM
20.
Kyle Springman
22-18
Yam
MX2 Standings
1.
Cole Thompson
453pts
2.
Shawn Maffenbeier
374pts
3.
Dylan Wright
342pts
4.
Brad Nauditt
304pts
5.
Mark Worth
287pts
6.
Jesse Pettis
279pts
7.
Ryeley Gallup
224pts
8.
Hayden Halstead
213pts
9.
Dakota Alix
201pts
10.
Davey Fraser
182pts
11.
McCoy Brough
178pts
12.
Ryan Lalonde
169pts
13.
Brandon Leith
162pts
14.
Taylor Arsenault
151pts
15.
Jean Christophe Bujold
147pts
16.
Casey Keast
131pts
17.
Westen Wrozyna
129pts
18.
Marcus Nilsen
93pts
19.
Mason Wharton
83pts
20.
Vincent Lauzon
78pts